Mirzapur is one web-series that has got me hooked on to it right from its pilot episode. So when I came across its fabulous posters on the Internet, I was indeed, very excited! Soon, I realized that the buzz of the show isn't going to die down any time soon looking at those dark and gritty posters. Mirzapur fanboys and fangirls are here to stay!
It all began when Amazon Prime Video collaborated with Talenthouse and ran a contest where various Mirzapur fans submitted their entries. 
Here's what Ali Fazal a.k.a Guddu Pandit posted on Twitter: 
I guess we all agree with Fazal here. The poster was badass, raw and crude just like the show itself. Other fans too, showed their love for the show by letting their imagination run wild and came up with some killer posters!
Here are some of them:
Reza Maulana recreates the town of Mirzapur in entry, all while retaining its dark setting and old world charm.
Notice how there's 'Kings of Mirzapur' written on the number plate. Such attention to detail! The edgy artwork is bringing to life the gritty atmosphere of the show and is perfect for someone who'd prefer a badass poster for his wall instead of a Pablo Picasso.
Pratap Chalke makes caricatures of Mirzapur gang and does full justice to the characters! 
This entry is perfect if talk about its minute nitty-gritties that are aptly shown. And can we acknowledge how each character has its profound expression on face? Damn!
Cedric Cha even designed a minimalist artwork with Guddu's face on it
Guddu's name is infamously synonymous to guns and this entry is just the right artwork to give Guddu his much deserving homage; in a good way of course! The gun in the art is somewhere giving me the same eerie chills that the mask in V For Vendetta gave me. 
Who says Indians can't do minimalist art? Ye sab dekh ke...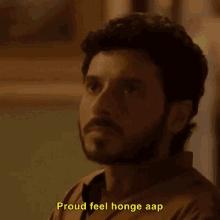 10 winners of the contest were announced yesterday and you just can't afford to miss out on these fab posters!
For now, I can only hope that the good folks at Amazon Prime Video give the fans of Mirzapur a plethora of merch; phone cases, tees, posters… The list is long. I guess all you Mirzapur fanatics agree!
Even if they don't, we can always send Munna their way, can't we? That will surely do the job!