It started pretty innocuously enough… with reports that Hrithik Roshan had Kangana Ranaut dropped from a film. 
So Kangana responded with: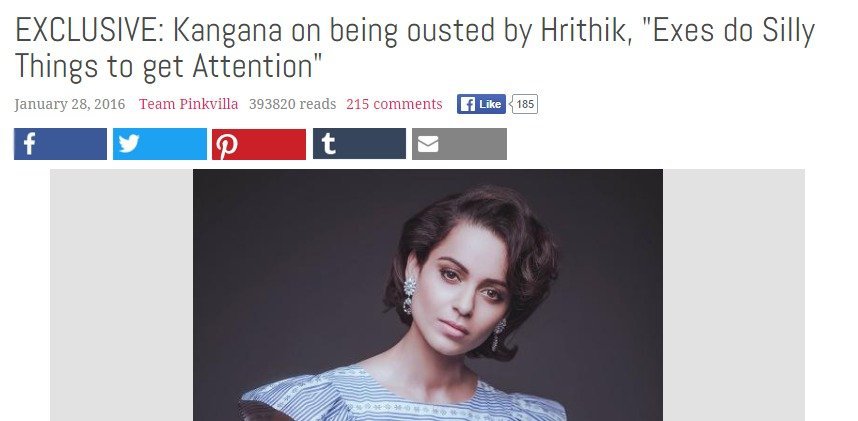 Now that was an interesting barb since we rarely have actresses taking the lead in both acknowledging a relationship with a fellow star and making a statement on it. So Hrithik Roshan then responded with: 

And since then its all just gone downhill and how. There have been photos, emails and a whole lot of insinuations. There have been people eavesdropping on Roshan's ex-wife at an airport, there are sources on the actor's teams leaking when the police is going to interrogate the other one.
Let's not forget, there's also a couple of legal cases now at the centre of it. He's accused her of defamation and she's accused him of intimidation. So now there are policemen who should ideally be investigating actual crime, instead checking whether Kangana Ranaut really was dating Hrithik Roshan or not. Basically the two stars are using the state's police force to do the job that is normally done by gossip columnists. 
Let's face it. The Hrithik-Kangana spat is essentially a couple of people unable to come to an agreement on whether they were actually dating or not.
The rest of it is just noise created by very loud PR teams and lawyers on both sides. But there's some hope. And that's section 209 of the Indian Penal Code. 
The section says making a false claim in court faces up to two years in jail and pay a fine. Admittedly we're a long way off from that, but if the case goes to court, the two actors will finally have to admit to something or face going to jail. 
"The greatest challenge before the judiciary today is the frivolous litigation. The judicial system in the country is choked with false claims and such litigants are consuming the courts' time for a wrong cause. False claims are a huge strain on the judicial system…." the court observed.
The judiciary has so much work that it moves the Chief Justice of India to tears. The burdens of an overworked police force don't need retelling. Hopefully, the two actors will at some point get over acting like squabbling teenagers and just get on with their lives like most of us have.
And if not, we can always hope the law will catch up with both of them.