After Virat Kohli's fantastic match winning performance Sunday night, trolls left no opportunity of getting his ex, Anushka Sharma involved. Numerous jokes were made at her expense. Even reputed publications like dna covered India's win by getting Anushka Sharma involved, which was highly tasteless on their part. 
To silence all the trolls out there, Virat Kohli has shared an image on Instagram with a respect-worthy message.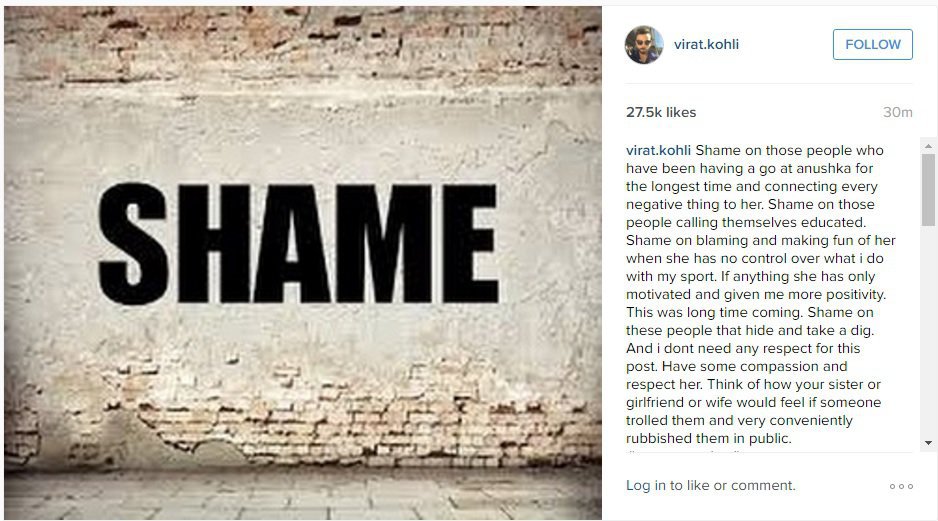 Here's what his message says:
"Shame on those people who have been having a go at anushka for the longest time and connecting every negative thing to her. Shame on those people calling themselves educated. Shame on blaming and making fun of her when she has no control over what i do with my sport. If anything she has only motivated and given me more positivity. This was long time coming. Shame on these people that hide and take a dig. And i dont need any respect for this post. Have some compassion and respect her. Think of how your sister or girlfriend or wife would feel if someone trolled them and very conveniently rubbished them in public."
He also tweeted a message for all the trolls:
Massive respect for you, Virat!
Let's celebrate India's victory but not at the cost of someone's personal life. 
Meanwhile, DNA, who had earlier published a story titled: "India beats Australia: Will Virat Kohli get a message from Anushka Sharma tonight?"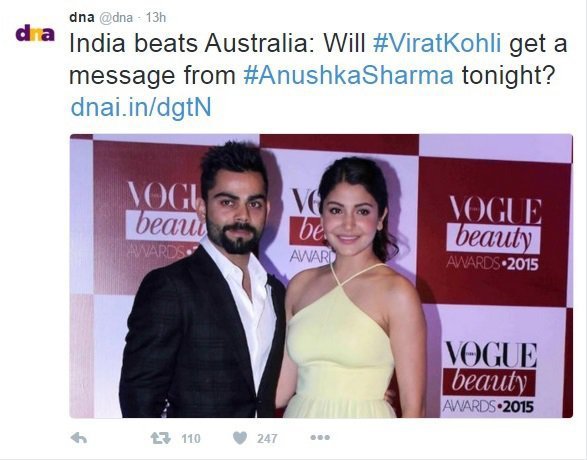 Was quick to carry this statement against the 'trolls'. How ironic!