Bishops, as chess enthusiasts will tell you, are tricky devils. Moving diagonally and nudging other pieces into harm's way, it's a sly character. So much so that a gentleman named Esben Lund (calm down. It's a common name in Scandinavia, with no phallic connotations whatsoever) has written a book titled The Secret Life of Bishops. In it, Lund (stop giggling. Seriously) elaborated upon just how complex the bishop's moves can be. He began by describing the double-edged bishop, a chess piece that "cannot yet be declared good or bad, but rather holds the potential of becoming good as well as the risk of becoming bad."
That phrase sums up the pre-release buzz about Wazir, the Urdu word for the bishop in chess. It's been directed by Bejoy Nambiar and written by Abhijat Joshi and Vidhu Vinod Chopra. Nambiar has some lamentable films to his credit, but despite Shaitan and David, he's established himself as a stylish filmmaker with a penchant for psychological thrillers. 
Joshi and Chopra are Bollywood powerhouses, having written and produced some of the most successful Hindi films of all time. Add to this a cast of talented actors, led by Amitabh Bachchan, Farhan Akhtar and Manav Kaul, and there's enough reason to look forward to how Wazir plays out.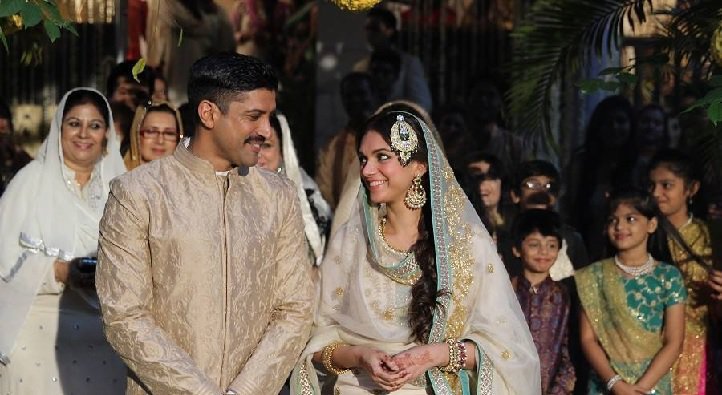 Set in New Delhi, Wazir begins convincingly. Akhtar plays the impulsive Anti-Terror Squad officer Daanish Ali. He's married to the exquisite Ruhaana (Aditi Rao Hydari), who wears the most gorgeous earrings, smiles sweetly and languidly does chakkars because she's a kathak dancer. They have a daughter and are a refreshingly normal family.
But of course this sort of idyll can't last, no matter how much one films in slow motion. In a freak encounter with a terrorist, the little girl is killed. As grief overwhelms Daanish, Delhi turns into noir city, crawling with violence, menace and shadows.
And then everything falls apart – both in Daanish's life and in the logic of Wazir.
Because suddenly, there's a man in Srinagar locating terrorists in Delhi (What happened to the ATS's computers in the capital?). Bachchan shows up wearing a scraggly hairpiece that looks like his hairdresser had been forced to fit it on the actor's head in less than five seconds. The rate of coincidences is higher than a rabbit's sex drive.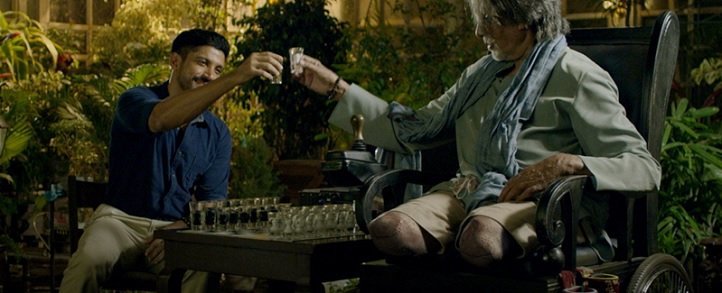 A flashback reveals a big twist in Wazir's tale well before intermission. A little girl, potentially channelling the audience's emotions, whimpers. An Indian police officer opens fire on Indian army commandos in an attempt to help his friend's hare-brained attempt at vengeance. And most upsettingly, Neil Nitin Mukesh appears and starts whizzing around on a wheelchair. That scene is perhaps the scariest moment in Wazir because the audience is threatened with the prospect of Mukesh getting more screen time.
At merely 103 minutes, Wazir could have been a taut psychological thriller. Unfortunately, the film squanders the suspense in its plot long before the halfway mark. Important details are revealed to the audience before intermission and in the second half, Daanish is doomed to play catch up.
The cast, barring Mukesh, does what it can to make Wazir engaging. Kaul is convincing as an unscrupulous politician. Akhtar delivers a solid performance as the police officer ravaged by grief, but it's an uphill task to command attention when the audience knows more than his character in the film. Bachchan has some delightful dialogues, which he delivers in style. However, his role is one that demanded more from the writers as well as the actor.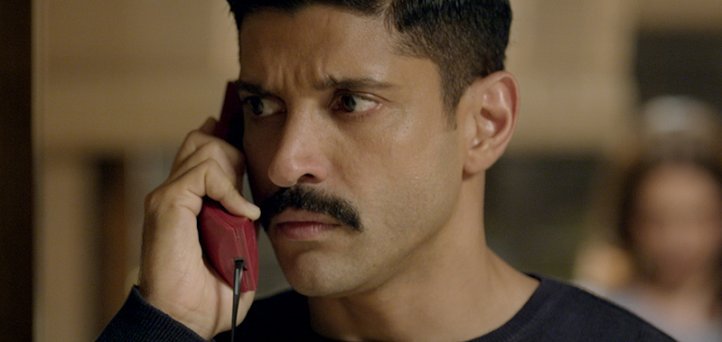 If you think about the character in Wazir, they will all come across as delinquents. For instance, why would one man believe another is a murderer just because a stranger said so? Or, why would a control freak remove himself from the action just at the point when his grand plan reaches its climax? 
Part of the problem in Wazir is that all those involved in its making needed to be brave enough to present a star actor as a psychopath. Unfortunately, in Bollywood, the demands of the story are secondary to the need of ensuring stars play unadulterated good guys. Joshi and Chopra try to paper over the cracks in logic by lavishing Wazir with clever dialogues and chess references. However, without the suspense that's essential in a thriller, these end up being cosmetic details.
And all the chess talk in Wazir ends up achieving is backing George Bernard Shaw's claim that chess is "a foolish expedient for making idle people believe they're doing something very clever when they are only wasting their time."
Featured image source: Facebook