Sponsored by
Best in cinema
So, in case you missed it, you'll know that the divine Cara Delevingne and the dreamy Dane DeHaan (listen, if you haven't seen him in Life, I suggest you do) are going to be appearing together this year in Valerian and The City Of A Thousand Planets. And holy moly awesome ravioli, the trailer they just dropped makes it look like the lovechild of all my science fiction fangirl dreams and a life-changing psychedelic trip. 
First, though, a little background: the story is based on a French comic book series titled Valerian and Laureline by author Pierre Christin and artist Jean-Claude Mézières.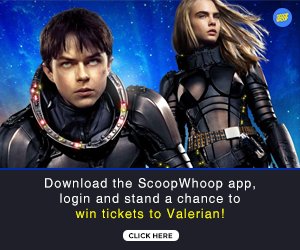 The movie follows two special operatives, Valerian (DeHaan) and Laureline (Delevingne), who are charged with peacekeeping in the galaxy. More specifically, Alpha, a gigantic space metropolis where thousands of species from space and time have come together to share and expand on knowledge and culture. This city of a thousand planets, however, is threatened by a mysterious dark force, and which, if left unchecked, may spell the end of the universe as we know it. 
So, you know, your good ol' science fiction, action, drama and a political conspiracy. Check out the trailer below. To sweeten the deal, we're giving you a chance to win tickets to watch the movie at your nearest PVR! Just download the ScoopWhoop app on your Android smartphone, log in, and stand a chance to win tickets to an exclusive preview of the film. Enjoy!