Yesterday, Twitterati witnessed actor-singer Diljit Dosanjh and actor Kangana Ranaut get into a full-blown war of tweets over the latter's distasteful comments on the farmers' protest.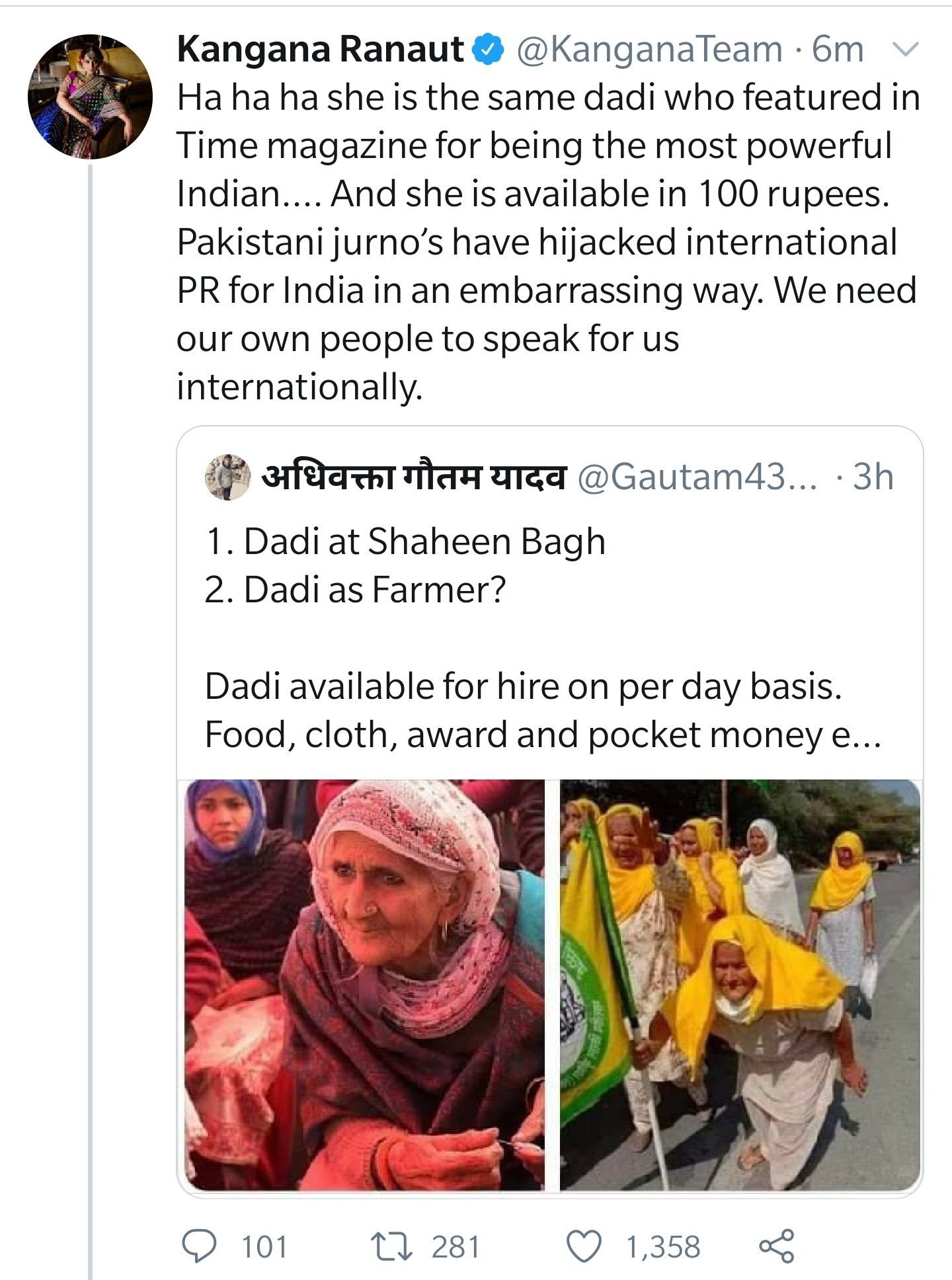 While people were quick to retweet, like, and comment on the whole conversation, there was also a section of Twitterati wishing for subtitles. If you belonged to that section, then here's an English translation of all of Diljit Dosanjh's tweets:
Translation: 
Are you a pet of everyone you've ever done a film with? Then the list of masters will be long?
These are not people of Bollywood, these are people of Punjab. We have a lot of courage. 
Instigating people by lying to them, and playing with their emotions is something you know very well. 
Translation: 
Come on then
I've not just started working… how many have you licked for work then?
I don't struggle in Bollywood madam, the people from Bollywood come on their own and say, "Do this film, Sir". 
I am telling you again, this is not Bollywood, this is Punjab. 
You say two things, you'll not hear four but 36 things in returns. 
You have no respect/manners in the way you address someone's mothers and sisters. 
Being a woman yourself, you state other women as someone available for ₹100. 
The mothers of our Punjab are God for us. 
You've tangled with a beehive now! 
Google the Punjabi. 
Translation: 
Come on, come on
You dumb, rude person
The conversation is about that mother whose photo you shared while stating that she could be hired for ₹100 per day.
Did you hear her response, or should I send it again?
Now don't turn around the topic. Either address this or run away. 
These tricks of disunifying/dividing might work in Bollywood… but it won't work with Punjabis. 
Translation: 
Come on, come on
You have no sense (literally translated: you have not even a little bit of brain). You go around calling our mothers as those that can be hired for ₹100. 
Go, threaten and scare someone else with the name of Bollywood. We've been born to rid people of their ego. 
You kept talking (ill) of Bollywood, and now you're suffering because you called everyone bad. 
Translation: 
Being a woman yourself, calling other women as someone available on hire for ₹100 is not an intelligent/sensible thing to say. That too when the woman in question is an elderly lady. 
Come and discuss this topic, and don't run off to discuss other topics. 
Don't shoot arrows in empty air. 
It's not necessary that you be right every time. 
We're discussing a different topic and you're going in a different direction altogether. 
Are you okay? 
Don't go off-topic, answer straight… what you said (literally translated: barked) about our mothers, then come and talk to our mothers, who you stated as those hired for ₹100. 
That'll rid you of your high-handed attitude (literally translated: 'Herioine'ness).  
Translation: 
Do they appear to you as one who will incite violence? 
Every word you say is like that, what do you want? 
They are like God for us.
Did nobody teach you any etiquette of speaking? 
Translation: 
Are you making any sense? 
We know you want to join politics… but what you're saying should at least make sense. 
The conversation is only about the farmers, and about what you said for our mothers. Run off now.
Oh, and the film you're trying to tie to this conversation, it won a National Award.  
The film in question is the 2014 film Punjab 1984 starring Diljit Dosanjh and Kirron Kher. 
Translation: 
Okay, and the mothers who live in our hearts, you'll call them as people available for hire for ₹100. 
I know of all your ploys. 
India does not belong to you alone; every time you see (Kangana's tweets), it's just about politics
Punjabis have sacrificed more than anyone else, and then you went ahead and abused our mothers. 
Don't worry, you'll remember Punjabis now. 
The proof that you've given of your sense/intelligence by insulting the mothers of Punjab, Punjabis will not forget it… and you will remember Punjabis too. 
Your job is to lead peaceful protests astray and that's exactly what you've been doing since the start.
I know all your tricks/ploys, don't worry. 
Translation: 
A peaceful protest is going on, and everyone is with the farmers. 
Some people like Kangana who bark and ruin the situation, and try to divert attention to political agendas, is being noted by everyone. 
This woman has been trying to divert the issue right from the start. 
But Punjabis know you. 
Kangana, speak of unifying the nation, not dividing it. 
Answer this first, this isn't your country alone. 
You've no other work than spitting nonsense for 24 hours. 
What sort of nationalism teaches you to insult the country's elders? 
Translation: 
So, for the last tweet of the day. 
Kangana – This pet is famous for licking and diverting attention from the issue. 
The issue is about the farmers and we are all with the farmers, in a peaceful manner. 
Apologize to the mothers of Punjab in case you wish to improve upon your karma. 
Translation: 
Which gang's members do these people appear to you, Kangana?
What have you done apart from barking?
You say wrong things about our mothers, and those who give their lives for the nation, you refer to as gang members. 
Does Sukhbir Singh's father, who is in the protest, look like a gang member to you?
And now you know or, hun tussi jande ho gall ki hori si!