Sponsored by
Indian Terrain
Truth time – men always get the short end of the stick when it comes to fashion. (I'm sorry, but they do) The spectrum of fashion, from out and out experimental to super conservative covers far too much for fashion news to comprehend. In short, the struggle is real to keep up with these runway trends. So what will the average Joe do? Pick out the same t-shirt and trousers for yet another season of comfort? Not if we can help it! 
We chanced upon the gorgeous and surprisingly wearable Autumn/Winter 2017 collection from Indian Terrain and it's fashion GOLD! Plus with the ever-suave Kunal Kapoor modelling the heck out of these clothes, deconstructing the trends became a necessity. So sit back and be schooled on what to wear this season and how to look good wearing it.
1. Sport those khakis with elan, this fall.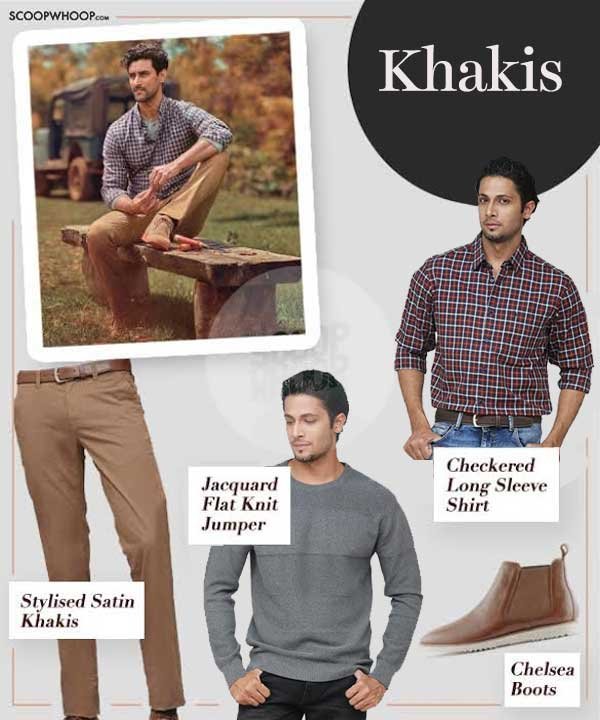 Khakis are one article of clothing that are stylish to boot, irrespective of the season. And what better way to sport a pair, than with the colours of the season. Style your khakis with a checkered button-down in fun colours. For those who need to tone the palette down further, throw on a grey jumper to bring things to a stylish end. Considering how dashing Kunal looks in the complete ensemble, pulling off this look should be a cakewalk.
Shop the shirt, jumper, khakis and boots.
2. Plaid is making a solid comeback, you guys!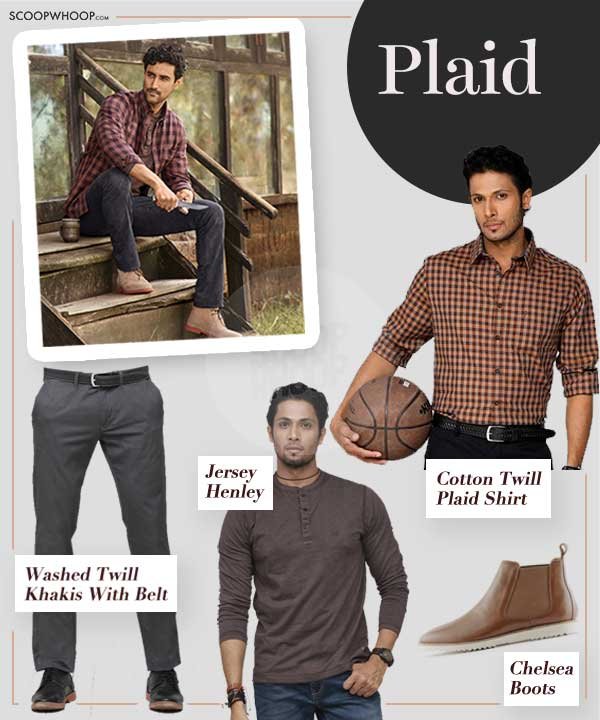 Today in "Basic Fashion, Done Right" we see the glorious makeover of the hit grunge trend from the late 80's. Plaid has been a wardrobe staple for men with every season – it's stylish and yet understated, formal and yet casual at the same time. Plus, layering it over a classic Henley is sure to keep the nippy weather away. Pair this with slate grey khakis for game night with the buds. Comfort and style rolled into one, now that's a winning combination.
Shop the shirt, henley, khakis and boots.
3. Earth-toned leather jackets are huge right now!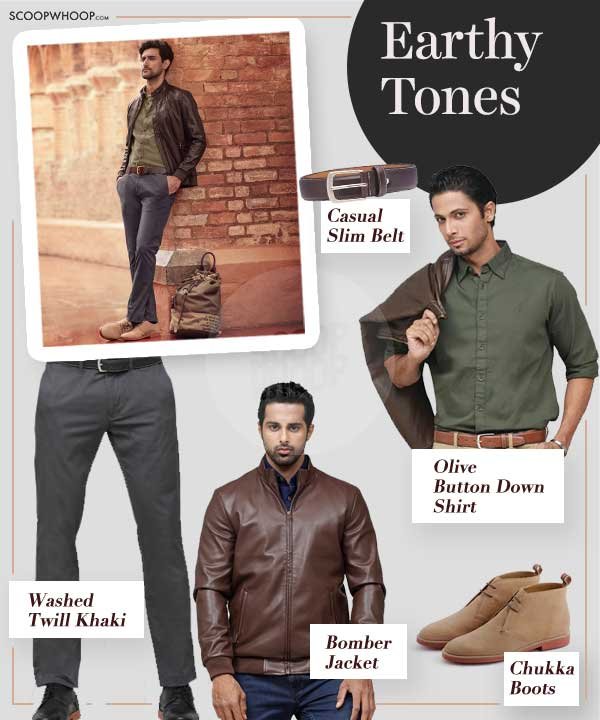 A black leather jacket is a quintessential accessory, popularised by the Greaser culture of the 50's and while the subcultures might have faded from memory, the leather jacket has lived on and how! But this trend leaves behind the black and delves deep into earth tones for a more polished and charismatic appeal. Pair your brown leather jacket with olive button-down shirts and deep grey trousers and you have a perfect night-out look waiting for you.
Get the t-shirt, bomber jacket, shirt, khaki, belt and boots.
4. Fitted bomber jackets and solid button-downs. Classic!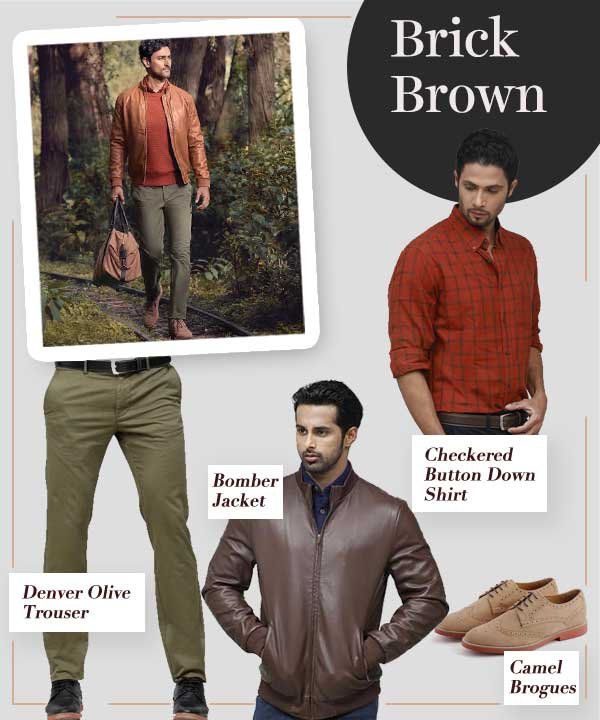 A surprisingly refreshing colour trend this season are neutrals. While the season calls for darker hues of indigo, dark blues and greys put a fun spin on things with olives, browns and brick reds instead. Get a bomber jacket in brown and pair it with a flaming brick coloured button-down. Break the mould by opting for olive trousers instead of a brown one. Put some sturdy brown boots on and your look is complete.
Shop for the sweater, bomber jacket, button-down shirt, trousers and brogues.
5. Add some polka prints for some fashion-forward quirks.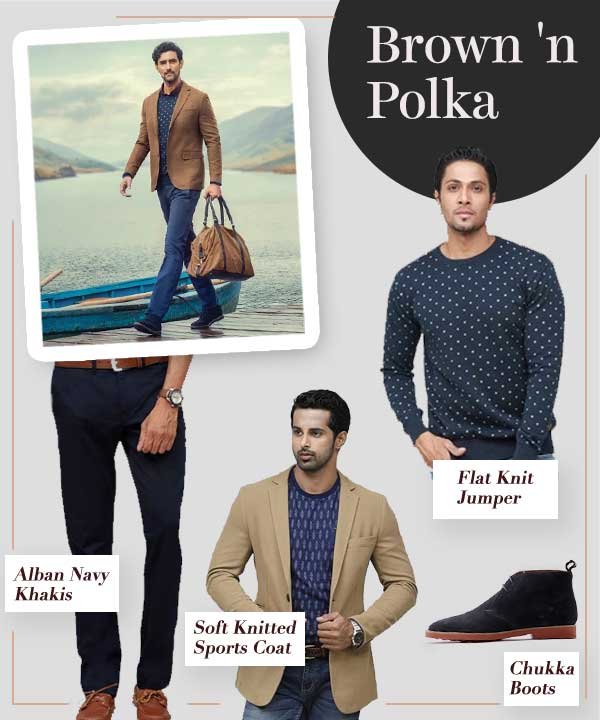 Take your love for indigo to the next level with this fantastic polka jumper and true-blue trousers. Throw on the camel coloured coat to downplay the blues (quite literally) and you have an outfit ready to impress your friends in. 
Get the shirt, jumper, coat, khakis and boots.
6. Beige and checks – such a winning combination!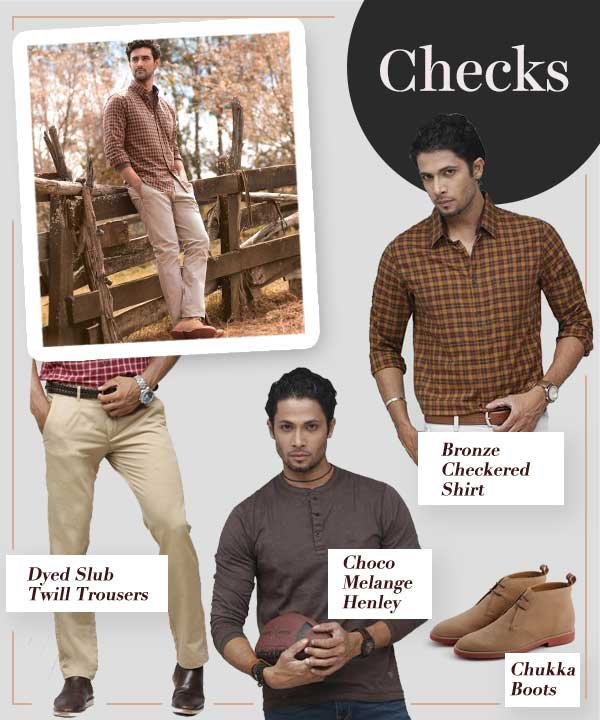 If tartan and pastels are a little too extreme, play it safe with beige-toned checks. This glorious button down would complement your beige khakis well and look perfect for a brunch with your colleagues. Layer it with a knitted jumper and you're a laidback style masterpiece in the making.
Get the trousers, shirt, Henley and boots here.
Happy Shopping!