Sponsored by
The Arvind Store
At the risk of being lynched by die-hard fashion fanatics, let's get one unsavoury truth out of the way – style and comfort don't always go hand-in-hand. 
Often the trends that look stunning on runways are really uncomfortable in real life. While women have an entirely different universe of discomfort to put up with in the name of fashion, men's sartorial choices aren't free of this problem either, especially when it comes to formal wear.  So how does the man-about-town make the marriage of comfort and style last? Easy – with the right brand, the right breathable fabric and the right styling, dressing formally for comfort can be everyone's cup of tea. Fortunately, The Arvind Store's lineup of stretchable formals does the trick and more. Here's a video that will sum up their styling ethos perfectly. 
So, naturally I checked out their Spring Summer '18 collection of Ready To Wear clothing extensively and it turns out their formals have a surprisingly versatile appeal. Thus, here I go presenting these 7 stylish outfits that will help you decode the effortless formal look with ease.
1. How about this tailored travel blazer for those weekend work getaways?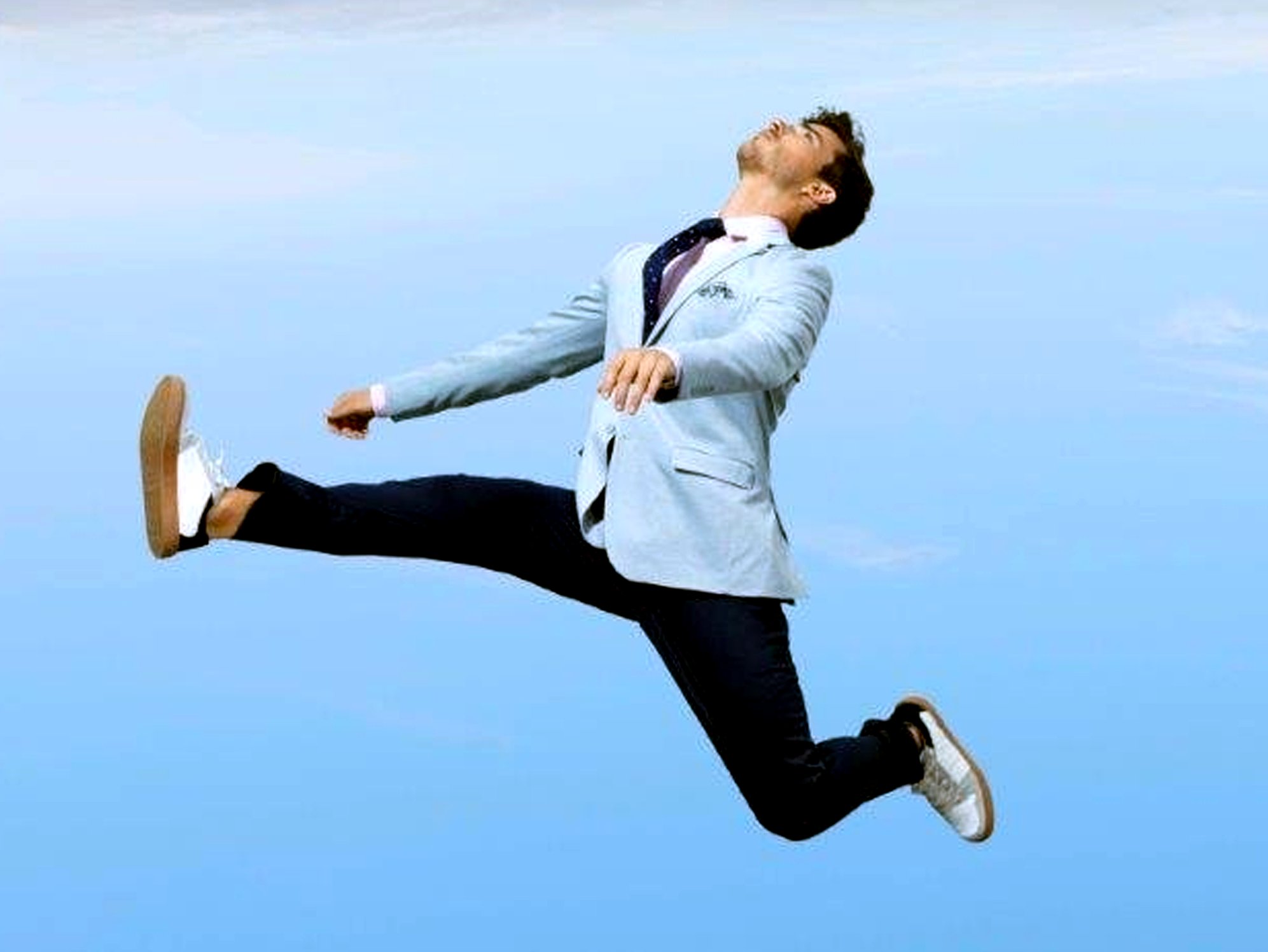 If creating a subtle impression is what you're aiming for, then why not slip into this stretchy grey blazer and inky blue chinos. The blazer is specially designed for the long business trips, with multiple pockets to stash just about anything you might have. Don't even bother about getting a crease on this fine outfit, the entire piece is wrinkle-resistant. Now, how about that?
2. This blue suit is the perfect solution to those midweek work blues.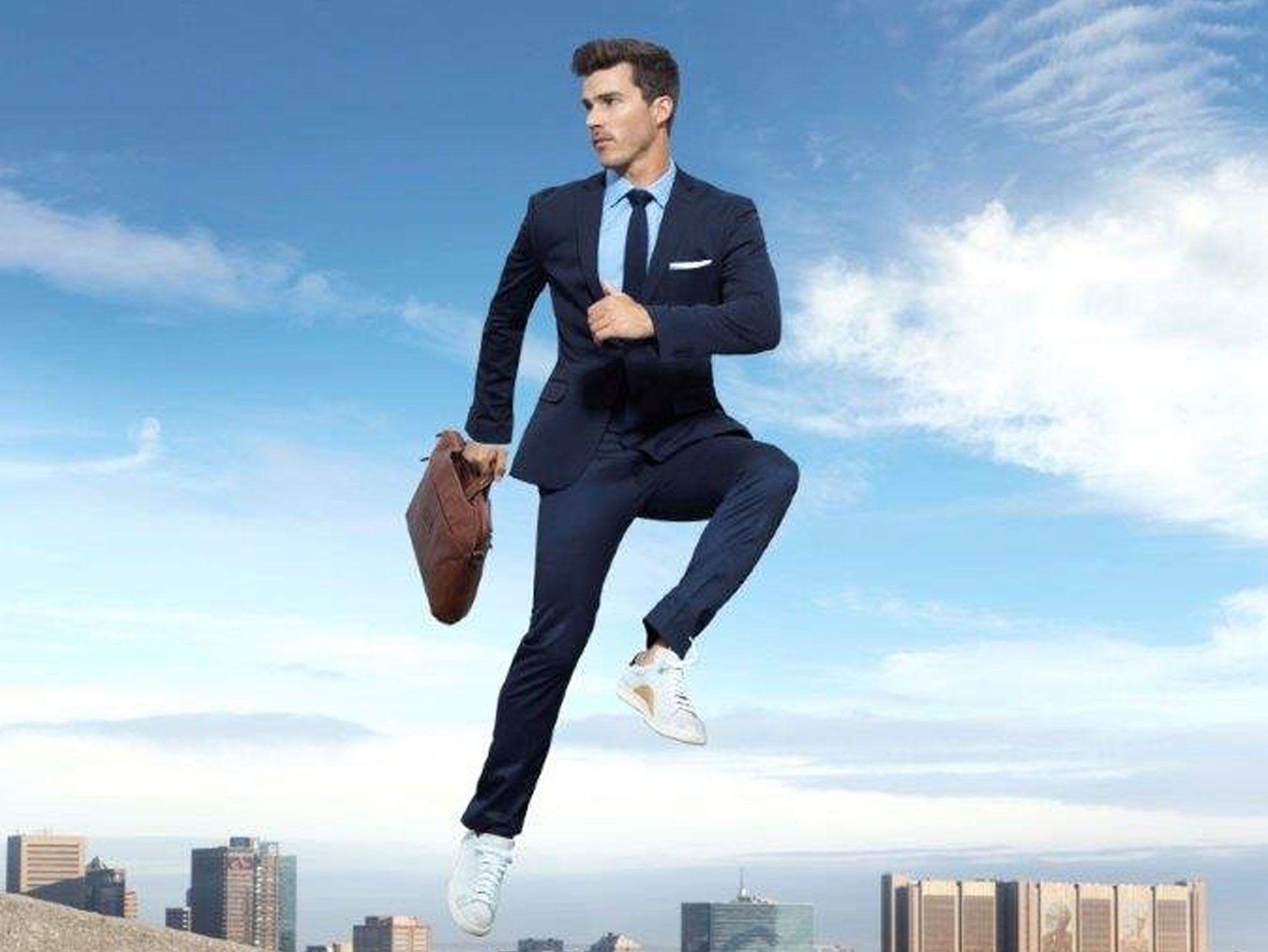 Here's a suit that takes the norm of formal work wear and then adds a twist to it, and how! The fabric is water resistant, wrinkle resistant, stretchy and breathable. Curated from the 'Work' Collection, this suit is what each one of us needs to survive a gruelling day at the office with ease. Amirite, guys?
3. Cross over to the dark side, with this indigo suit that is perfect for drinks with colleagues.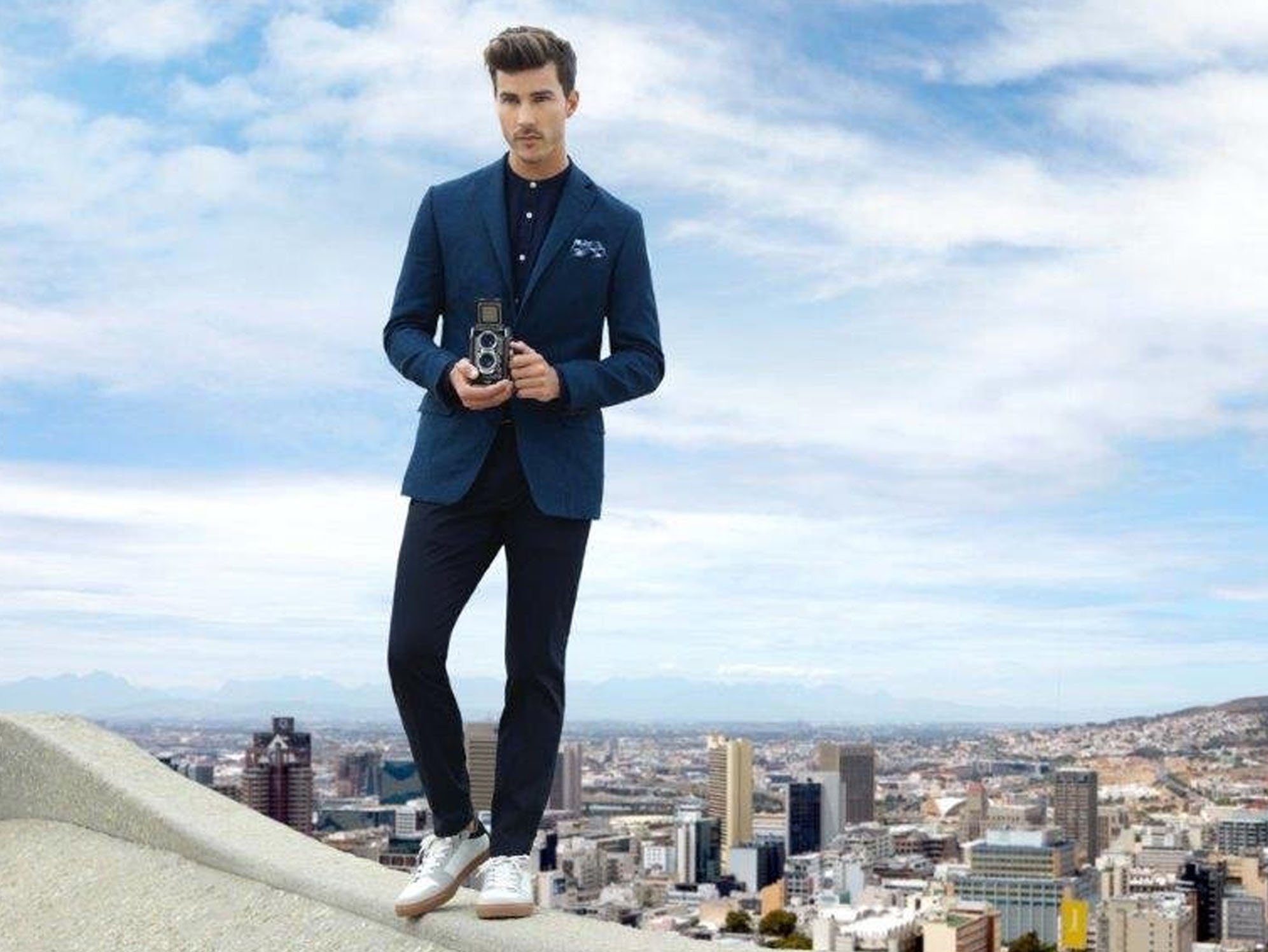 Dapper nights on the town just got a comfy spin with this inky blue blazer and trouser combination. Just the right amount of drama, mixed with oodles of class. Plus it's so comfortable you won't even feel like you have a suit on. This indigo outfit, from the 'After Hours' collection, is totally worth every penny.
4. This breezy linen suit would take the load off morning meetings.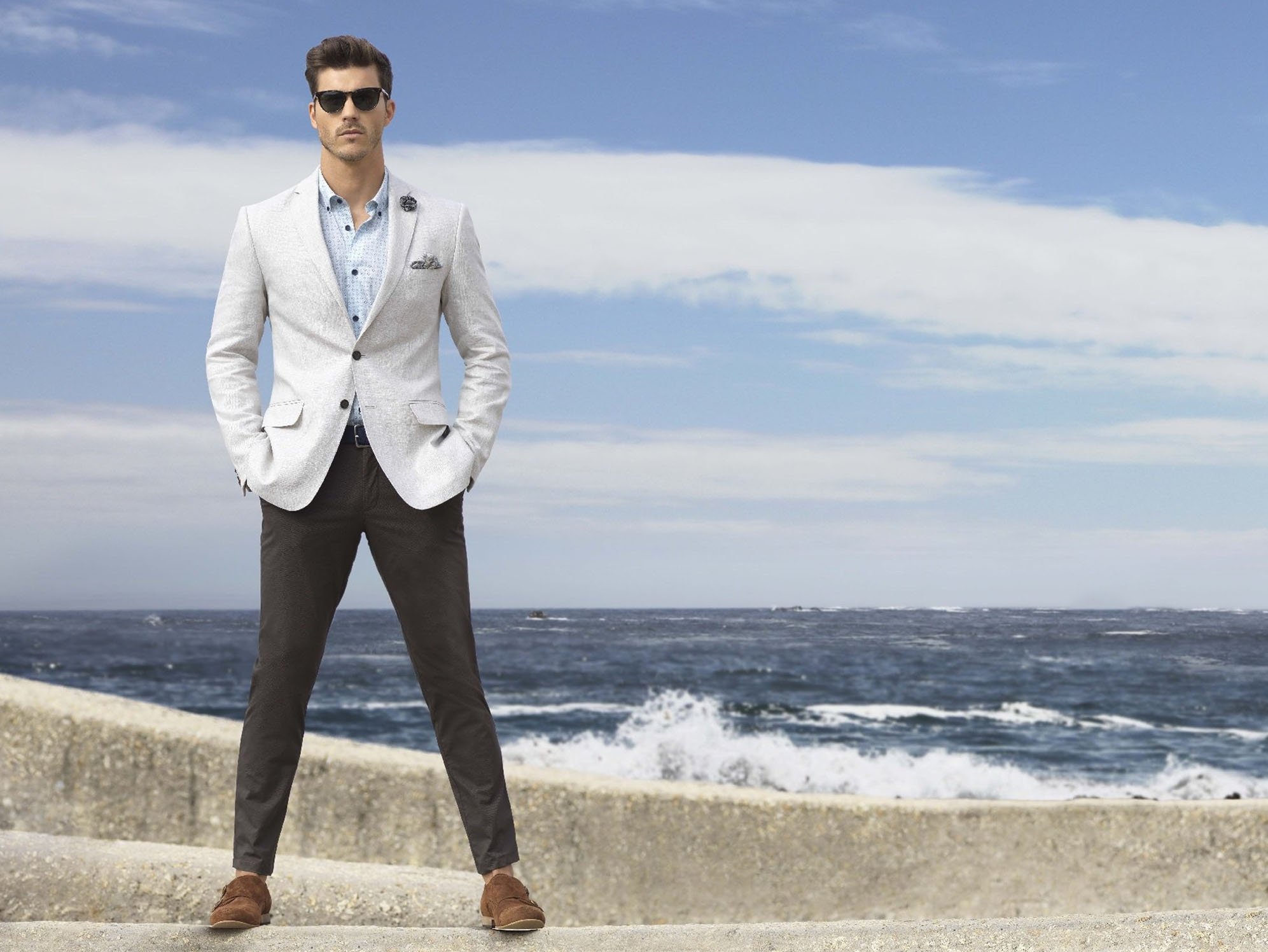 There's something about a crisp linen suit in summery tones that adds a spring to one's step. Sourced from the 'After Hours' collection, the ensemble is a perfect mix of easy dressing and class. The linen blazer works perfectly with the button-down and the chinos to create quite a scintillating look. Do you feel the temperature soaring? I know, I do!
5. This slate grey 3-piece-suit is perfect for weddings or for upstaging the groom, if you catch my drift.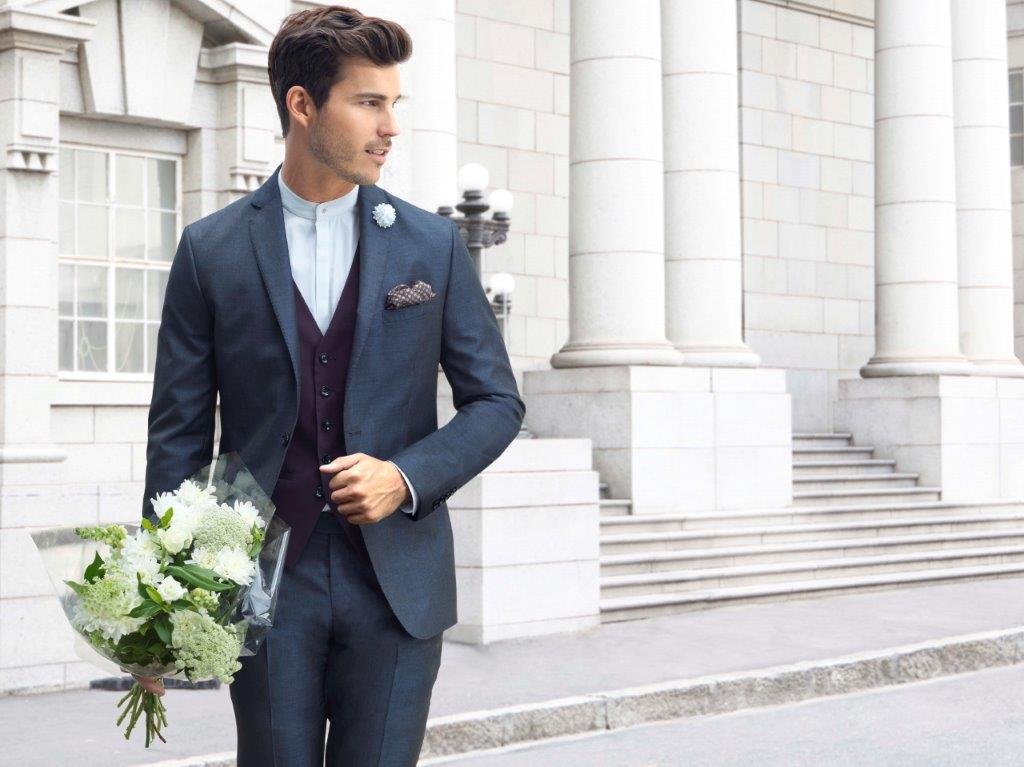 Let's face it, if you walk down the aisle wearing this suit at your friend's wedding, don't be surprised if people make the happy mistake of presuming that you're the groom. The clean-cut grey blazer, the contrast maroon waistcoat paired with a Mandarin collar shirt is just perfect. Now throw in a printed pocket square and lapel pin and you've got a ceremony-stopping outfit.
6.  This azure blue suit is perfect to wear to that brunch date with BAE.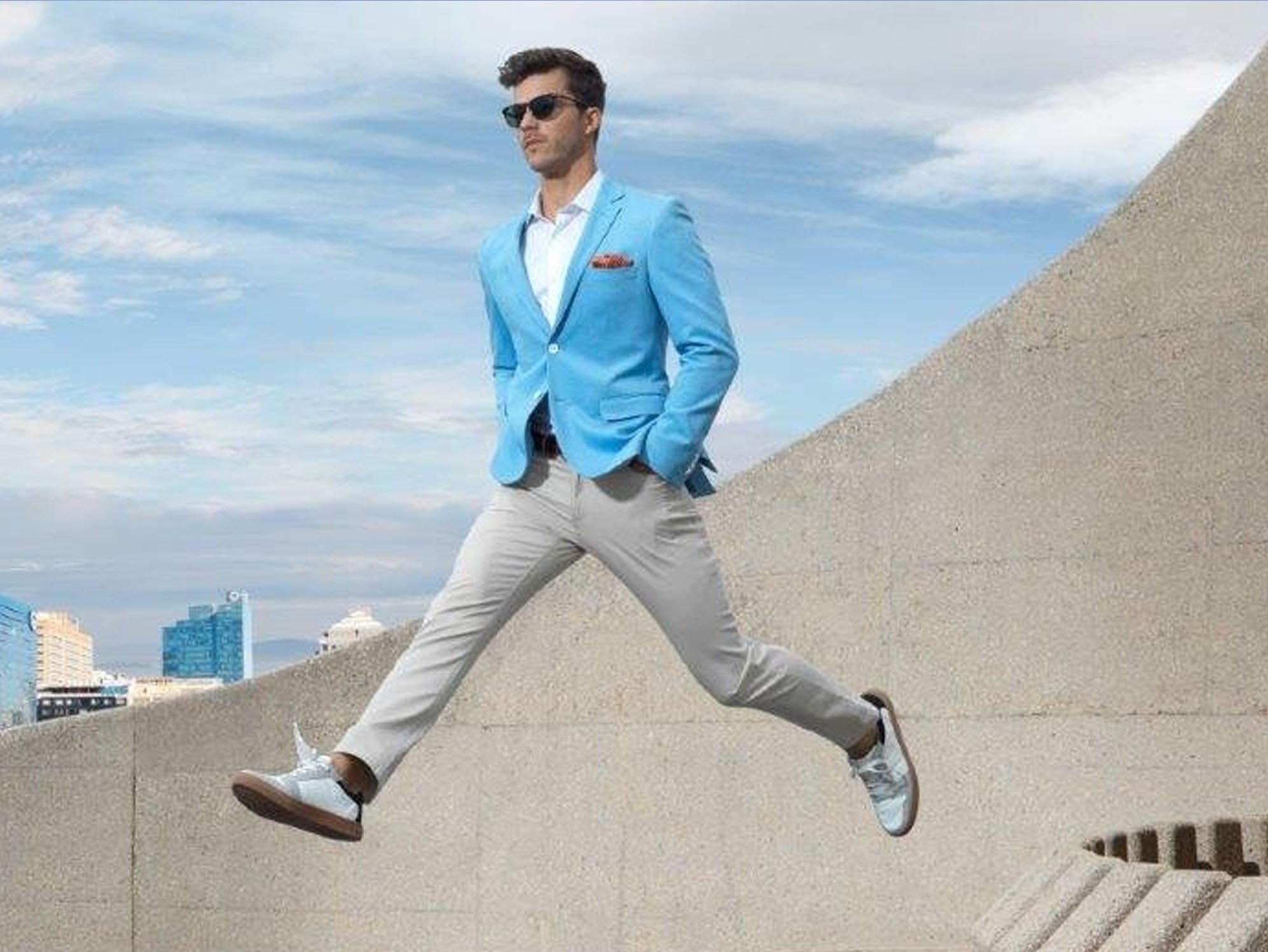 Nothing says 'I woke up in this' better than this baby blue blazer and chinos combo. Considering how that's exactly the easy-breezy impression you'd want your date to have, I'd say putting on this suit will make you a shoo-in for a second rendezvous. Throw on a polka dotted tie and a solid blue pocket scarf and I'd say it's an outfit worth getting down on one knee in. 
7. This navy 3-piece suit is going to be perfect for your wedding reception. #GroomGoals, anyone?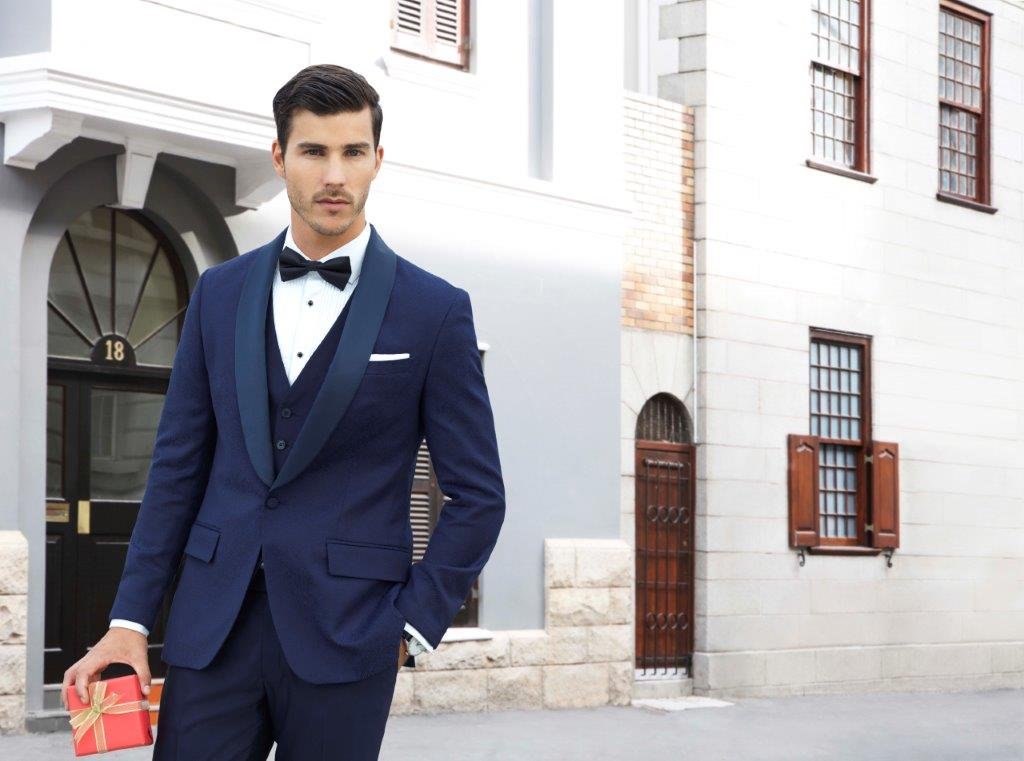 If you're looking to class it up on your nuptials reception, why not take a leaf out of vintage styles and give this navy 3-piece suit a try? Just look at this tailored gorgeousness from the 'Ceremony' collection and contemplate why do people even bother with any other outfit? I'd say throw on a satin pocket square with this and just marry me, already!
If the carefree model in the picture wearing the hell out of these stylish suits and my flawless fashion advice is enough to convince you, then do check out more of these dapper suits at The Arvind Store. They have a wearable suit for all occasions that are ready-to-wear, super stretchy and comfortable. Check out their entire collection here.
Image Courtesy: The Arvind Store