Fashion is a complicated thing. What with new trends coming and going out of fashion everyday. It's tough to remember it all. And we've all embarrassed ourselves for using the wrong words in the company of fashion experts. Yes, I'm talking about the times when we've called scarves as mufflers and chokers as neck bands. Admit it or not, we've all been there.
But don't worry for we've got you covered. Here's a list of 15 wardrobe terms that most of us have been getting wrong all this while. 
1. Not every top showing our shoulders is an off-shoulder! There's a difference.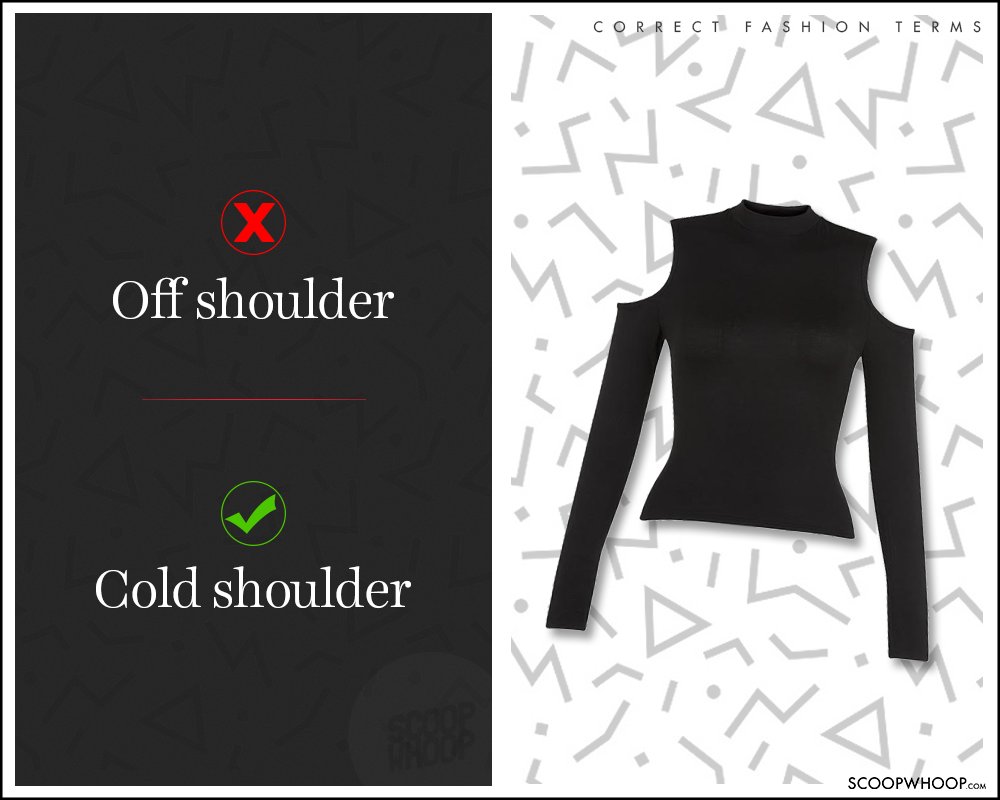 2. So let's get this clear; many things ranging from a hat, hairband, tiara etc, can be worn on the head but that doesn't mean we call all of them a cap, right?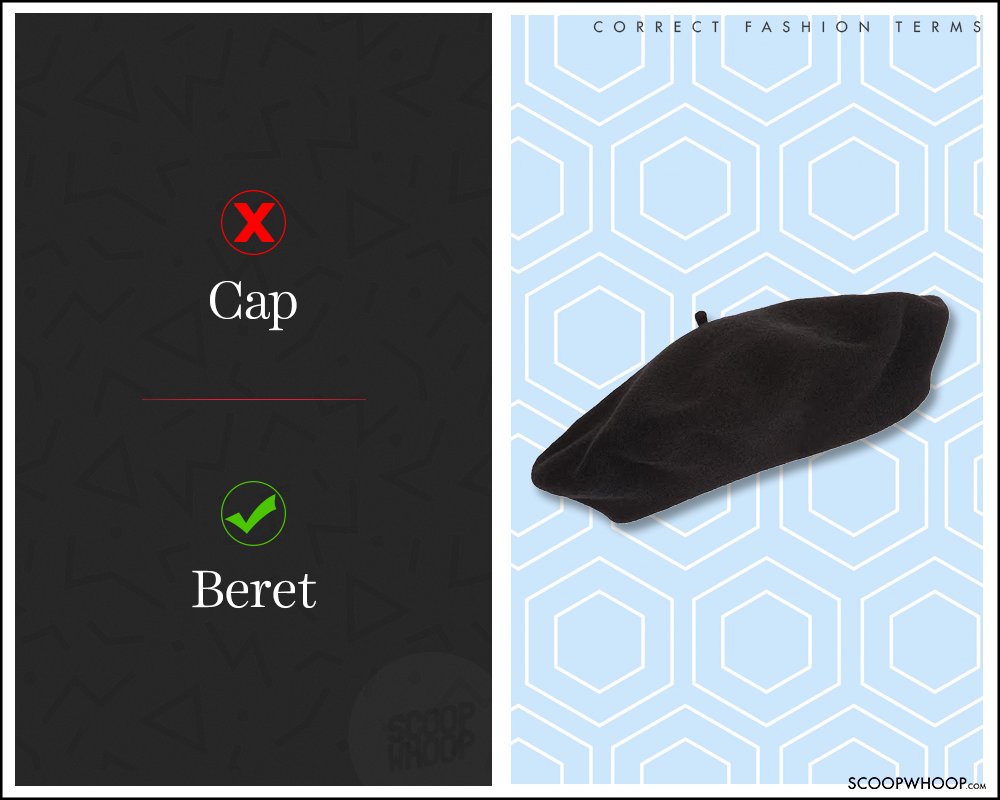 3. This is the mistake that most of us make. Sleeveless tops have much narrower straps and are not protruding to our shoulders and the ones that do are called cap sleeves.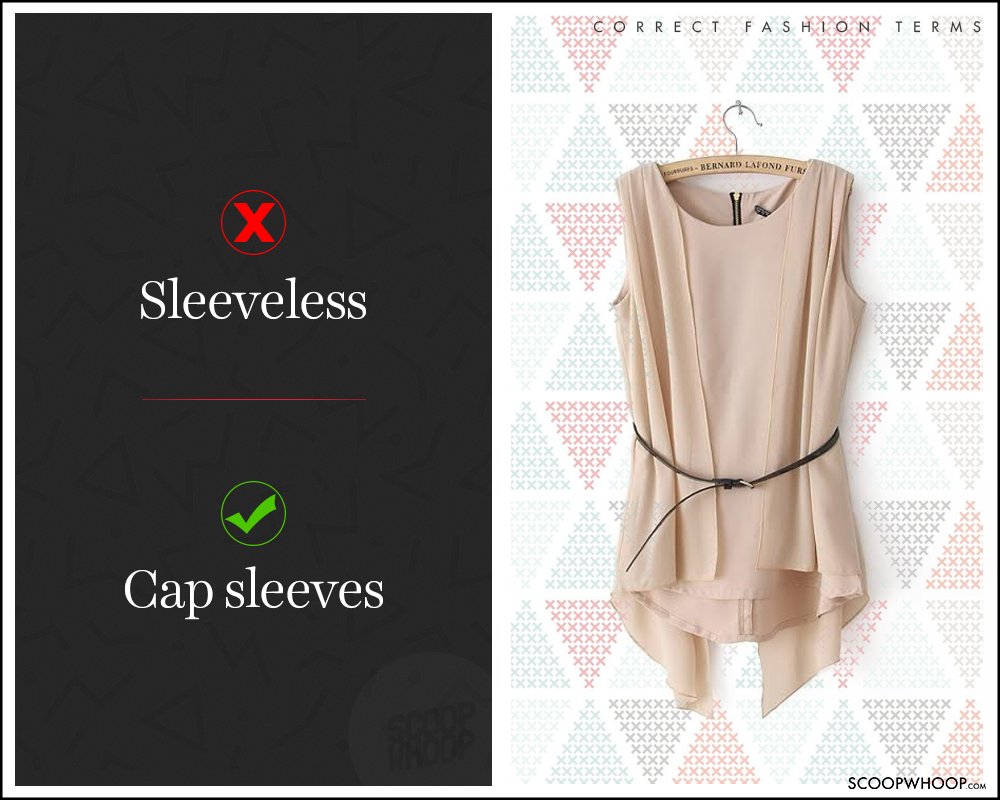 4. An A-line dress absolutely does not resemble with what the letter suggests, but a shift-dress does.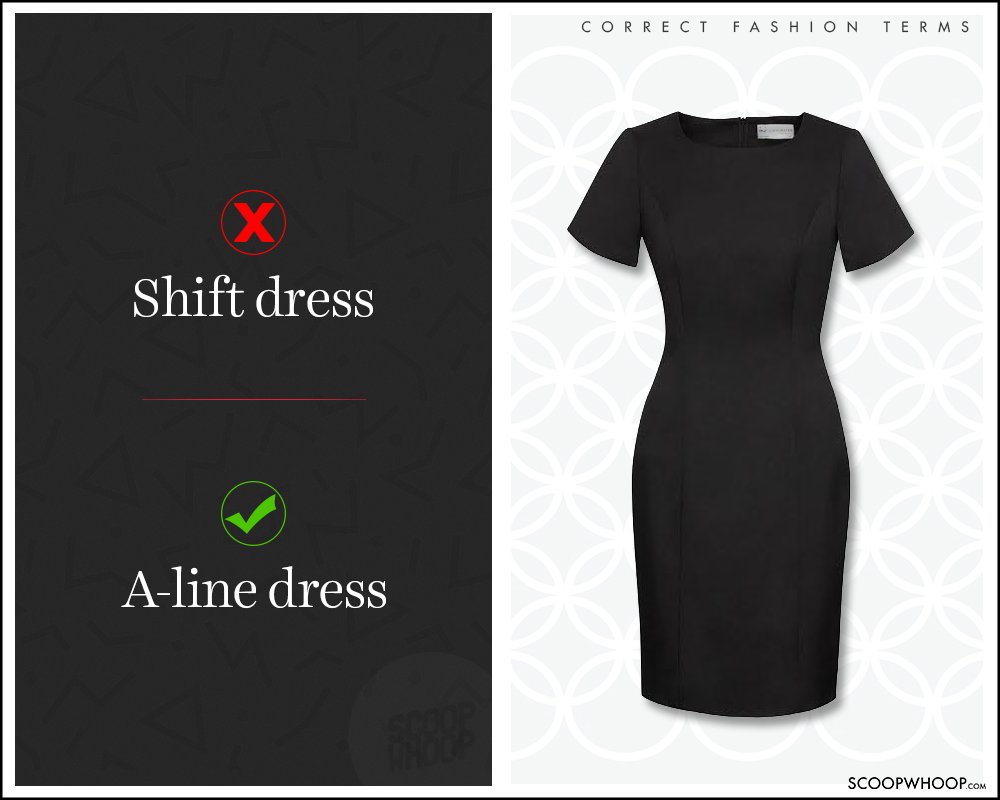 5. Frills have much more layers of waves than the herringbone hem. 
Frills, on the other hand, look something like this.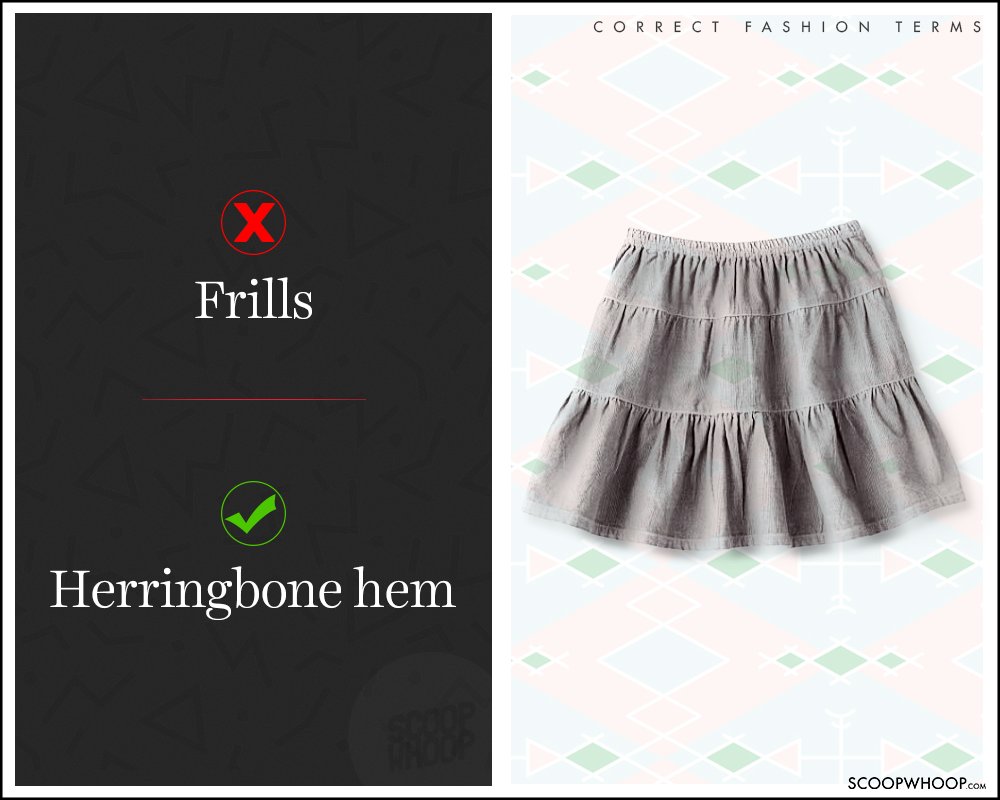 6. The trendy thing which goes around the neck is what an infinity scarf is, whereas mufflers are what Arvind Kejriwal wears in winters. Geddit?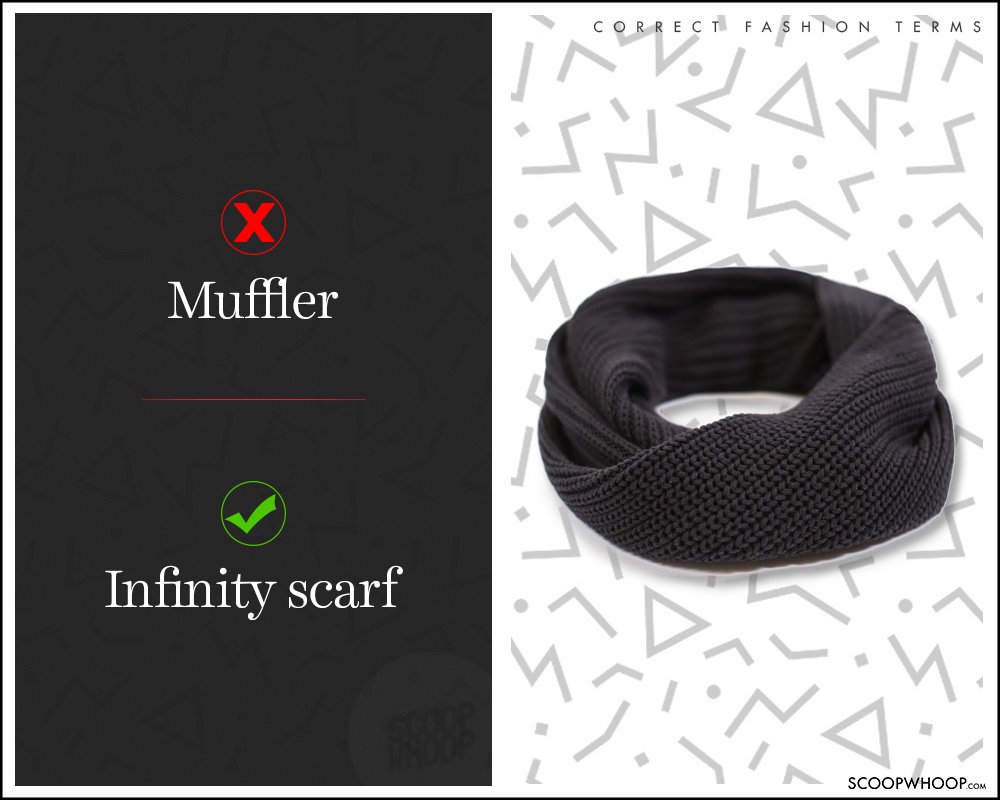 7. We've been terming every bag that extends till the waist as a sling bag and that's unfair! Yes, a messenger bag does have a long strap, and it is also worn across the body but it is not a sling bag. 
You can click here to know more about messenger bags.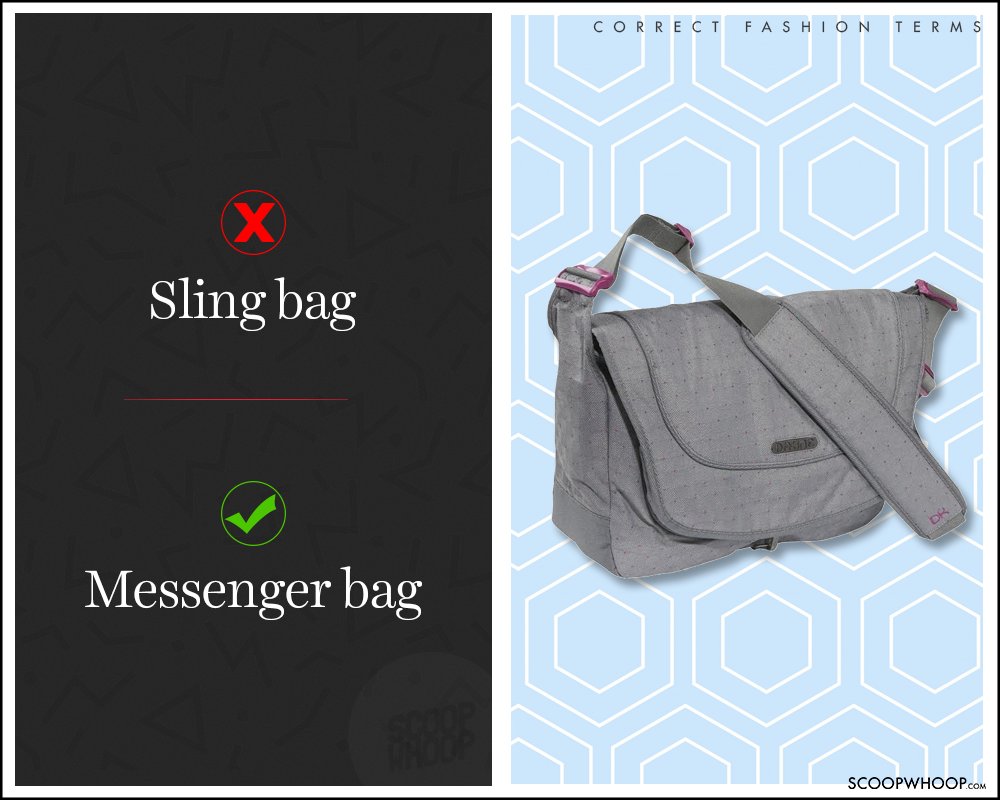 8. Pencil heels are more like stiletto heels whereas, as the name suggests, cone heels are purely different.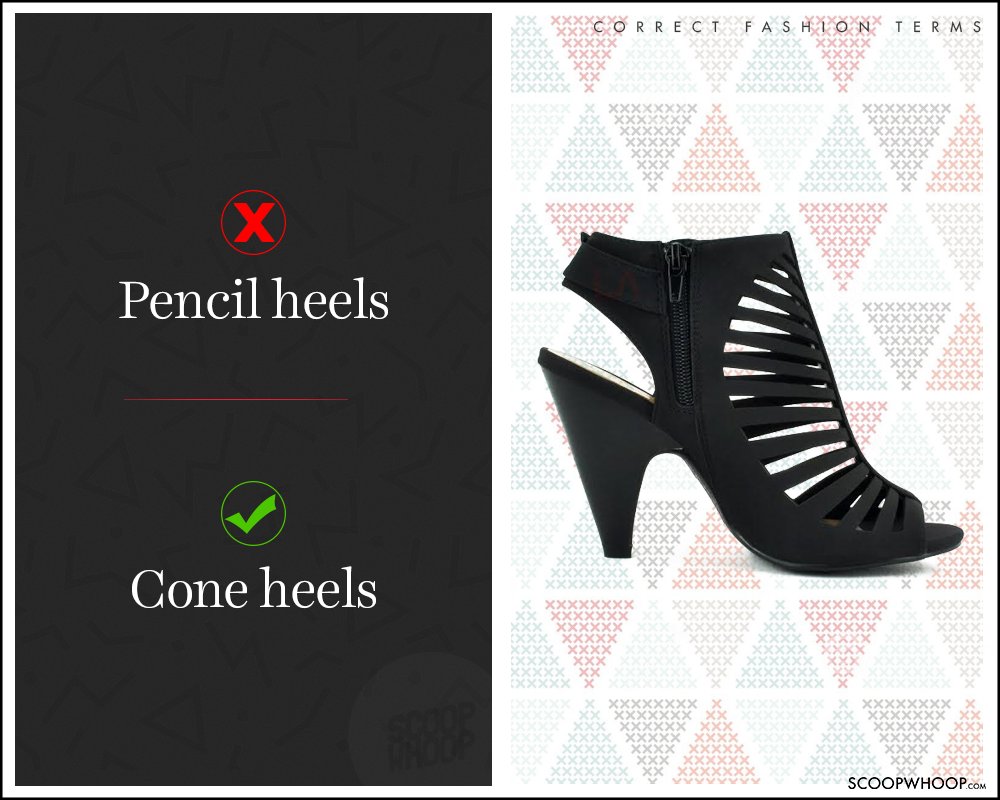 9. There's a huge difference between a tank top and a spaghetti top. The fit is as different as the North and the South pole.  Don't get confused, guys!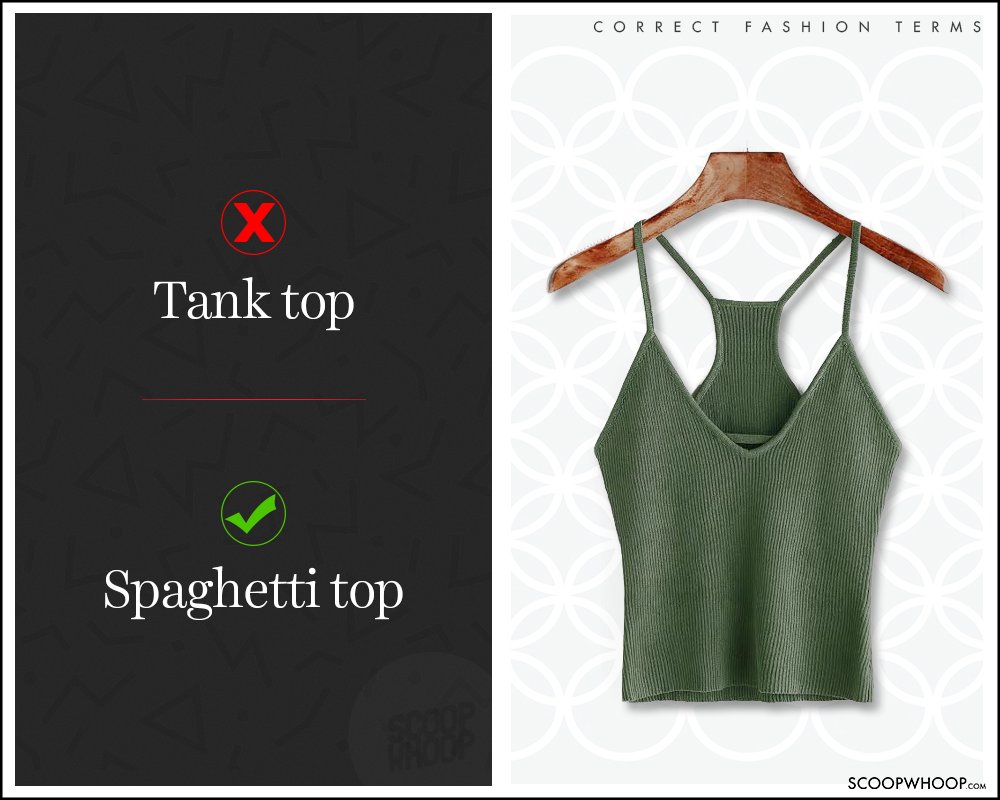 10. This is one thing that all of us are still getting wrong. I know it's hard to digest and you probably feel like your whole life has been a lie but the most appropriate term for a 'Peplum' is Fluted hem.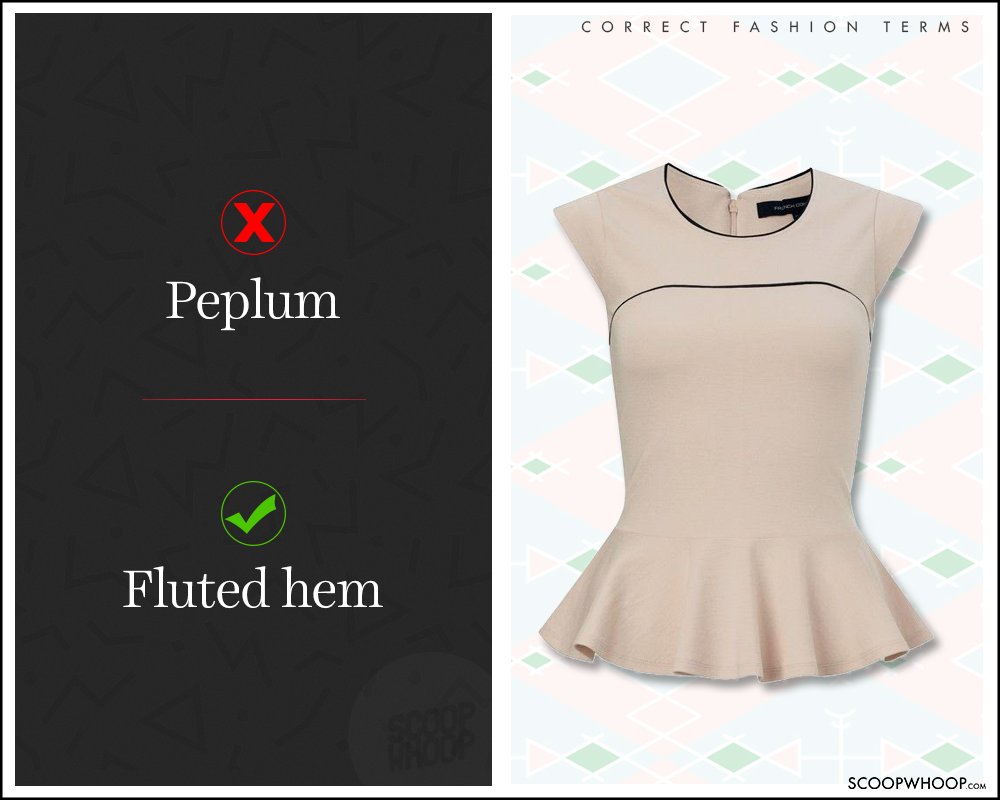 11. Every flat and standing collar has been called a Chinese or a Nehru collar. Ever heard of Mandarin collar? That is the correct term for it.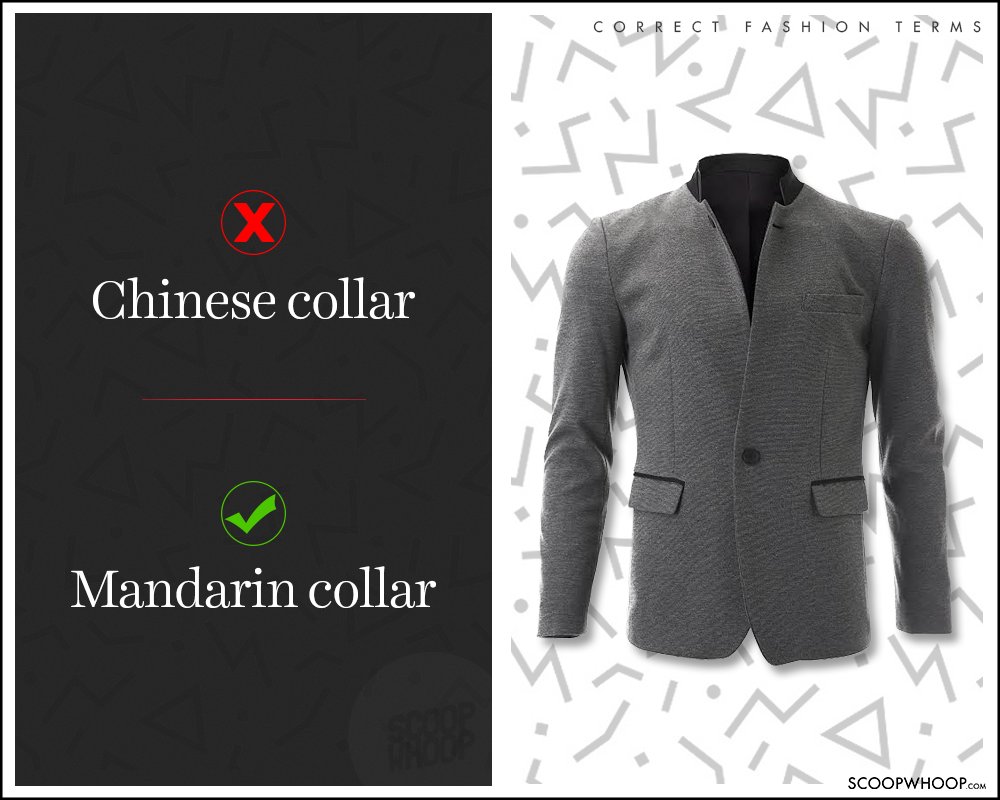 12. The fluffy long jackets that we see around in winters are not overcoats. They have a specific term for them and are called Anoraks.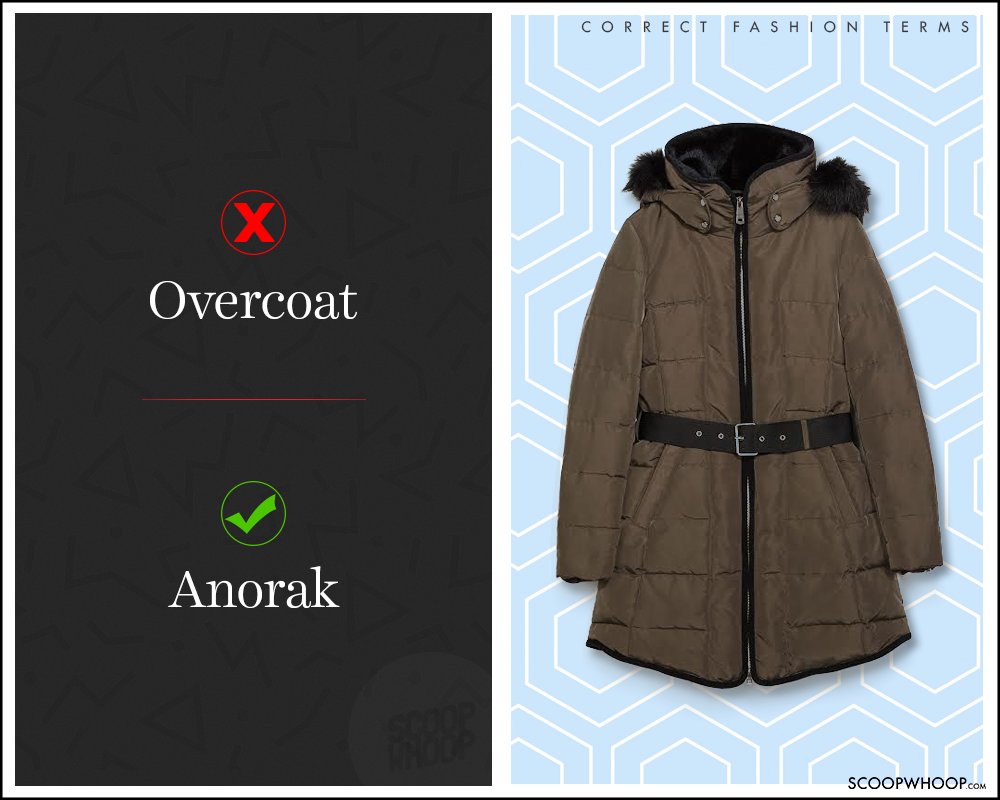 13. I agree that the sporty high-tie looks a lot like a bow but it's high time we know the difference between a high-tie knot and a bow-tie.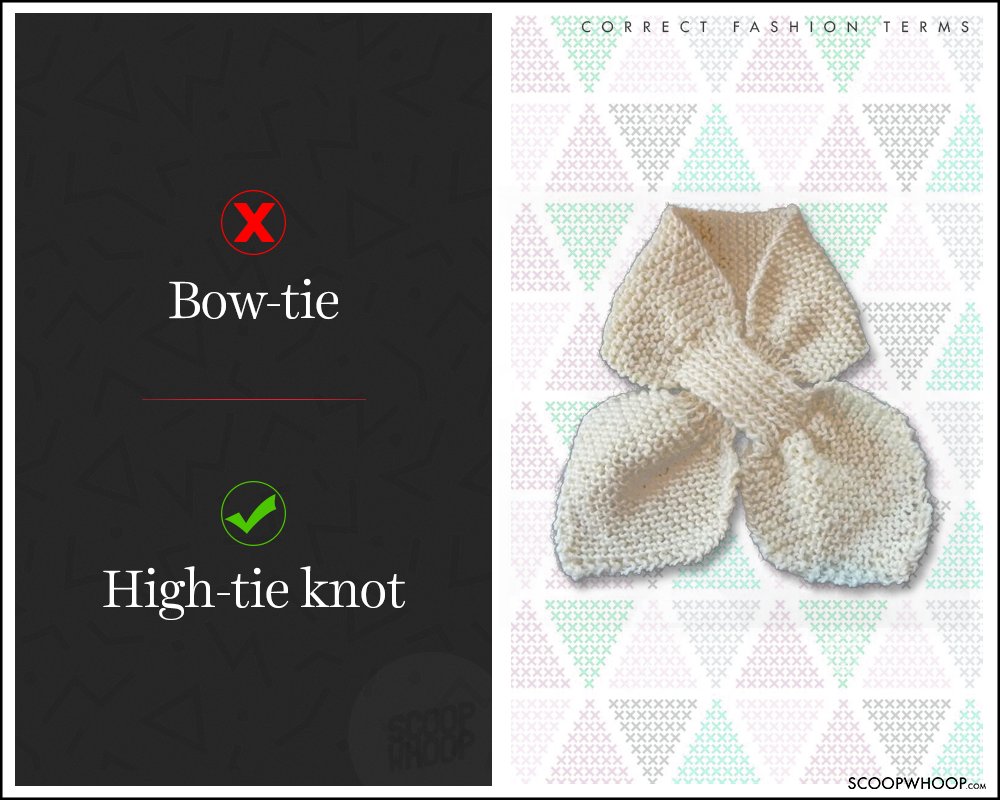 14. This one can be tricky. But remember, a cape is usually a piece of clothing covering us from our back and isn't fully spread to the front torso whereas a poncho distributes itself equally. 
Here's what a cape looks like.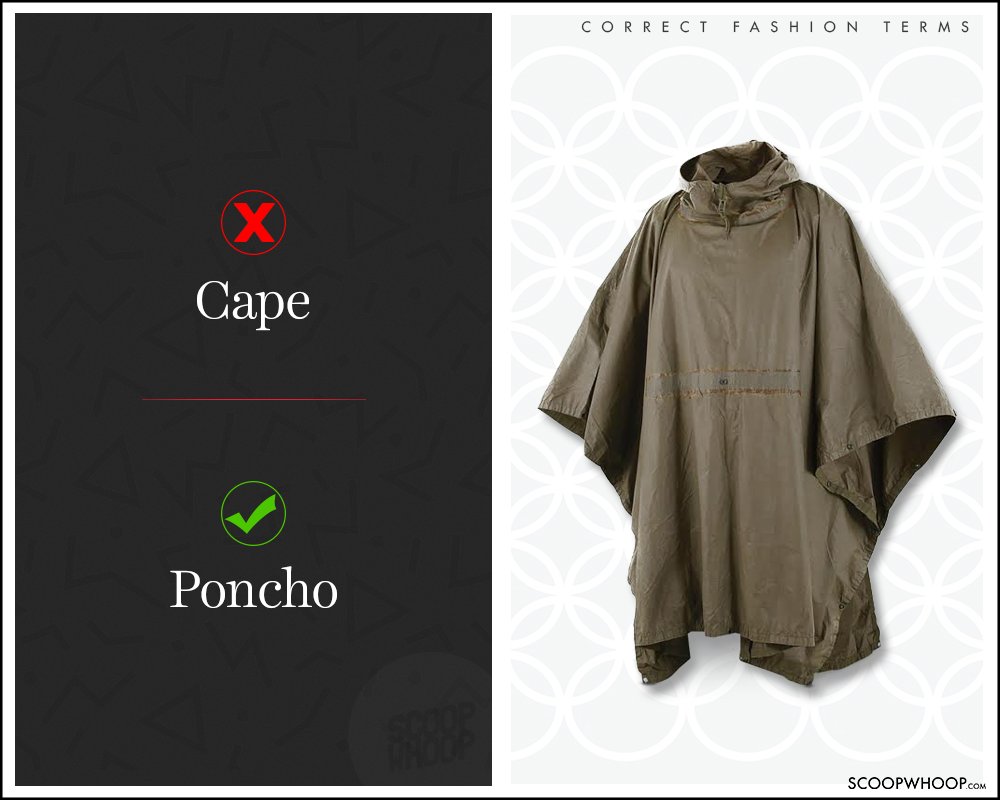 15. We tend to use the X-ray fabric the most in our lives but ironically, we don't call it what it's actually called. The name is X-ray fabric and if you're still confused, well, here's an example of net fabric.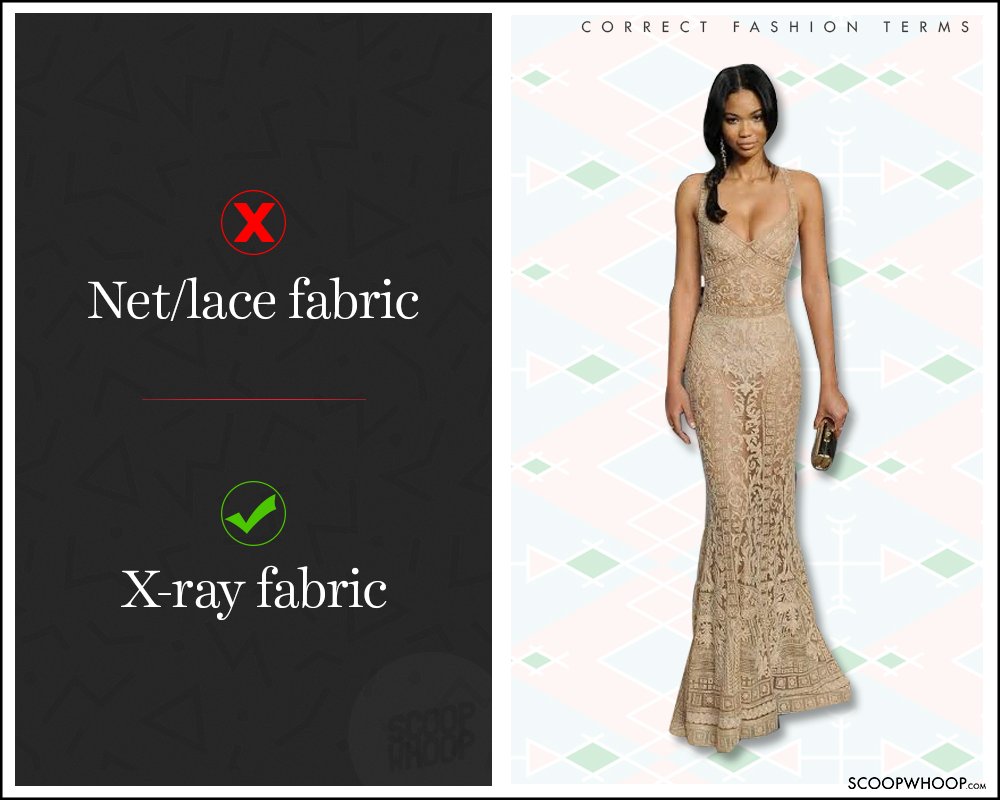 Go on, flaunt this newly-found information in front of your friends and become the fashion expert of your group!
Designs by Rohit Jakhu