Carrie Bradshaw and her sacred relationship with shoes and clothes ignited the dormant desire for fashion and style in many of us. And as much as we would like to own a stockpile of glittering beauties, suede wonders and embellished hotness of shoes galore like Bradshaw did, let's be honest, it's quite impossible. Especially, if our shoe dreams are made of 'red bottoms', some Yves Saint Laurent and a hint of Versace. 
Well, we might not have the moolah (right now) to hoard up the heels we love, we certainly have no qualms in looking at them and drooling a little. 
So here are some of the finest, classiest and snazziest pair of heels we would love to own: 
1. Giuseppe Zanotti Turquoise Blue Beaded Sandals
Think Giuseppe Zanotti and all that comes to mind are bejewelled beauties soaked in gold dust, laser cuts and bold designs. His designs are not only on fleek with the times, but also fierce & smart, just like every woman who has ever worn a Zanotti.
JLo was last seen setting the stage on fire in this beaded wonder and boy, did it take our eyes off the Bronx stunner for a bit.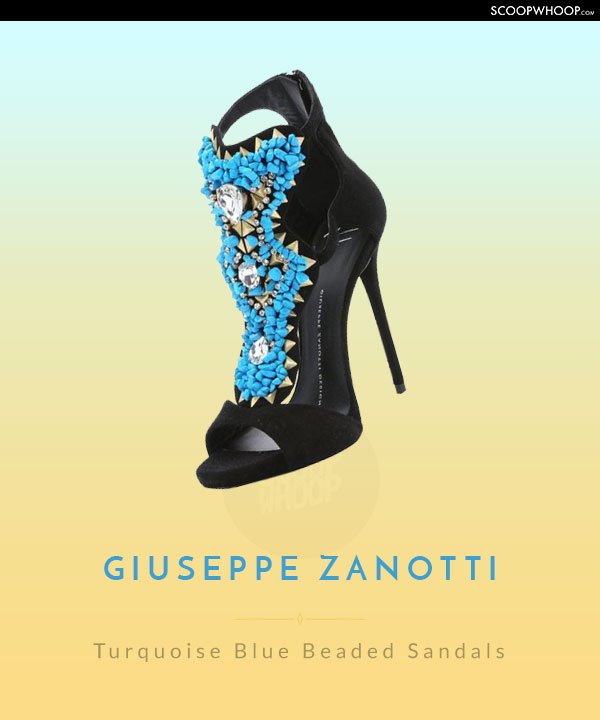 2. Christian Louboutin 'Crystal Queen' Embellished Sandals
My kind of "Send nudes" with a little jewel magic and the right amount of height to elevate any look and take it from 0 to 100. This stunner from well, of course, Christian Louboutin is a total catch.
The super sight of crystal queen was last seen on Jessica Chastain, the woman who can pause a crowd and create quite a commotion.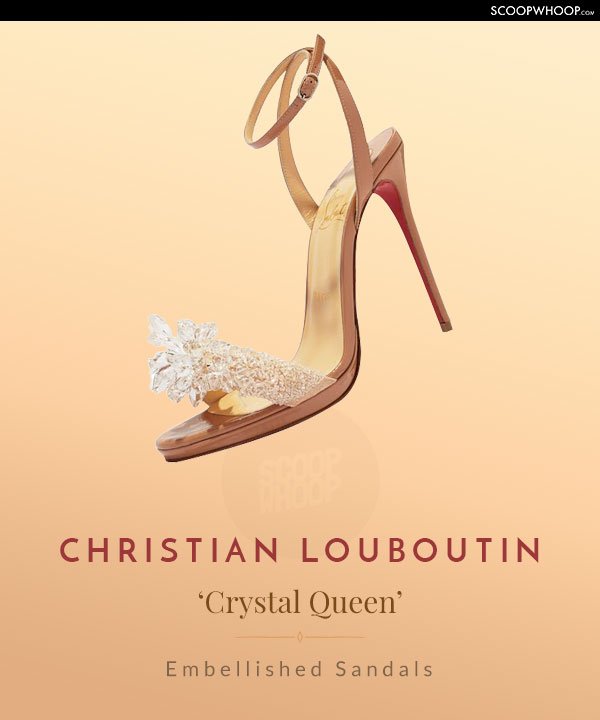 3. Christian Louboutin Devibroda Multicolored Beaded Sandals
A party in themselves, the Devibroda 4-incher is your go-to, envy-inducing pair of bright beaded trinkets and golden glitter. Hand-crafted by none other than Christian Louboutin, this T-strap gorgeousness will bring down many a men as you strut around the town. 
Bad girl Riri has walked down in these many times and slayed every time.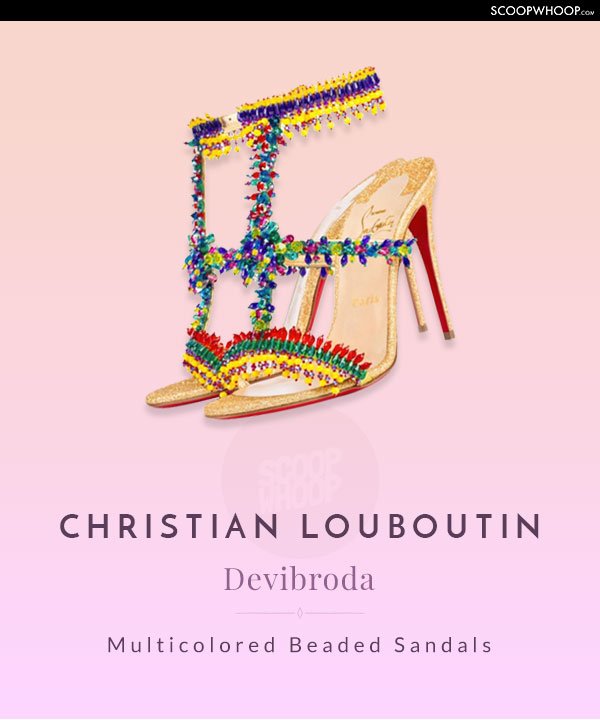 4. Gucci Bow Embellished Patent-Leather Pumps
Spelling out the old decadent Hollywood charm, these white pumps will take you higher than the moon. Embellished with a crystal studded bow, these Gucci's are your ticket to royalty. And when you're mingling with the commoners, all you gotta do is take off the elastic that's attached to the crystal stud and voila! Holy Moly, right?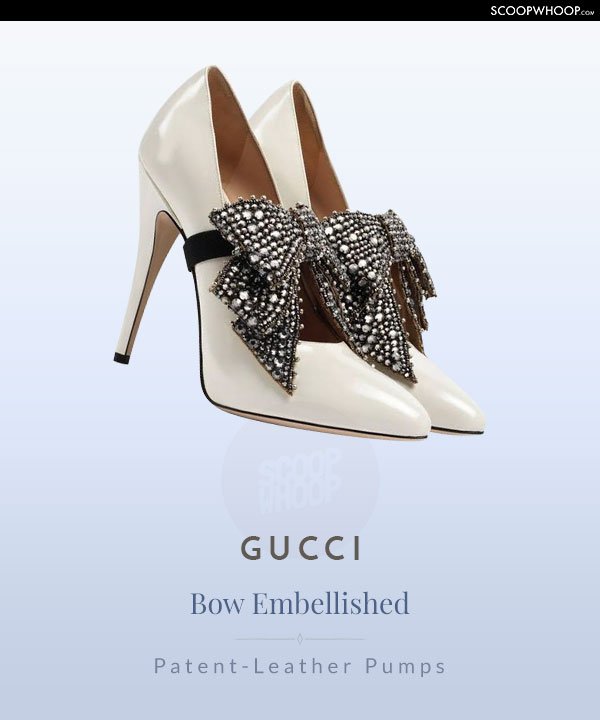 5. Gucci Luna Colorblock Bow Pump
Bring the drama to your feet with this crazy ass, snazzy pair. True to the name, it's definitely got the 'Luna' of the lunatic and we're diggin' it big time. The blue, red and ivory casing, the large bow, golden spikes and glass pearls reverberate of its Gucci-ness.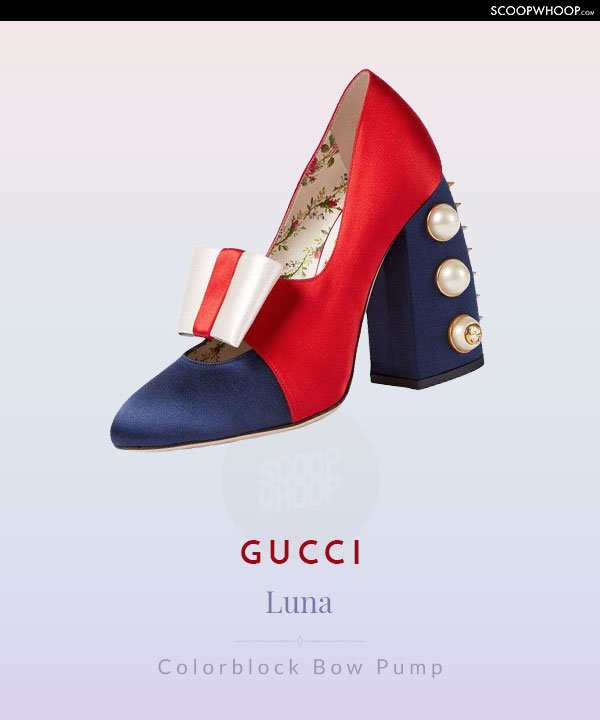 6. Sophia Webster Chiara Sandals
The teal, the purple, the green – it's a freaking butterfly on your feet. With this iconic pair of Sophia Webster's, you can fly above the crowd with the poise of a winged beauty and the charm of a multi-coloured perfection. Butterfly wings are so fly!
From Emmy Rossum to Sonam Kapoor, both Hollywood & Bollywood celebrities own at least one pair of wings from Sophia.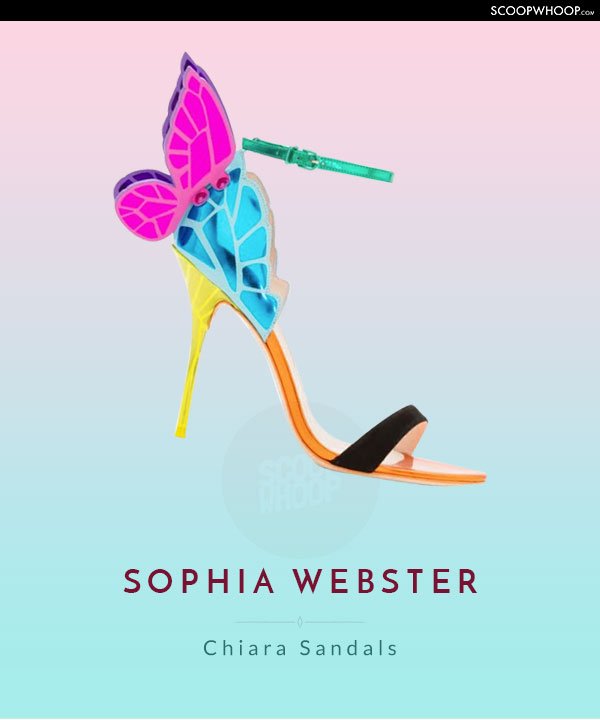 7. Paul Andrew Haikou White Embellished Pumps
Ferragamo's prodigy, Andrew unleashed the Haikou pumps and no shoe has out-springed it yet. White and red dragon flowers embroidered on the shiniest of white satin is what you need to up your spring game this season. 
Kerry Washington heralded spring by pairing the red and black version with an attractive red dress.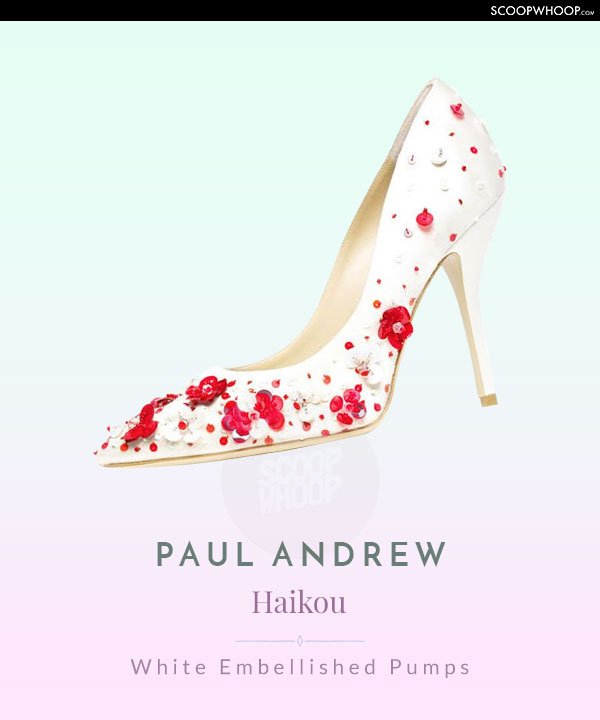 8. Sophia Webster Rosalind Yellow Feather
The beaded heel, the flawlessly arranged feathers, the satin straps, the studded gems, everything about this pair is sheer perfection. 
Kaya Scodelario scorched the red carpet in these beauties at a movie premiere in Brazil.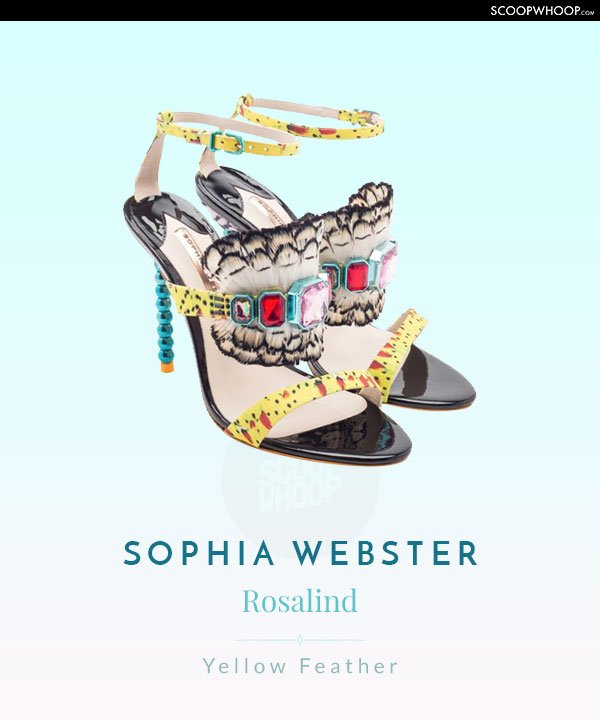 9. Daniele Michetti Shima Fringed Slingback
Inspired by the fierceness of a Samurai, these Elaphe and leather beauties are a cut above the rest. As you strut down the streets in this deadly pair, a few may fall down beside you and several egos around you might just get bruised. But with a hell yeah, and zero fucks to give, you just keep walking!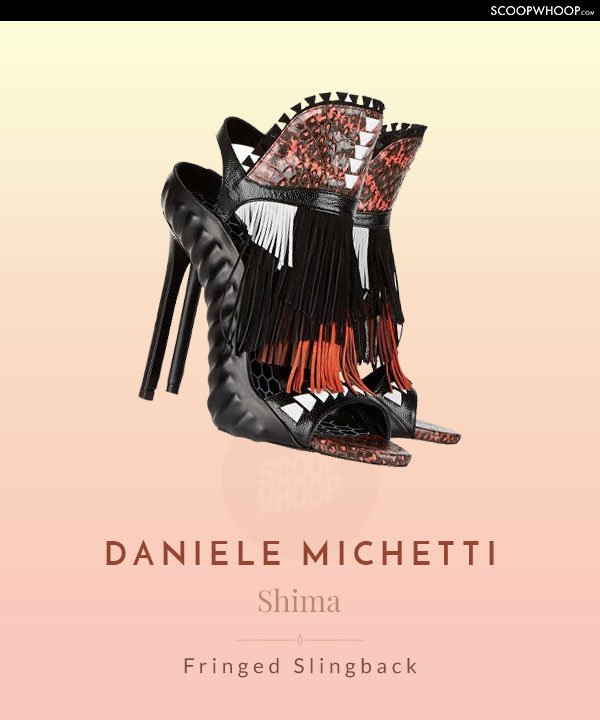 10. Christian Louboutin Triboclou Zebra-Print Calf Hair & Python Ankle Boots
Rome wasn't built in a day, and neither were these open booties. The psychedelic lunacy that this pair has will make you want them right effin' now! The python heel is venomously beautiful and the pink buckles detail is just outworldly. Add to these the zebra print with the blue suede, and you have yourself a masterpiece. 
Anaconda star Nicki Minaj paired it with a hot pink figure-hugging number from Alexander McQueen and channelled her primal instincts.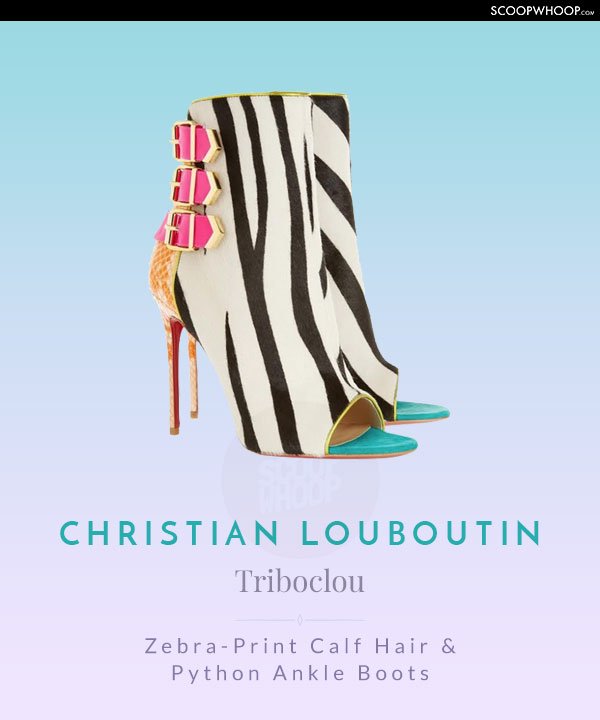 11. Roger Vivier Eyelash Heel Pump
The virgule style heel, the golden detailing, the perfect plumage with its peacock-like showiness, if this is not what shoe dreams are made of, what else is?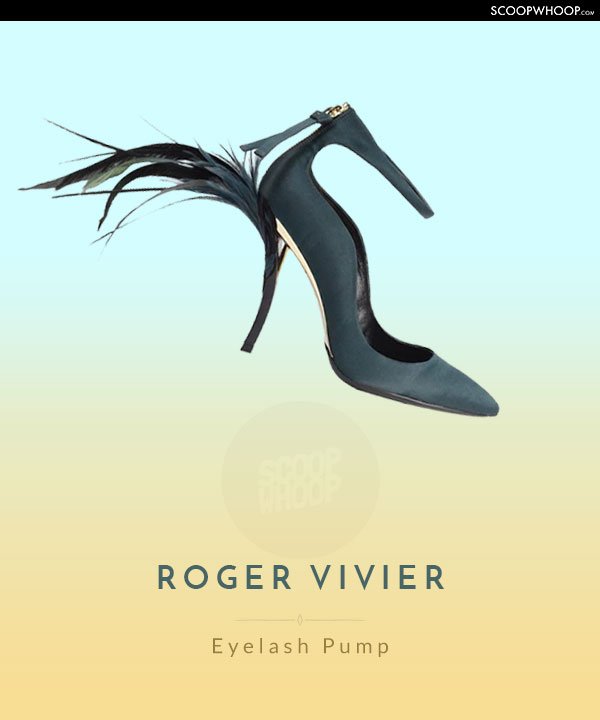 12. Poisonneuse By Gianluca Tamburini
Studded with peridot and amethyst gems and lined with aluminium, the vivacity of this pair can only be compared to a garden snake slithering its way through beautiful orange flowers. If you ever happen to walk in this floral masterpiece, all eyes will definitely be glued to your feet.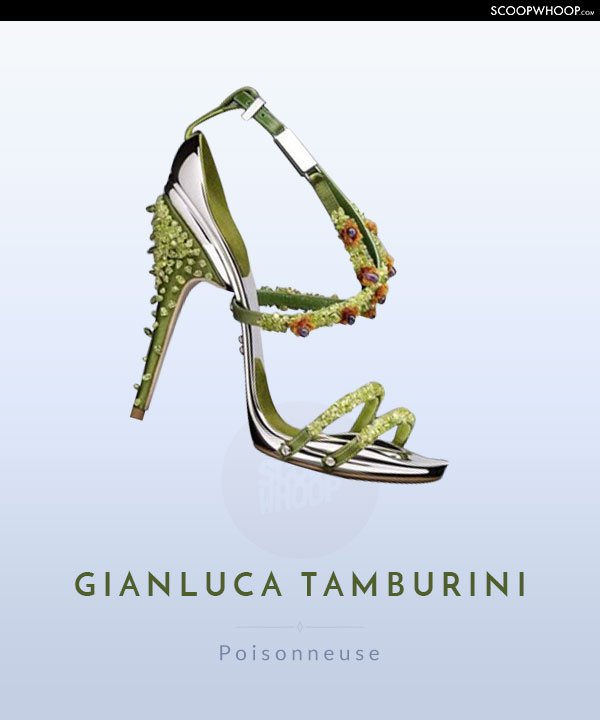 13. Nicholas Kirkwood Pac-Man Heels
From Sophia Vergara to Sarah Jessica Parker, Kirkwood has a fan following among the biggest and the brightest of stars. If you're in for some fun, then definitely go for these Pac-man inspired, ultra colourful marvel. Your feet are gonna love them.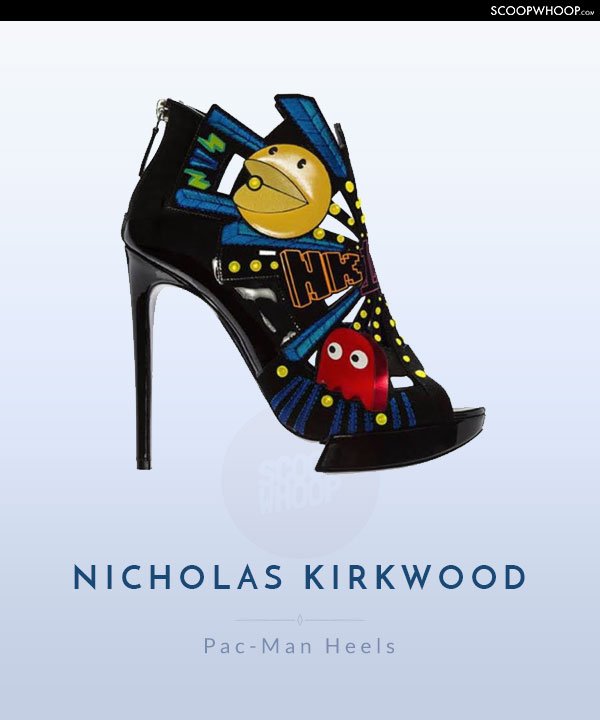 14. Dolce & Gabbana Rose-Embellished Metallic Cage Sandals
Whether you're heading out with your girls for drinks or going out for a somber Sunday brunch with your family, this phenomenal pair will make sure that you look just perfect. The intricate rose petals and tendrils definitely make for a beautiful adornment on your feet. Straight out of a fairytale, ain't it?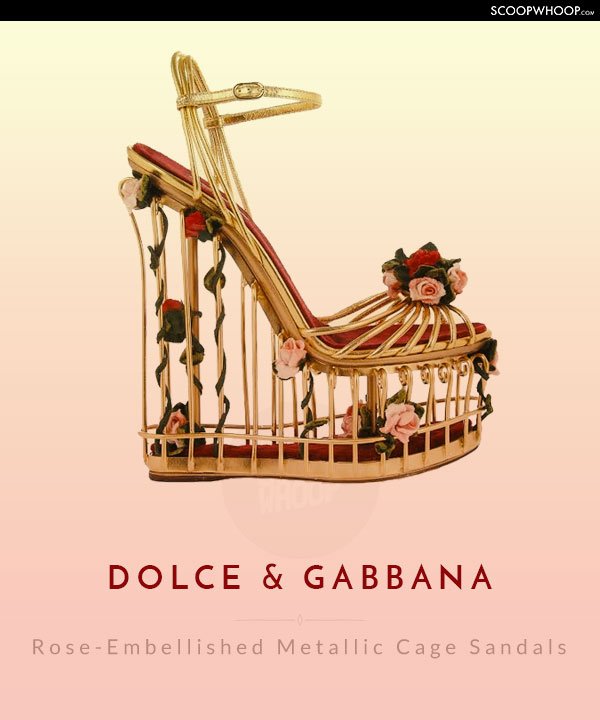 15. Stella McCartney High-Cut Point-Toe Pumps
I love me some gold and when it happens to be the shoe kinds, it's got to be mine. This gleaming pair of beauty is Stella McCartney's hallmark style. The quirky vamp in addition to the pointy toe makes this the perfect smart casual choice. 
French beauty Marion Cotillard blazed the red carpet with these shiny pumps at a movie premiere.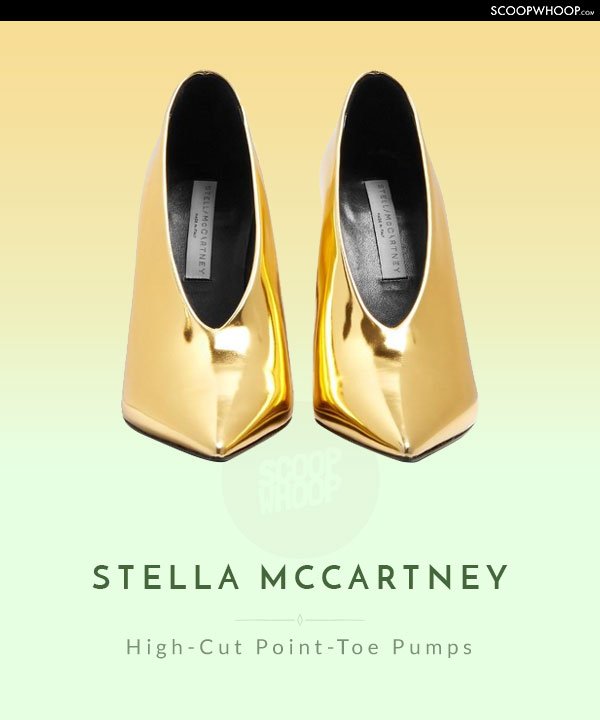 16. Sergio Rossi Arabesque Heeled Sandal
This Sergio Rossi pair is perfect for the days when you're feeling like a gladiator, ready to take on the world. The calf-high length highlights the perfectness of your legs, and the cream black cut outs are unique in its construction. We bet you won't be able to keep your eyes off it.
Even Grey's Anatomy actress Kate Walsh couldn't resist a pair of these pretty babies!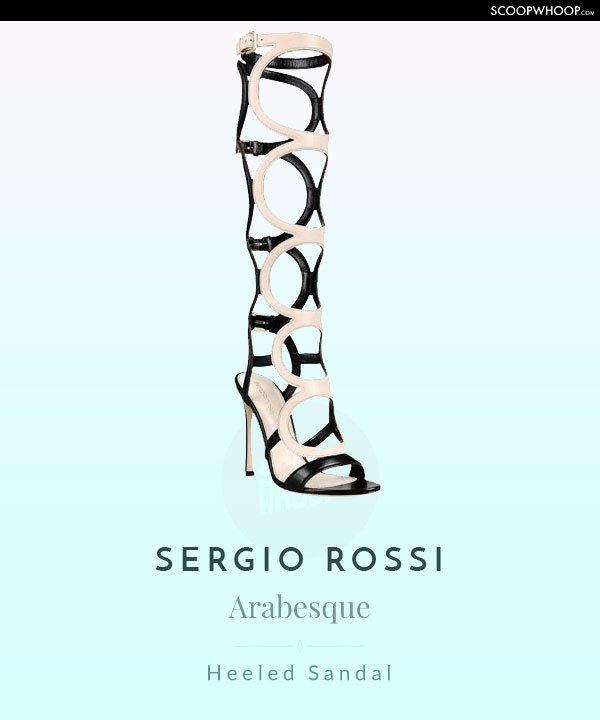 17. Versace Black Leather Gold Medallion Heels
Why buy boring, black heels when you can rock this vision in black and gold? Give it up for Versace who always makes the most boring things interesting. This three-strap beauty stands tall at 3.5 inches and gives you all the good, 'I'm-A-Freaking-Goddess' vibes. 
You can check out Miley Cyrus casually channelling her amazing goddess self in this terrific pair!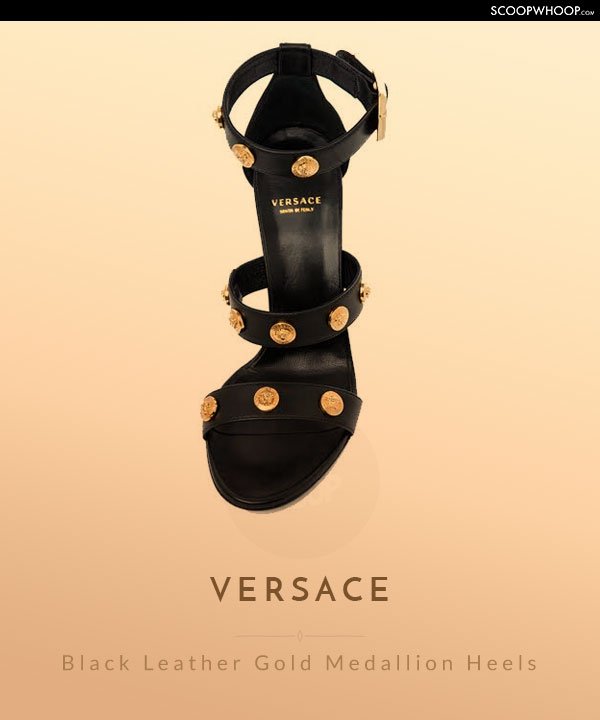 18. Salvatore Ferragamo Berg Wedges
Totally chic and so retro! Apart from being super sexy, the detail on these wedges should not be missed out on. The keyhole in the heel and the gold chain detailing is just super ultra. 
Lana Del Ray, a Ferragamo loyalist, has worn this one too many times. But nonetheless, slayed like the boss woman that she is!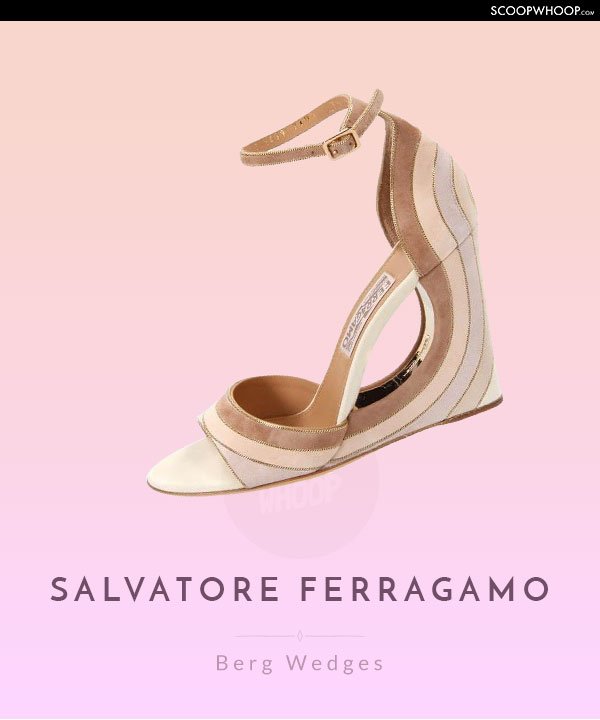 19. Brian Atwood Indiana Sandals
For his Fall '16 edit, Brian Atwood decided to go a little subtle and that's how these beauties came into being. The silver detailing sits in perfect contrast to the tan and what's more, they are super comfortable as well.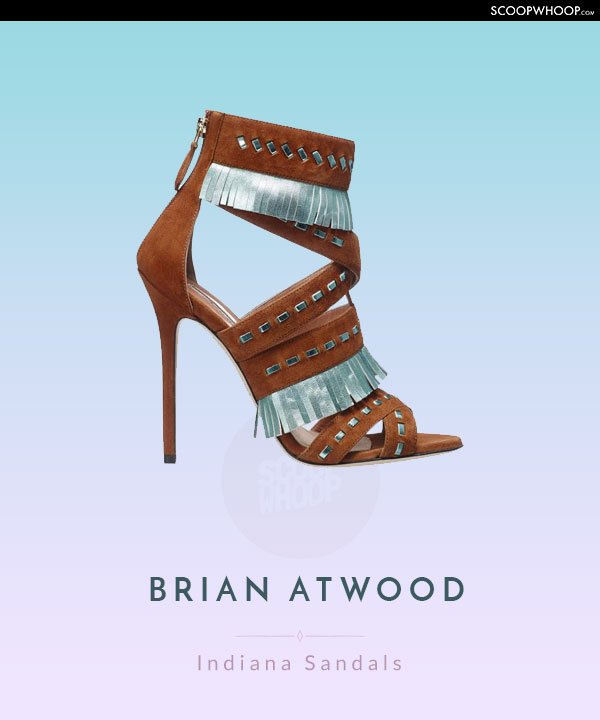 20. Gio Diev Melbourne Booties
With bold colours and cuts sharper than a sword, this pair will make you feel like a warrior queen. These Gio Diev's are definitely a must have. 
Our very own Quantico starlet, Piggy Chops, slayed in some Diev's that she paired with a stunning silver dotted leather dress.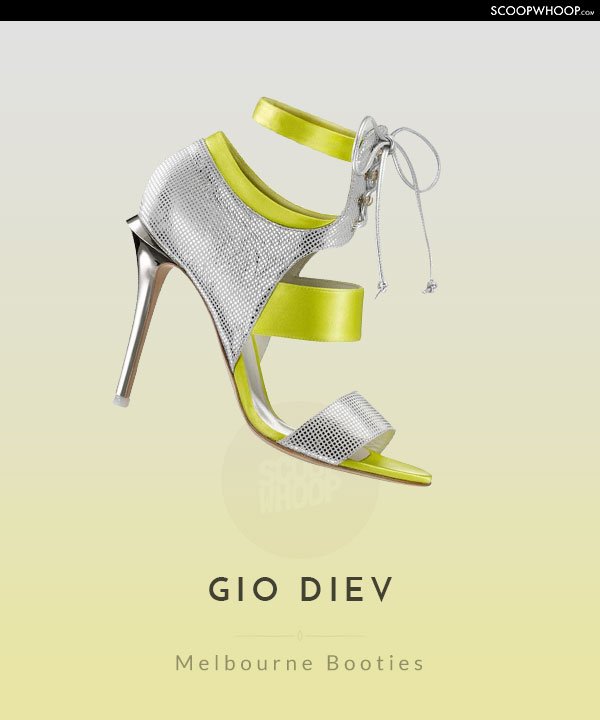 21. Manolo Blahnik Amiela Pumps
While the Hangisi is still everyone's favourite, thanks to Carrie Bradshaw, Blahnik's other designs are equally intoxicating. Like these Amiela pumps. The wavy-straps, the colours and the polka dots, all conspire to bring you your next favourite pair. 
Olivia Palermo is obsessed with her Amiela pumps. She wears it with almost every outfit and it looks just as ravishing every time.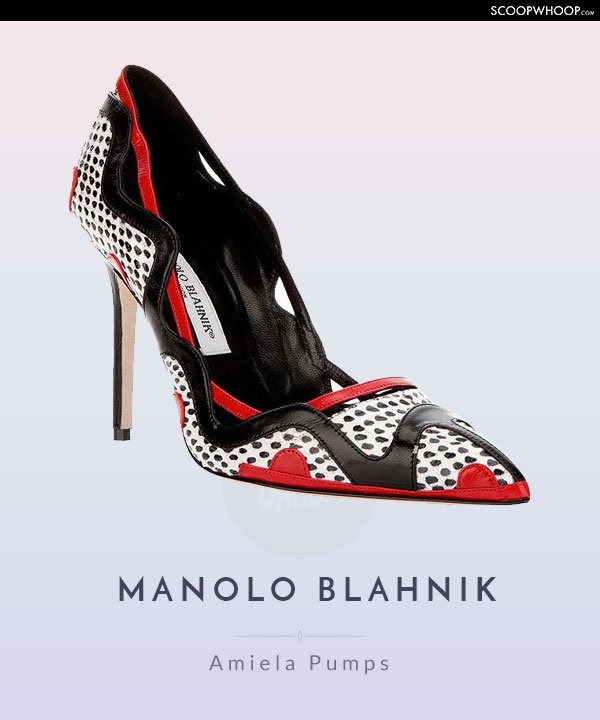 22. Jimmy Choo Talans Pumps
Featuring mini studs on black suede, thin T-straps and a small bow, how can anyone resist this? With so much going on, these are the perfect rescue pumps to salvage even the most boring of outfits. 
Chloë Moretz wore these with a washed denim dress and seriously, Jimmy Choo's saved her big time!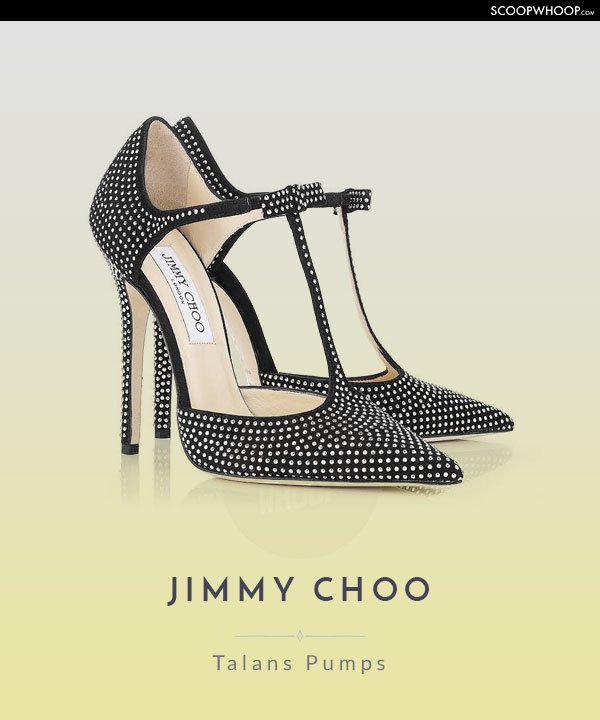 23. Miu Miu Swarovski Pumps
If Cinderella had to choose her favourite pair, she would definitely choose these devilishly beautiful pumps by Miu Miu. Covered with silver extracts from the unicorn, topped with a beautiful Swarovski crystal and a tapered heel, this sparkly pair is to die for.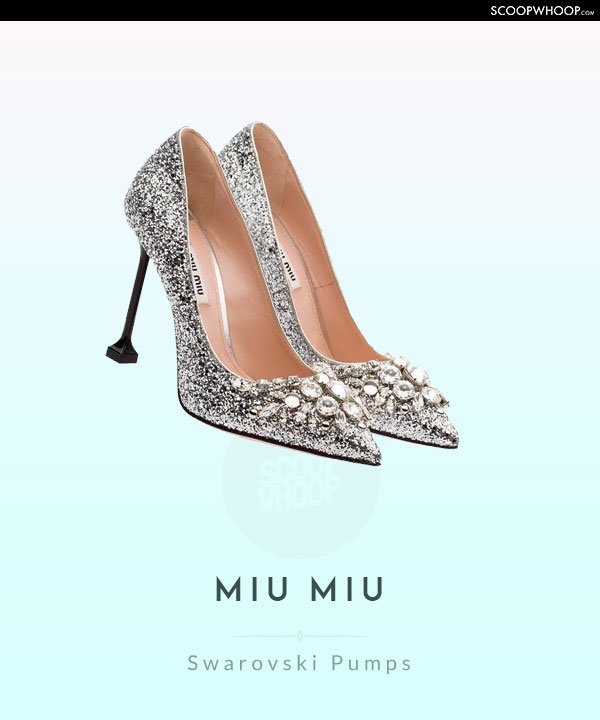 24. Gianvito Rossi 'Augusta' Sandals
This wrapped-in-velvet, embroidered with gold, and tied together with a golden strap wonder is your daily dosage of 'I-Am-A-Millionaire' feels. A nice twirl in these babies, and you'll be set to conquer the world.
Ashley Graham rocked these beauties with a bodycon velvet dress and phew! She blew our minds away.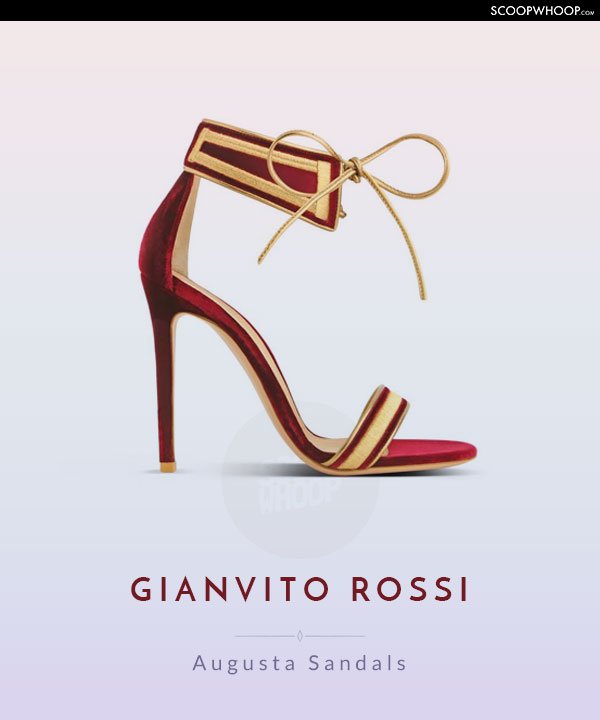 25. Casadei Blade Pointed Pumps
With heels like a blade, this series by Casadei is nothing short of fierce. And trust me, with them babies as tall as this one, it's definitely going to cut through some haters. No wonder it's such a winner among celebs. 
Avatar beauty Zoe Saldana glided like a dream when she paired these with a white and green dress.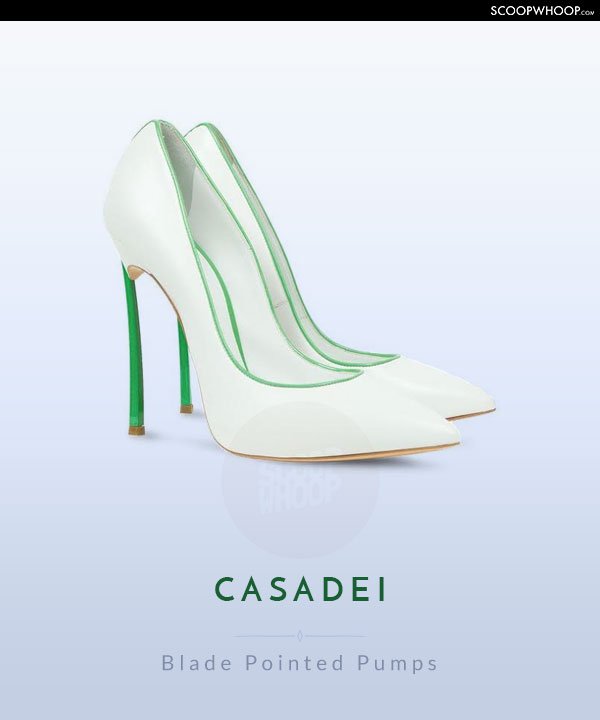 26.  Tom Ford Mirrored Ankle Boots
Daytime or night, you can never go wrong with a Tom Ford. And if we are to talk about these embellished booties, well, they are nothing less than abso-fuckin-lutely gorgeous, aren't they?
Only a handful of people can actually carry this heavily-laden beauty, but Beyonce did slay a longer, black version of it.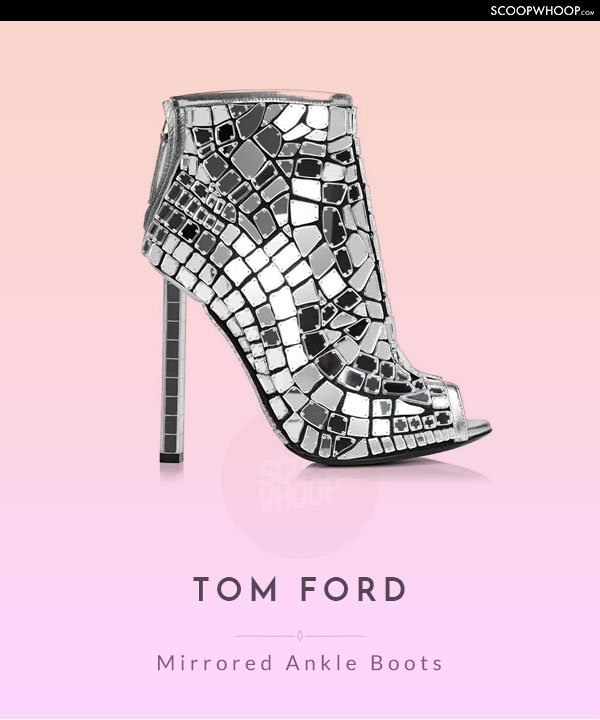 27. Rene Caovilla Cutout Pumps
This ultra glamorous pair features a pointy toe, webbed cut out, and some black studded elegance. From 2015 till now, this Caovilla has trodden red carpet events galore. Can I have a pair, please?
Nina Dobrev looked like a dream on the red carpet in these beautiful Caovilla pumps.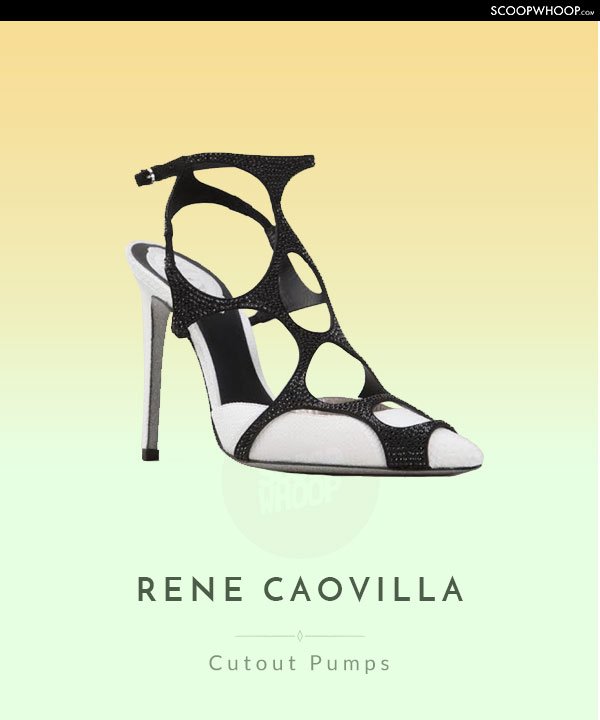 28. Oscar Tiye Zoe Sandals
Oscar Tiye's trademark pink goes perfectly well with the subtle rose gold leather and the black tassel laces. Whether it's a date night or a day out with the fam, this beauty will amp up your outfit right up to a 100. 
Modern Family star Sarah Hyland paired it with a two-piece sequined suit and set the red carpet ablaze!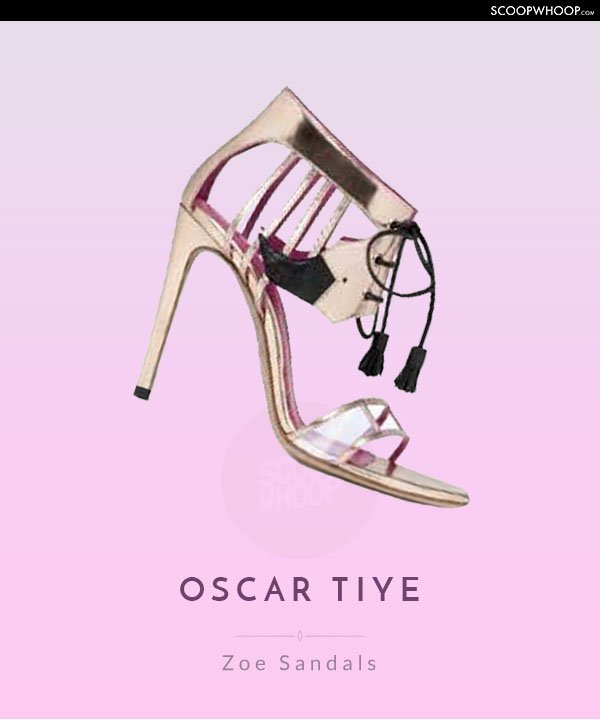 29. Liudmila Blue Leandra Tie Wedge 
Inspired by old photographs of the Nizams of Hyderabad, designer Najeeba Hayat incorporated the Mughal-like opulence in these babies. Fairly new to the scene, we're still to see Liudmila on a star's feet, but we got our money rollin' on it.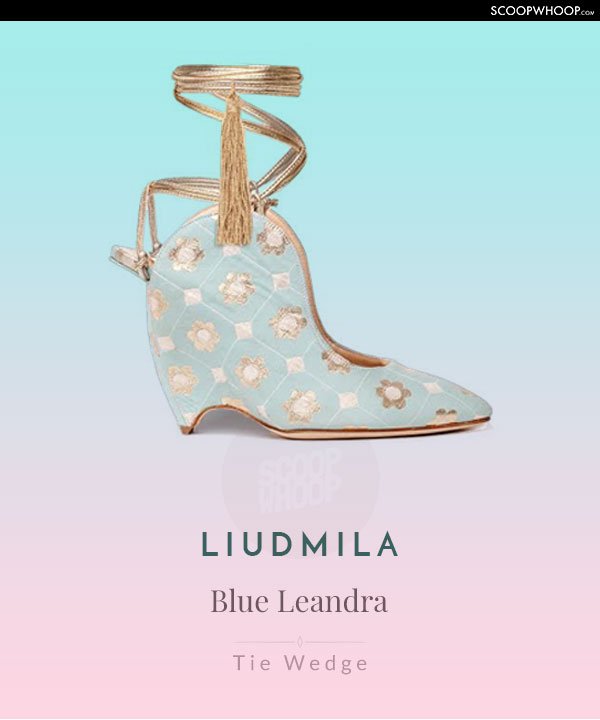 30. Fendi Crystal Crocodile & Leather Cage Sandals
Fiercely glamorous, these caged sandals deserve a beautiful display of their own. They are super luxe, uber stylish and ultra comfortable. The embellished ankle spine makes it stand out and gives it that little extra edge. Be careful when you step out in these eye-catching Fendi's. 
Mama to twins and Blue Ivy, Lemonade badass Beyonce stepped out in these at the Grammys.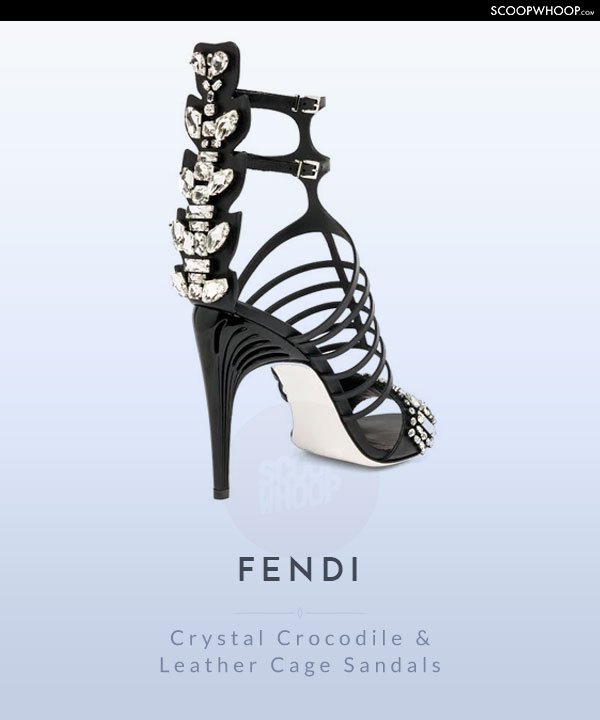 31. Emilio Pucci Multicolor Embroidered Ankle Boots
Okay fine, I admit. I do have a thing for boots. Who wouldn't when it's Emilio Pucci, you guys? Studded to perfection, embellished to a higher degree of style and aesthetic, these boots were definitely made in Shoe Heaven. There's not a bead on this shoe that I would change.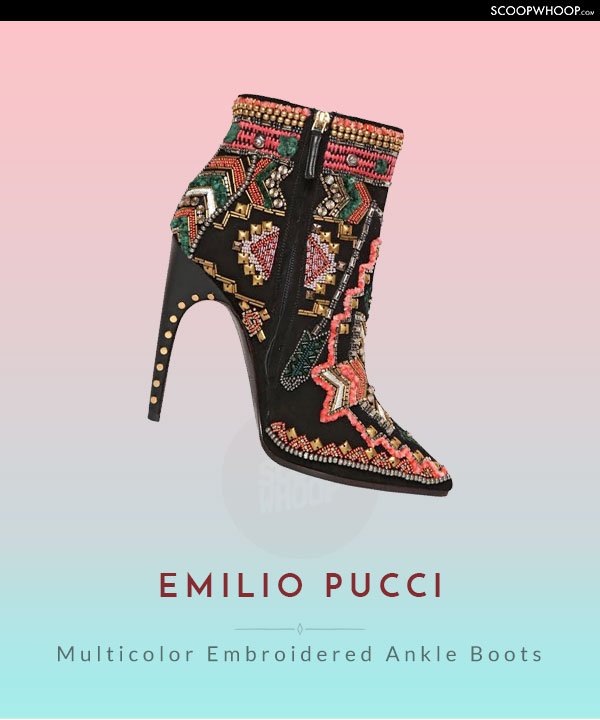 32. Tabitha Simmons 'Dusty Meadow' Sandals
When you're feeling down, just strap on this intricately embroidered pair of sheer beauty. Crafted with lace and suede, finished with glossy thread embroidery, this peep-toe marvel is the pair you need for all the times when you just can't decide what to put on.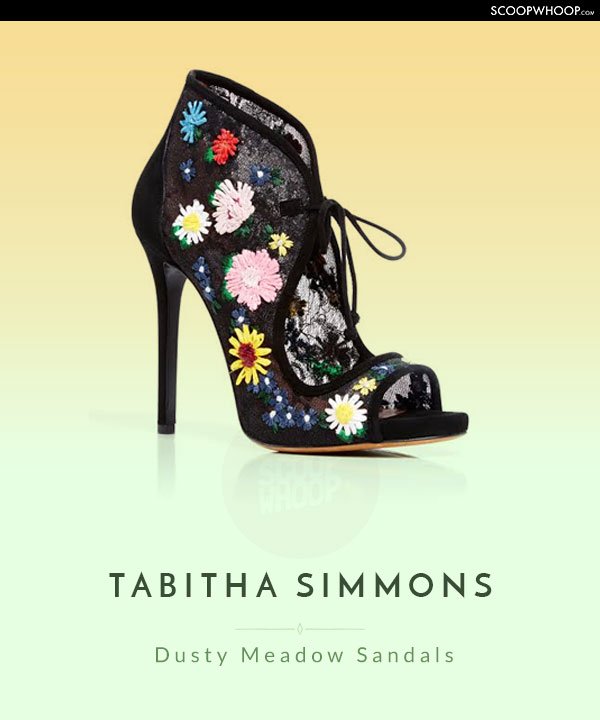 33. Aquazzura Milla Jeweled Printed Suede Heels
With a hint of bling, a lot of feathers and a dash of animal prints, these shoes will transport you to a beautiful jungle, where only shoes rule. The Spring 2017 edit of Aquazzura is definitely worth it all.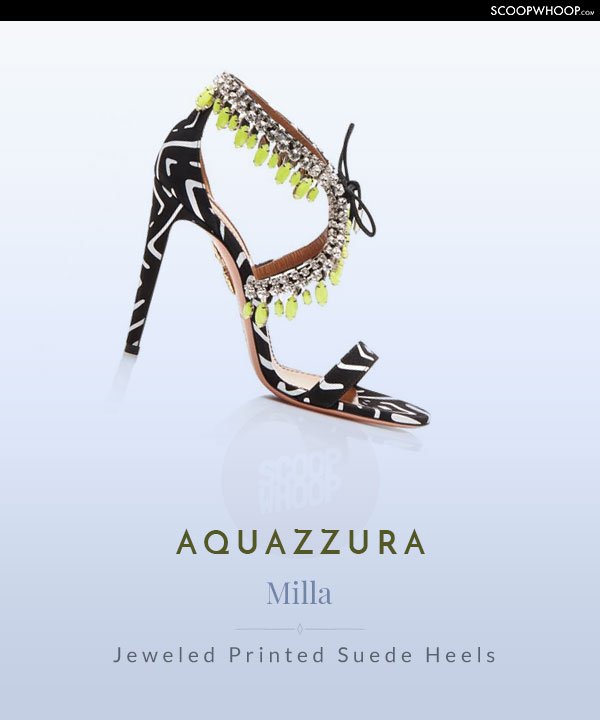 34. Tory Burch 'Firenza' Metallic Leather Sandals
Inspired by the bark of a tree, this shiny, golden piece of footwear is a must have if your heart goes 'MINE!' on seeing all shiny things. Artistic, gleamy and top of the shelf, eyes would be popping when they see you strutting down the paved road in this beauty.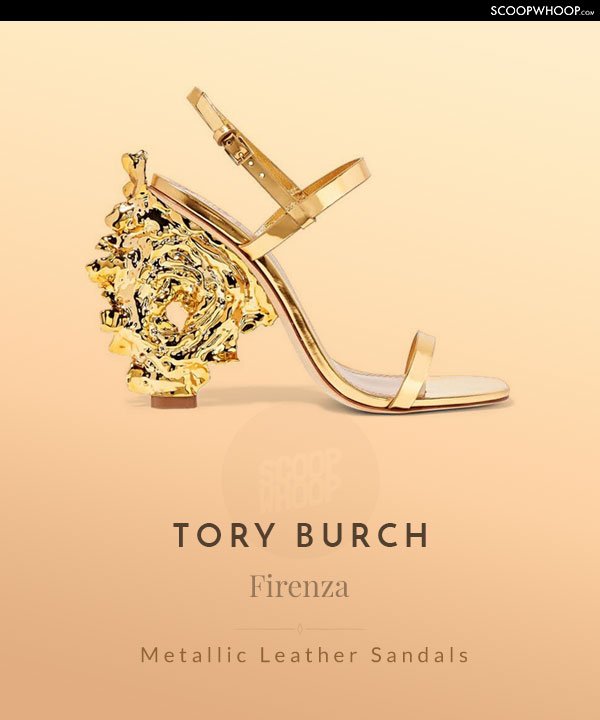 35. Balenciaga Crystal Embellished Satin Pumps
Heavily-embellished with the whitest of the white crystals, these Balenciaga stilettos are definitely lust-worthy. The crystals fall over to the side, making it look royal and covetable. Such a spangling beauty!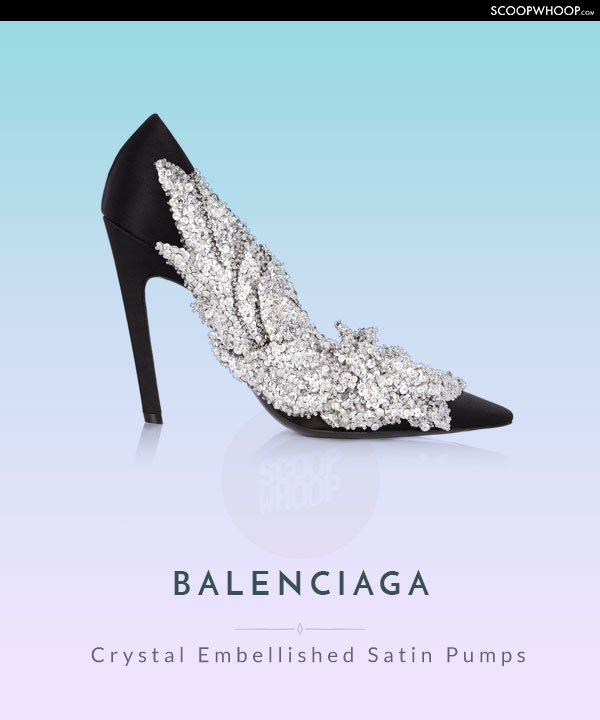 36. Givenchy Gradient Cone Heels
If bold is your style and you don't mind trying quirky heels, this one is for you. You got to have a lot of swag and no fucks to give when you're wearing this odd Givenchy stunner. Rest assured, you'll be pulling in a lot of crowd with this pair. 
See how Solange wears it and looks absolutely stunning!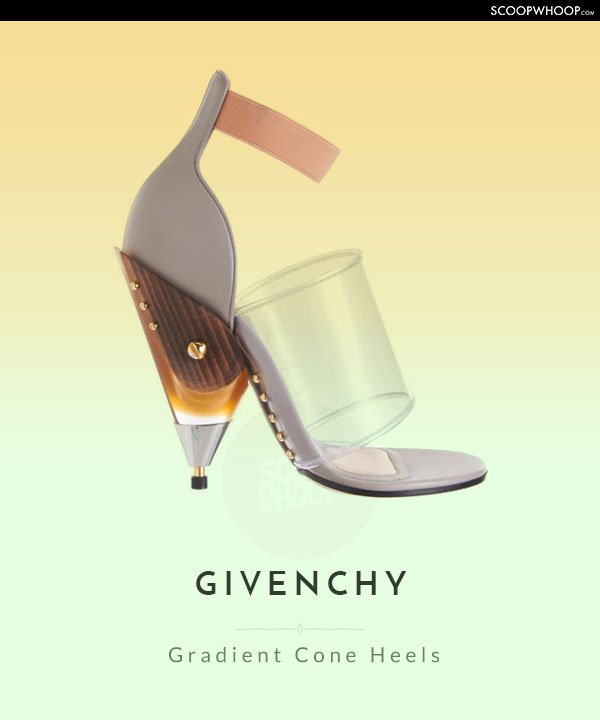 37. Gucci T-Strap Pump Platform Pumps
Gucci never fails to astonish us with its outlandish designs and this one is particularly incredible. A heel on a heel, this is the heel-ception! Embedded with enamel and crystals, with a heel set on top of an extended red platform, these shoes are giving us major I-Want-Them-Now feels. 
Bandida Salma Hayek paired this piece with a beautiful multicoloured floral dress and looked straight out of a fairytale.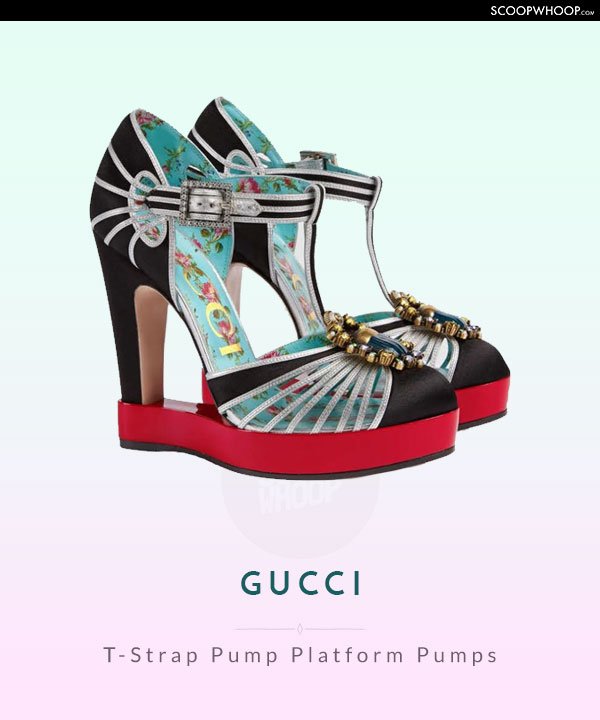 38. Vetements x Manolo Blahnik Waist-High Satin Boots
You've seen thigh-high boots, but what about waist-high boots? Thanks to the collab between the ace designer Manolo Blahnik and uber-cool brand Vetements, these satin high boots are just way too incredible. You have to be seriously experimental with your style to try these out. 
Riri donned one in orange with shorts and a bralette and looked right off of the runway.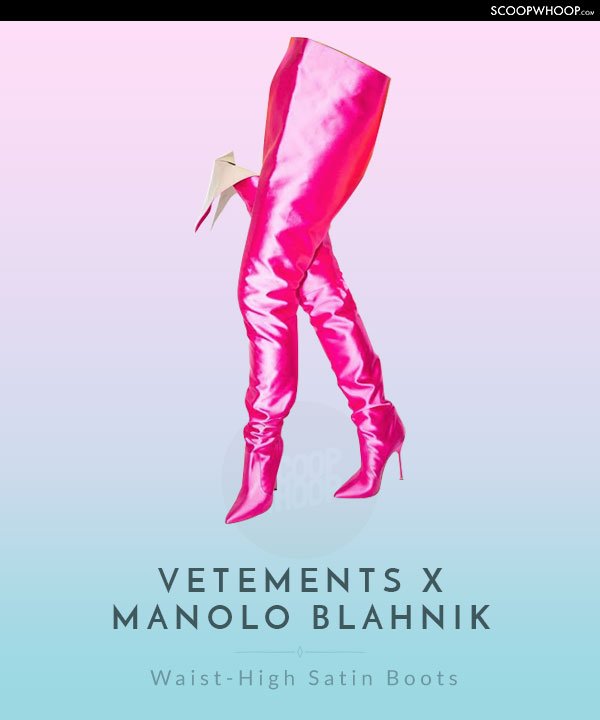 39. Jerome C Rousseau Quorra Heels
Futuristic, metallic and so rad. With its weird structural design, this silver splendour looks straight out of the Tron flick. If you decide to step out in this 5-incher, chances are that you'll definitely become the talk of the town. 
Country singer and our all-time favourite, Carrie Underwood, paired this stunner in black with a grey embellished asymmetrical dress and killed it.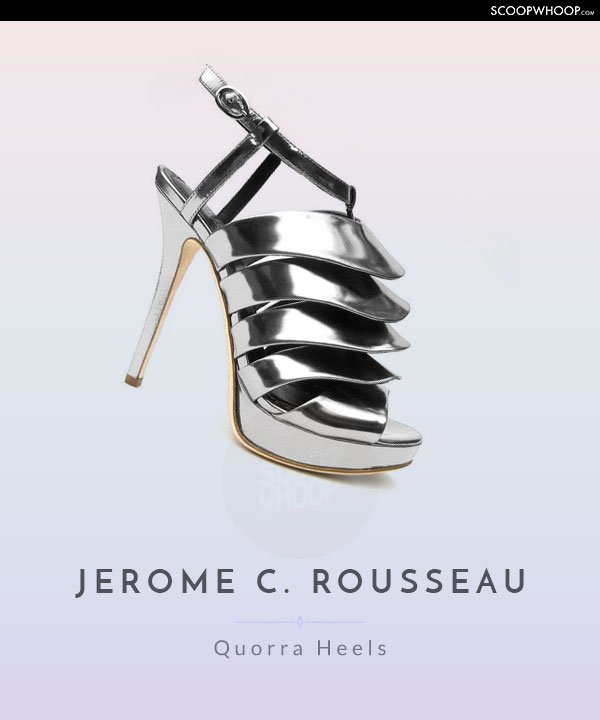 40. Christian Louboutin 'Christeriva' Sandals
These beautiful lace ups are a delight to tread on. The Greek-inspired laces are a beautiful addition and when they're the red bottoms, all eyes will only be set on you. 
Grey's Anatomy's Ellen Pompeo paired the heels with blue pants and a see-through blouse.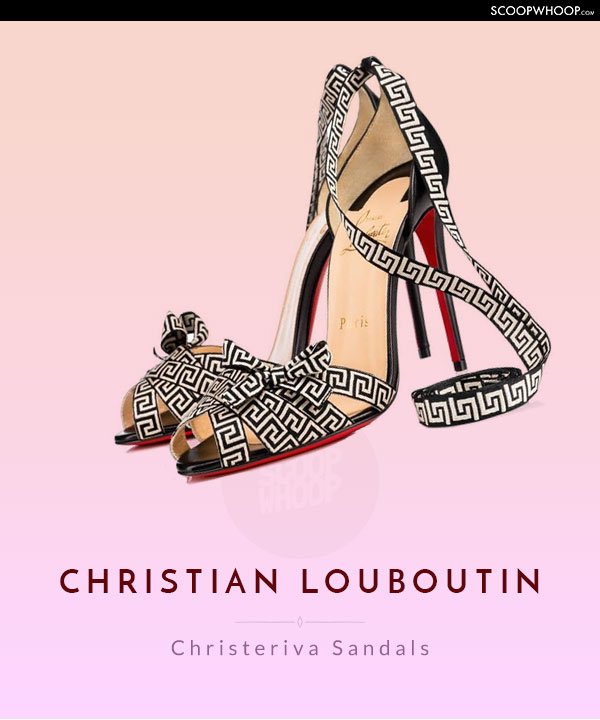 41. Olgana Paris 'La Garconne' Pumps
Crafted especially for your feet, the Olgana Paris 'La Garconne' Pumps are a definite winner. With a sleek T-strap, this pair is a chic accessory to pair your favourite evening wear with. 
Looking all kinds of chic and classy, Jessica Beals sure pulls off the tuxedo-inspired heels with a lot of style.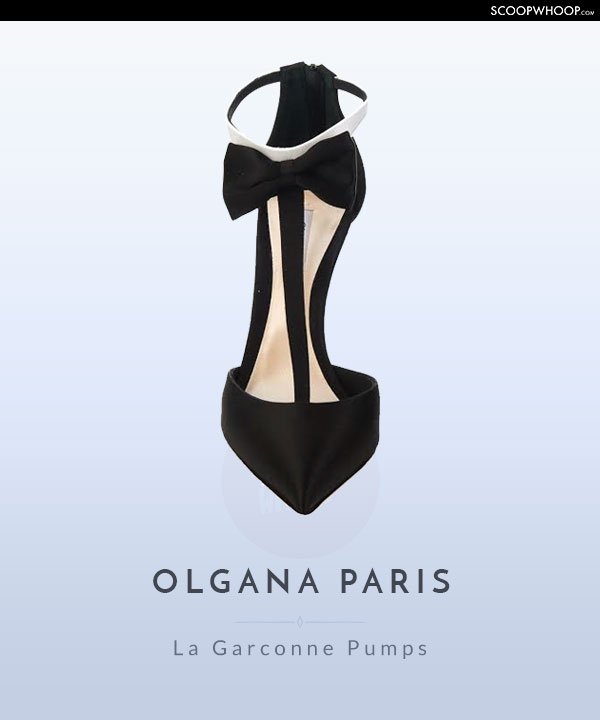 42. Aquazzura 'Voodoo' Beaded Multi-Strap Sandals
With its red feathers and cabochon stud embellishments, Aquazzura's Voodoo are a shoe lover's delight. The rad combination of red, white and black beads give it that little extra to make your shoe game strong.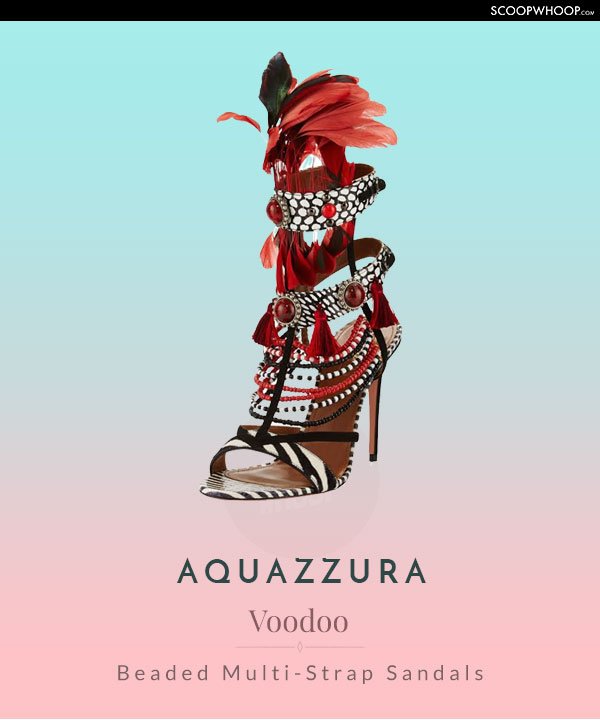 43. Christian Louboutin 'Chapito Ho' Pumps
This pair has more colours than a rainbow and we're totally digging it. The Chapito Ho pumps are Oh-So-Dramatic, excessively colourful and drool-worthy! 
Naomie Harris paired this colourful piece with a plain black dress from Christian Dior.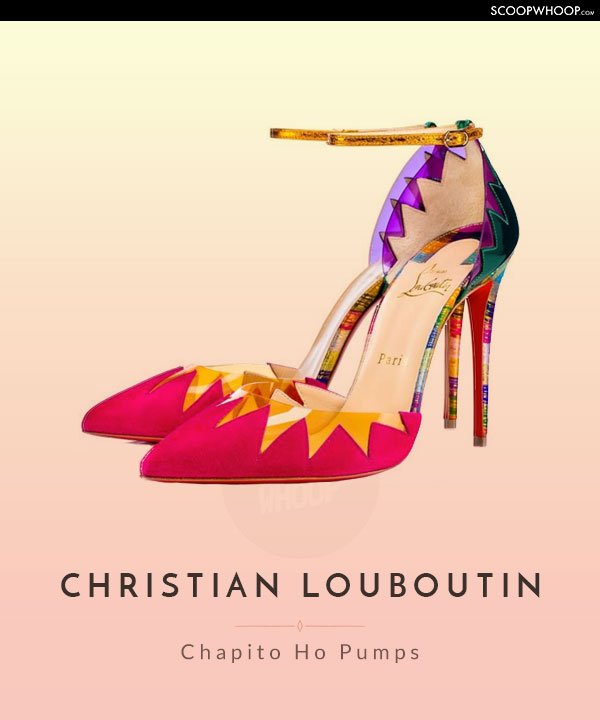 44. Charlotte Olympia Round Up Heels
Channel in some Wild Wild West feels with this rather vivid Charlotte Olympia pair in yellow. In addition to being super comfortable, the block heels tell a story too. Looks like a perfect conversation starter.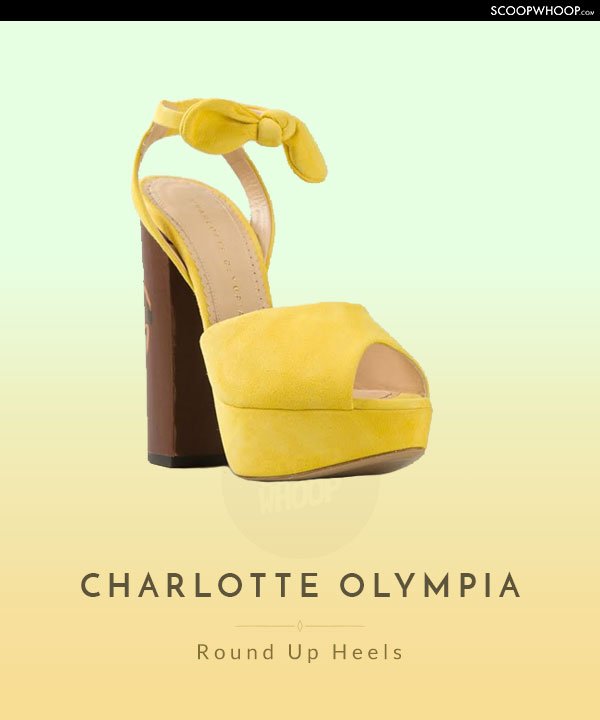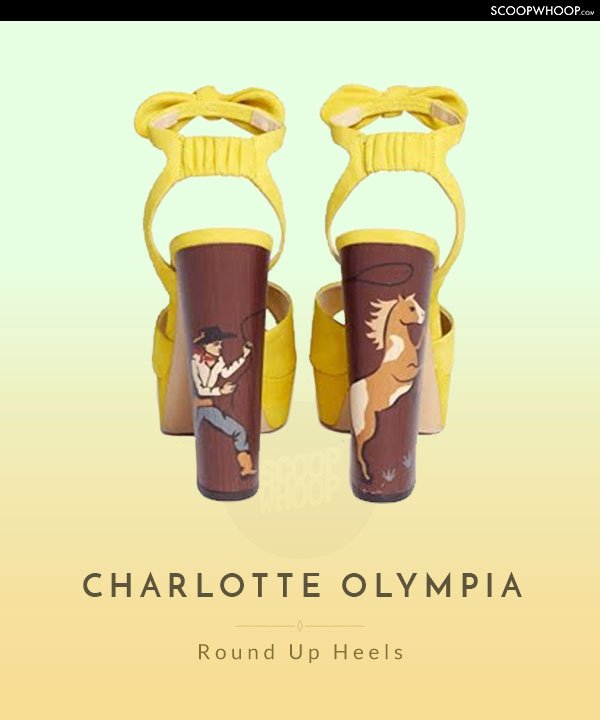 45. Walter Steiger Unicorn Pump 
Nude patent leather with beautiful golden trim and a heel that is 7-inches tall, if this doesn't take you to Unicorn land, we don't know what will. 
Estelle wore the sky high pair to the BET Awards and looked quite fabulous!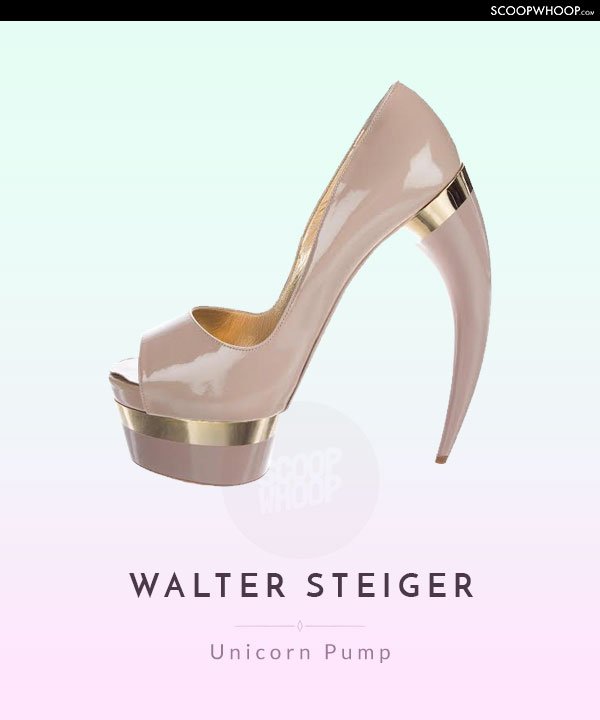 46. Rupert Sanderson Cassandra Flowers Heel
Kate Middleton's favourite shoe maverick, Rupert Sanderson is definitely someone you should have on your must-own list. When the rest of the world was busy weaving flowers into the hair, Rupert was getting them ready to adorn your feet.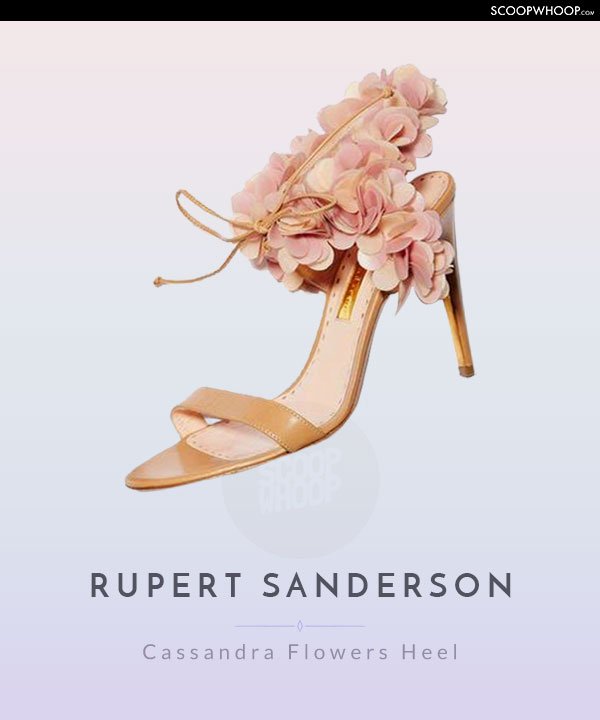 47. Fendi Studded Metallic Mid-Hell Loafer Pump
Chunky heels, pebbled texture leather and gold metallic studs, this is probably the trendiest (and comfortable) Fendi we've laid our eyes on. Imagine pairing these babies with nice fitted trousers that end just above the ankle.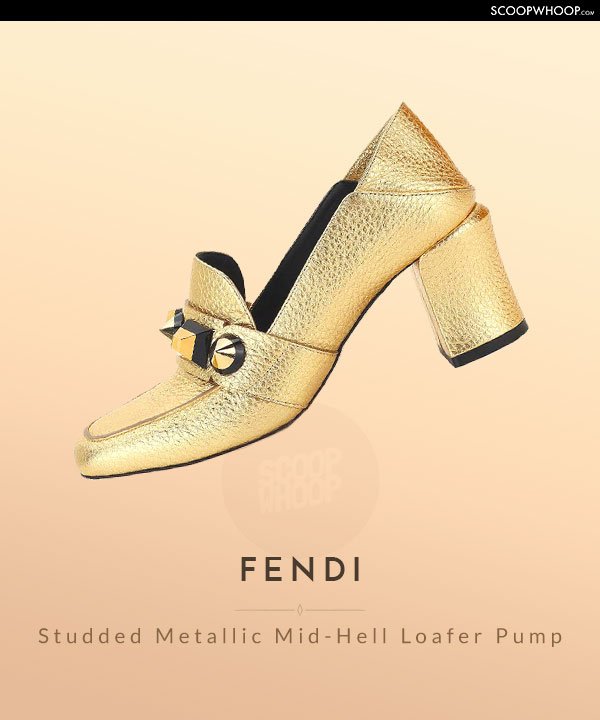 48. Alexandre Birman Lolita Gingham Heels
Gingham has become a huge rage with the designers and we're absolutely loving it. With a country chic style, these beauties are perfect for a soiree with your girlfriends.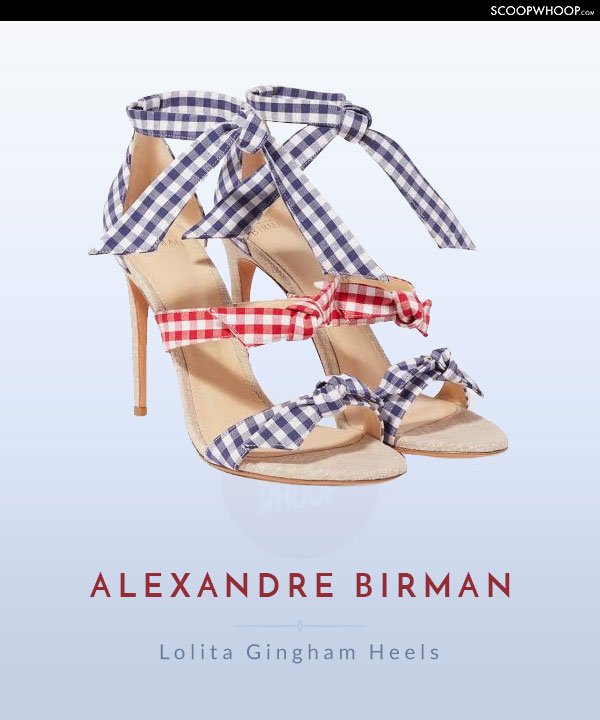 49. Ruthie Davis Sea Studded Platform
Blue, iridescent and spiky, this 6-incher, gem-studded pair by Ruthie Davis will definitely grab eyeballs and make sure that the night only belongs to you. 
The beautiful model, Ariel Meredith, donned this pair and looked ready for the kill.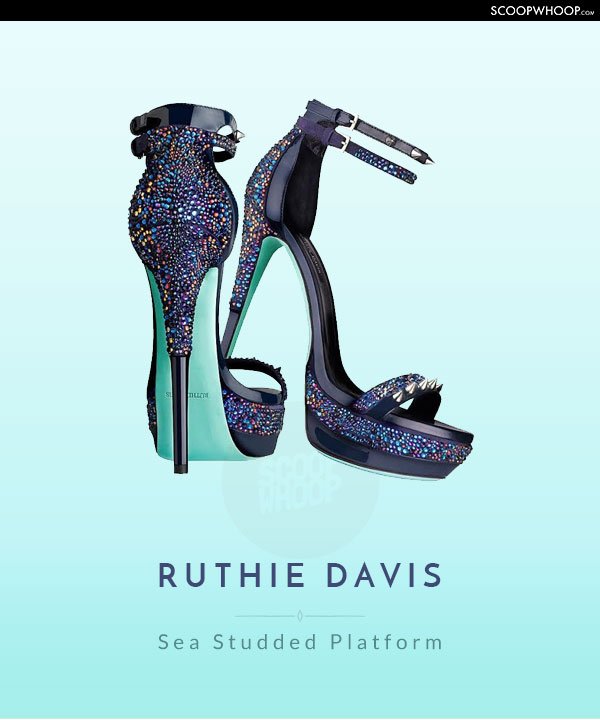 50. Fenty X Puma Lace Up Heels
It's a shoe and a stiletto. It's a shoe-litto. Well, that's a really bad made up name but these heels are quite ingenious. Available in pink, tan and blue, this shoe collab is definitely a game changer. 
Riri, who walked for the collaboration's fashion show, also wore the tan version and paired it with a bomber jacket outfit.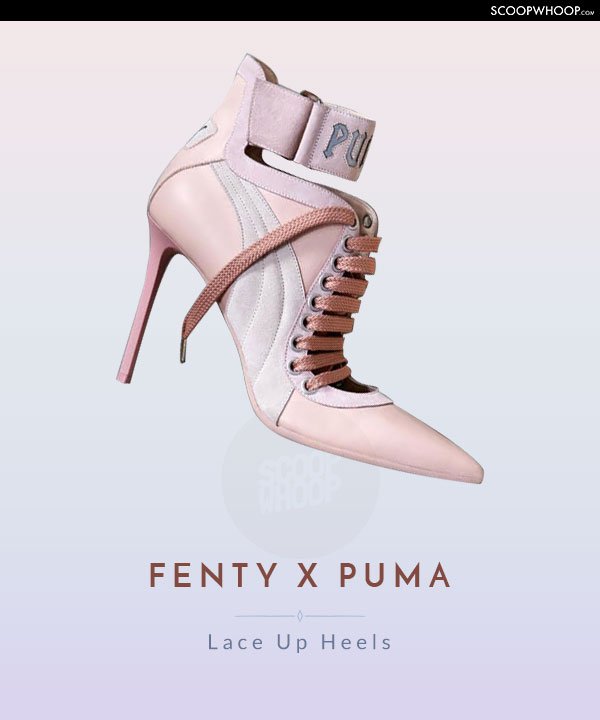 51. Yves Saint Laurent YSL Heels
The only way you could have missed these shoes is if you were living under a rock. Because there's no reason why you shouldn't be lusting over this beautiful pair right about now. A personalised piece from the master crafter.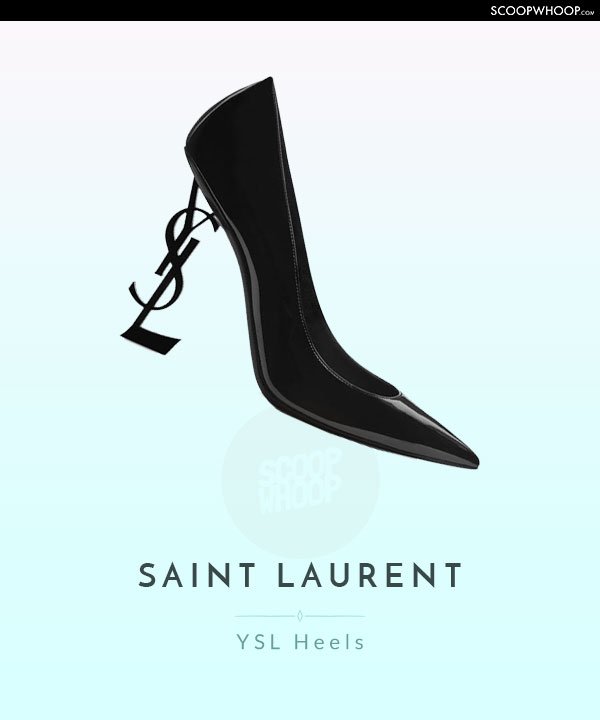 Which one is your favourite pair? 
Chic designs by Anmol Gambhir