This is Karl Lagerfeld who has his own fashion label called Karl Lagerfeld.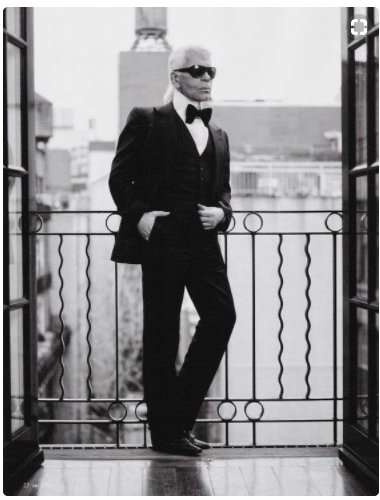 If you are still asking this question, we have you covered.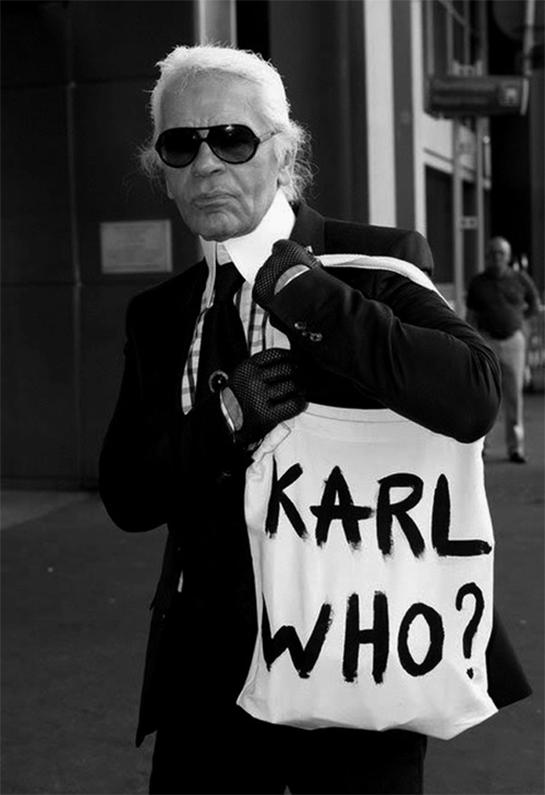 This German fashion mogul is the creative director of the famous brand, Chanel. He is the man who rules the House of Chanel.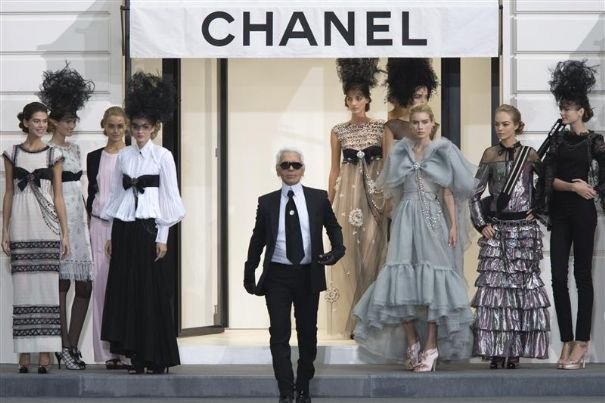 And Fendi.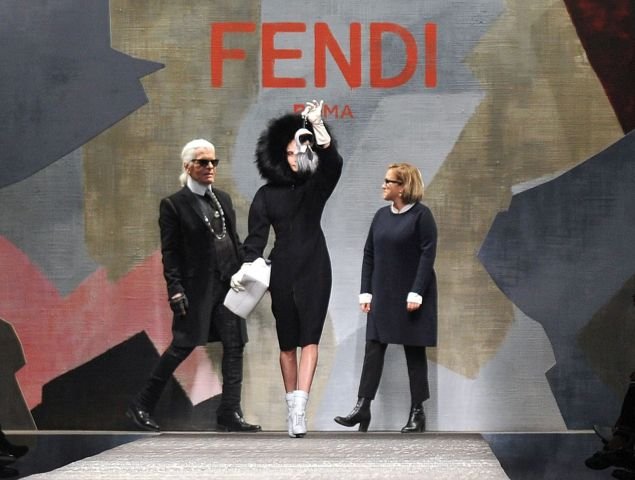 And he is also an artist, photographer, costume designer, weight-loss guru, bookshop owner, and an author. He is known as much for his larger than life designer labels, as he is for his merciless wit and sharp tongue. This German fashion mogul has been at the top of his game since forever and no fashionista in the world can claim to have not been influenced by the works of this eccentric genius.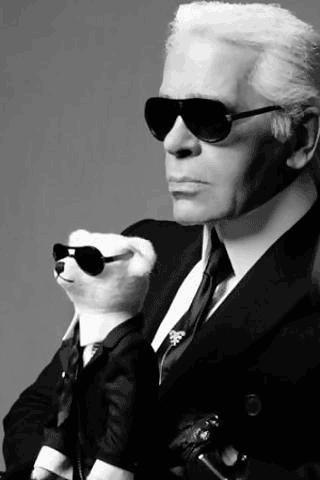 Since Lagerfeld took over Chanel in 1983, more than a decade after the death of its founder, Coco Chanel, it has become one of the most profitable luxury brands in the world.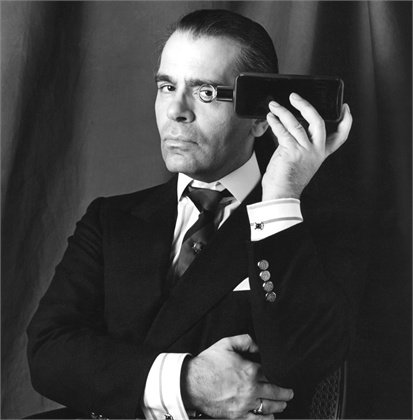 He is also well known for being rich as fuck. And his oh-so average lifestyle has us shedding tears.
In fact, he is SO rich that even his cat is famous.
Yes, you read that correctly, his pet cat, Choupette Lagerfeld accompanies Lagerfeld wherever he goes and has her own Instagram account in addition to her two personal maids.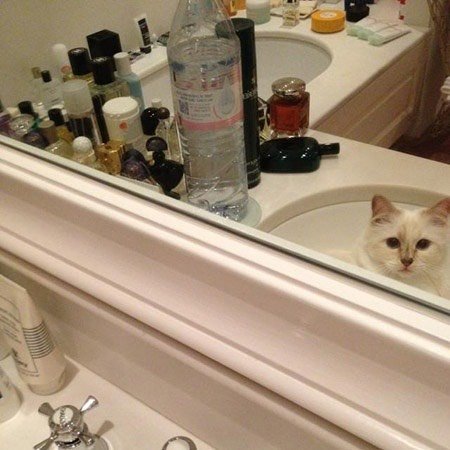 Yes, she has a pillow with her name on it !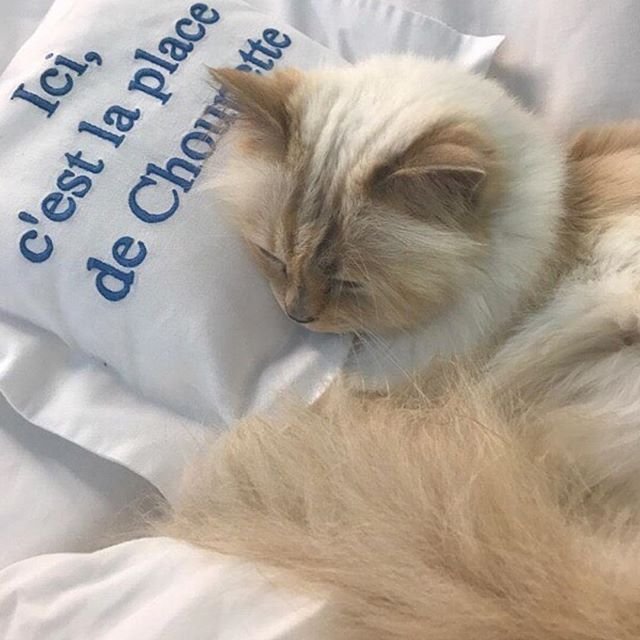 Lagerfeld loves beautiful cars and has customised two of his very own. 
This is his Maybach Landaulet which costs approximately one million, three hundred fifty thousand dollars. Not much, really.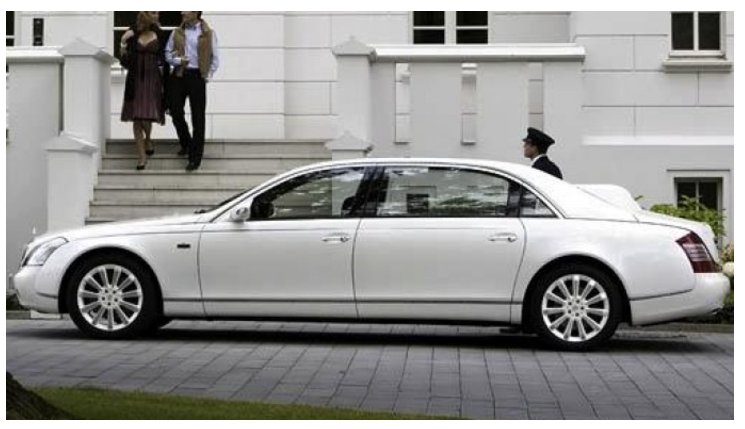 His Rolls-Royce Phantom Drophead Coupe which is an interpretation of the classic 1930s Rolls-Royce design that costs around the same as his Maybach.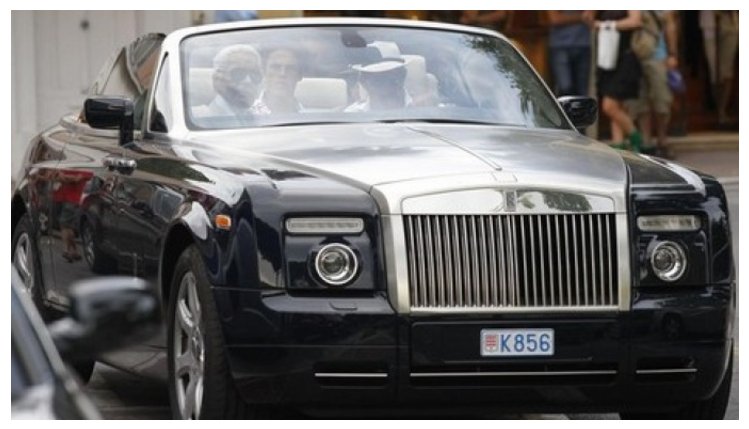 Lagerfeld is a sassy globe-trotter and has apartments around the world.
New York apartment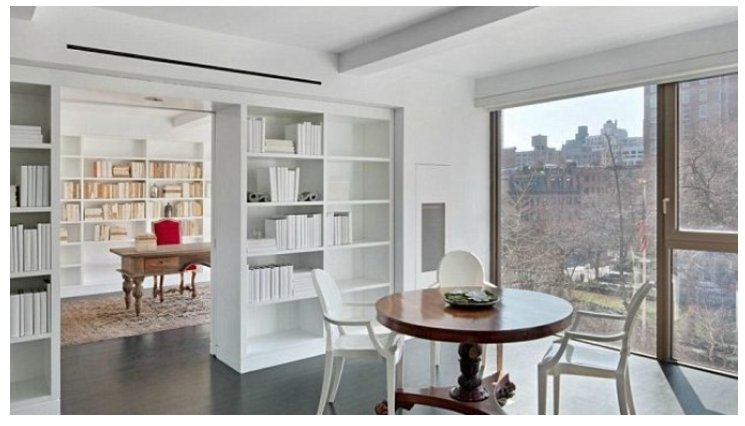 Paris apartment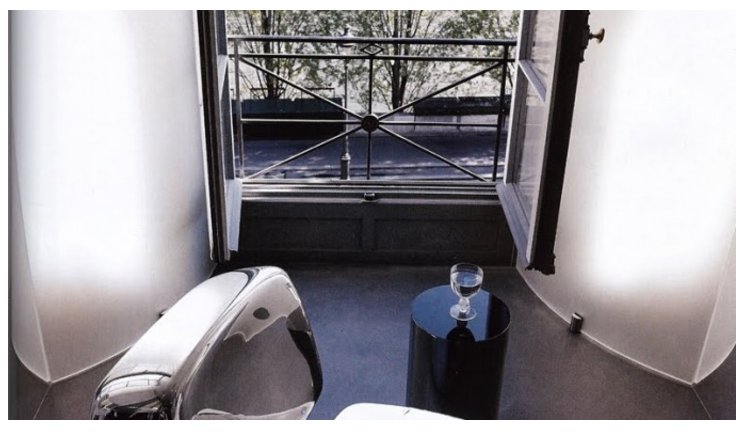 He has a tiny little estate in Vermont as well with apple and pear orchards, no biggie.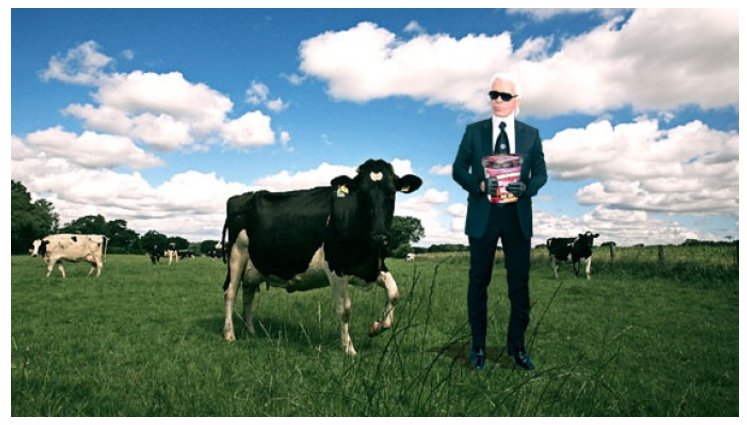 He has one house for sleeping and sketching and one for lunch & dinner.
He shuttles between two homes, a little distance away from one another. One house is meant for sleeping and sketching while the other house is where he entertains guests and meets people. The house where he sleeps has no kitchen, he has food brought to him like in a hotel. Fair enough.
PS: He sleeps on 'antique' bed sheets and his mattresses are changed every 6 months.
Lagerfeld is a bibliophile and owns the library of our dreams. This is what his private library looks like and I think I just died a little bit. 
Look closely, and you'll notice his books are all kept horizontally. Peculiar, you think? Not for Karl. The arrangement is such, so Mr. Lagerfeld doesn't have to tilt his head to read the titles.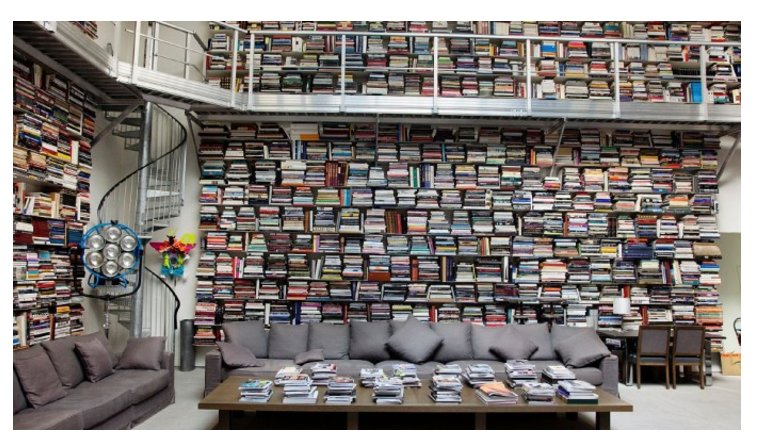 Not the one to follow rules, Karl's library is as flamboyant and different as him.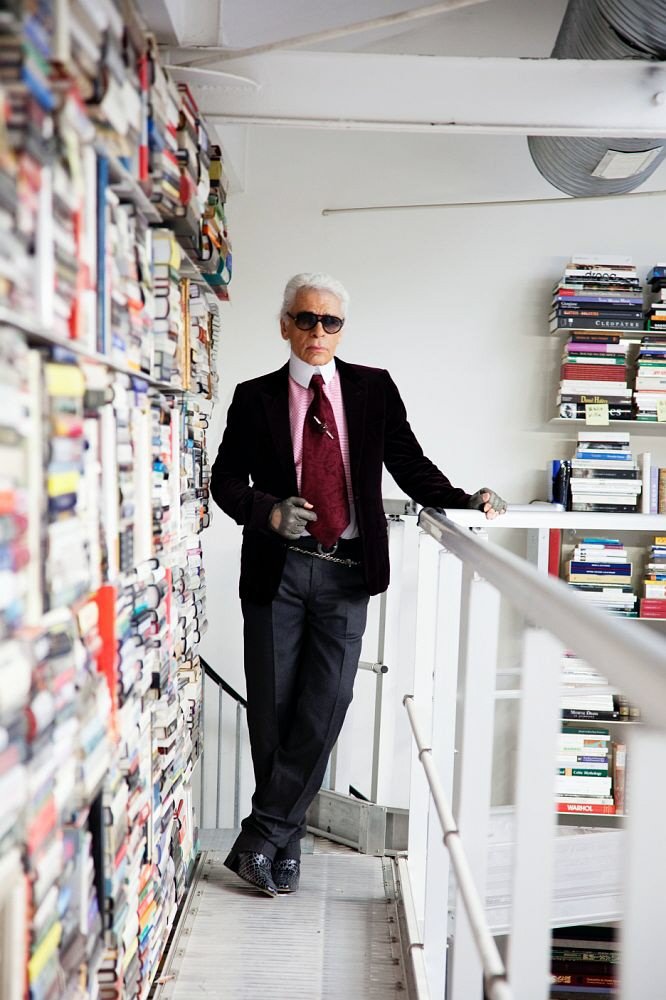 Of course, Karl Lagerfeld has so many valuables that he needs a "safe" place to store them, check out his safe and his custom made Louis Vuitton Trunk that can hold 20 iPods, a speaker, and a subwoofer, in addition to other items.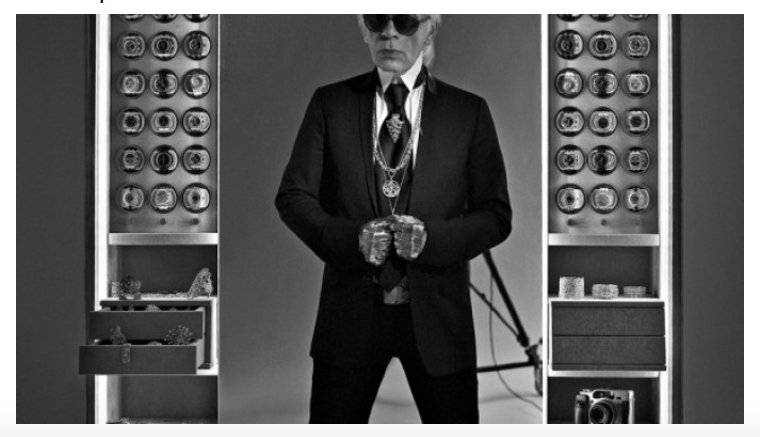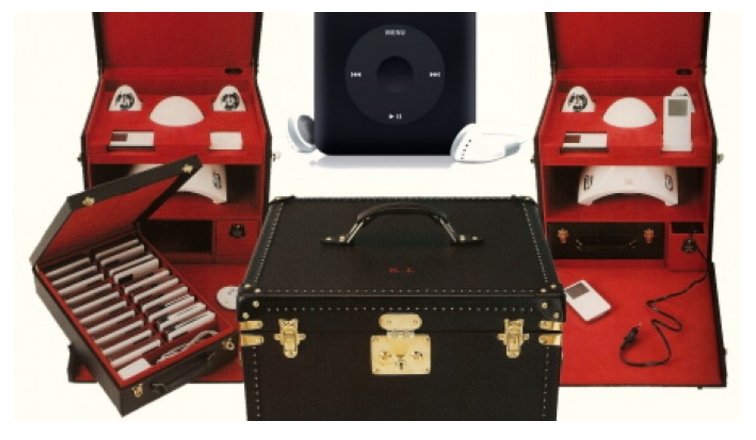 He has a fridge in his bathroom to keep his skincare. 
To keep his skin healthy, he stopped going into the sun and wears gloves all the time to protect his hands. He doesn't drink or smoke, so obviously he exudes 'natural' glow, but since he is aging, he swears by a few products that he keeps in a separate fridge in his bathroom.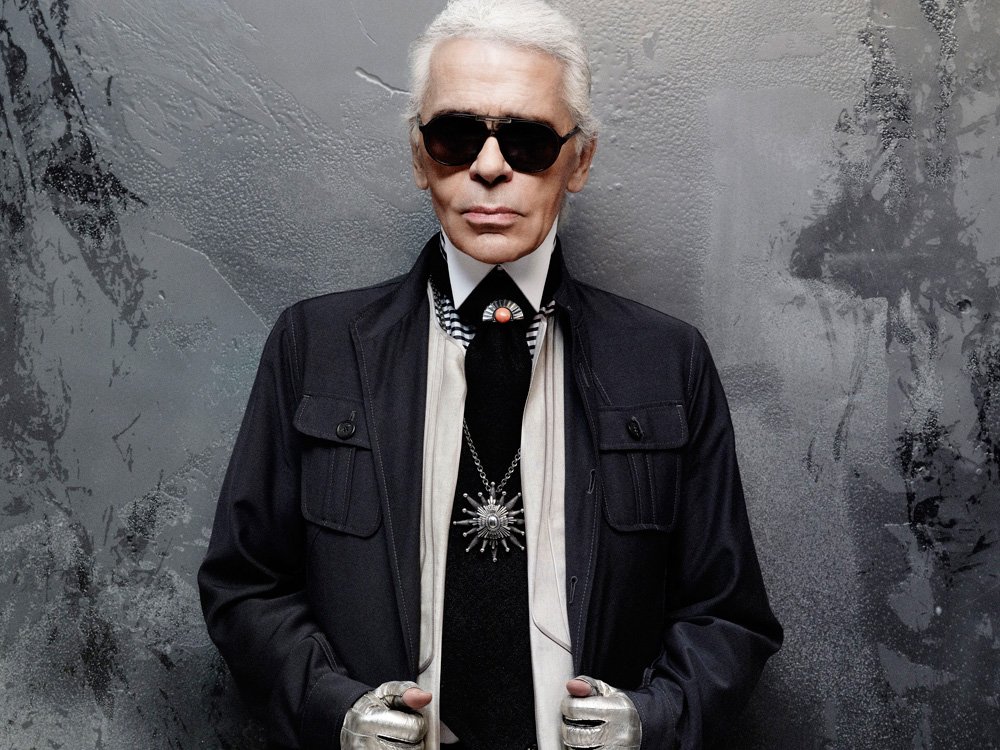 He's had his signature ponytail since 1976.
In the inaugural issue of quarterly men's magazine M, the designer revealed that in the 70s he grew tired of having long, curly hair, so he pulled it back into a ponytail and that's been his signature hairstyle ever since.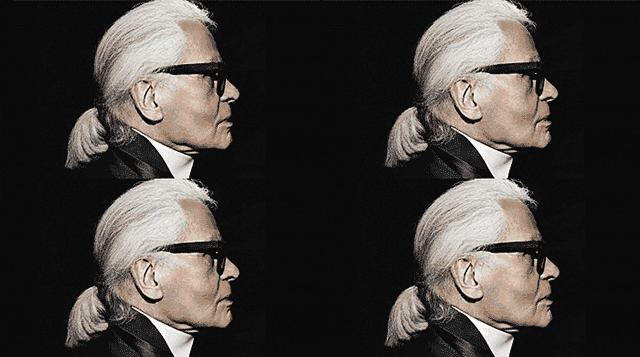 He has a personal butler in parties to carry around his favourite drink, Pepsi.
In fact, not only is Lagerfeld addicted to Pepsi, according to several reports, he has a special butler on hand who follows him around at parties with a goblet of Pepsi on a tray. He doesn't like drinking water because it is not tasty.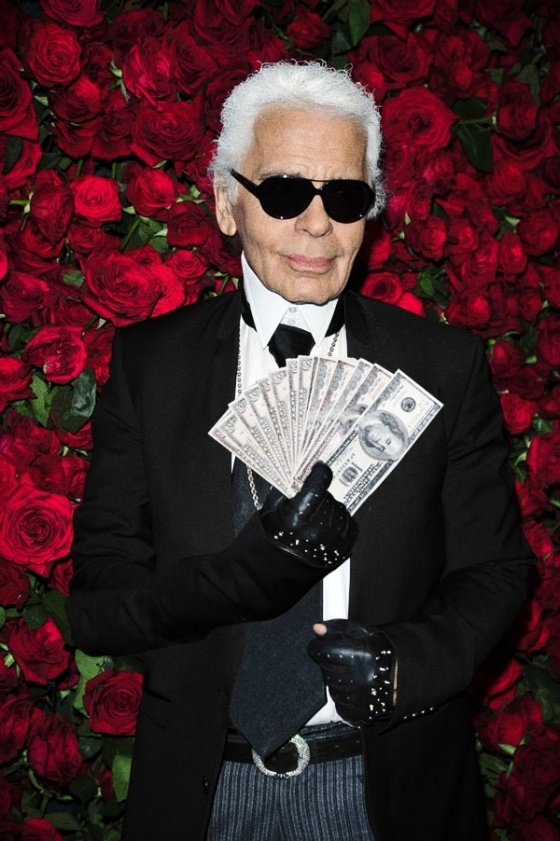 Feeling bad about your life? Leaving you with these golden words from the maverick genius.