Also, on the occasion of National Lipstick Day (29th July), here are some interesting facts about lipsticks we bet you didn't know about.  
Lipsticks have been an integral part of all women's lives. What would we ladies do without the invention of lipsticks? It make us feel sexy, sassy and appealing, without us having to do too much. And with just a stroke, it completely changes our look and our style. A good
lipstick
can make us feel worth it and we are glad that it came into our lives. We love you, lipstick so don't ever go out of fashion.
1. Over 55% of all women wear lipstick. On an average, women 
spend 
about ₹1,22,445.31 on lipsticks during their lifetime. Say what?
2. Lip paint was first used in the Sumerian region (known as Iraq and Kuwait now) around 5000 BCE. 
3. Lipstick was seen as scandalous by most women and worn predominantly by sex workers in ancient Greece. 
4. Both men and women wore lip color made from a mixture of red ochre, carmine, wax, or animal fat in ancient Egypt. Magenta, blue-black and red were the popular shades. 
5. During the 1960s white lipstick was a trend for a bold look. 
6. The first commercial lipstick was introduced by Guerlain in the form of a lip pomade in 1828. 
7. According to Cosmopolitan, the easiest way to find your perfect nude lipstick shade is by 
matching
it to the colour of your nipples.
8. Give thanks to Hazel Bishop, if you love your long-lasting lipstick. She was a biochemist who invented the first long-lasting lipstick after World War II. 
9. According to research, applying red lipstick can make you look younger because a deep contrast between features is something we associate with youth. 
10. During the 1700s, some women in America would suck on lemons all day long in order to redden their lips. 
11. Guerlain's KissKiss Gold and Diamonds Lipstick is one of the most expensive lipstick in the world that costs ₹4,26,6995. *Jaw drop*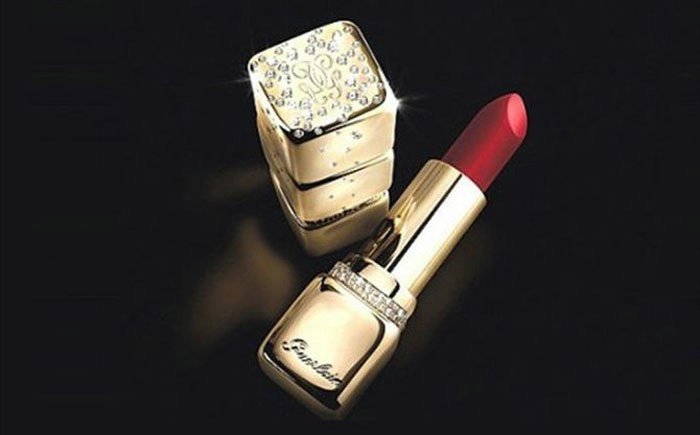 12. Queen Elizabeth I popularised lipstick so much that it was used as a substitute for actual currency. 
13. Apparently, Elizabethans believed that lipstick had life-giving powers, and Queen Elizabeth herself applied it on her deathbed. 
14. In the 1700s, a man had the right to annul his marriage if his wife had used lip rouge during their courtship. Really?
15. Those women who apply lipstick on a daily basis unintentionally tend to eat about 4 pounds of lipstick in their lifetime. True fact, guys. 
Which one of these lipstick facts were you surprised by?