It's no secret that guys get the short end of the stick when it comes to fashion. Thanks to the limited sartorial choices you have, you're stuck with wearing shoes even in summer and polo shirts that make you look like an entitled brat (they do, let's face it). Well, rest assured, revolution is coming to your wardrobe one deconstructed shirt at a time. Or, in this case, a pair of Nagras.
Given that men often struggle with their choice of footwear (trust me, if they didn't, we wouldn't have sharp suits paired with running shoes), online fashion behemoth AJIO.com has decided to launch a new, chic line of footwear, called Neo-Nagras, that hits the sweet spot between ethnic and contemporary. This unique fusion of the traditional and the modern is symbolic of how boundaries in Indian society are constantly being blurred: people are now refusing to conform to stereotypes. Relaxed and versatile, they go perfectly with any attire, whether you're out for a stroll or breaking a leg at a friend's wedding. So, here are some outfit ideas to help you wear Nagras with anything.
1. For a night out with the guys.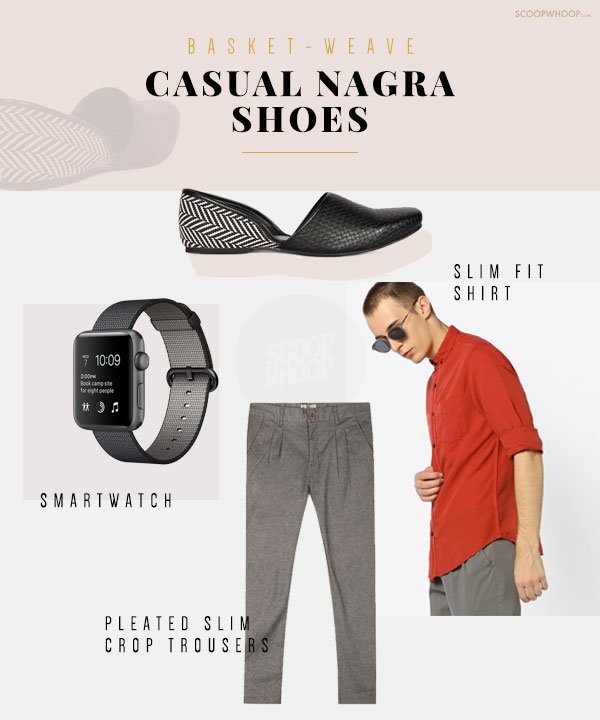 IMHO, cropped trousers are the greatest invention in men's bottom-wear since tailored clothes. Since they end at your ankles, they're a good choice for people who want to look taller. And if you want to see how effortlessly cool they are, just take a look at Lee Min Ho. So, when you're in the mood for partying, don't look beyond your crisp button-down (preferably in a bright colour) and pair it with neutral-hued pants and sleek, herringbone-patterned Nagras.
Shop the shirt, trousers, shoes and watch.
2. For the day spent exploring around town.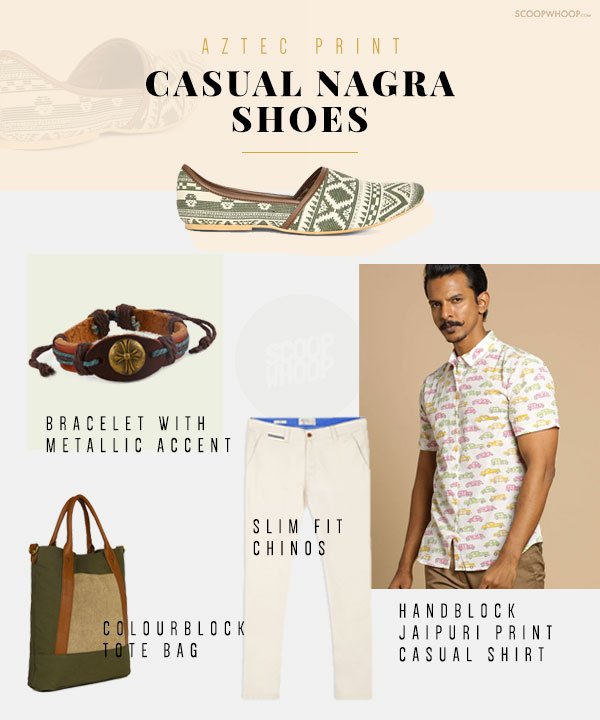 You want to be comfortable, casual, and ready for any spontaneous shopping sprees. What better than a light coloured, block-printed shirt and chinos? Add a chic tote bag and quirky Nagras like the ones above to add a little 'I-woke-up-like-this' flair. 
Buy the shirt, chinos, bag, bracelet and shoes.
3. For the quick run to the library, or you know, the morning class.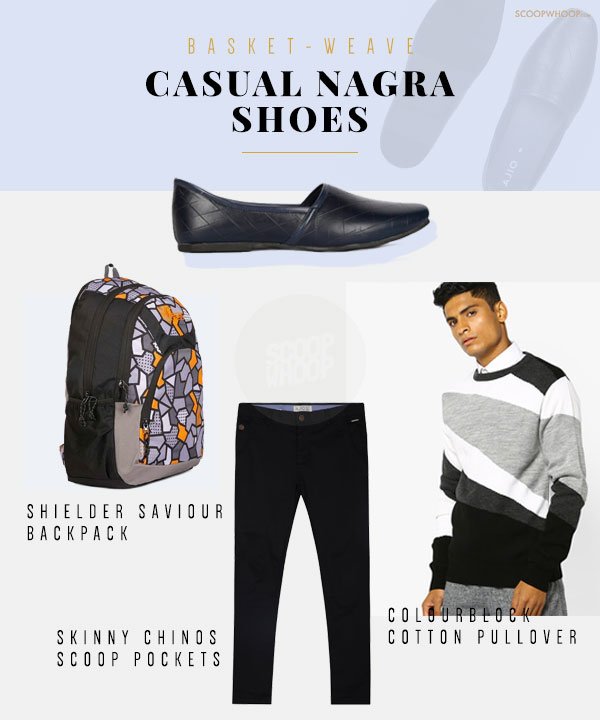 Whether you're a guy or a girl, looking good in college is imperative, even if you are feeling lazy and have no time to get ready. When the weather starts getting nippy, just throw on a colour-block sweater, a pair of matching chinos, and simple, black Nagras, and you're good to go. Oh, and if you don't want to lug around a huge backpack, pair it with a small, space-conserving one as shown here. 
Get the pullover, chinos, backpack and shoes.
4. For the first movie date.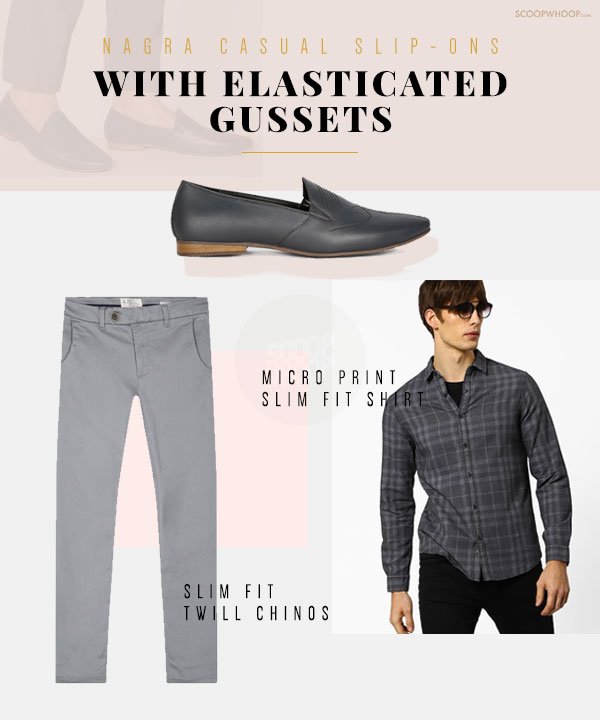 Movie dates are important enough to make sure you look put together but casual enough so you don't go all out. In short, a good time for you to forgo the three-piece suit but still break out a shirt and chinos. Top it off with a pair of chic Nagras in the same hue, and you have the perfect date outfit.   
Check out the shirt, chinos and shoes.
5. For when you're stuck between hot and cold weather.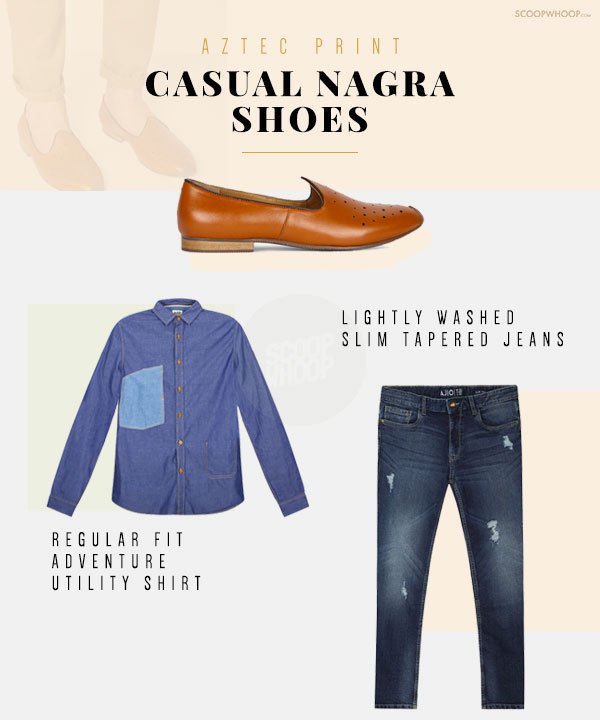 With September right around the corner, the biggest problem you'll have with your clothes is to dress for the slight nip in the air while also avoiding suffocating in your own warmth. For such days, denim is perfect. Go for a monotone silhouette and let the break come in the form of a pair of brown, leather textured Nagras. Sorted, bruh. 
Get the shirt, denim and shoes.
6. For the Goa trip.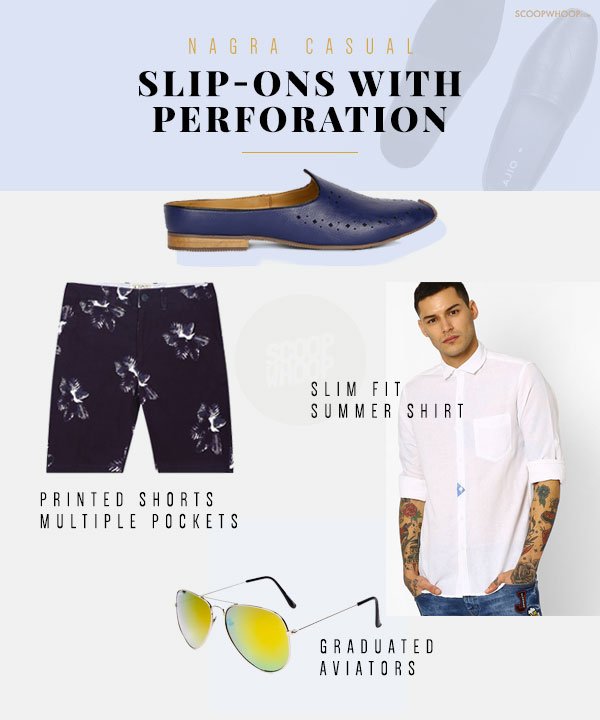 So, you finally got around to making that trip to Goa, huh? Better pack light: shorts are a staple, of course, but you also don't want to look like a manufactured Goa-factory drone. Pass up on your regular tee and pair your beach shorts with a light cotton shirt and, get this, Nagra Mules. That's the definition of cool right there.
Buy the shirt, shorts, shoes and sunglasses.
7. For when you have to make a quick run to the supermarket.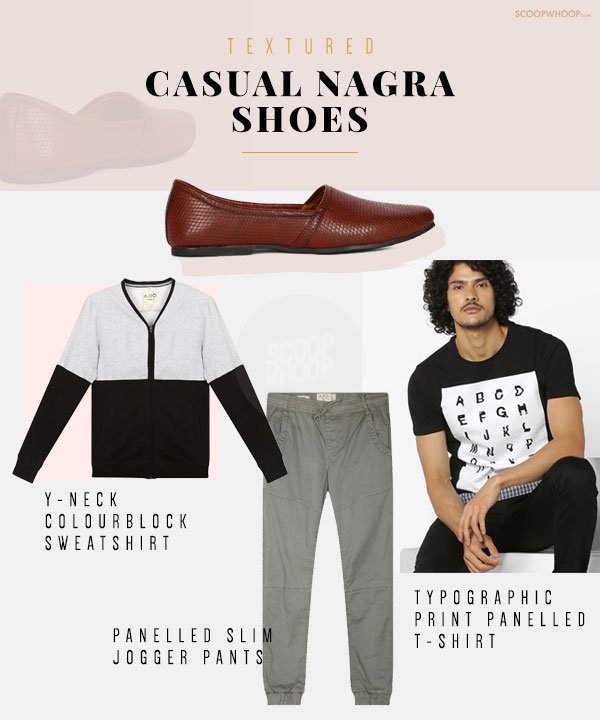 Listen, you may want to laze around on a Sunday, but your mother usually has other plans. So, for all the times you have to run household errands, just throw on a simple graphic tee, joggers, and a sweatshirt (because mothers and sweaters, cue eye roll). Pair it with the chic maroon Nagras in the picture above and you will look the very picture of 'Oh, this old thing? I just threw it on!' 
Catch the sweatshirt, pants, t-shirt and shoes.
8. For the last-minute family function invite.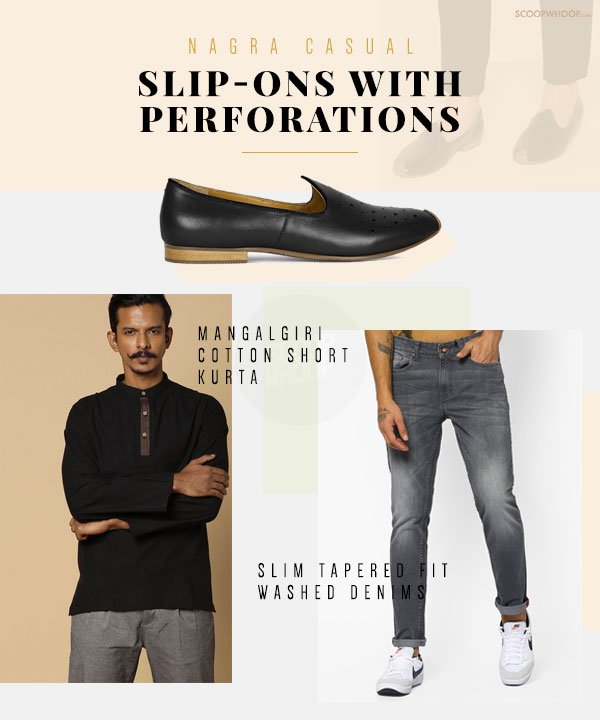 If you grew up in an Indian household, you know these come by more often than you'd like. Well, worry not. A short kurta and loose jeans, paired with a simple pair of sleek Nagras will not only keep you sorted but also turn you into everyone's favourite Raja Beta. 
Shop the shirt, denim and shoes.
So, what are you waiting for? Check out AJIO.com's super-cool collection of Nagras here!  
Designs by Anmol Gambhir and Gauri Saxena.