Cooking is an art. We all know how to cook the human-sized version of curry or french toast. Here's one young guy who rewrites the existing recipes to fit a slightly different sized tummy. 
Jay Baron, a 22-year-old artist from California, is the brain behind the fascinating Youtube series called Walking With Giants. The series take you to the world of miniature cooking and believe me, it's awesome.
Welcome to the kitchen of Walking With Giants!
Presenting to you mini chicken noodle soup…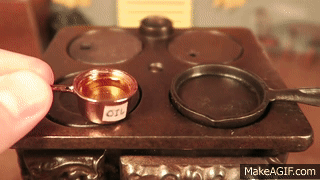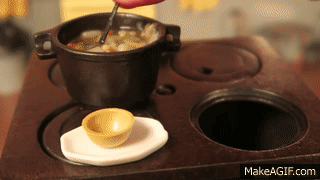 … with some scrumptious hamburgers cooked with the help of tiny utensils.
The next dish on the menu are the mini lamb kebabs.
Here we have some teenie weenie cinnamon rolls baked with utmost perfection.
Isn't this tiny little cake adorable?
Now, it's time for a warm bowl of mini spaghetti!
Along with some crispy less-than-a-bite-sized mini fish and chips!
This is weirdly irresistible. *sigh*
All gifs sourced from Walking with Giants Youtube unless specified.