The quest for a relaxed, chic, safe – where you won't get eyeballed or followed home from – place to grab a drink and a tasty meal in Delhi which isn't noisy and crowded, usually ends up in the usual haunts. For some reason, restaurants in Delhi believe that they should deafen you with the decibel level, so they're perfect places to go with people you have nothing to say to. Or they're too seamy or too tony or have no seating or a live band in a 200 square foot place or just done to the death to the point where even the waiters think you're the furniture.
But like Christopher Columbus, I have discovered the promised land – or the promised restaurants and bars which allow you to sit down, have an interesting drink, and an audible conversation, and some suitably delicious food – while not going absolutely broke. Imagine that. Here's my pick of the latest finds.
Birdie Num Num
We found this restaurant tucked away in the Global Foyer building at the beginning of Golf Course Road. Very quaintly done, their USP turned out to be the really innovative cocktails and starters. We had a Liquid Bread – bourbon, bread syrup and ginger. Which had a long crouton as the garnish.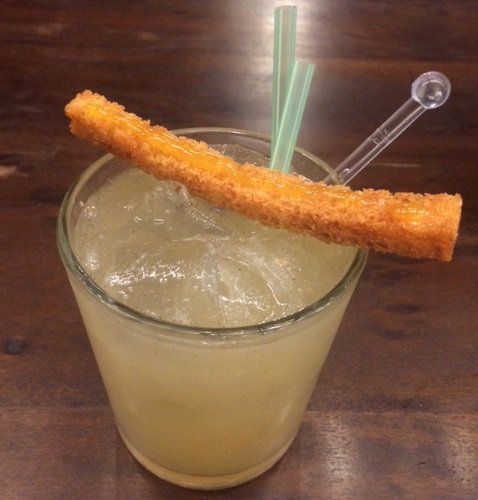 We also tried the Passive Aggressive – whiskey, peanut butter syrup and bitters. Which came with its own banana leaf parcel of peanuts on the side. The drinks were Rs 399 each. Stay away from the mains, which were a bit of a hit and a miss, but the small plates of Blackened Maharashtra Lamb Chops was great, the Banana Leaf Fish were tiny steamed parcels of fish, which were a little overcooked – but we were two Bengalis so may have been a little nitpicky about our fish. There's a lovely secluded sitting area on top, with low slung leather-sofas and coffee tables, which is perfect to meet someone you don't want to be seen with. Definitely worth a visit. Just for the innovative cocktails and snacks.
Bandstand
Since I hate Hauz Khas Village and think it looks like the Patpong version of restaurants, with waiters calling out to you while you're walking through, asking you to enter the firetraps they call restaurants – any place which doesn't require me to enter HKV pleases me. Bandstand is next door. In the Aurobindo Place market. 
It's very chilled out, there's a covered terrace which is perfect for smokers and for breathing in Delhi's pollution. But still quite a delight to sit in during winter. It's Happy Hours till 10 pm. Their Espresso Martini and Bloody Mary were great. As were their starters, all of which range between Rs 190 to Rs 350. We tried the hummus platter, the fish fingers, crumb-fried prawns. All tasty, all good portions.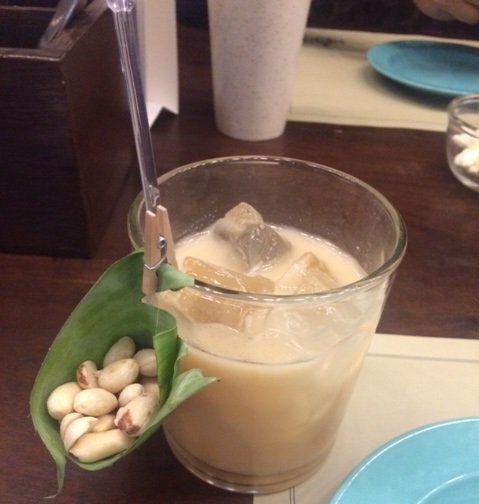 They also have a live band which plays inside the restaurant, with some great bands from across the North East. I liked the relaxed vibe, the mix of people sitting around, tables of just women, men who don't lech or make you feel uncomfortable, expats. And of course loved the very affordable bill we were handed at the end of the evening.
Delhi Club House
Located in Sangam Courtyard in Som Vihar, Delhi Club House isn't particularly cheap, but not mindbogglingly expensive either, if you miss going to a country club dining hall, head here. You can sit in slightly uncomfortable arm chairs, at tables which are a little too small and have a Screwdriver and Whisky Sour with Chicken Kiev and Momos and Phuchkas, followed by Fruit Cream and Sticky Toffee Pudding. What's not to love?
The Prawn Cutlet has never been served in Tollygunge Club, as claimed by the restaurant menu, but the Masala Sea Bass is worth a try. Sit around, chat, look at the mixed bag of people who make up the clientele – there are entire families dressed up, people in gym clothes, couples out for a date. Lunch is usually nicer than dinner when they draw red velvet curtains and make the place look like a bordello. But the drinks, food and service are great.
Ping's Cafe Orient
Ploof in Lodi Colony, Main Market is gone. And has been replaced by Ping's Orient Café which is run by the same people who run PCO and ATM. So they know their drinks. If you like Asian food, head here. The walls are red, the seating is comfortable, you need to switch on the light bulb hanging over your table to call the waiters. It's not cheap, but the food is great as are the drinks. I'd head here more for a great meal, than just the drinks though. They have one of the most delicious beef salads perfectly flavoured with basil and aromatics and excellent dims sums, ramen bowls, Pho, stewed duck rice. The works. And a really delicious Miso Mary, which is a Bloody Mary flavoured with Miso.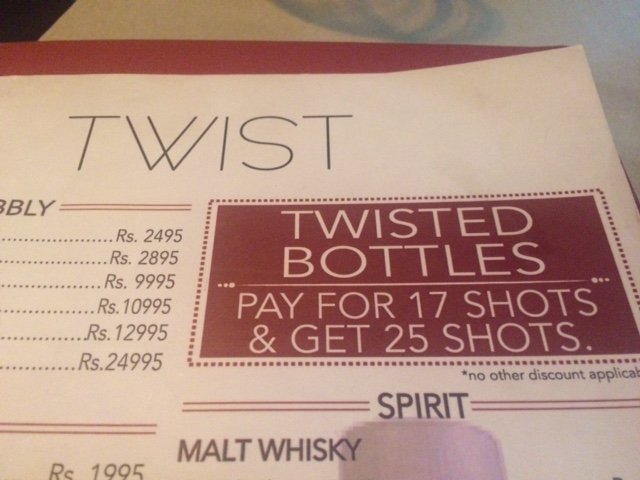 Twist
Located where Canton Spice used to be in Cyber Hub, is Twist. Primarily Oriental food again, they also have a fabulous drinks menu and a slightly scary offer of 25 shots for the price of 17. Which may not be wise in a city like Gurgaon, where the men are on edge without having drunk anything at all. The waiter did look shocked when I asked for a Whisky Sour, but he regained his composure quickly. The excellently flavoured Whisky Sour with orange peel made up for the affront. Their Red Sangria was great as well. They have a concept of small plates which is nice because you can skip ordering a large meal and just order a mix of stuff – the spicy tenderloin, dry lamb, prawns, pink crab dumplings, steamed basa with chilis were all great. For some reason the waiter looked shocked again when we asked for a mixed non-veg rice noodles, maybe he was just easily shocked! Easily surprised waiters aside, Twist has comfortable seating, ample space between tables and a nice vibe – and you can hear yourselves speak.
You can thank us later for pointing you to the right drinking and eating bar.