If you're in Mumbai this Diwali, then here's an idea for you. Why don't you celebrate Diwali with some lovely Maharashtrian sweets and snacks this time? And no, I am not talking of the modak. There's a lot more to Maharashtrian sweets than that after all.
Panshikar Sweets is a good place to go to get your stash of Maharashtrian sweets. You might get a bit confused if you Google map it as there are many Panshikar sweets shops in Mumbai but there's a simple story behind that.
I met Prakash Kamlakar Panshikar at the Panshikar Sweets outlet at Mahim, in the lane beside the Citylight Market, to know more about the Panshikar Sweets Story. (Mahim's City Light market is incidentally a favourite with local Bengalis for the fresh water fish sold there by Dulal.)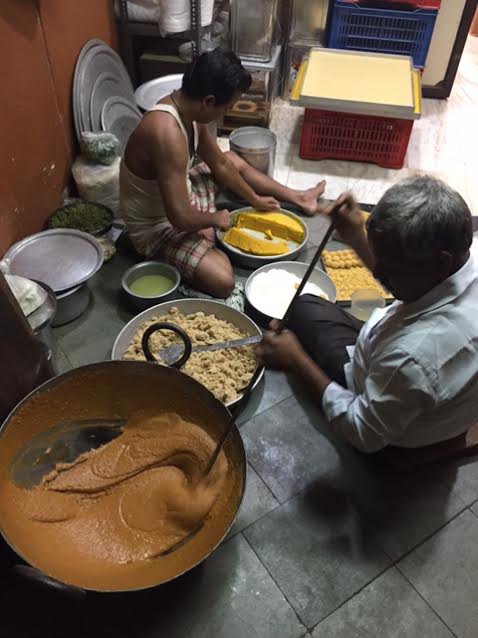 I found that the original Panshikar outlet at Thakurdwar was started by Panshikar's uncle in 1921. That shop still exists.
The 67-year-old Panshikar originally used to sit at the Panshikar shop near Dadar Station ,which was founded by his father in 1931. He then set up his own shop near the Citylight Market in 1984 and now comes here every day to oversee the running of the shop.
There are a number of Panshikar outlets across the city in Girgaon, Dadar, Matunga, and now in the suburbs in areas such as Bandra East, Goregaon and Vile Parle. Each is run independently by members of the Panshikar family. Each shop has its set of loyalists and the owner of each has left their mark in the taste of what's on offer.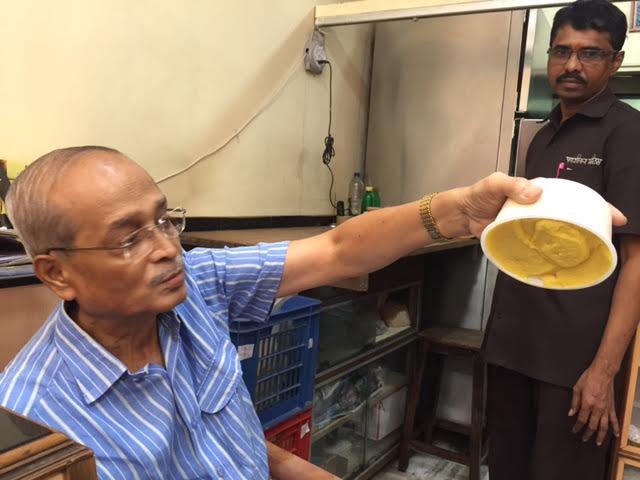 The Panshikars are originally from Sawantwadi in coastal Maharashtra in the Sindhudurg district. They surname was originally Khandekar. They then took on the name Panshikar after the name of the village Panshi in Goa four generations back.
Too much history? Well I personally feel that food tastes so much better when you know the stories behind it.
The sweets and savoury snacks on sale here are made fresh at the shop every day.
Two of the most traditional Maharashtrian sweets, says Prakash are peda and barfi. Both are made with mawa. The mawa is made with milk gently stirred and reduced over a hot flame for over 3-4 hours till about a litre of milk is reduced to about 250g of mava.
Various additions are then made to the mava to make various types of barfis and pedas. During Diwali, the barfis sell the most says Prakash. There are various types of barfi: mava, anjeer, mango (made with mango pulp from Ratnagiri) to start with.
Having tasted both fresh mawa first, and then the barfis, I was amazed to see the transformation from the core earthy ingredient of mawa to the delicate finished sweets. The freshness of the product was oozing in each bite of the soft and juicy barfi.
The advantage of using mawa, says Prakash, is that the sweets last longer. At least 3 to 4 days without refrigeration.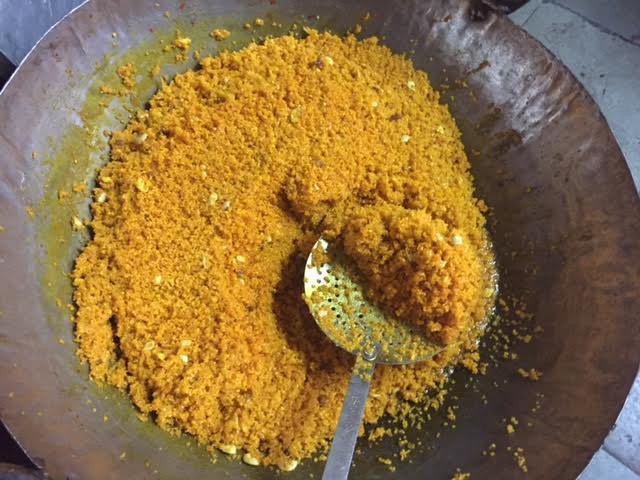 They make their own srikhand at Panshikar. This is made with curd hung over a cotton cloth called the chakka. According to Prakash, this process helps break down the acidity of curd. The water of the curd gets drained out over a couple of hours to make the curd tight but soft. To this sugar and spices such as cardamom and saffron are added to makes a variety of srikhand. Mango pulp is added to this to make amrakhand. Prakash proudly upturned a pack of srikhand to show me that it didn't fall out. The mark of a good srikhand he told me. I tried a bit of the hung curd and found it to be moist but extremely sour. It was amazing to see the magical transformation that happens when srikhand is made.
Srikhand puri and srikhand roti is a big favourite during Bhai Dooj, which comes just after Diwali, Prakash tells me.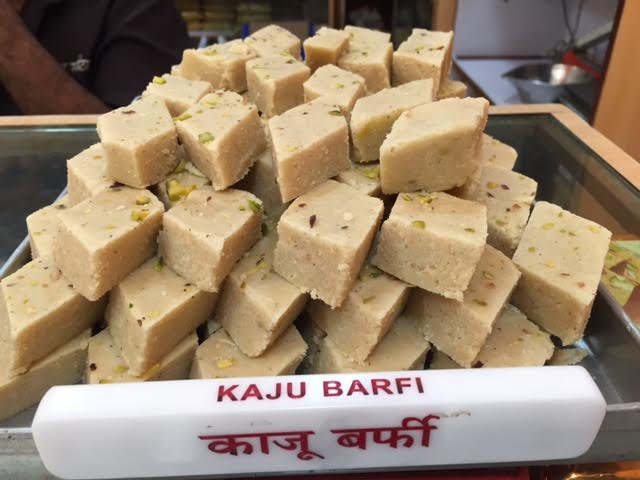 The laddoos are hot favourites too. Here they come in various forms such as besan ladoos (gramflour) and rava ladoo (semolina).
I was fortunate to see some fresh motichur laddoo being made here. A sweet which has Rajasthani origins, but is a part of the traditional Maharashtrian repertoire too. I watched like a kid in a candy shop, as the sweet makers of Panshikar strained out the wet besan mix into a kadhai of ghee and magically transformed this into tiny boondis (over a hot flame), and then shifted the freshly formed, ghee-kissed granules into another kadhai in which cashews and raisins had been fried in ghee. The two were integrated together and once cooled were hand rolled into motichur laddoo.
It isn't just about mithais on Diwali for Maharashtrians. They have something called the faral too. An assortment of savoury and sweet snack items.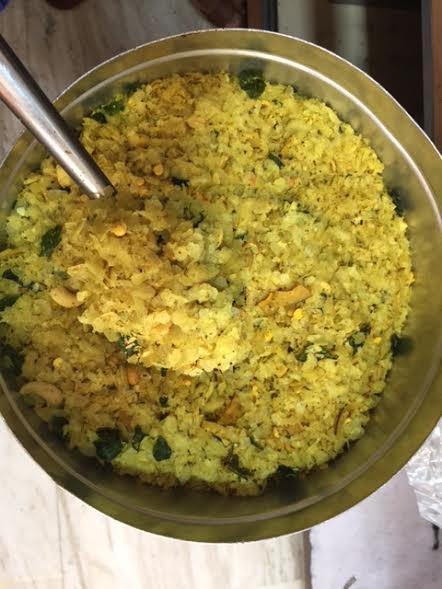 You can choose from pohe chivda, fried in a fresh green chilli paste base, which has a sharp kick. There's the crunchy chakli made with a batter of rice, urad and chana dal. The spice mix of which varies from house to house. Another interesting faral here is the kad boli which has a similar mix as the chakli mix, but a higher proportion of urad dal, and is denser in texture than the chakli. There is the karanji of course, a half-moon shaped maida dumpling stuffed with sweetened grated coconut and deep fried. Or the airy and light chirote which is made with rice flour.
Once done with your mithai shopping at Panshikar you can taste some chilled and refreshing piyush here which is a Maharashtrian lassi made with curd churned with sugar (lots of it at some restaurants), bit of cardamom and saffron.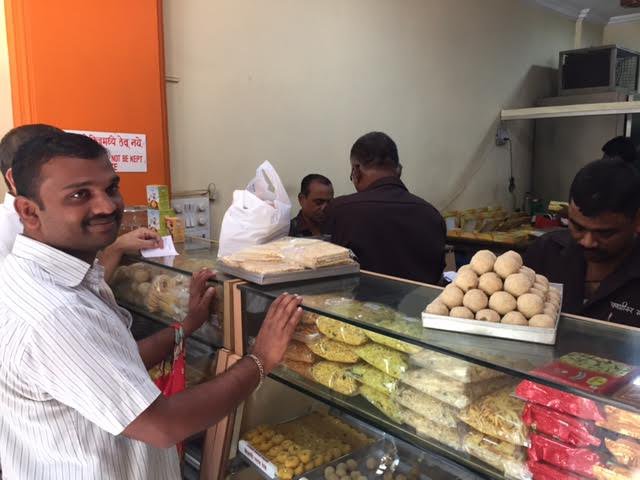 I am not a Maharashtrian and haven't grown up in Mumbai. I was not exposed to any of these treats while growing up and they don't form a part of my taste memory. Yet, I was amazed by how soulful everything that I tried at Panshikar tastes. Pure, homely, fresh and honest.
When it comes to warm welcomes in Mumbai, it surely doesn't get sweeter and more loving than this.
Happy Diwali from Mumbai
Address of Panshikar Sweets:
4, Krishna Niwas, TH Kataria Marg, Near Bank Of Maharashtra, Mahim, South, Mumbai
(Feature image source: Finely Chopped)