Shrikrishna Sarjoshi opened Aaswad restaurant in Dadar in 1986. Aaswad is a vegetarian restaurant that serves Maharashtrian food along with grilled sandwiches, chaats and south Indian tiffin dishes that Mumbai loves.
When the Sarjoshis had started their restaurant, their aim was to provide Maharashtrian food in a clean and comfortable environment to a larger audience. Thirty years later they seem to be doing well on that front. Since 1986, the original Aaswad branch – located diagonally opposite the Shiv Sena Bhavan, near Shivaji Park – has grown from a small non-air conditioned four table and 16-cover outlet to an air-conditioned restaurant with 64 covers.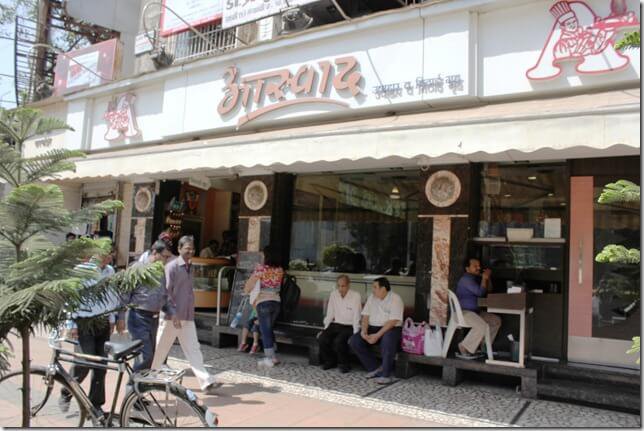 Shrikishna Sarjoshi has now handed over the reins of the restaurant to his son Suryakant Shrikrishna Sarjoshi, although he still comes over every morning and sits at the sweet shop section for about an hour, greeting customers with a warm smile.
Most Maharashtrian restaurants in Mumbai are located in areas such as Dadar, Bandra East, Parel and Girgaon which are considered to be Maharashtrian dominated areas. Girgaon though has seen a growth in the number of Gujaratis living there of late, and a fallout has been that the Maharashtrian food served in some restaurants here has been sweetened in contrast to the norm to appeal to the Gujarati palate.
Suryakant has taken Aaswad to Ghatkopar recently and has opened an outlet there. Ghatkopar is a Gujarati-dominated neighbourhood of Mumbai. The core recipes of Aaswad haven't been tweaked though for the Ghatkopar outlet and the base masalas are made in the central kitchen. However, they have introduced Jain-friendly versions of Maharashtrian dishes with no onion, garlic or root vegetables for this branch.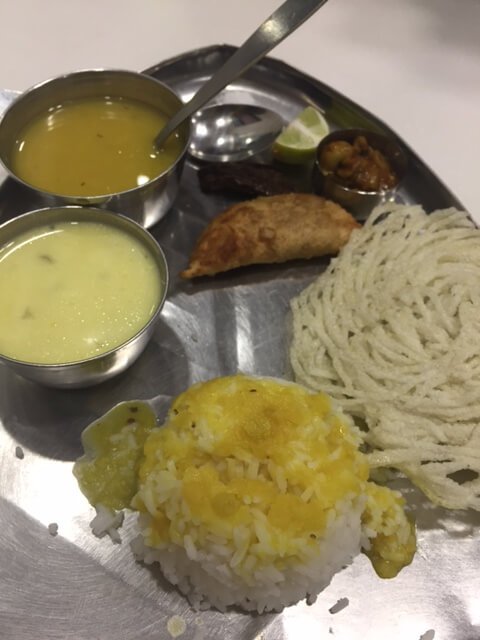 The newest outlet of Aaswad is at the Mumbai T2 airport and is located close to the departure bays of domestic flights of Jet Airways and Vistara. This outlet has made Maharashtrian food more accessible to Mumbaikars from other parts of the city as well as to visitors to the city. The core branch at Dadar has seen a growth in its non-Maharashtrian clientele as well, ever since they won an international award for their misal.
So what do you order when you go to a Maharashtrian restaurant such as Aaaswad? Your first reaction may be to order the usual suspects such as vada pav, misal pav and sabudana vada. If you skim through the menu though, you will see that there is a lot more to explore.
You will then realise how many examples of what we have been reading about health food these days – benefits of multi-grain, gluten-free foods, super grains, jaggery instead of refined sugar – was already incorporated in Maharashtrian food.
Take the thali peeth for example. It is a multi-grain flat bread made with multiple grains which reduces the amount of wheat flour used. Added to the dough are rice, channa (gram) dal, black gram dal, cumin, fenugreek and coriander seeds. In restaurants such as Aaswad, the thali peeth is shallow-fried. It can also be roasted, but that's usually done at home as it is more time consuming to make. Thali peeth is served with fresh unsalted white butter and a dahi chutney on the side.
You can also try the bhakri pitla bhaji lunch. Bhakri is a sort of a roti, but is not just made with aata. At Aaswad, you can get traditional bhakris made with jowar (sorghum) and even those made with nachni (finger millet) and rice. Pitla is a thickish besan-based sauce which is filling and not spicy at all and is perfect on a hot summer day. The bhaji could be bharli vangi which is essentially brinjals stuffed and cooked in a grated coconut-based paste. This dish is more about the taste of the curry base than the brinjals.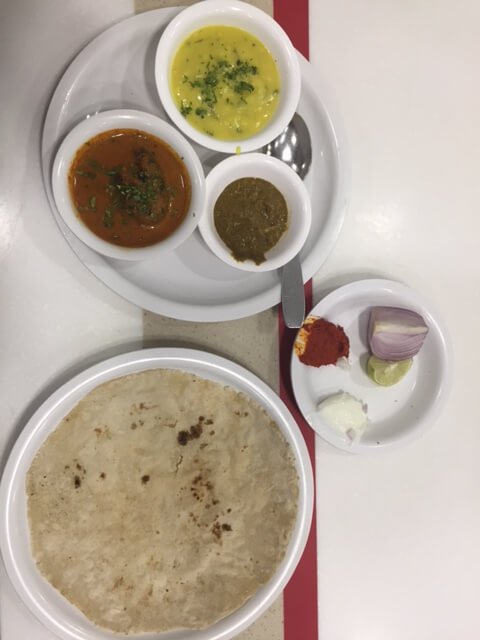 If you are avoiding oil, then go for the bhakris as they are low on oil. Or you can have the pola, which is a rice-based dosa-like dish, which is made with no added oil at Aaswad. This is served with a black channa gravy.
And for dessert you can try alsi laddoos here which have flaxseeds in them.
The pohe is pretty light too in terms of spices and is easy on the stomach. If you can find it in you to be so disciplined, then skip the deep-fried farsan in the misal in which case it becomes an "usal" and can still be delicious.
Hopefully this would have given you enough reasons to start your exploration of Maharashtrian food and discover its intricacies, inherent goodness and regional variances.
(Feature image source: Kalyan Karnakar)