In what could be the last New Year's auction at Tokyo's famed Tsukiji fish market, the owner of the Sushizanmai restaurant chain on Thursday paid top price for a single fish, forking over more than $600,000 for a Pacific bluefin tuna.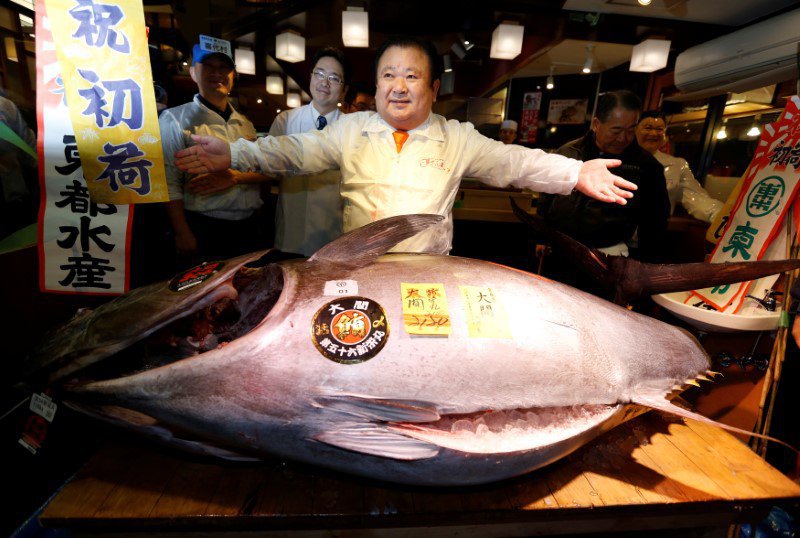 The world's largest fish market was supposed to be relocated last November to make way for a road needed for the Tokyo 2020 Olympics, but was delayed due to environmental concerns.
The delay allowed for Tsukiji to hold at least one more New Year's auction, which is considered auspicious and a great way for the winning bidder to gain some publicity.
For the sixth straight year, Kiyoshi Kimura, president of Kiyomura Corp., which owns the Sushizanmai chain, had the winning bid, paying 72 million yen ($614,000) for a 212 kilogram (467 pound) Pacific bluefin tuna — a species experts warn is being overfished.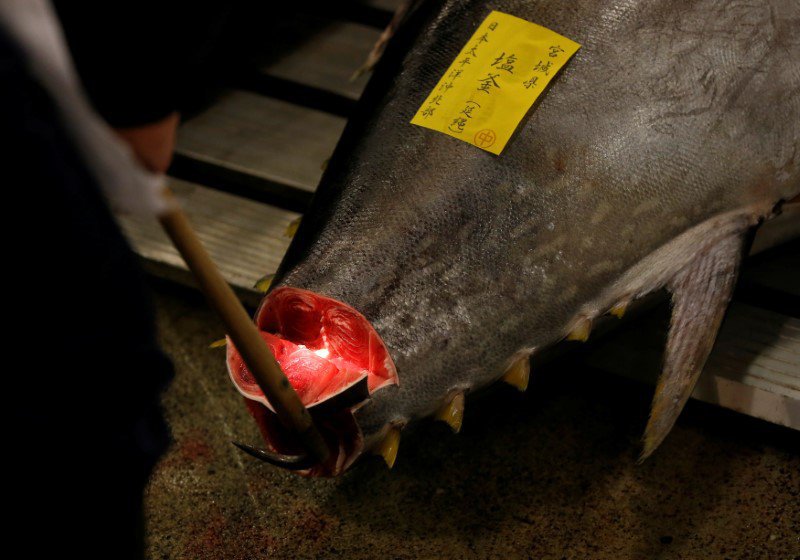 That was well above last year's winning bid of 14 million yen, but half the record 155 million yen paid in 2013.
Afterward, Kimura posed with a sword-like knife in front of the big, dark-silvery fish, caught off the coast of northern Japan.
The Tokyo government wants to move the 80-year-old Tsukiji market, set on prime real estate on Tokyo Bay not far from the posh Ginza shopping district, to a manmade island called Toyosu located two km (1.24 miles) away.
But the plan was delayed after concerns emerged about toxic pollution at its proposed new home, where a gas plant once stood.
The Tokyo government, which decided on the move 15 years ago, is expected to get results from environmental tests at the new location within weeks.
The delay has left fishmongers, many of whom oppose the move, in limbo.
"We are in a state of confusion," said Nobuyuki Aoki, another wholesaler. "I hope that this new year will bring clarity to the new venue's safety, and remove us from the uncertainty."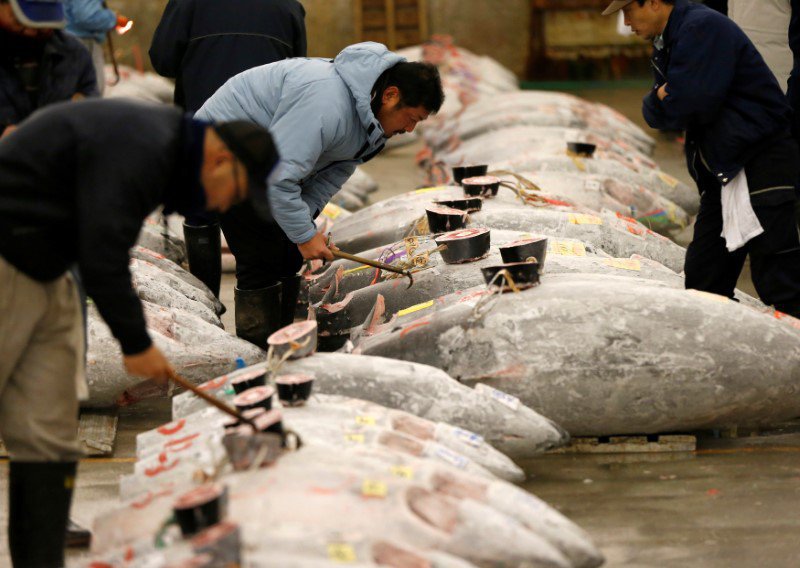 The outlook for bluefin tuna, considered the king of sushi, is also uncertain.
Global appetite for sushi has driven numbers of the species to dangerously low levels. Scientific assessments completed in July showed that the number of Pacific bluefin has fallen to just 2.6 percent of its original estimated size.
"This tuna is being fished at rates up to three times higher than scientists say is sustainable," Amanda Nickson, director of global tuna conservation at The Pew Charitable Trusts said in a recent report.
Pew and a dozen other environmental groups have called for a two-year moratorium on commercial fishing of the species.