In the list of some of the most healthy vegetables, broccoli too bags a place. However, just like with many other healthier veggies, we eat our broccoli in those few boring ways because we fear that adding things here and there in your recipe might kill the motive of eating healthy. Scroll down to find out 6 delicious ways to eat this green boon and stay healthy without making your taste buds suffer. 
1. Broccoli And Chickpea Burger 
Ingredients: 1 large head of broccoli
 1-15oz can chickpeas
 2 tbsp ground flaxseed 
2 tbsp vegan sauce 
1 tbsp hot sauce 
1 tbsp dijon mustard 
2 cloves garlic
1/2 tsp salt 
Freshly ground black pepper
1/3 cup whole-wheat breadcrumbs
Recipe: Preheat the oven to 400F and place broccoli florets on a baking sheet lined with a parchment paper. Spray with olive oil spray or drizzle with a bit of oil. Bake for 15 minutes and then set aside to cool. Heat a large pan sprayed with oil over medium heat. Place cooled broccoli florets, chickpeas, flax, vegan sauce, hot sauce, dijon, garlic, salt, and pepper in a large food processor. Process until well-combined. Stir in breadcrumbs by hand. Form into four tightly packed patties. Cook for six minutes per side and serve on whole-grain buns with some diet mayo and extra hot sauce.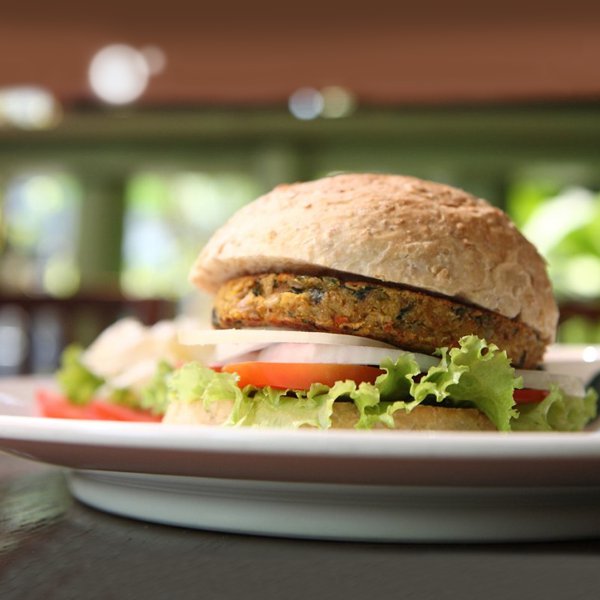 2. Creamy Chicken And Broccoli Casserole
Ingredients: 1 package steam-in-bag broccoli 
1 tablespoon canola oil 
1 cup prechopped onion 
2 packages presliced mushrooms 
3 tablespoons all-purpose flour 
1 1/2 cups fat-free milk 
12 ounces chopped skinless, boneless rotisserie chicken breast 
1/2 cup plain fat-free Greek yogurt 
1/4 cup canola mayonnaise 
1/2 teaspoon freshly ground black pepper 
1/4 teaspoon salt 
2 ounces sharp cheddar cheese
1 ounce Parmesan cheese
Recipe: Preheat broiler and boil the broccoli. Heat a large ovenproof skillet over medium-high heat. Add oil to pan; swirl to coat. Add onion and mushrooms; cook for 12 minutes or until mushrooms brown and liquid evaporates, stirring occasionally. Sprinkle mushroom mixture with flour; cook for 1 minute, stirring constantly. Stir in milk. Bring to a boil; cook for 3 minutes or until thick and bubbly. Stir in broccoli and chicken; cook for 1 minute. Remove pan from heat. Stir in yogurt, mayonnaise, pepper, and salt. Top evenly with cheeses; broil for 2 minutes.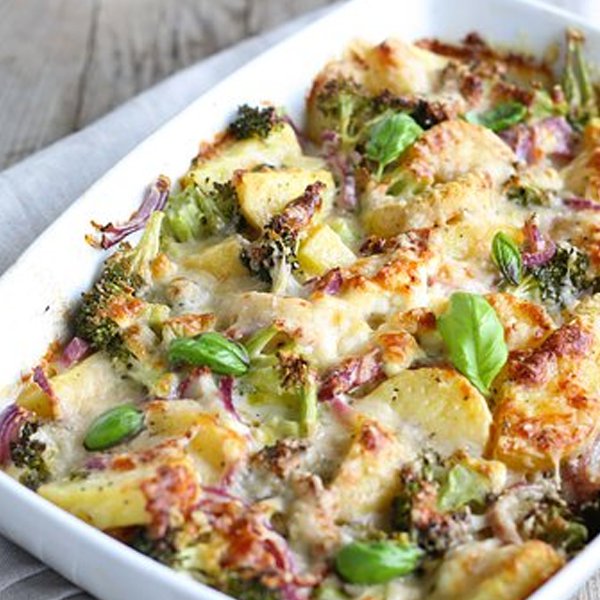 3. Sesame And Ginger Broccoli 
Ingredients: 1 1/2 tablespoons brown sugar 
1 tablespoon Sriracha chili sauce 
2 large egg whites 
1/2 cup whole-wheat panko 
1/4 cup toasted sesame seeds 
1 1/2 pounds large shrimp
2 tablespoons canola oil
1 tablespoon toasted sesame oil
1/2 teaspoon kosher salt 
1/2 teaspoon freshly ground black pepper
1 tablespoon sliced garlic 
1 tablespoon finely chopped peeled fresh ginger 
2 broccoli heads
 1/4 cup water
Recipe: Whisk together brown sugar, Sriracha, and egg whites in a shallow dish. Combine panko and sesame seeds in a shallow dish. Working in batches, add shrimp to egg mixture; dredge in panko mixture. Heat 1 1/2 teaspoons canola oil and 1 1/2 teaspoons sesame oil in a large nonstick skillet over medium-high. Add half of dredged shrimp; cook until golden brown, 2 to 3 minutes per side. Remove from pan. Repeat procedure with 1 1/2 teaspoons canola oil, remaining 1 1/2 teaspoons sesame oil, and remaining half of dredged shrimp. Sprinkle cooked shrimp with 1/4 teaspoon salt and 1/4 teaspoon pepper. Heat remaining 1 tablespoon canola oil in pan over medium-high. Add garlic and ginger; cook, stirring constantly, 1 minute. Add broccoli; cook until lightly browned, about 2 minutes. Add 1/4 cup water; cover and cook until crisp-tender, 2 to 3 minutes. Uncover; sprinkle with remaining 1/4 teaspoon salt and remaining 1/4 teaspoon pepper. Serve with shrimp.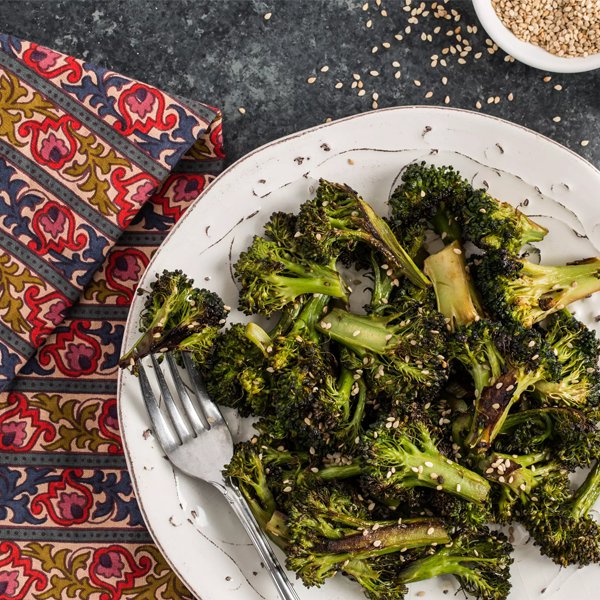 4. Broccoli And Cheddar Soup
Ingredients: 2 tablespoons oil 
1 medium leek
1 medium Yukon Gold potato 
1 large bunch broccoli
6 cups low-sodium vegetable broth
1 cup shredded extra-sharp cheddar cheese
 Salt 
Freshly ground black pepper 
Recipe: Arrange a rack in the middle of the oven and heat to 450°F. Heat 1 tablespoon of the oil in a large pot over medium heat until shimmering and add the leek and cook for about 5 minutes. Peel and chop the potato into 1-inch chunks. Add the broth and potato to the pot and bring to a boil. Then spread the broccoli out onto 2 baking pans and drizzle the remaining 1 tablespoon of oil over the broccoli, sprinkling a big pinch of salt and pepper, and roast. Once the soup is boiling, add the broccoli and return to a boil. Add the cheese and stir until melted.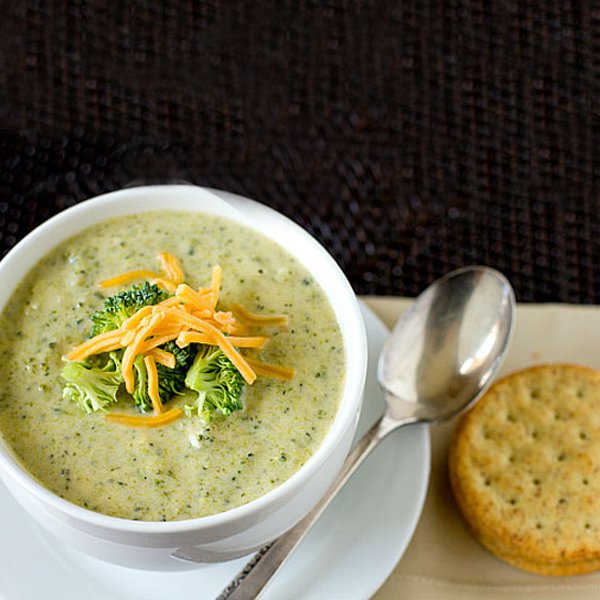 5. Steamed Broccoli Noodles
Ingredients: 4 large broccoli stems 
2 tbsp toasted sesame oil 
2 tbsp apple cider vinegar 
1 tbsp soy sauce 
2 cloves garlic minced 
1 tsp grated ginger 
1/2 tsp salt 
1/2 tsp pepper 
1/8 tsp red pepper flakes 
2 tbsp toasted sesame seeds
Recipe: Wash broccoli stems and trim ends. Cut into noodles using a spiral vegetable cutter and place the noodles in a large mixing bowl. In a small bowl, combine sesame oil, apple cider vinegar, soy sauce, ginger, salt, pepper and red pepper flakes. Drizzle over broccoli noodles and toss to combine. Sprinkle with sesame seeds.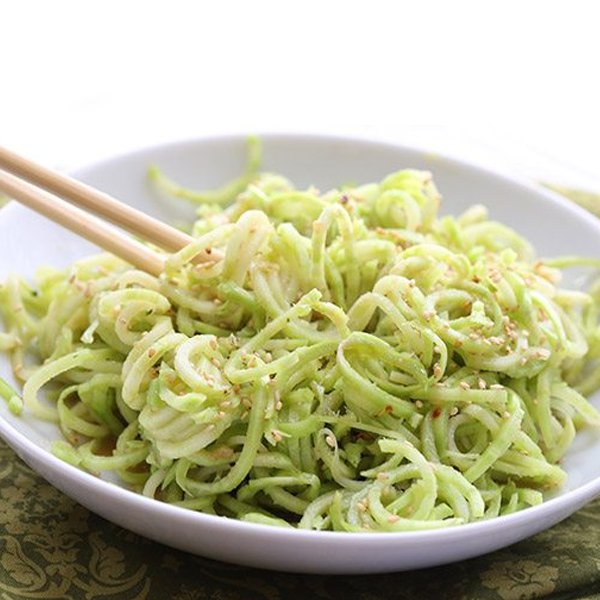 6. Roasted Broccoli With Garlic 
Ingredients:
2 heads of broccoli
3 tbsp melted coconut oil 
5 cloves of garlic
1 tsp salt 
1/2 tsp pepper 
1 tsp lemon juice 
Pinch of red pepper flakes 
Recipe: Preheat the oven to 400 degrees F. In a large bowl, toss the broccoli with melted coconut oil, salt, black pepper, and garlic. Spread the broccoli in a single layer on a rimmed baking sheet. Bake until florets are tender enough to pierce with a fork and the edges are browning for about 15 minutes. Turn once halfway through the baking process and add red pepper flakes and lemon juice.