In association with
Intel India
Gaming can be a fun hobby and a great way to de-stress from our busy lifestyles. As we speak, there are professionals who are living the dream and even earning a livelihood out of playing video games. 
But whether you're a pro-gamer or just like to go hunting for some fast-paced interactive thrills on weekends, having the best gaming accessories is a requisite for getting the most out of these sessions. And guess what, we can have them all and more because Intel's® Gamer Days is back with the 10-day festival of deals, starting from 2nd September 2021. 
We all know Intel® has been the pioneer of competitive gaming, giving us breakthrough technologies in the form of laptops and desktop processors to meet our gaming and streaming needs. This time the brand is bringing together all the best names in gaming tech to offer some amazing deals, giveaways, surprises and whatnot for all the gaming enthusiasts. We can look forward to enjoying an incredible shopping experience with tech heavyweights such as Acer, Asus, Dell, HP, Lenovo, and MSI headlining the Gamer Days promotions. 
Intel's® online and offline retail partners such as Amazon, Croma, Tata Cliq, Flipkart, Reliance Digital, and many more will be offering a host of incentives on elite, Intel®-based gaming laptop systems, components, and even desktop PCs from the brand's partners such as Vishal Peripherals, Easyshoppi, and many more. Now, who wouldn't be excited to be a part of this 10-day gamer's paradise?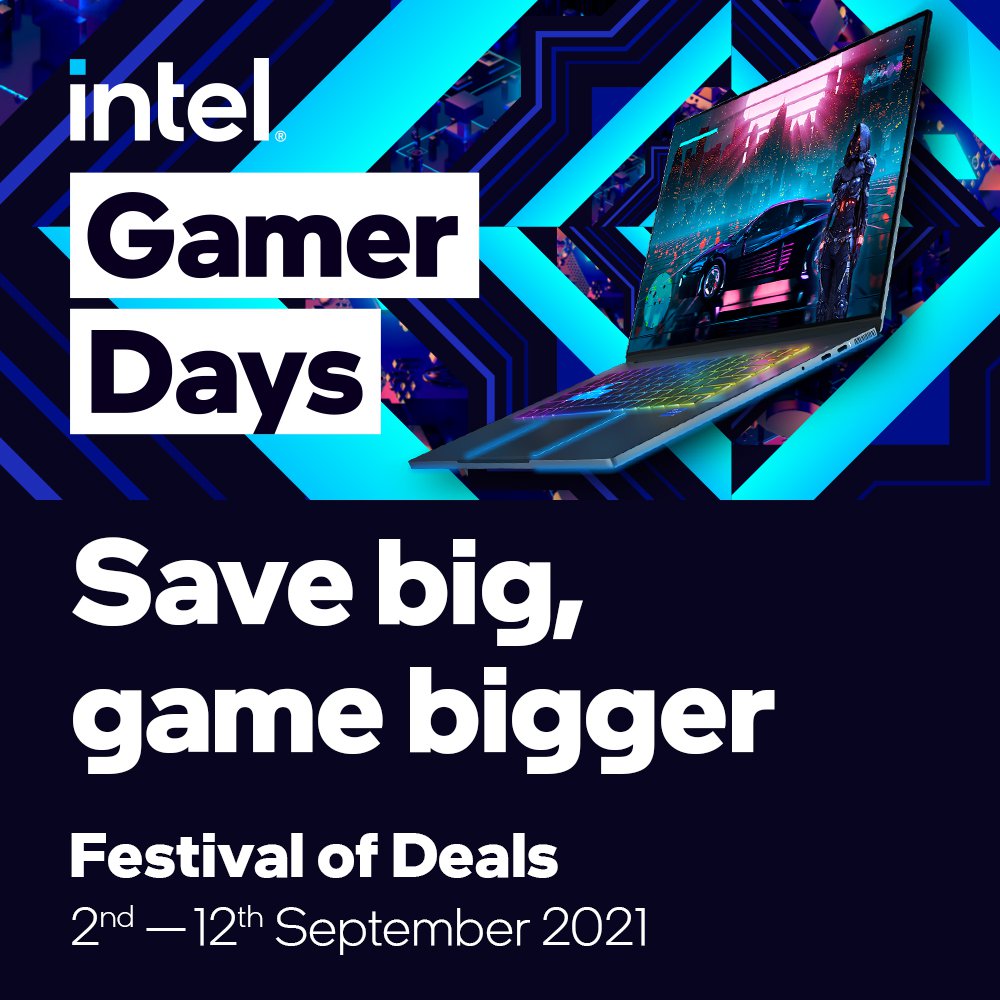 This is our opportunity to save big on some of the coveted Intel® gadgets that could completely transform our gaming experience. This includes devices with the new 11th Gen  Intel® Core™ Processors, as well as systems with the 10th Gen  Intel® Core™ Processors. For gamers looking to add an edge to their experience, Intel's® unlocked K-SKU processors will also be available which allows players further customisation, optimisation, and tuning through technologies like Intel® Speed Optimizer and Intel® extreme tuning utility. 
There will also be some contests held with interesting giveaways, which is all the more a reason for us to be excited. 
Gaming influencers such as Rakazone, Xyaa, Ankkita C, and GAWD will also be a part of this 10-day shopping festival. So we can play, interact, and also learn from the best. You can find out more about the greatest festival of deals from Intel's
®
 Instagram account, their Facebook page, or Twitter page. 
So get your list in place and let the shopping begin!
*For details, click here. Results may vary.