There are men and there is this guy.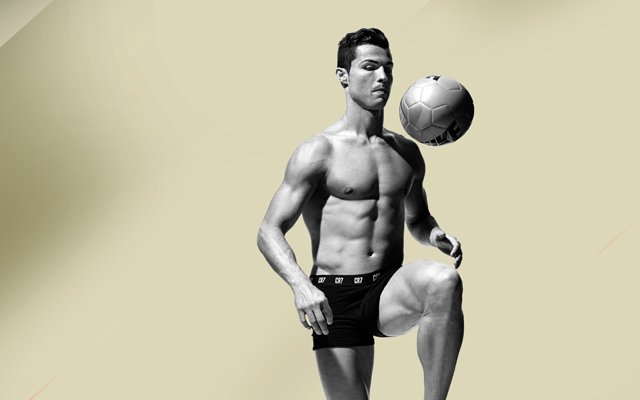 What do we know about Cristiano Ronaldo? Well, here are a few things I've learnt from whatever I have seen, heard or read:
1. He's a brilliant father.
2. He's a wonderful son.
3. He loves having his people around him.
4. He never says no to fans who want a photo or an autograph or even a hug.
5. He does a lot of charity.
6. He believes he's the best player in the world.
7. He really is the best player in the world.
Remember Ronaldo from his Manchester United days? That odd streak of golden hair sticking out, taped ankles, maniacal pace, lanky but never unfit. Always wanting to play the whole match, always wanting the ball at his feet…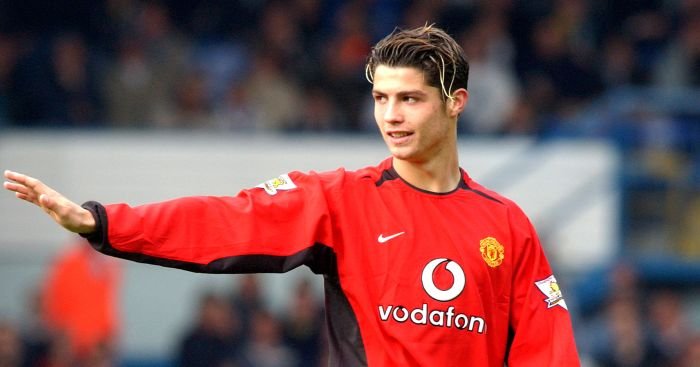 Then, he grew old. There were doubts about how someone who has always relied on pace and strength would cope when the early 30s hit him. At an age when a footballer's career usually enters its twilight. 
But he's still so fast, even age can't seem to catch up with this guy.
Somehow, 2 years into the 3rd decade of his life, he has managed to continue his prime. There's mental strength involved. A lot of it. You need to believe in yourself. That's where the aforementioned points 6 and 7 come into play.
But apart from all that, it's all about being so physically fit that you can survive the pace of the game, while maintaining your skills. And Ronaldo is a physical specimen. 
You probably can't be like him. But you can surely follow his diet regimen.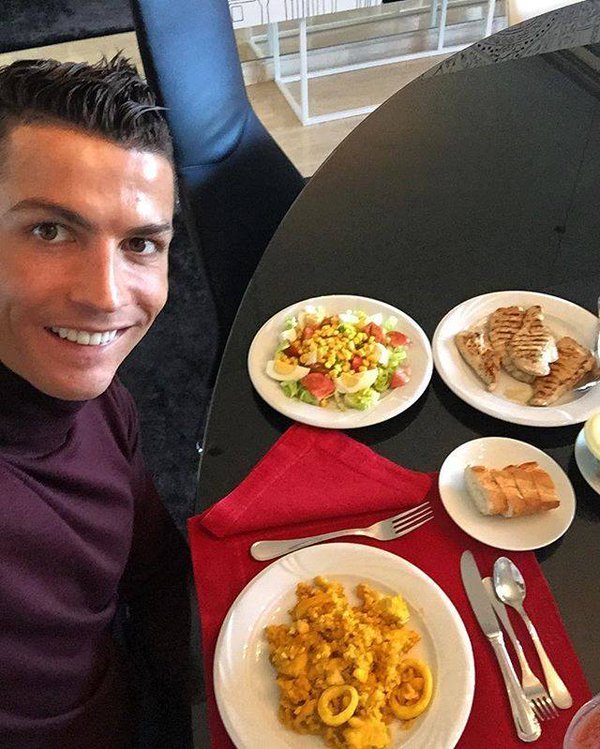 So, here it is:
He eats 6 small meals a day. He avoids sugar and since there's a lot of physical endurance involved, he needs to take protein shakes, multivitamins and joint supplements. He eats a lot of vegetables and avoids sugary foods for better metabolism. 
So what does he eat on a regular day?
– Breakfast includes fruit juices, egg whites and some whole-grain or whole-wheat cereal.
– For lunch, he eats some wheat pasta, baked potatoes, green veggies and some salad with chicken.
– His mid-day snacks usually include tuna rolls and fresh juice.
– He ends the day with rice & pulses along with some chicken, fruits and beans.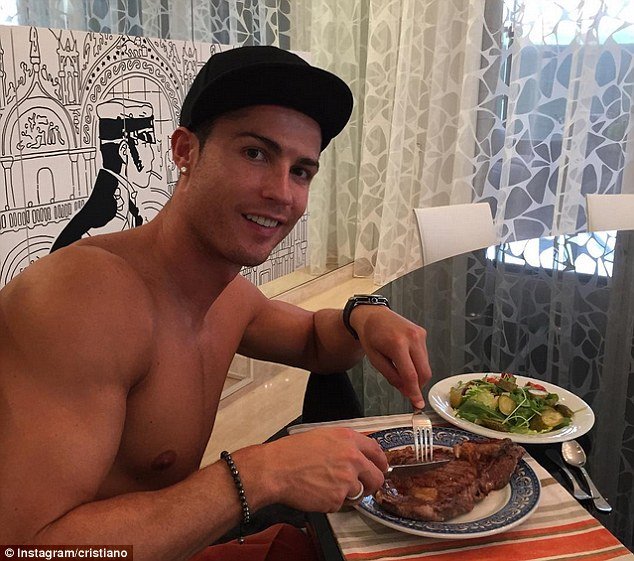 Keep in mind, all this he does along with his regular training sessions. Which, as part of the biggest club in the world, is pretty intense.
Apart from that, he follows a strict workout routine for 3-4 hours a day, 5 days a week, with Tuesdays and Fridays as his rest days.
On Monday, he concentrates on his lower body. He does everything from box jumps to barbell squats.
On Wednesday, it's about the upper body. He concentrates on push ups, pull ups, dips, medicine ball tosses and other weight exercises.
Thursday is for pure cardio and quads. With sprints and reps of power cleans. Again, he must get enough cardio from his regular training sessions and the matches he plays. But he ensures there's no fat on his body.
His chiseled abs can perhaps be attributed to his Friday workout sessions. He works on core strength from dead-lifts to hanging leg raises, everything that can give him that perfect look when he takes his jersey off to pose for the camera. And core strength also helps him put so much power behind his shots.
Sundays are also reserved for cardio. On this day, he trains light with rope jumps and sprints.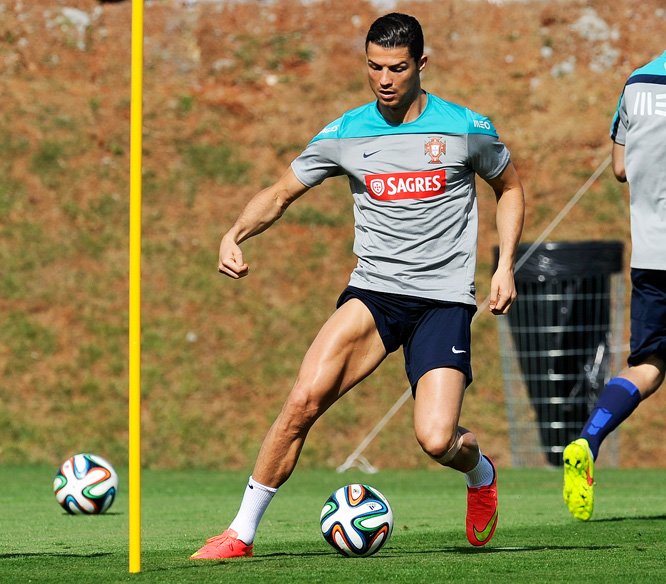 His sets and reps suit him best. And so do his exercises. Anyone can follow his diet. But the physical exercises need to be suited to an individual's ability to exert and their coping mechanism. It is advisable that you consult a trainer. It is also possible that CR7 keeps changing these exercises with age and time.
He also has a sleep consultant (yup, those exist) who gives him advice on how long to sleep, at what time and for what duration, so that he's at his physical best during matches.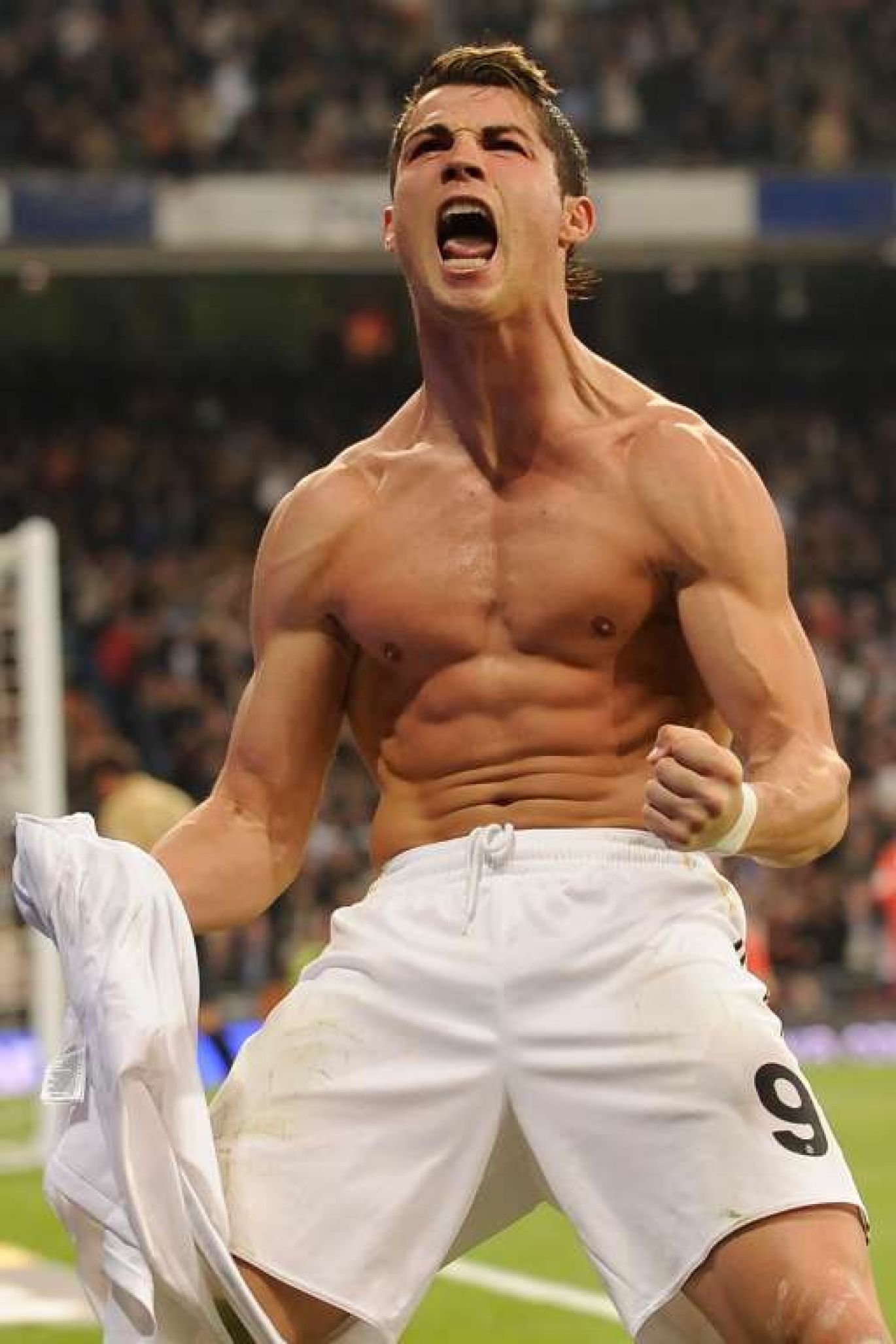 He gave some pointers as well. One being that you should have a workout buddy. Someone at the same level. That kind of competition is healthy and it keeps things interesting. He advises that we all set ourselves goals and keep at it. Mental toughness is the most important. 
He drinks a lot of water and avoids alcohol as well. But at the end of the day, he says that a relaxed lifestyle is of prime importance. Spending time with your family and friends helps in staying positive.
You may not be a Ronaldo fan, but if you are a football fan, you can't ignore the man's greatness. Ronaldo hasn't really aged; just like his right foot, he's only getting stronger. Add to that his left foot and his heading ability and you know he's a monster among men.