It's not often that we guys at ScoopWhoop are invited to review food. So when Faasos invited us to review their Navratri thali we were like "What? Is that even a thing?" But the foodies that we are, we all jumped on the opportunity of sampling something as innovative as a festive thali. Since we never have the time or resources to make this kinda food at home, Raghav & I (Anshika) felt like the chosen ones to review it.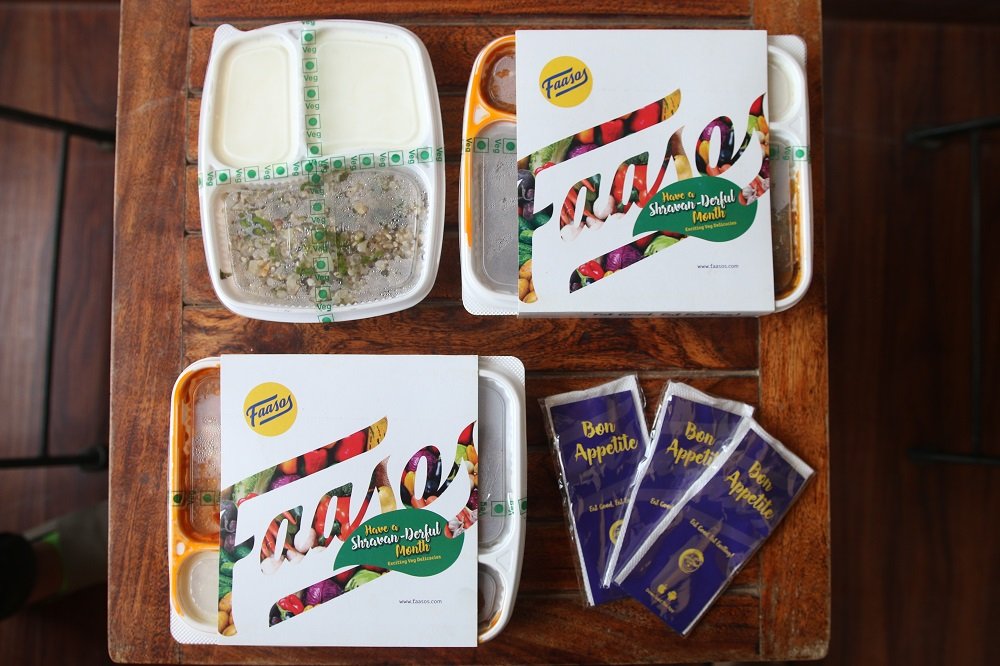 Obviously, we are no food connoisseur, but we were already day-dreaming that soon we will be the next super-cool food critic duo. After waiting for an entire day and constantly thinking about the food that we will get, our prayers were answered today. *I even caught Anshika drooling over the menu that Faasos had sent us. Ha Ha Ha. Caught you!*
So here is an accurate synopsis of our conversation over this super healthy and super festive lunch.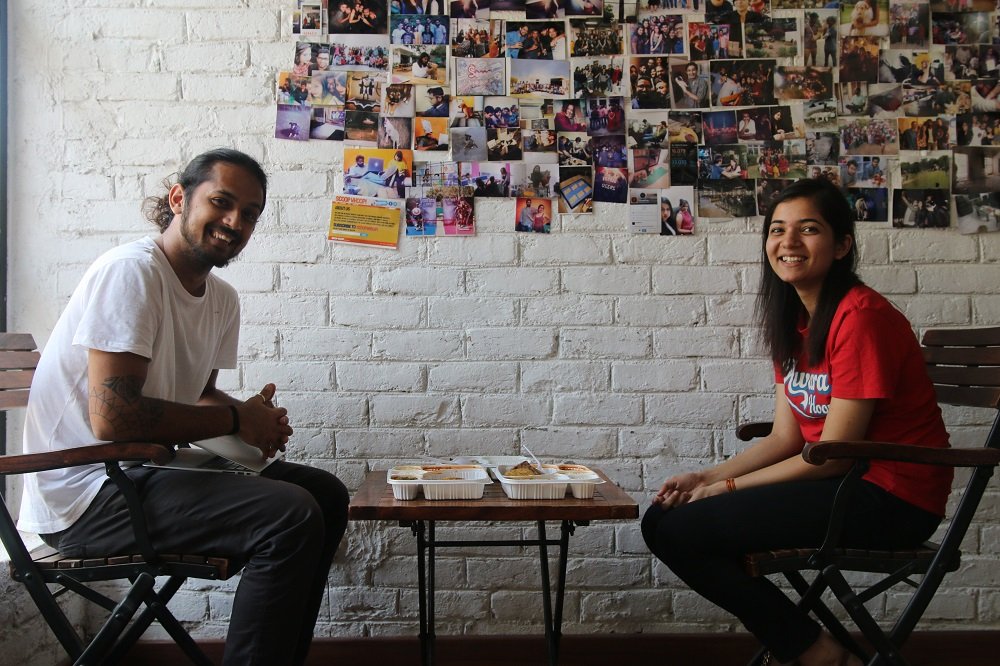 First reaction
Anshika – "Hey, soo much curd, I'm already impressed "

Raghav – "Don't get your hopes up so soon."
*After we greedily lapped up every bit of curd, we moved on to actually reviewing the food.*
Anshika – "You wanna go first?"
Raghav – "Why not? Let's dig in. I'll start with Sabut dana ki khichdi."
Anshika – "FYI it's Sabudana ki khichdi."
Raghav – "Oops!"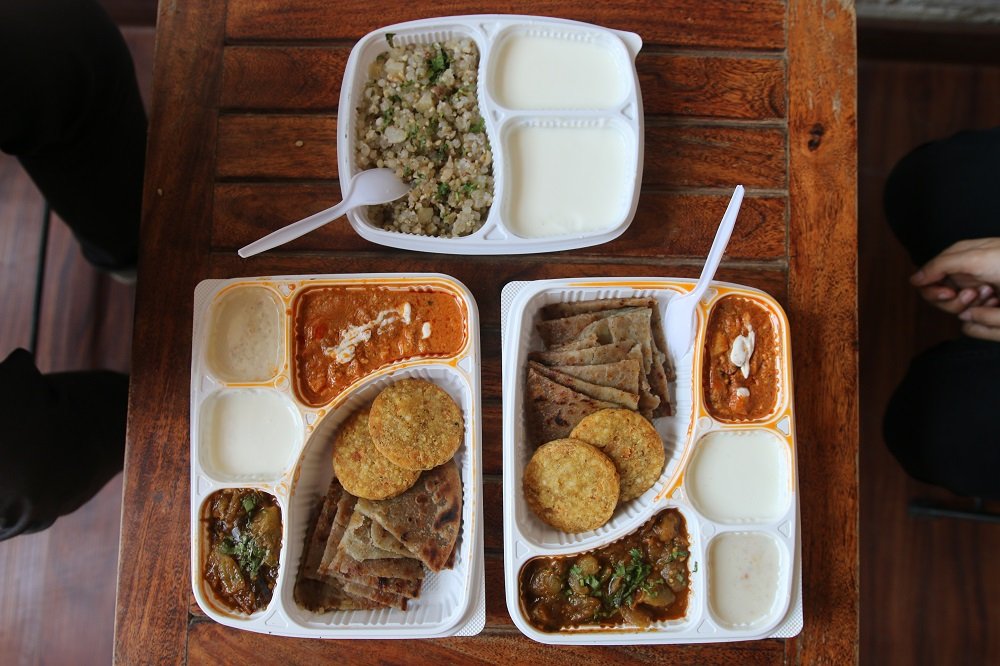 Sabudana Ki Khichdi and Curd Meal
Raghav – "Hmm. Honestly, and I know you'll judge me for saying this, but I am tasting this for the first time ever."
Anshika – *squints her eyes* "And?"
Raghav – "I think it's delicious. I mean, I have nothing to compare it with but yea. You  go now!"
Anshika – "I love it! This tastes like home cooked food. Simple and no-nonsense."
Our Verdict 
The Sabudanas are so flavourful and the bits of potato have been precisely added to increase the flavour. The curd, to wash down the succulent flavours leaves a sweet after-taste.
Sabudana Wada
Anshika – "Ok, I'm gonna have the Tikki now. Sabudana Wada is our quintessential fast food."
Raghav – "Really? I didn't know this counts as fast food."
Anshika – "Arey, this is the food that we have when we fast. Get it? Fast… food."
*points a finger gun.*
Raghav – "Why do I know you?"
*takes a bite*
Raghav – "This is very similar to how it's made at my house. Mmm… Do you wanna eat? Or should I finish this?"
Anshika – "Keep your hands off my plate."
*takes a bite*
"One word, crunchy and tasty. That's two words, though. Haha."
Our verdict
This crispy wada with a mix of ground nuts and green chillis makes it the perfect evening snack.
Hare Tamatar Ki Sabzi
Raghav – *pointing towards the curry*
"Ok. Dude, I don't know what this is. I'm not eating that. I'm sorry, you find someone else to do this."
Anshika – "I have no damn clue either. We better taste it."
Raghav – "No. No. NO. I am not having this. Not a fan of vegetables that I don't even recognize. And I'm pretty sure I'm allergic too."
Anshika – "Can you just calm down? I don't think we have an option. So just eat."
Raghav – "Fine. But, you go first"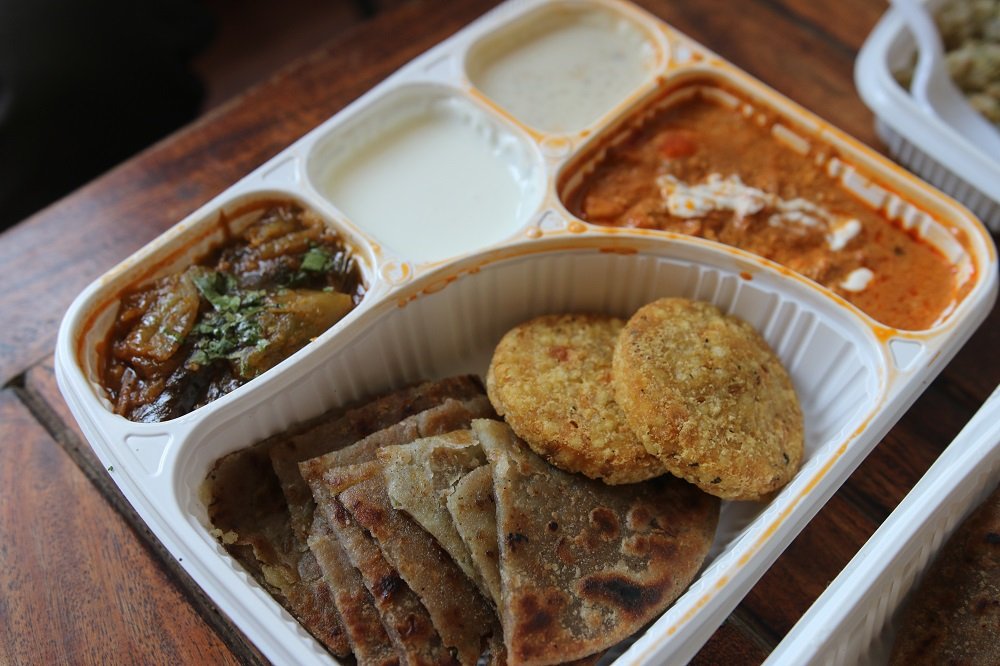 Anshika – "Ohh this is nicer than I thought. It's sweet… It's savoury… It's spicy… And what flavours! Raghav, you need to try this… you'll be surprised."
*after 20 mins of convincing, Raghav finally gives in and takes a bite.*
Raghav – "This is really different for my palette, but I think it's nice."
*takes another bite*
Our verdict 
This is the perfect pairing of yellow and green tomatoes, added to that is the tangy-sweet taste that has been given by Jaggery. Don't let looks fool you though, it may seem like an innocent dish, but in fact, it will blow your mind and take your taste buds to another level.
Singhada Aaloo Paratha
Raghav – "What next? Wait! I know this, it's Tukku ka paratha. Haina?"
Anshika – *laughs for 3 full minutes* 
"It's Kuttu and this is not even it. Did you even read the menu? It's Singhada Aaloo Paratha."
Raghav – "Okay smarty pants." *with a mouth full of food.*
"This is soft and nice. Not oily at all! I'm surprised. You know how specific I am about oil."
Anshika – *still chewing* "Do you know how difficult it is to make it? But this is fabulous."
Our Verdict
For those who are a bit conscious about what they eat, Singhada Aaloo paratha is a good option even if you are not fasting. An excellent source of carbohydrates, it is gluten-free and is low in fat and sodium. So healthy!
Paneer Makkhanwala
Anshika – "Can we have kheer now? Please, pretty please?"
Raghav – "Not so soon woman, there is still Paneer." 
Anshika – "Paneer! No-can't-do. I'll skip this. Or you try… I'll just agree to whatever you have to say."
Raghav – *evil laugh* "Really, you think I'm going to let you get away so easily, huh?"
*20 mins of convincing later, Anshika reluctantly goes for it.*
Raghav – "Well, well, well… somebody is impressed!"
Anshika – "Says the guy who said that the green curry might just kill him. Before even tasting it."
Raghav – "Whatever! Admit that it was a good decision to eat this. This tasted like the kind of food we get at pujas. But this is tastier and very well cooked."
Anshika – "TBH I was apprehensive before trying it, but I did eat it and guess what? This is one of the few 'paneer ki sabzis' that I can consider having."
Our Verdict
When you hear Makkhanwala in any dish, you know what you will get, but this dish has more. Hints of cashew and tomato make this really different from the usual festive food.
Sabudana Kheer
Last but not the least, we tried our favourite. No convincing, no apprehensions, no reluctance. After finishing our respective bowls in under a minute, this is what we had to say.
Anshika – "This gave me a proper sugar rush. Raghav, agree with me."
*laughs like a child*
Raghav – "Yes, I'm buzzing with energy after eating this."
Our verdict
The less we say about this, the better. I mean it's Kheer, you guys! It's an insult if I say another word. But, since I'm a writer, I will help you out. Chia seeds, milk and perfectly sweet. YUM! 
Our Takeaway
We both think Faasos has done a brilliant job with their new Navratri Thali. It's not just the flavours that are perfect, it's the way the food is presented too. Both of us agreed that we should do this more often. At least, it made our mundane day at work a little more exciting and flavourful. Android users can download the app here & iOS can do the same here.
Peace out!