We Indians are a bunch of curious people, who want to know it all. Even as kids, we have grown up asking gazillion questions from our parents. While curiosity is good, when it starts breaching the boundary of someone's personal lives, asking questions becomes just plain rude. Here are 10 super annoying things Indians tend to ask…
1. "Boards me kitne number aaye the beta?
More than the number of hair strands on your head aunty.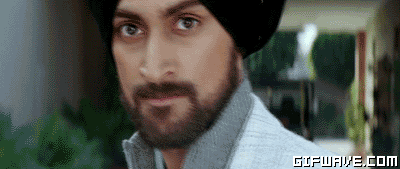 2. "Bacha jawaan ho gaya. Iski shaadi kab karoge?"
Aap toh buzurg ho gaye. Chup kab karoge?
3. "Beta, papa kya karte hai? Kitne bhai behen ho? Bhai kya karta hai? Aur behen?"
Aunty pehla question repeat karna.
4. "Toh, how much are you earning?"
Touchy topic uncle!
5. "Kya haal bana rakha hai? Kuch khaatey kyo nai?"
Ek dabba hamare yaha roz bhijwa dia karo aunty.
6. "Kitna khaoge? Mote ho jaoge"
On the other hand, if you do have a few extra kilos, these very people will take it on themselves to make you slimmer.
7. "Aapke bete ki girlfriend hai?"
Aapki beti ke kitne boyfriends hai?
8. "Kaha se aa rahe ho."
The place I'd gone to. Simple.
9. "Kaha jaa rahe ho?"
Jahanum me . Chaloge?
10. And when they see you at the mall or market, "Yaha kya kar rahe ho?"
You are so smart! Just came to do some fishing bro.