"The building is proof that the bank really exists", his father had once explained, and refused to elaborate further. Yes, but what do you do there, dad, he had felt like asking. But he never did. 
His father was small, mild, and quick with his fists. What did they do all day, sitting in their empty building? Software and call centres did all the banking. They obviously had no work. Were they living it up, when no one was looking, whipping off suits and whipping out party hats? Were they having buffets, and table-tennis tournaments, and Guru Dutt Retrospectives? Were love-struck colleagues chasing each other around Accounts Receivable? Had they burnt all the passbooks and constructed a dance-floor?
Johor liked to think that they had. It would be nice if everyone at State Bank of India was having a party every day. It was a noble institution, which had served the nation long and well, and forgiven many debts. So many fortunes had been built on their kindness. Johor approved of this. He was a kind-hearted young man. He wanted everyone to be happy. It might not always work out that way, but that was no excuse for not trying.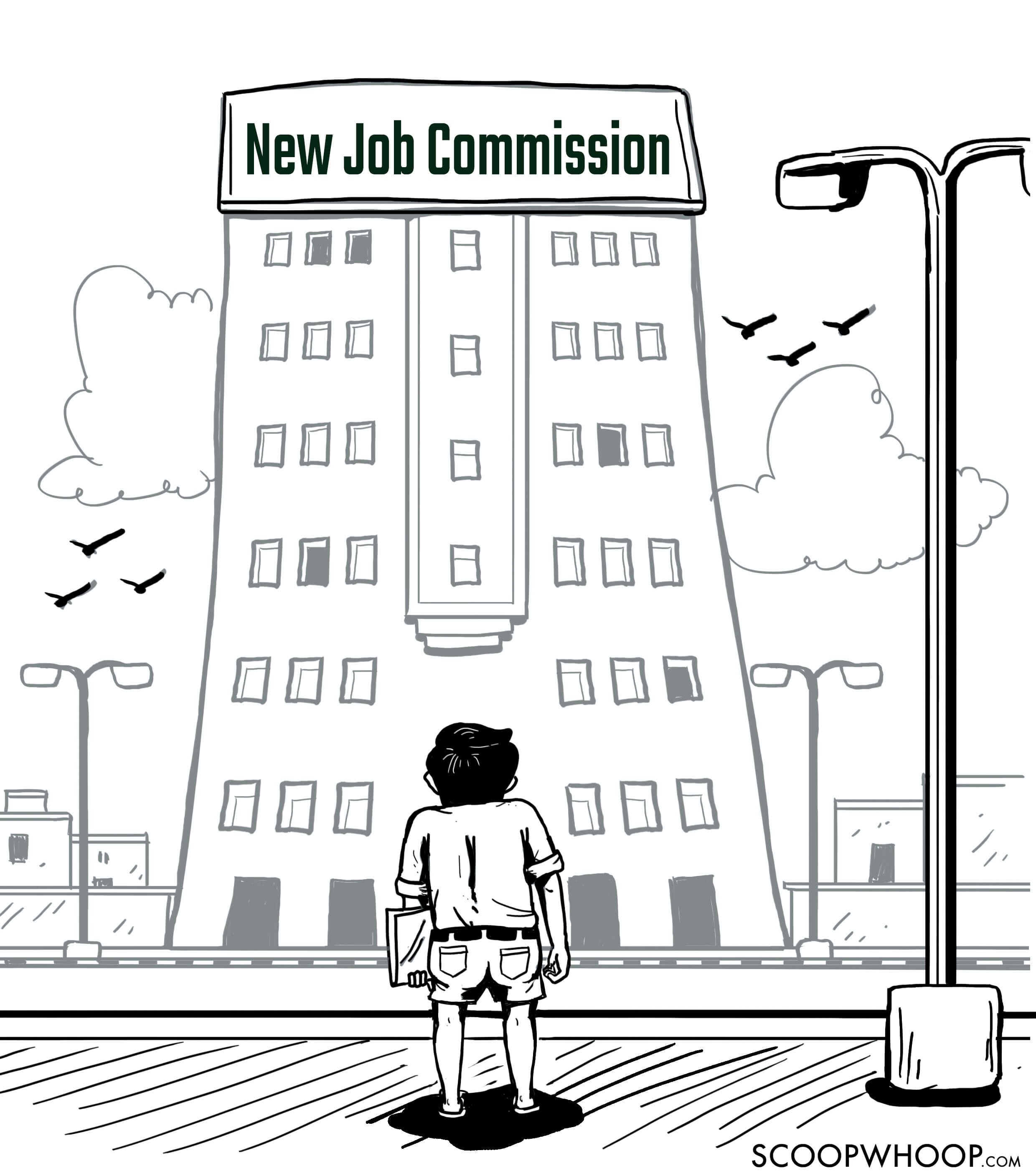 He had been this way since early childhood. For as long as he could remember, he had felt the need to entertain. He had blossomed in school. He had felt pity for his classmates. Their humdrum lives had needed sunshine. His attempts to provide it by making humorous remarks in class had filled his Junior Citizen's File with adverse reports. This would make things harder at the New Job Commission, he knew. At least he had avoided classification as 'Suspected Maoist', in which case his goose would have been truly cooked.
"New Job Commission", said both conductors together, harmonising instinctively, young voice and old melding as one. Johor hopped off, and stood looking up at the building, feeling nervously in his pocket for his clown nose. This was going to be a tough crowd.
The New Job Commission was an offshoot, outgrowth or branch of the National Skill Development Council, which reported to the Ministry of Human Resource Development, which was run by a minister who ran several other ministries, including the Ministry of Handicrafts, and the Ministry of Surface Transport.
The Ministry of Surface Transport was involved in a running battle with the Ministry of Water over riverine jurisdiction. The primary question exercising their minds was, if a fishing boat took on passengers, which Ministry did it fall under? The Minister himself, a legal luminary with a face like a dissipated frog, was above such concerns. He was playing a very active role in the fight against free speech. Free speech was fighting back. He spent many long hours every evening peering at cartoons, examining them closely for signs of disrespect to his boss. It was hard. His eyesight was no longer what it used to be. This left him with very little free time for Skill Development, except in the area of cartoon analysis. 
Consequently, the boys at the National Skill Development Council had a free hand, with little or no adult supervision, barring the odd ministerial review, where they always presented exactly the same chart, showing a generally upward national trend in Skill Development.
The main hall was full of officers, busy denying permission to members of the public. Johor spotted his old friend Mr Wable. He waved at him. Mr. Wable did not wave back.
Will Johor get a job at the New Job Commission? Or will his DNA be once more rejected? Find out next week in 'No Son of Mine'.