We all know that reporting is not an easy job. Those people standing in adverse situations, holding the mic, trying hard to keep a poker face, deserve a salute. How many of us can keep a straight face as swarms of over-zealous people try to peek into our camera?
But then, exceptions are always there. At the end of the day, these reporters are humans. Humans, prone to blunders. Like our friends listed here. Check 'em out and get your dose of vitamin laughter.
1. Joote naye hain. Paani mein kharab ho jaate. Isliye…
Remember the Uttarakhand floods? Well, this reporter went all out to report the incident from ground zero.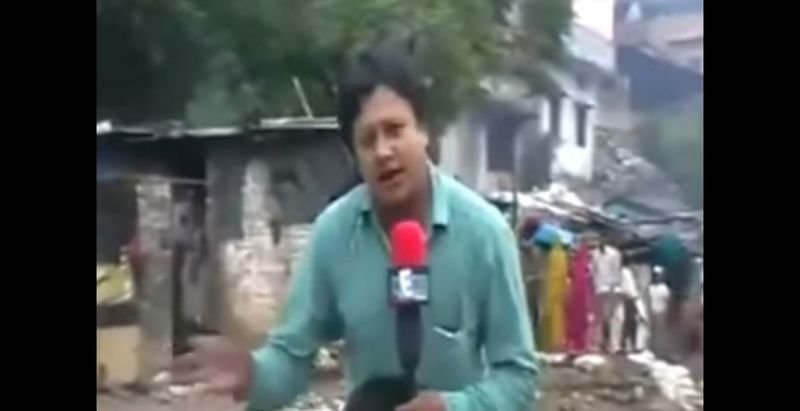 That's easy, you say. Till you realize, that he's sitting. On some guy's shoulders.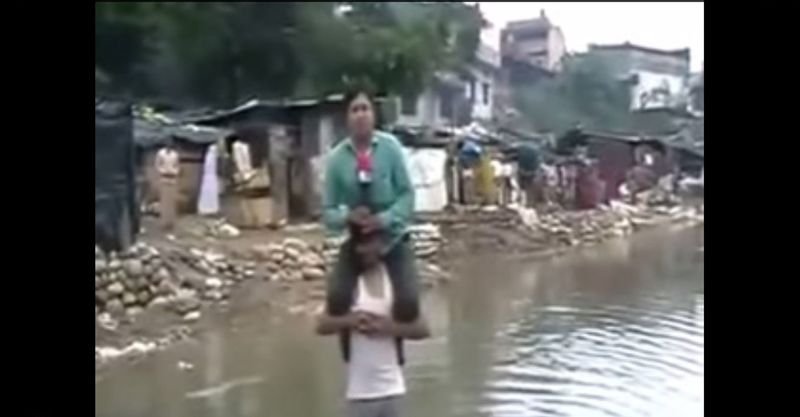 Oh, the things you have to do for news. But hats off to the other guy as well, for 'shouldering' the responsibility. Bravo!
Check out the video in it's entirety right here.
2. This Pakistani reporter who became the real bajrangi bhaijaan.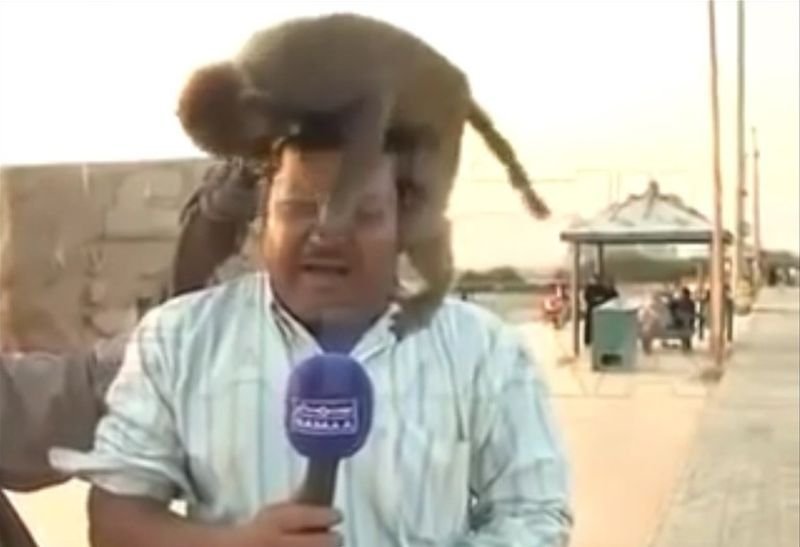 Poor guy! Try keeping a straight face through that. Check out the video right here.
3. Ek news doonga kaan ke neeche!
Reporting is a tiring business. So it's only fair that you have no patience left by the end of the day for anybody. Let alone for over-zealous mischievous kids. And this guy's no exception.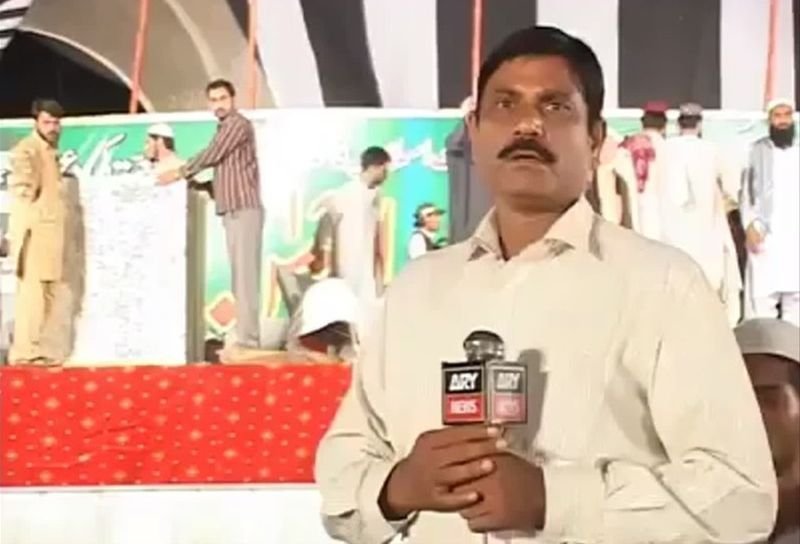 That kid merely wanted his 15 seconds of fame. This reporter gave him something even better. Check out the video right here.
4. This Hyderabadi anchor and his words of wisdom.
In this age of hypocrisy, it's always a pleasure to see someone who doesn't believe in sugar-coating his words. Like this gentleman over here.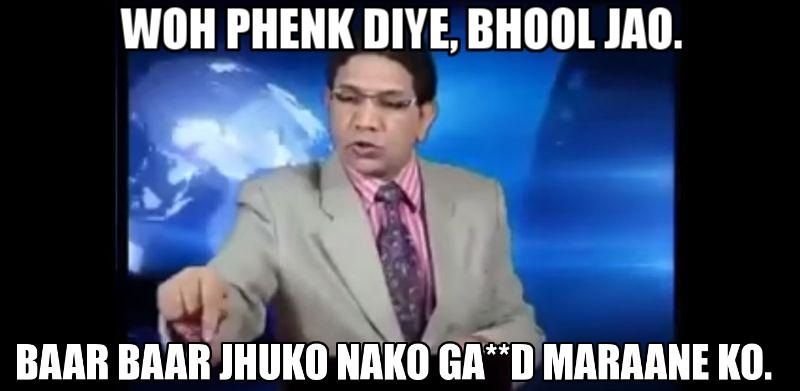 Don't believe me? Well, check out the hilarious video for yourself.
5. Thande thande paani se nahana chaahiye.
Ever been so busy that you didn't even have the time to take a bath?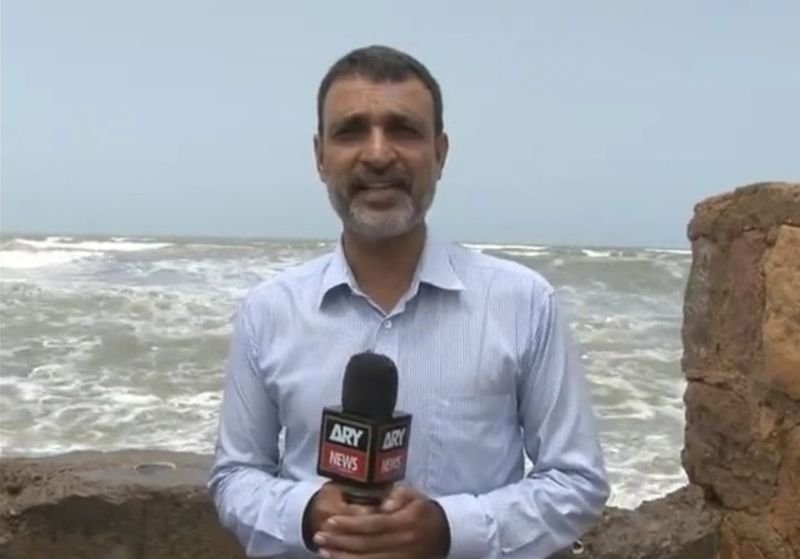 Well, worry not. Even mother nature knows about our busy schedule. Therefore, it decided to give this reporter a quick shower.
6. This DD reporter who thinks that Manmohan Singh is still India's PM.
What's worse than a news reporter making a mistake on-air? A sarkari news reporter making a live mistake. Just like this hapless reporter.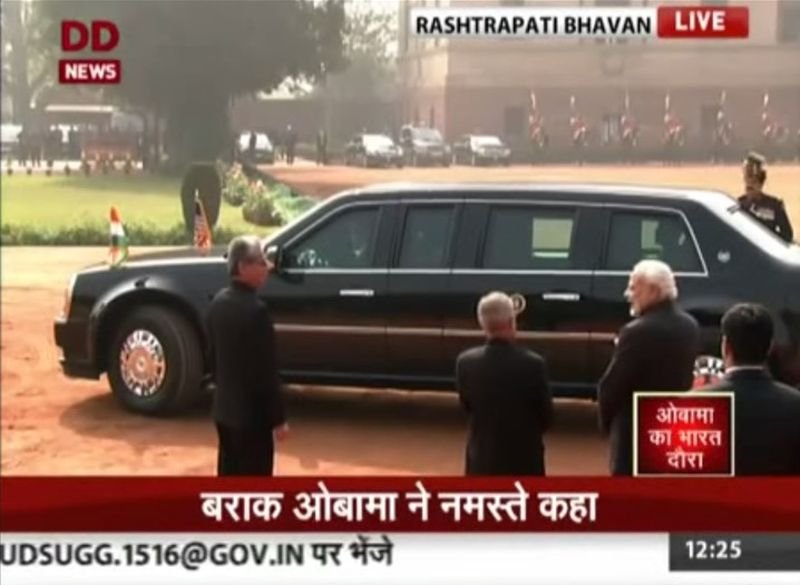 You can see PM Modi in the video. I can see PM Modi in the video. But unfortunately, the reporter can't. For he continuously refers to the PM as PM Manmohan Singh.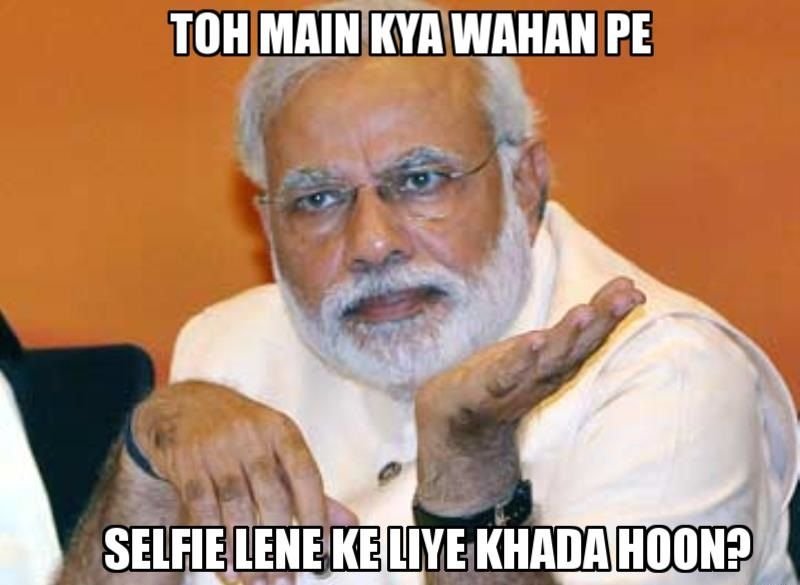 Moreover, he refers to Rajpath as Mahatma Gandhi's memorial. We all know that Mahatma Gandhi's memorial is located at Raj Ghat. You knew that, right?
Well, check out the video right here.
7. This Michigan news reporter who 'unintentionally' showed her drawing skills on-air.
Hey, we've all drawn something at some point of time or the other, right? But this TV reporter drew something on-air she wouldn't have been very proud of.
Ahem…That's right. And this was our exact reaction.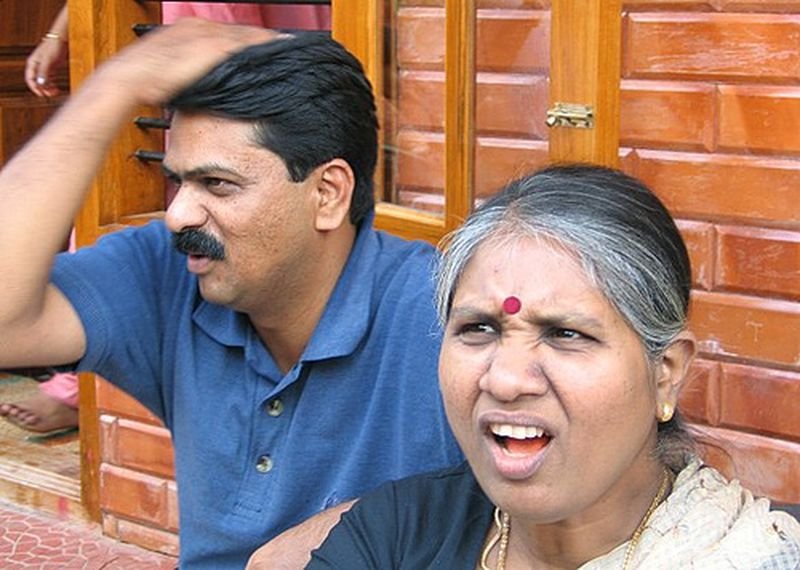 Hey, but let's not get ahead of ourselves. Maybe she was drawing a Popsicle. Check out the video and be the judge.
8. This Pakistani anchor who thinks that the make-up artist hates her.
We all know that if you're on-air, you need to look good. Hey, there are a million people out there who are waiting to pin-point even the smallest of flaws. In such a case, it's only natural to be over-protective about your looks. But itna?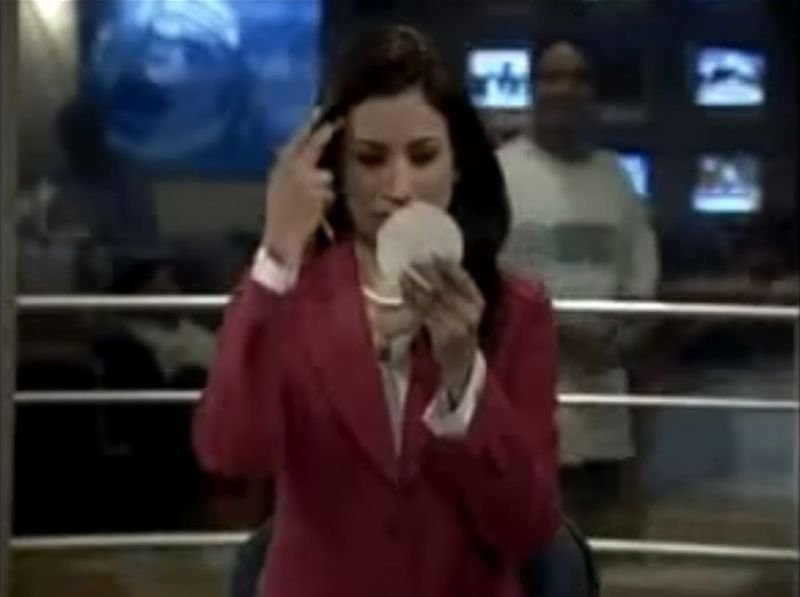 One look in the mirror and she realizes that the make-up artist actually hates her. What else would've explained her 'horrible' look?
And the worst part is, that she's already read a segment of the news with that 'look'!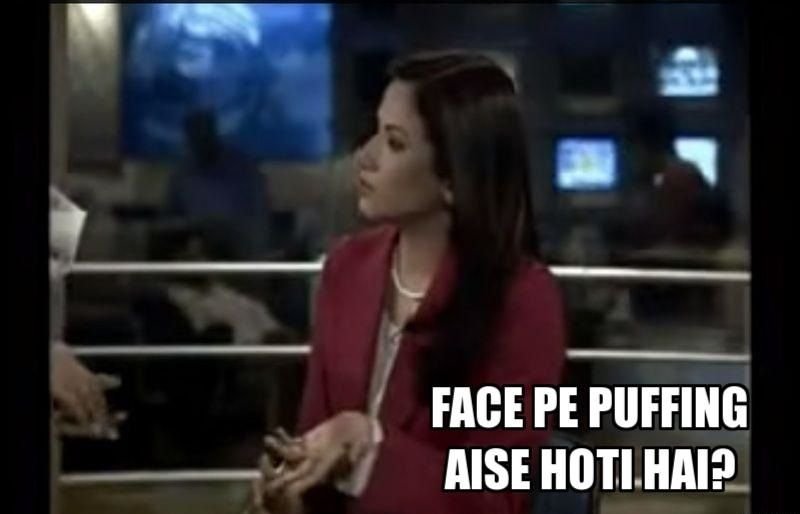 And when the make-up artist volunteered to rectify her mistake, the anchor decided to take matters into her own hands.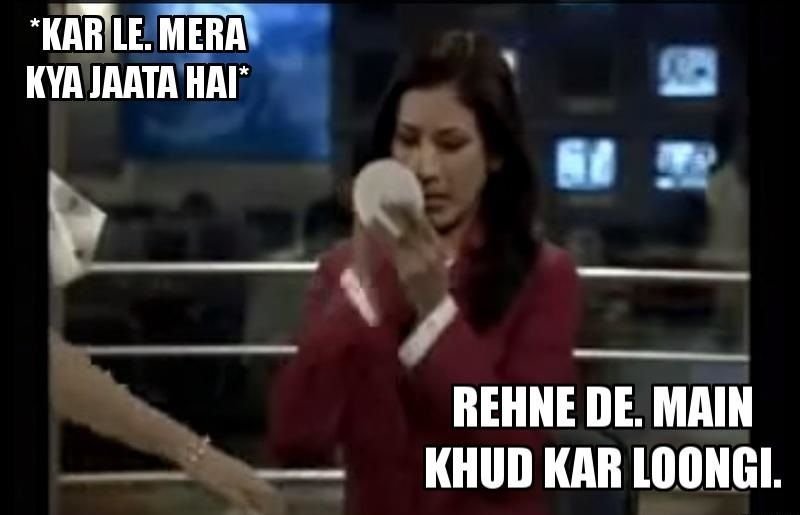 Check out the video here.
9. This reporter who got 'high on life'.
So, you thought covering a weed burning site would be a good idea? Apparently not.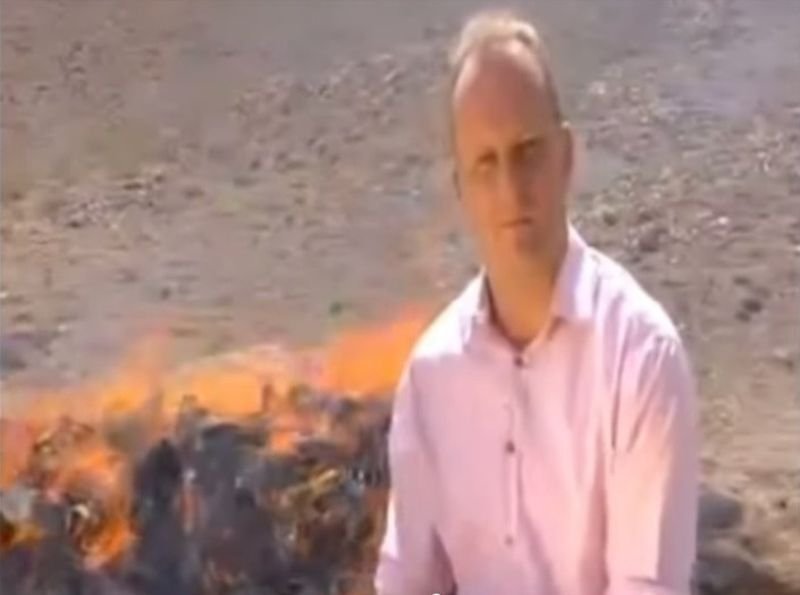 It was all going great till the stuff hit the poor guy. Check out the video to see his priceless reaction.
10. This reporter, who got hit by some serious 'horsepower'.
Hey, would you like to cover a horse race?
Of course! Why wouldn't I?
Bad decision.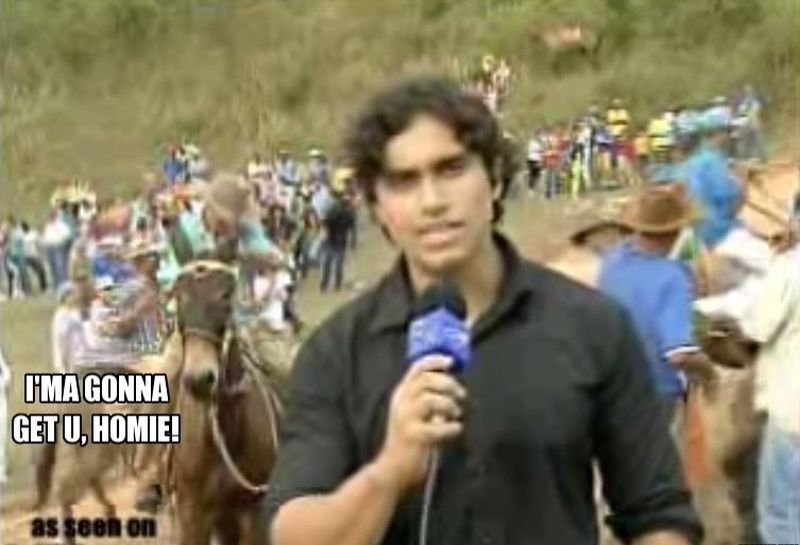 Check out the video to see what this poor reporter got for his dedication. Ouch!
Of course, the list would've been incomplete without the mention of Chand Nawab, the 'celebrated' Pakistani reporter who was recently portrayed in the film Bajrangi Bhaijaan as well. We know y'all must've already seen it, but hey, it's legacy.
Don't worry soldiers. Your sacrifice for journalism will always be remembered. Over and out.