When it comes to Indian weddings, calling them a studded affair is an understatement. The long, fancy ceremonies have a charm of their own, and we Indians love band, bajaa and baraat a little too much, don't we?
While all desi weddings are entertaining, Punjabi weddings totally stand out. Whether it is the series of traditions, the amazing butter chicken or a little bit of carobar, they are definitely a fun affair.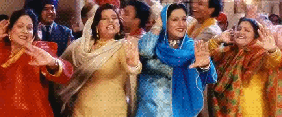 Both the bride and groom make sure that they look their best. But, god forbid, you suffer from a wardrobe malfunction on your D day? What would you do? 
Well, this handsome surd groom slipped his pajamas during his pheras! Yes, you read that right. But this groom knew how to take a joke on himself and totally slayed the whole episode like a boss! 
Watch the hilarious video here :
At least now he has a funny story to pass on to his kids!