It's a known phrase that cricket is nothing less than religion in India. There is no dearth of anticipation among ardent cricket-frenzy fans during an ongoing match.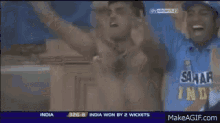 On February 9th, an incident during a wedding ceremony in Tamil Nadu summed up the feelings of cricket lovers towards the sport. A family, which hosted a wedding ceremony, ensured that guests didn't miss India vs England match that was played at the MA Chidambaram Stadium in Chennai. 
The family who hosted the wedding live-streamed the match on a big screen at the wedding venue. Twitter user Akshay Natarajan (@akshaynatarajan) shared an image of the ceremony taking place on a stage with many attendees hooked to the giant screen.  
This incident created a buzz and garnered a massive thumbs up from cricket buffs across the country. It now has people on social media figuring out plans to do the same for their weddings. It created a bigger buzz when Moulin Parikh (@moulinparikh), a member of BCCI and IPL Media and communications team, re-shared the picture saying that streaming matches in the weddings should be a mandatory addition to all wedding venues. 
Here's how netizens reacted to the incident: 
There would be attendance more than expected then. 😅

And yes, the seats in front of the screen will have more crowd than the Indian snack stalls.😂😂😂

— Aarohy Kapoor (@aarohy_kapoor) February 8, 2021
Now you know how to assure full attendance at your wedding! 😉