I don't think that an Indian governmental authority messing up or imparting less than desirable service is actually shocking to any Indian. Our nation is full of high level institutional corruption, and the system here runs basically due to a few faceless bureaucrats who do their jobs properly, and keep away from the limelight, lest they get shot for doing what they were supposed to.
Just recently, we came across a story coming from Gurgaon, where one resident, Hodal Prasad, received an electricity bill of Rs 85,79,60,865. Of course, these mistakes are the result of a faulty meter reading, but if not swiftly rectified by the authorities, the same becomes extremely harrowing for citizens.
Here are a few instances when different authorities goofed up and gave wrong extravagant bills sending tremors down citizens spines.
1. Hodal Prasad, Gurgaon – Rs 86 crore
Hodal Prasad had recently noticed his electricity meter showing a blank display and had made a complain to rectify the same. The meter was then fixed. What happened next could put anybody in a tizzy.
The next electricity bill that Hodal received showed a total of almost 86 lakh.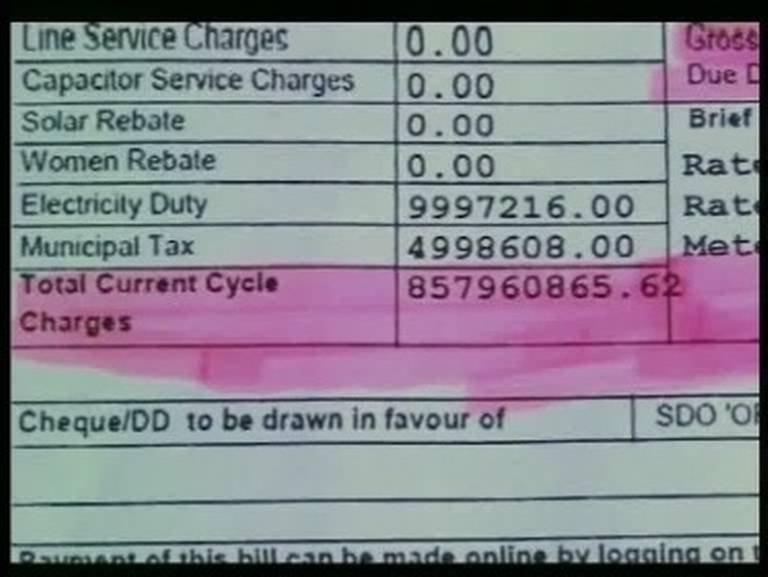 Before this bill, the average cost per month for electricity that Hodal paid were between Rs. 2200-6000. "With such bill we won't be able to educate our children. This time we have got a bill of more than Rs 85 crore," he told ANI news.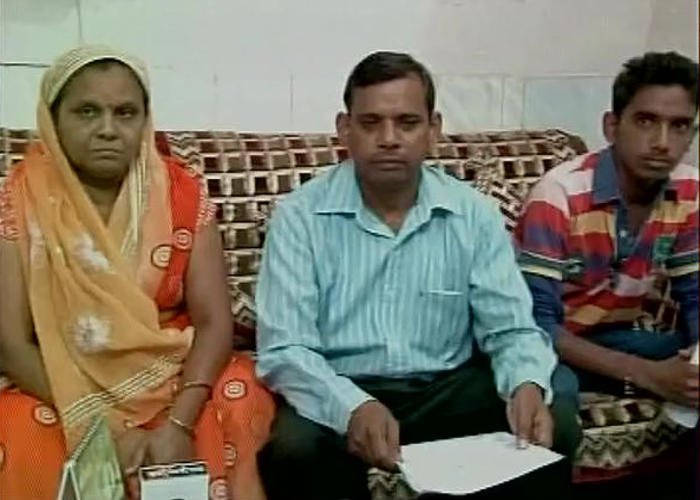 2. Krishna Prasad, Ranchi – Rs 55 crore
Just recently, a 55-year-old woman in Ranchi, one Kunti Devi, had to be hospitalized after her son (above named) was asked to pay an electricity bill of Rs 55 crore by the Jharkhand Electricity Board.
"The JSEB almost killed my mom. She could have suffered a heart attack from shock. Her blood pressure was above 145. We had gone for a wedding. On our return on Friday my mother found the bill. She almost lost her balance and was profusely sweating," he told Hindustan Times .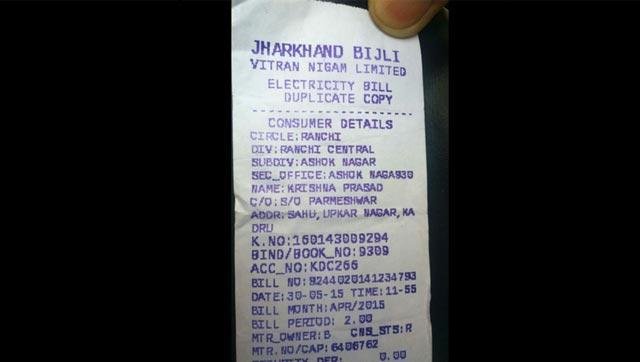 JSEB slapped an Rs 55,49,88,036 bill on Prasad and asked him to clear it by Monday for 9.90 crore unit of electricity consumed.
"I have a small shop under my apartment. I have been charged Rs 55 crore for a fridge, two ACs, three fans and an inverter. Did the JSEB think I was running a steel factory," said Prasad.
3. Rohit Saxena, Ghaziabad – Rs 225 crore
Rohit Saxena received an electricity bill of Rs 225 crore and was left shell-shocked. Rohit told India Today that his father-in-law received an unbelievable bill of over Rs 225 crore for the month of August, 2015 for his factory. The bill was issued by Paschimanchal Vidyut Vitran Nigam Ltd.(PVVNL).
After receiving the bill, Rohit immediately lodged a complaint with the concerned department on behalf of his father-in-law. The Rs 225 crore bill was then reduced to Rs 7000 but he was not given any documented proof of the mistake and the correction.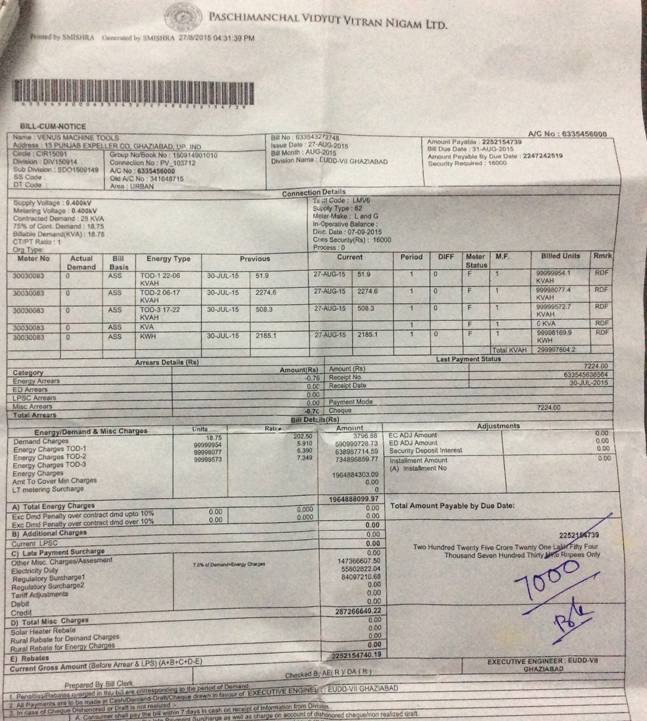 "The nonchalant attitude of the guy in the electricity department is very much evident when you look at the bill. He simply put a pen across at the bottom bill and wrote 7000, the amount which he said you need to pay now. How they would put that in their record book is anybody's guess," he told India Today .
4. Ashok Goenka, Ludhiana – Rs 75 lakh
A resident of Mata Nagar in Ludhiana, Punjab, Asho Goenka was bamboozled when he received an electricity bill of Rs. 75 lakh at his doorstep. He claims to have also complained to the authorities but to no avail.
To find out more on this story, watch this ABP news coverage .
5. Jitendra Kumar, Gurgaon – Rs 75 crore
Jitendra Kumar, a resident of Sector-3, Gurgaon received an electricity bill of Rs 75 crore whereas usually, his bill falls under the bracket of Rs 5,000 – 9,000. He claimed that even the cost of his residence is cheaper than the bill. Despite running from pillar to post to get his bill rectified, electricity board has not fixed the same.
Jitendra shared his story with DNA , and said that the electricity office assured him to correct the bill and was asked to wait outside the office. However, after waiting for two hours, he was asked to leave and said that he will receive the bill at his residence.
To watch more on this story, please check out the following coverage by India TV.
6. Sharman Kumar, Faridabad – Rs 76 crore
Living in a 3 room house with 2 cooler, 3 fans and 4 CFL bulbs, Sharman Kumar of Faridabad still received a bill of almost Rs. 76 crores. Kumar says that the amount usually varies from around 1500 to 1600 rupees.
To find out more on this story, watch this.
Until there is something done to avert these huge errors, the best thing consumers can do is remain patient and go through the system to rectify them.