You and I both know how Bollywood has fooled us (not really) into believing in fairy tale romance. However, what works in Bollywood films does not work in real life, and Twitter is giving us a stark reminder of this.
Remember this scene from Jannat when Emraan Hashmi stops his car in the middle of a busy road and goes down on his knees to propose to his love interest in the movie. 
I am sure all of us remember this iconic proposal. Here, this one: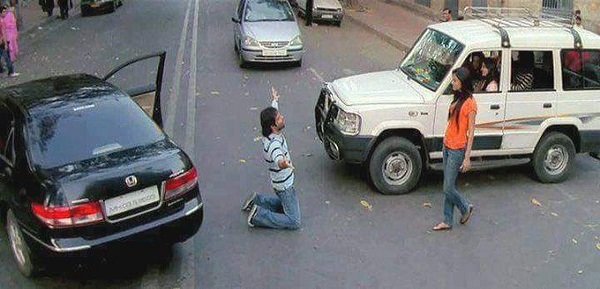 Someone on Twitter asked, "Who stopped you from doing this?" and netizens have some spot-on responses to it.
Twitter is bringing us back to reality with these hilarious responses. From petrol price, self-respect, desi parents, heartbreaks, we have a long list of why this proposal is not attainable in real life. 
This proposal is legit "Fida hoon tujhpe Meri jaan bepanah" moment. 
Sharing it here- because a little nostalgia will do no harm right?
Also, here's a list of most romantic dates in Bollywood movies, in case you need some more inspiration.