Politics is always a favourite topic in our country. You see we're the world's largest democracy, at least literally. And it's almost always chaotic around this part of the world. Amidst all the chaos, two individuals Khushboo and Vinay, try to capture the evolution of AAP, or what they like to call Proposition for a Revolution.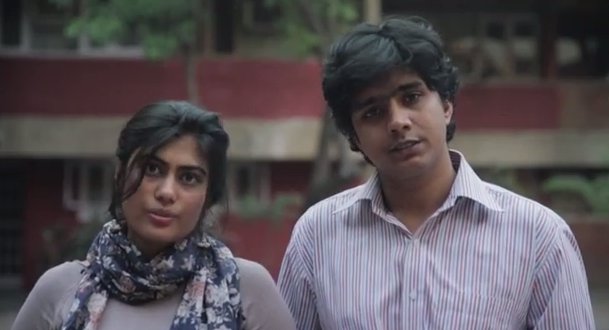 We decided to dwell more, and get into the minds of these self-driven individuals. And we eventually hit them with a few questions which were nagging our brains after taking look at this sneak peek. And this is what they had to say.
1. Tell us about yourselves, where do you guys come from?
Vinay: I'm from Mirzapur, Uttar Pradesh but I have lived in Bombay for the most part.
Khushboo: And I am from Bombay, which means that I have been as far removed from politics as possible.
2. You said you followed Kejriwal around for close to one and a half years. What were the challenges you faced while doing so?
Khushboo: We didn't follow just Kejriwal. We followed the Aam Aadmi Party, we documented the public campaigns of other parties, and we turned the camera on the person on the street.
Vinay: We didn't quite know what we were getting into when we started documenting the party in late 2012. We were following the party on an impulse. We were curious. Slowly, it became evident that the story playing out in Delhi was much bigger than what we had initially anticipated. Our friend Vinay Rohira came down from Bombay and began to work with us. A few more colleagues from Delhi joined us. The party was expanding and growing in every direction in a breathless way. So it was hard to keep up with the party with the limited resources we had. We couldn't hire professionals since we couldn't afford them so all of us learnt to use the camera and sound equipment. The sneak peek that you have seen has been entirely shot and produced by all of us. So yeah, working with thin resources was a huge hurdle.
3. Now, you've mentioned that it's "honest, neutral, and unbiased". So what made you choose AAP for this film?
Khushboo: When we say unbiased, it is a reflection of our own practice irrespective of the subject. We wanted to expand the canvas of the documentary to include other parties, but that didn't happen. Around the same time we realised that our contemporaries were making films on similar subjects around the world. We all know about Jehane Noujaim's Oscar-nominated documentary, The Square. Two documentaries are in production, one on an Italian anti-corruption Party headed by a comedian and another one on a philosopher turned anti-corruption politician in Columbia. We felt that this film had the possibility of being local and global at the same time.
4. What would you say you want to achieve with this video, what's the agenda here?
Vinay: Our main agenda is to build a critical mass around the film. Documentaries have traditionally found it difficult to reach out to bigger audiences. We are already seeing a slew of interesting conversations taking off on our pages on facebook and YouTube. This also ties in with our plan of eventual release. We want to organise discussions around the screenings, possibly document the reactions and continue the engagement. The other obvious reason is to raise money. We are just beginning post-production which is the most expensive part of filmmaking, so we are hoping this campaign will help us to make a release possible sooner than later.For more information on the film, check out their website .