Bengaluru was going about its day as usual until a huge anaconda popped out of a pothole, sending passers by into a frenzy. It sounds dangerous, but the great snake was there for all the right reasons.
It did not actually swim out of the water-filled potholes, but was installed there by The Namma Bengaluru Foundation (NBF) who wanted to get a message through to Bruhat Bengaluru Mahanagara Palike.
Artist Pushparaj – a Chitrakala Parishath graduate – installed the snake on Sunday, August 9th, 2015, to warn people of the dangers of stagnant and polluted water. The city is now facing increased cases of dengue and malaria.
The artwork faced some trouble from local goons as well, but apt media coverage made them change their mind. "There is humour, art, sarcasm in the craft, but more importantly, there is a deeper message in it that we are trying to deliver," Sridhar Pabbisetty, CEO of Namma Bengaluru Foundation, told the media. He also said, "There has been an overwhelming demand for anacondas and people are giving locations across the city for such installations."
Sometime ago, an artist by the name of Baadal Nanjundaswamy had installed a life-sized crocodile to warn people of the perils of stagnant water.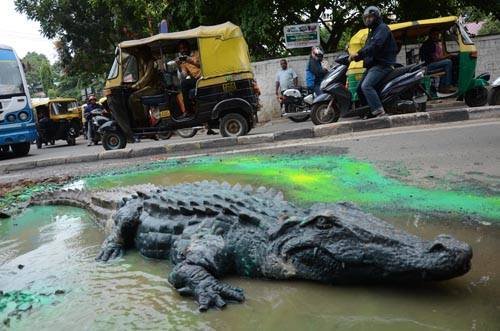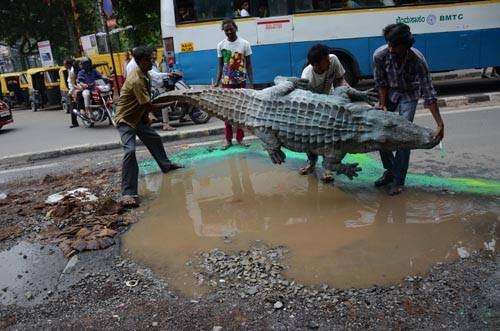 You can read the full story here .
H/T for anaconda story & images: The News Minute