You can eat burgers at any time of the day? You spend at least one day thinking about what burger you'll eat for dinner? You are a tough burger fan! For you, and you only, here is a list of 22 places in Delhi NCR where you can gorge on some of the choicest burgers :
1. Monkey Bar – Vasant Kunj, CP
Star attraction – MoBar Burger
A patty which weighs the quarter of a kilogram. Coupled with bacon, lettuce, onion, tomato, and a huge dollop of Swiss cheese. This burger is delicious and popular. Don't keep yourself away from it for too long!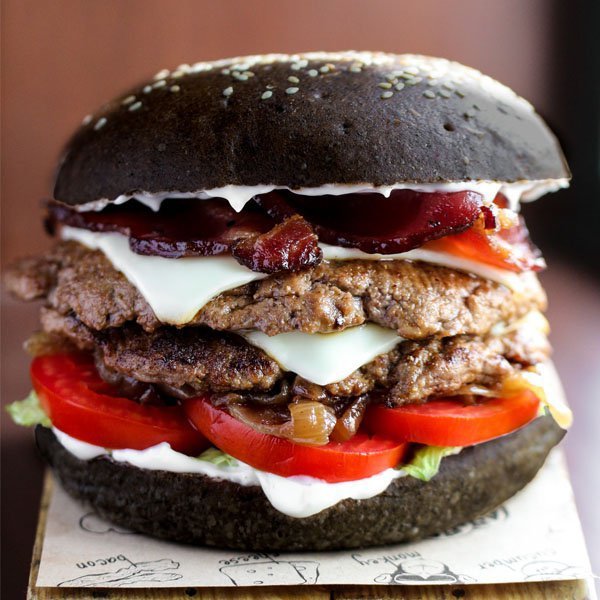 2. Hard Rock Cafe – DLF Place Saket, DLF Cyber Hub
Star attraction – Original 10 Oz Legendary Burger
So things don't become legendary overnight. Not usually. This burger did. Medium well done patty which sits snugly between two slightly roasted, buttered buns. Topped with bacon, cheddar, golden-fried onion rings (I hate raw onion in burgers), this is legen-wait-for-it-dary!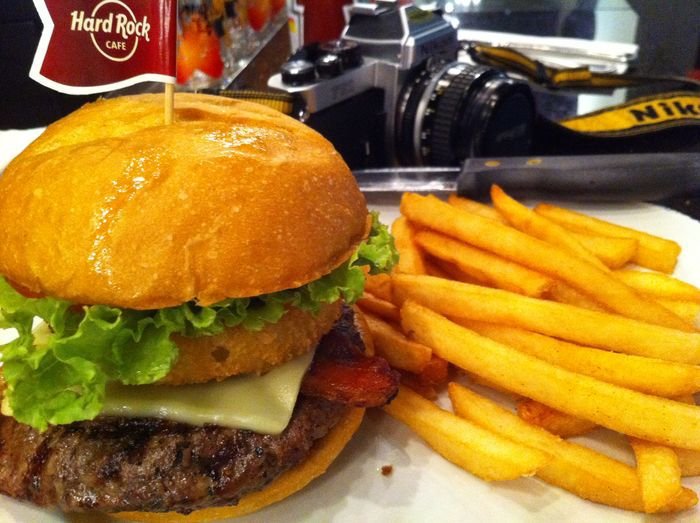 3. Fork You Too – Sector 29, Gurgaon
Star attraction – Lamb Burger
Fork you had impressed us with its food earlier. Now Fork You Too is quick becoming a favorite. The burgers on offer are delicious and are tastefully presented. A must try for a foodie and burger lover!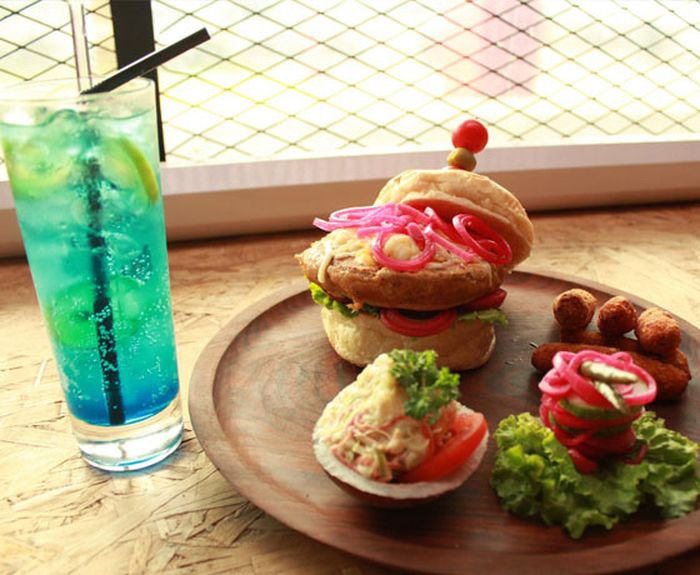 4. High On Burgers – Satya Niketan
Star attraction – Double Chicken Sausage Burger
This is a decently priced place to get your fill of burgers from. The double chicken sausage burger is fully loaded and will make you keep coming back for more. Vegetarians can try the Aloo patty option, which is good too!
5. Chilli's – DLF Place, Saket and Ambience Mall, Vasant Kunj
Star attraction – Bacon Burger
It's called a 'Big Mouth Burger' for a reason. It's not for the faint-hearted(or for those with small mouths?) First there is the tenderloin patty, which is generously topped with strips of smoked bacon, cheddar, mayo and lettuce. Big hunger? This is the answer!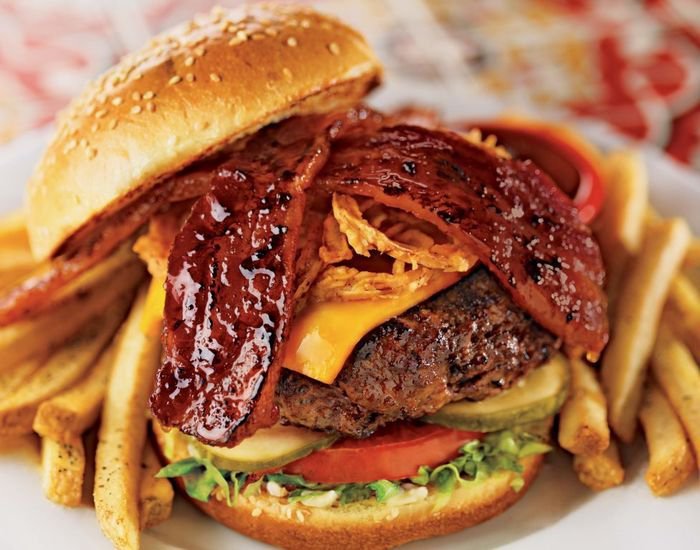 6. Cafe Delhi Heights – Multiple Locations
Star attraction – Juicy Lucy Burger
I like the sesame seed burger buns these burgers are made with. The tender lamb mince used to make the patty is delicious. Jalapeno, mayo and all other ingredients come together wonderfully in this amazing dish.
7. Smokey's BBQ and Grill – DLF Cyber Hub
Star attraction – Bacon and Lamb Burger
The lamb patty has a different flavor because of thyme and oregano. The burger is served with baconnaise. And this makes a hearty meal. I dare you to eat more than this burger in one go!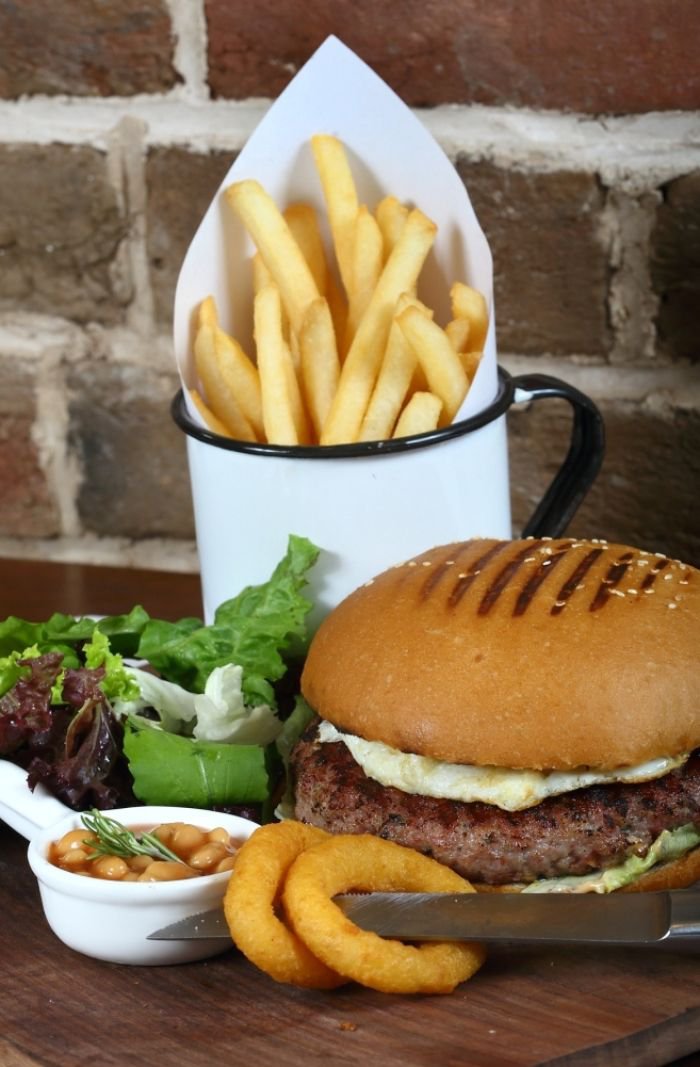 8. Cooper's Grill & Bar – Sector 30, Gurgaon
Star attraction – Cooper Whopper
American tenderloin burger with cheddar and lettuce. Pretty standard description. But they do something that all the food trucks in America are doing but not many places in India are- they are using caramelised onions. That makes the burger all the more delicious!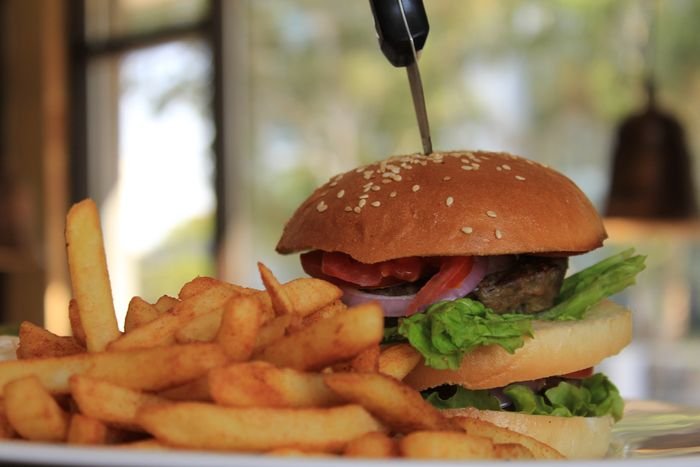 9. Hungry Monkey – Safdarjung Enclave
Star attraction – Goan Chorizo Sliders
This is that perfect something that you want to bite into while having a beer. Traditional chorizo topped with potato crisps, onions and pickles. This is delicious!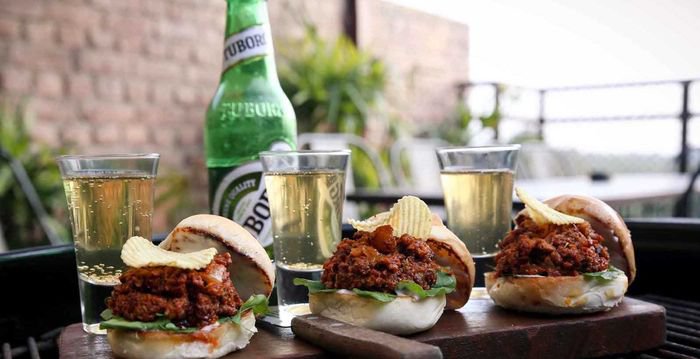 10. Qube, The Leela Palace – Chanakyapuri
Star attraction – New York Angus Burger
The New York style hamburger can set you back by two thousand rupees. But it's worth it! As long as you can spare the cash, go try it out. You won't be disappointed.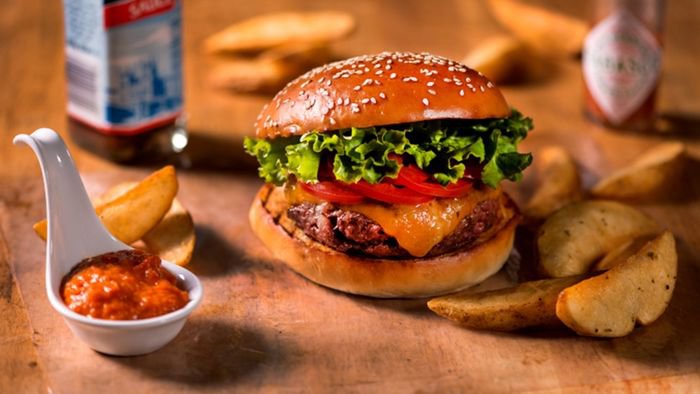 11. Double Roti – DLF Phase 4, Gurgaon
Star attraction – Illegal Burger
It is called illegal. That is enough to drive your curious stomach to run and try this. Isn't it? And all surprises aren't bad. Go, try this out at the first chance you have. But yeah, avoid eating anything for at least 5-6 hours. You have no chance to finish the entire burger otherwise.
12. Barcelos – Khan Market
Star attraction – Red Burgers
The Black Burger of this Portuguese joint did not get much appreciation in this city. Now they have launched the Red Burger. the bun is made with beetroot and chilli. I have heard rave reviews about the vegetarian Beetroot red Burger.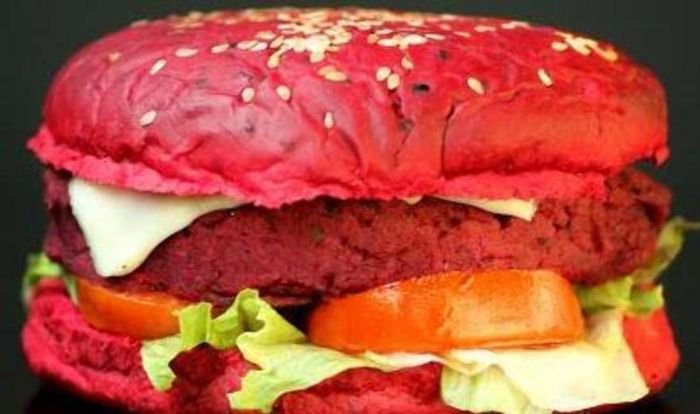 13. Johnny Rockets – Select Citywalk Saket, Ambience Mall Vasant Kunj
Star attraction – The Houston
The legendary spicy burger is loaded with jalapenos. The Pepper Jack Cheese that is used in the burger lends it a unique flavor. It is huge. I have never been able to finish one whole burger on my own. ANd I can't not order a side of onion rings. They do it so well!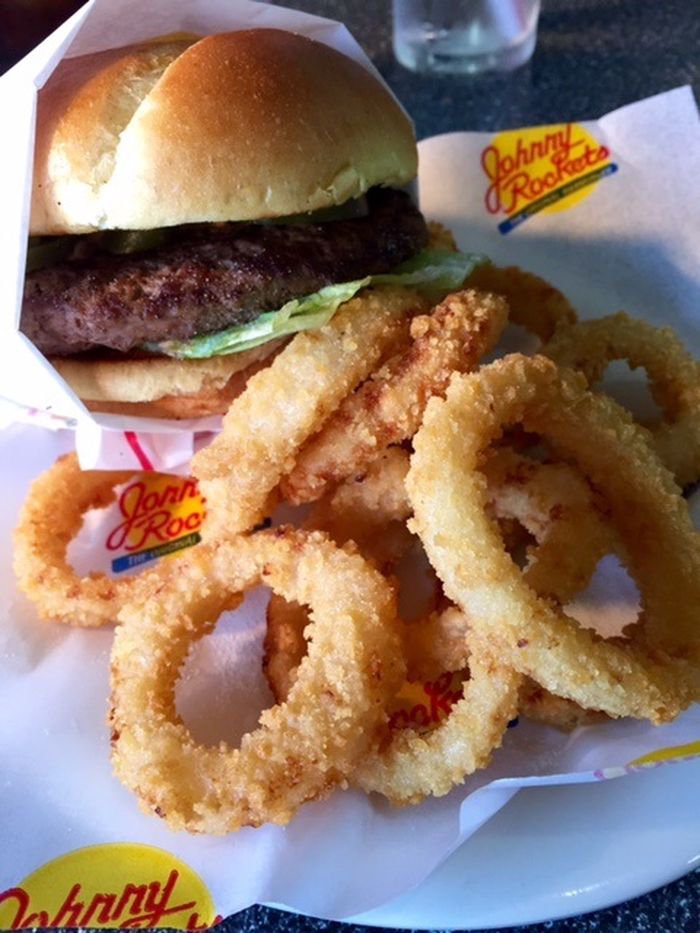 14. Smoke House Deli – DLF Promenade Vasant Kunj, Hauz Khas
Star attraction – Smoked Lamb Burger
One of the most recommended burgers, the smokey flavor of the lamb is something worth trying. It comes with horseradish and onion relish. Lip-smacking, finger-licking good!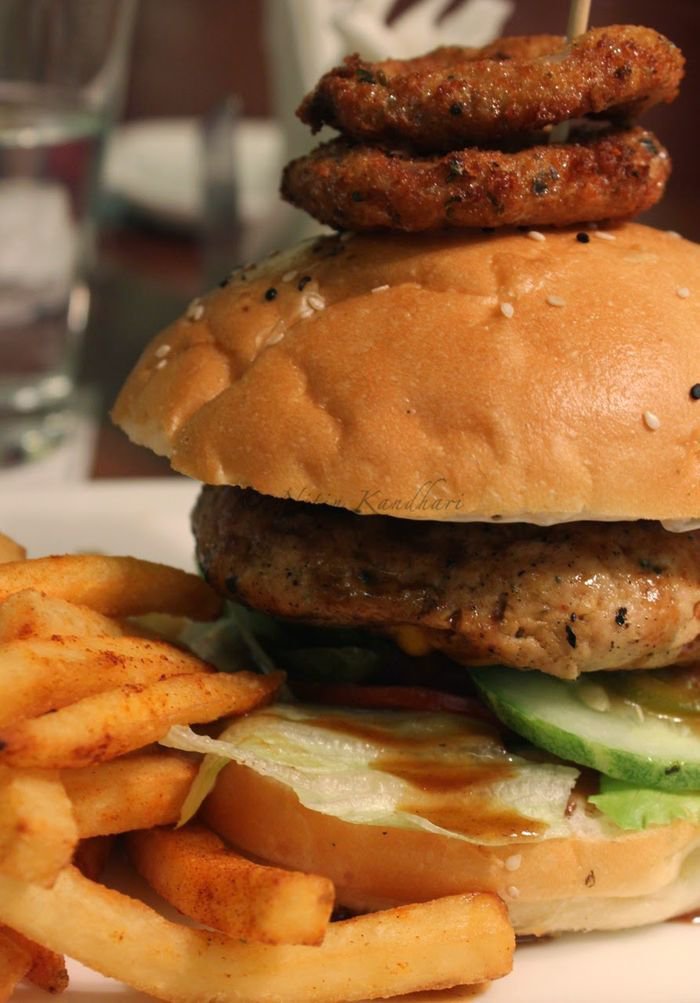 15. The Blue Door Cafe – Khan Market
Star attraction – Chipotle Cheesy Beef Burger
The Chipotle mayo lends the burger a unique flavor. The smoked bacon, melted cheddar and beef patty are just a deadly combination which is too good to pass. Do you wanna? Go and get some!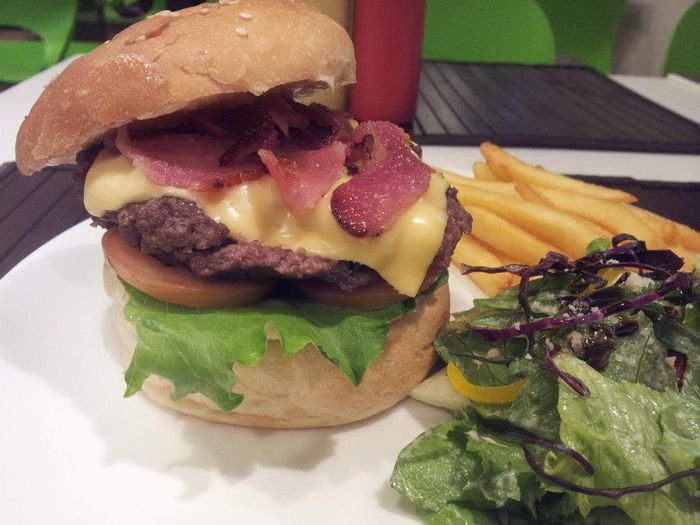 16. Ploof – Lodi Colony
Star attraction – The Great Gatsby
What's in a name? A lot! The name is so intriguing, you have to end up eating the burger. A tenderloin burger which accommodates both cheddar and gouda cheese, tomatoes, onion, and bacon! Awesome stuff I tell you!
17. Kuzart Lane – Aurobindo Marg
Star attraction – Kuzart's Special Lamb
A not too well-known place, it serves amazing burgers. Shredded lamb coupled with mushrooms, doused in their special, secret sauce. The burger is every bit worth its while. The only problem you'll face is parking! I'll advice take an auto or walk.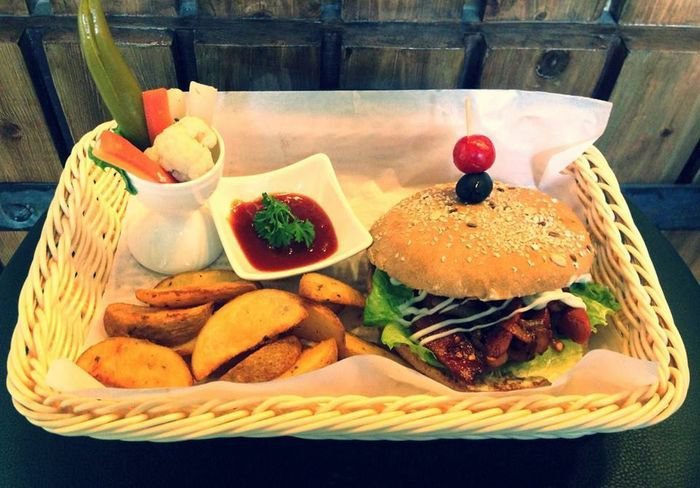 18. Zu Tisch – GK 1
Star attraction – Big Daddy Trash Truck Burger
It sounds bad ass? It is bad ass! The place is known for the alcoholic concoctions it serves. But you'll be pleasantly surprised by the burger. It is heavy yes, but is is also handsomely delicious.
19. The Big Burrp Theory – Hauz Khas Village
Star attraction – Chirpy Fried Chicken Burger
The name is chirpy, and it will make you feel chirpy! The patty is crisp and well done. And the burger is loaded with lettuce, mayo, tomatoes. Definitely worth a try!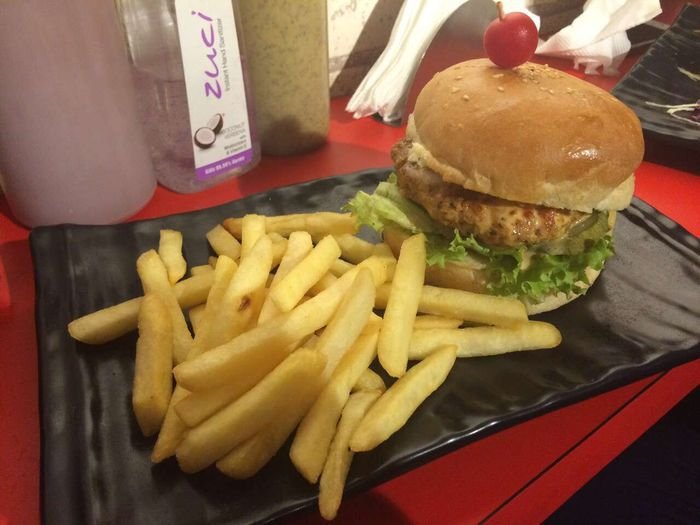 20. Fork You – Hauz Khas Village
Star attraction – Make your own Burger
Well, so you go out to eat food cooked by someone else. But if you get to customise that food, nothing like it! That is why this burger is so popular with everyone. Try it already if you haven't!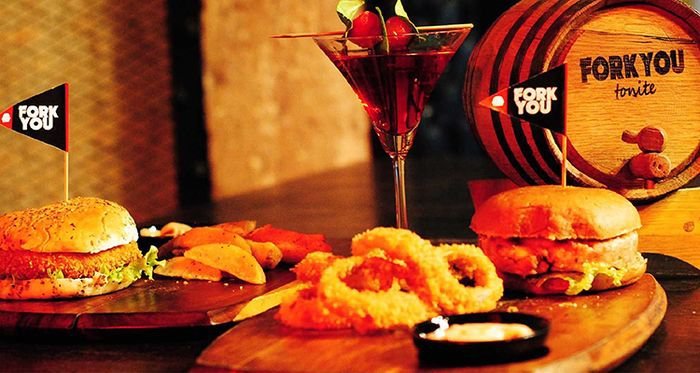 That has made me very, very hungry. Burgers, here I come!