If you passed by the Sulthanpalya main road in north Bangalore in the last couple of days, you might have come across this crocodile in the middle of the street.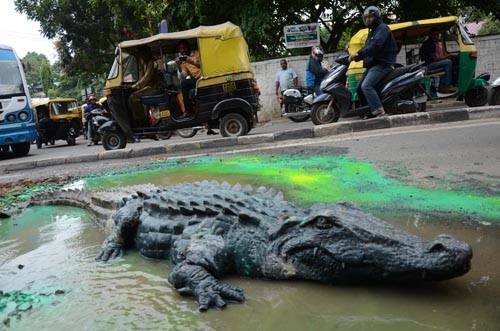 Surprised? Well, it's not a real crocodile, but a life-size structure made by Bangalore artist Baadal Nanjundaswamy.
The reason? He wanted to highlight a 12-feet long pothole which has been staring at people on the road for a while now. The 36-year-old took it upon himself to show the administration's apathy towards civic issues faced by residents on a daily basis.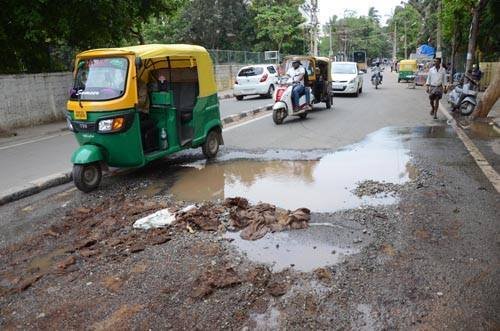 The structure took up a week of his time and Rs 6,000. But his efforts will bear fruit if the administration repairs the giant pothole and a broken water pipe located right in the middle of the main street.
"A drinking water pipe broke about a month ago. The subsequent rain and constant traffic has eroded the road creating a big pot hole. Authorities have showed no response to rectifying it. Locals have complained to the BBMP and the BWSSB to no avail. I am hoping they will take some action now," said Nanjundaswamy to the Indian Express.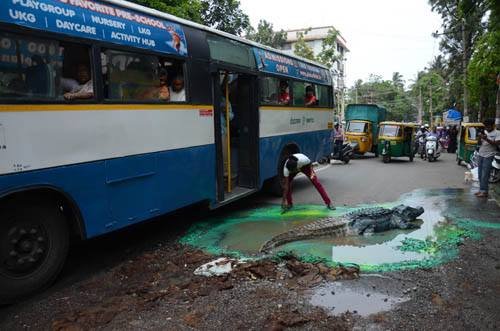 What a brilliant way to protest peacefully! If only the authorities took action. Unfortunately, they remain unperturbed.