The food truck revolution began in America in the 1930s and since then, it has slowly spread to other nations. But it is yet to make major inroads into the Indian food industry. The concept of selling food out of a mobile truck is still somewhat alien to us. But some daring Indian entrepreneurs (read food aficionados) have taken the plunge into this largely untapped domain hoping to strike gold. Here's a list of 10 such mobile trucks that are changing the face of the game in the national capital. Read on to know more:
1. Dosa INC
Where: Okhla Phase 3, C lick here
Run by a husband and wife duo, this food trucks caters to offices and educational institutions through the week and parks outside residential complexes on weekends. Their food includes regular South Indian offerings, like dosa, idli, vada and appam, but the specialities are mysore masala dosa and filter coffee. Eating is believing!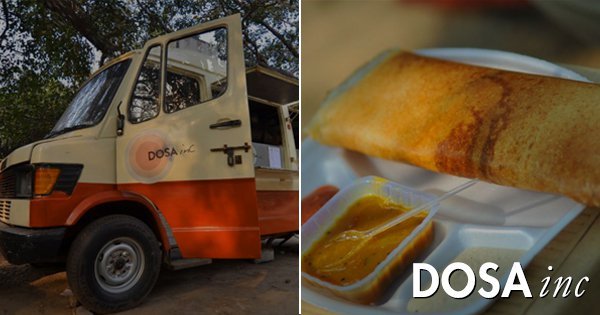 2. Eggjactly
Where: Leisure Valley Road, Gurgaon
Touted as India's first food truck, Eggjactly is a happy hunting ground for all eggetarians. Almost all its dishes have… well… egg. This food truck doles out eggy delights all day long across sectors 14, 29 and 44 of Gurgaon. Eggjactly is GPS enabled and posts its whereabouts on Facebook and Twitter so that you know Eggjactly where to find it!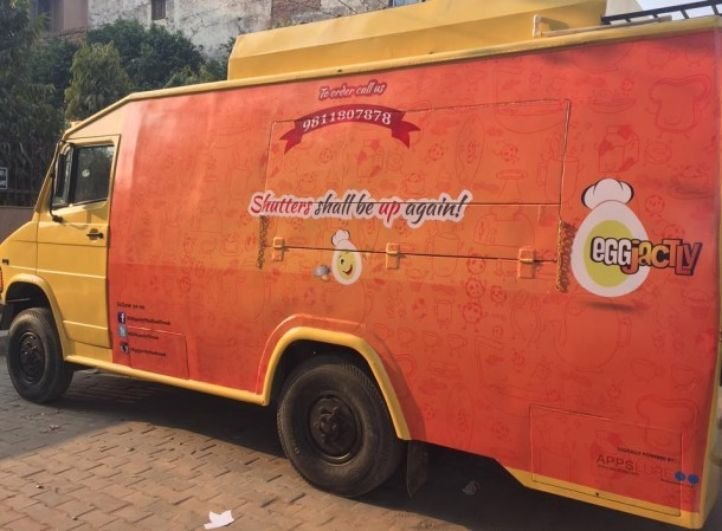 3. Frugurpop
Where: Sector 57, Gurgaon
Frugurpop is your ultimate one-stop shop for Palatez (Mexican popsicles). These popsicles are 100% natural and have no added preservatives in them. Add to that the fact that these colourful savouries are handmade, makes them a must try. I guess it's the handcrafting that makes these Palatez so palatable.
4. The Lalit Food Truck Company
Where: World Trade Centre, Barakhamba Avenue, Connaught Place (weekdays) DLF Mall, Saket (weekends)
You've been a stickler for hygiene and have always had second thoughts about indulging in street food but if you happen to be around this red monster then you need not think twice because The Lalit Food Truck Company is an offshoot of the renowned Lalit Group that's known for its high quality standards. Lovers of American and Mexican food swear by this place. They also serve falafel, vegetarian burgers and beverages. The next time you are out painting the town red you might just wanna pay this red truck a visit.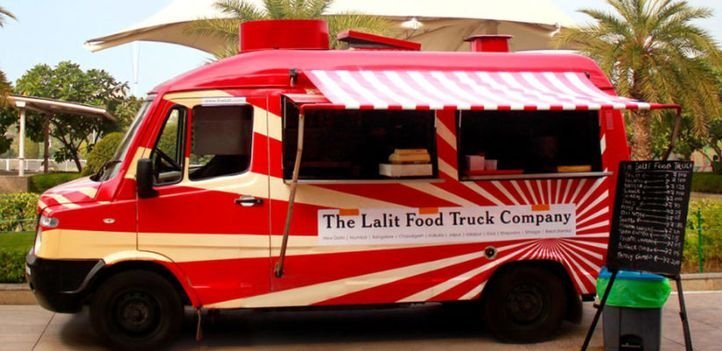 5. Kobri
Where: Sushant Lok – I, Gurgaon
Kobri rolled its way onto the streets of Delhi in October 2014 and since then has been on a roll… quite literally. Famous for its idliwiches (idli sandwiches) & dosa wraps (wraps with the most innovative fillings), it is one of two theme trucks of Flavour Labs . This mobile eatery is flocked by almost 300 customers daily. Some popularity that!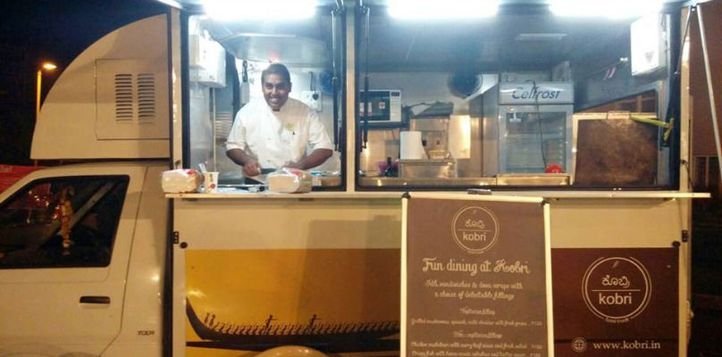 6. What the Truck?
Where: Sector 32 or South City, Gurgaon
What the Truck serves a variety of hot dogs, burgers and wraps. Leaving this place without trying their Chilli Doggie Dog and Keema Pao would be a crime. Also, when it comes to their patties, they believe in keeping 'em 100% non-vegetarian, enough reason for all the vegetarians to go "What the truck?"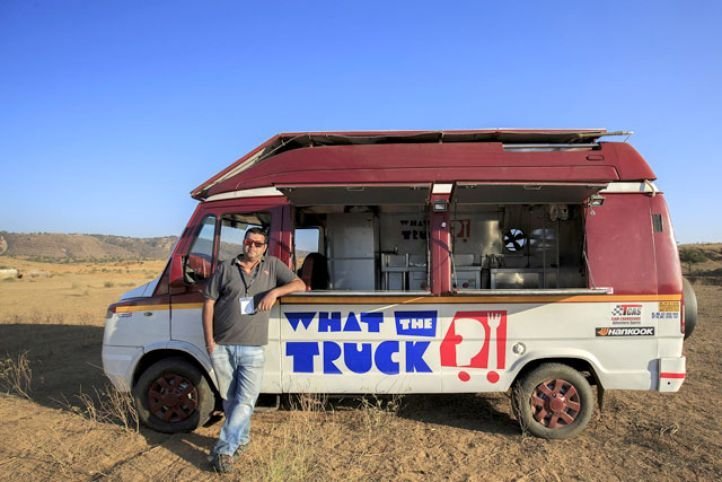 7. Nashta Paani
Where: 146, Sultanpur, Near Sultanpur Metro Station
Look closely, this is not a food truck, but a cutout of a truck stuck onto a wall. But given the fact that most food trucks aren't allowed to move around courtesy the license logjams, I guess Nashta Paani can be called a food truck. True to its name, Nashta Paani stocks most of your favorite nashta behind those brick walls. Poha, upma, aaloo poori, parathas, sandwiches… you name it and they have it. If your office is near Sultanpur and you always end up leaving your house without having breakfast, worry not, this place will take care of all your nashta paani.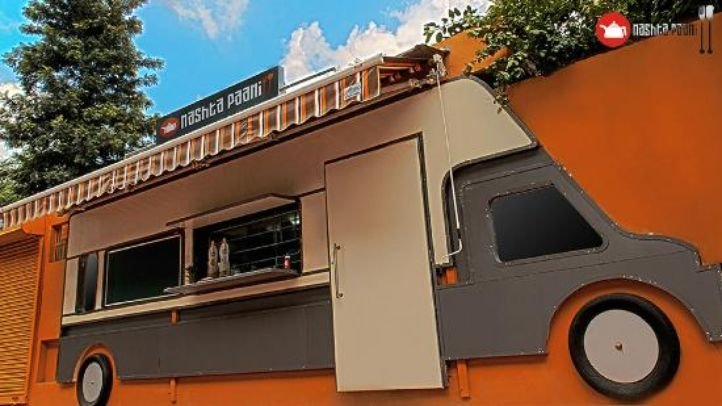 8. Super Sucker
Where: Wellington Estate, Gurgaon, Phase-5 (Thursday and Sunday)
You might not have been to as many music festivals as this gastronomic machine. A regular at music festivals like NH7 Weekender and VH1 Supersonic Goa, this truck happily dishes out Mexican and American fast food for its customers. Super Sucker's menu is choc-a-block with meat dishes and boasts of a wide variety of wraps, burritos, burgers and sandwiches. If you are a sucker for meat, head to Super Sucker right away.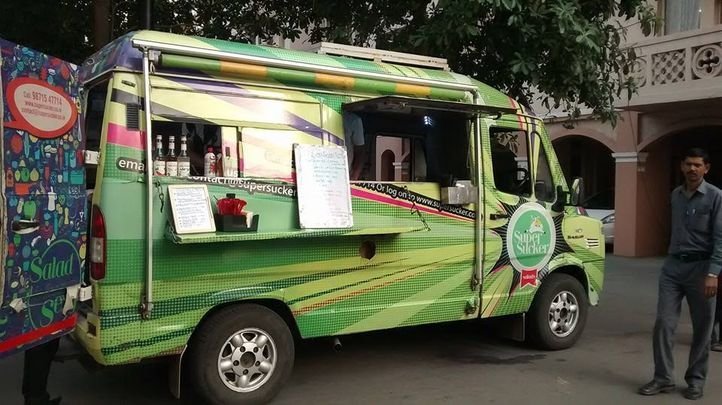 9. Oh Buoy
Where: NOIDA-Greater NOIDA Expressway, Sector 93A
Spearheaded by an engineer and assisted by two passionate chefs, Oh Buoy is one of the few mobile eateries you'll find in NOIDA. Their menu consists of Mexican, Lebanese and Continental food. Dig your fangs into Oh Buoy's Pop Roman Burger and chances are that you'd end up saying, "Oh Boy!"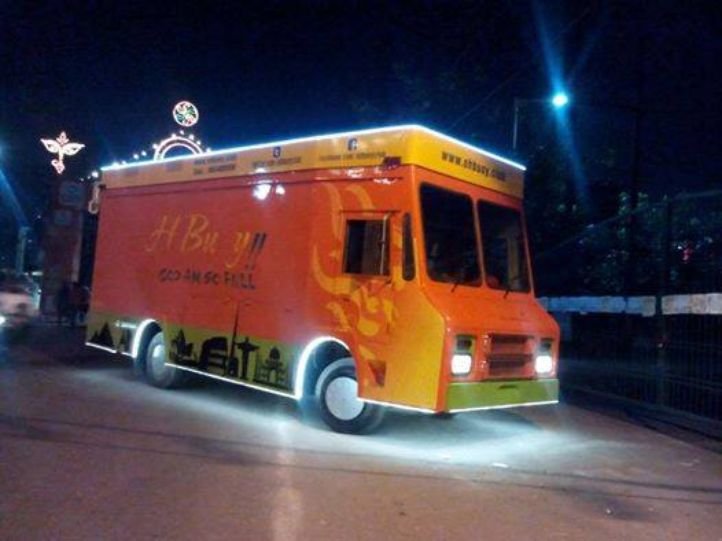 10. Awestruck
Where: Welldone Tech Park, Sector 48, Gurgaon
Known for rustling up lip-smacking pastas, Awestruck is quite popular among Italian food lovers in Gurgaon. Their signature pastas include Carbonara, Primavera and Arrabiatta. They also whip up some amazing quesadillas, salads and shakes. With so much in the offing, Awestruck's Italian menu is sure to leave you awestruck.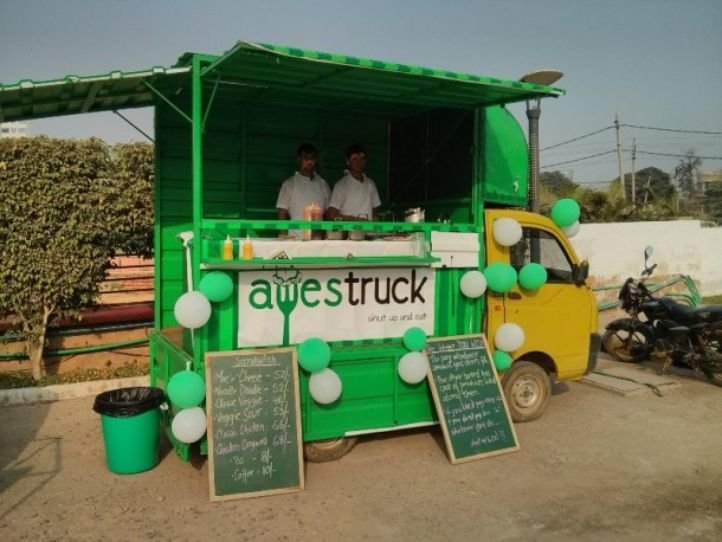 11. Hoppers
Where: Sushant Lok – I, Gurgaon
So you are in Gurgaon and your stomach's growling for some American food? Fret not, help is at hand. Head straight to Hopper , an American-themed truck from Flavor Labs . The food here is a treat for your taste buds and is easy on the pocket too. Drive down to this truck before it drives away to its next stop.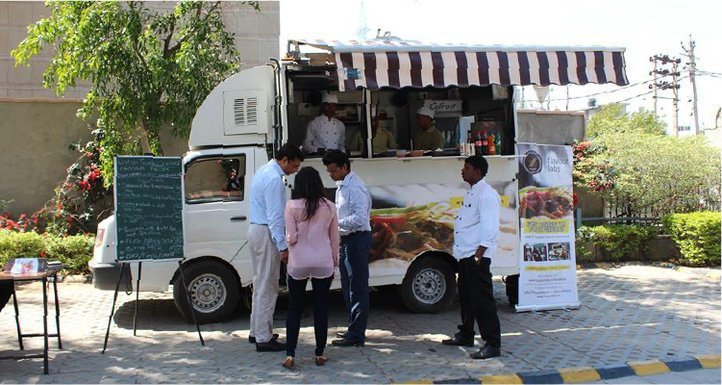 People in the food business say that you can start a food truck with around Rs 3 lakh and make Rs 50,000-60,000 a day.
I'm quitting my job!