It's been three years since December 16th, 2012. Three years since India was plunged into a social revolution of sorts, when the brutal gangrape of a 23 year old student in Delhi awoke the nation to the glaring reality of gross gender injustice that the Indian society is plagued by.
Despite there being several events which have been obstacles in our struggle towards gender equality, it's pertinent that we take into account, and recognize the wins as well.
Here's looking at all the events from 2015 that have taken us ahead in our march against the evil forces of patriarchy:
1.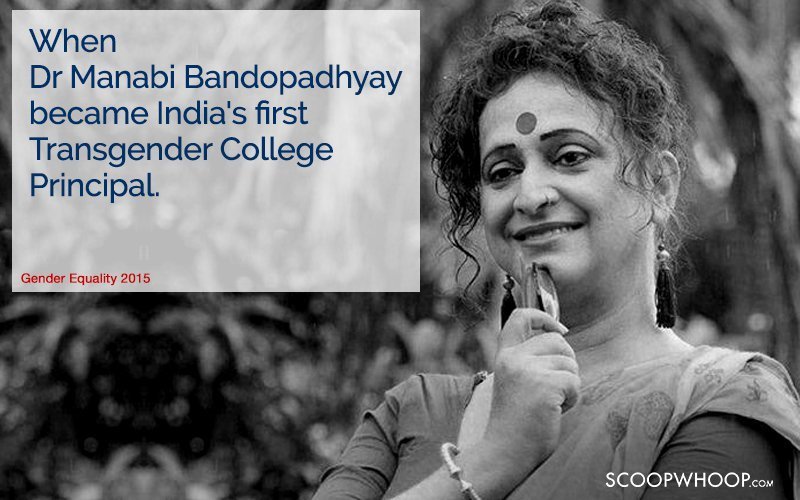 After a lifetime of being discriminated against, Dr Manabi Bandopadhyay was appointed to be the principal of Krishnagar Women's College, in West Bengal's Nadia district.
2.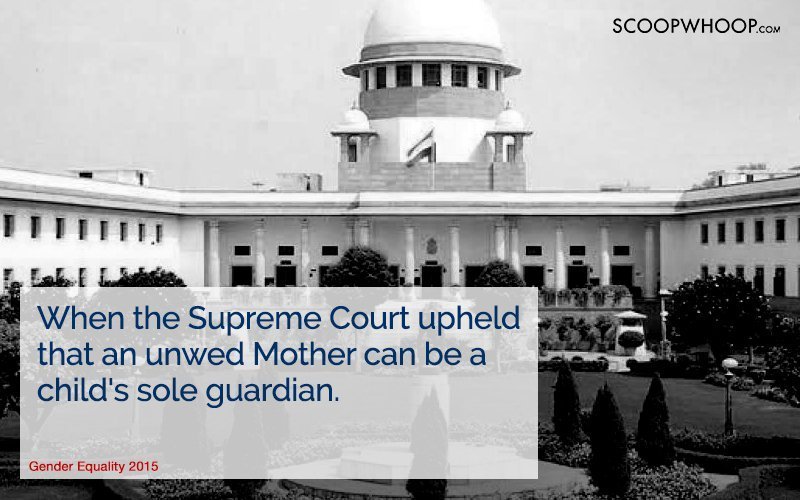 Upholding the right of an unwed mother to apply for sole guardianship over her minor son without prior consent of the child's absentee biological father, the Supreme Court was of the opinion that women are increasingly choosing to raise their children alone, and there was no need to thrust an uncaring father on a child.
3.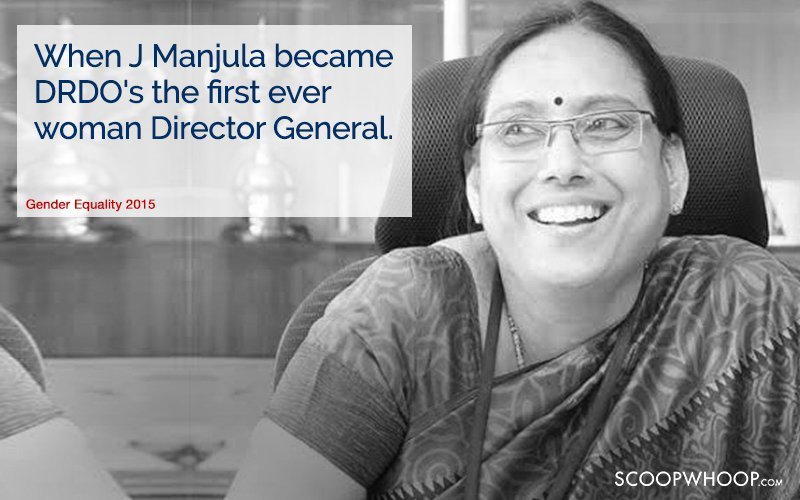 Recipient of the DRDO Award for Performance Excellence, Scientist of the Year 2011, J Manjula was appointed as the first woman Director General of the Defence Research and Development Organization's Electronics and Communication Systems cluster in September.
4.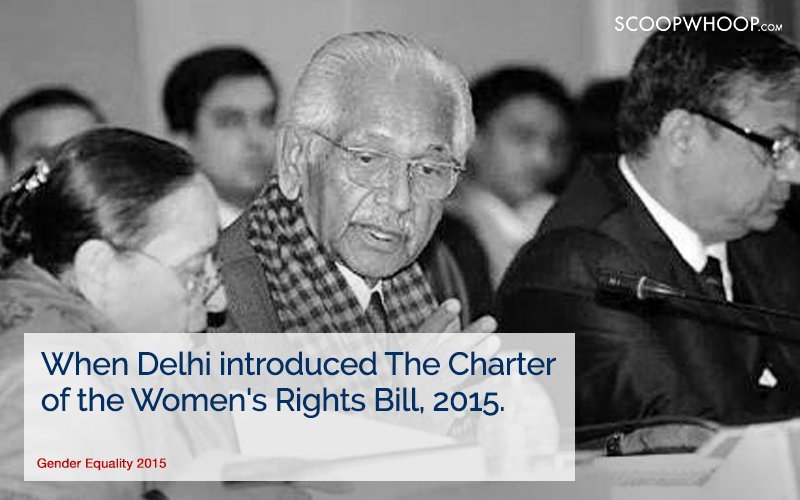 Delhi was the first state to implement the recommendations of the Justice J S Verma Committee in the form of its draft bill on women's rights, and became the first state to take a policy decision to provide equal treatment and access before the law for every woman, "irrespective of her sexual orientation."
5.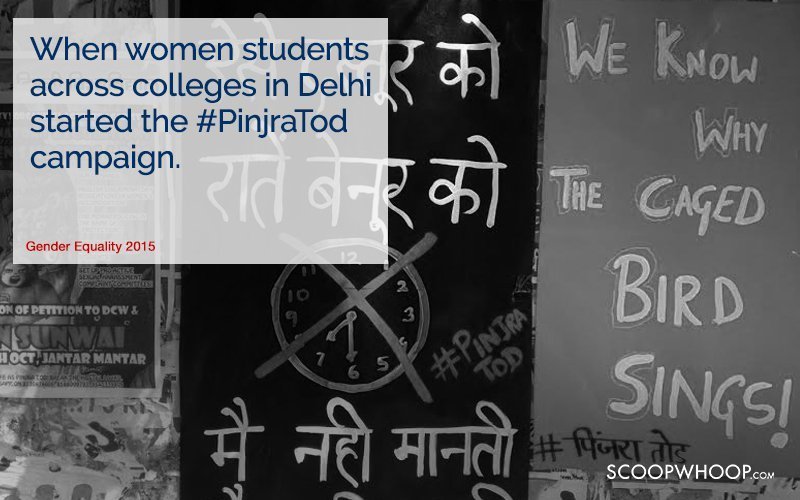 In protest against the tyrannical rules of hostel and PG residents in the city, the words, which mean 'break the cage', the 'Pinjra Tod' campaign was started by student activists from different colleges and universities against sexist rules in women's hostels, particularly those that disallow women from staying out late.
6.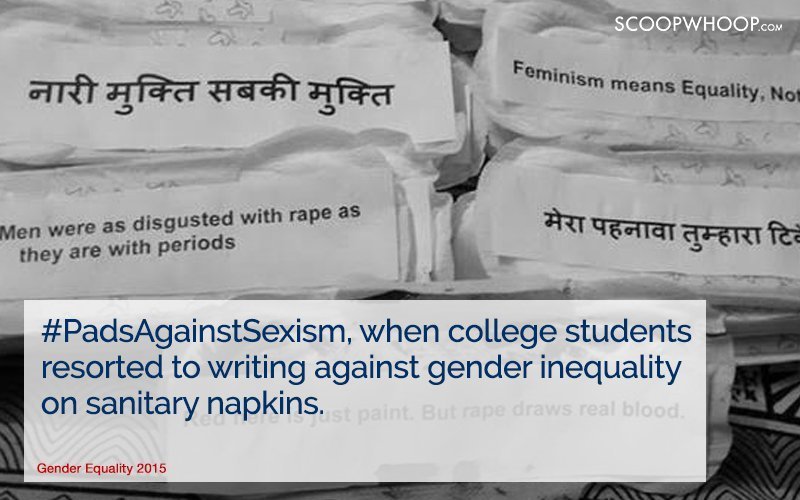 College students resorted to writing against gender inequality on sanitary napkins and displayed them on notice boards, canteens and trees. This movement was an attempt to dilute the taboo surrounding menstruation.
7.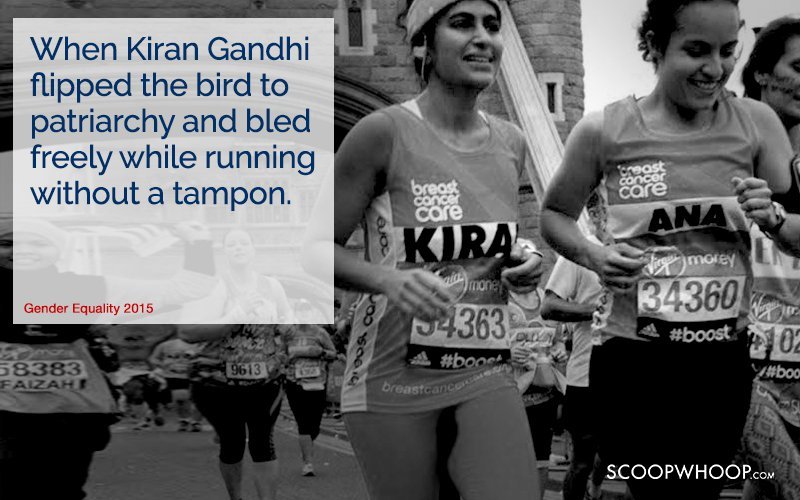 Another stellar move to combat the stigma surrounding menstruation, London based drummer Kiran Gandhi did not let her period get in the way of her running a marathon.
8.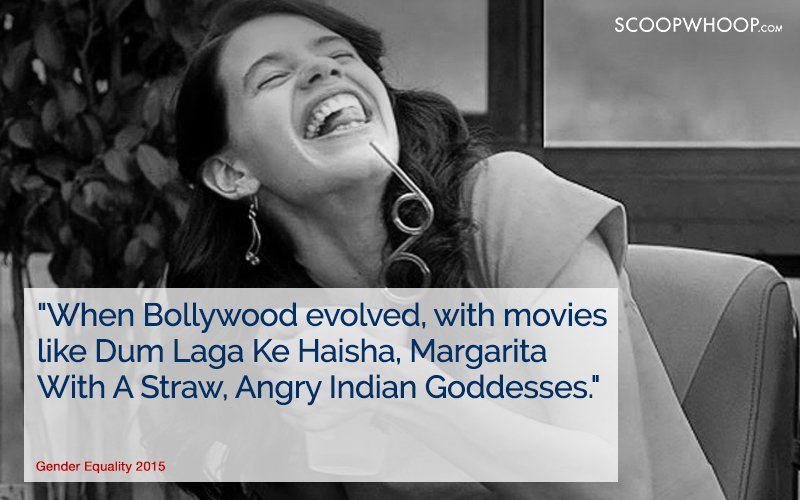 While Angry Indian Goddesses was Bollywood's first female buddy movie, Dum Laga Ke Haisha sought to challenge Bollywood's beauty standards, and Margarita With A Straw dealt with the oft overlooked sexuality of people with disabilities, quite a milestone for Indian cinema.
9.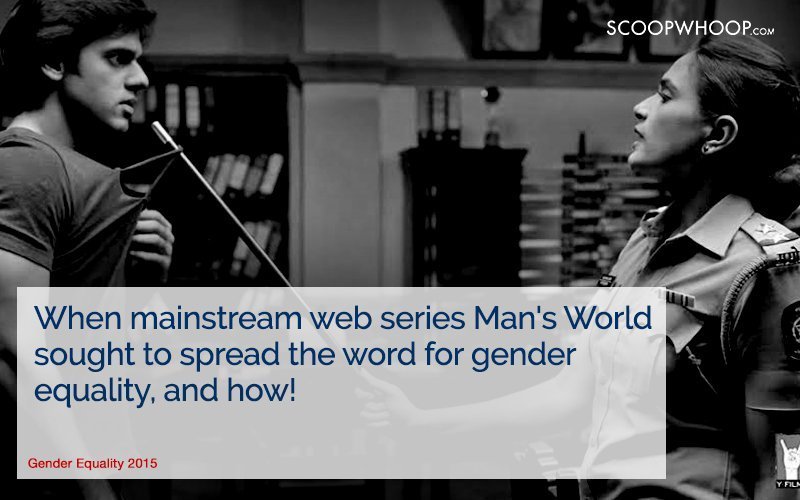 Yash Raj Films, as a part of the Global Goals for Sustainable Development came up with Man's World, a web series dedicated to the cause of perpetuating gender equality amongst the masses.
10.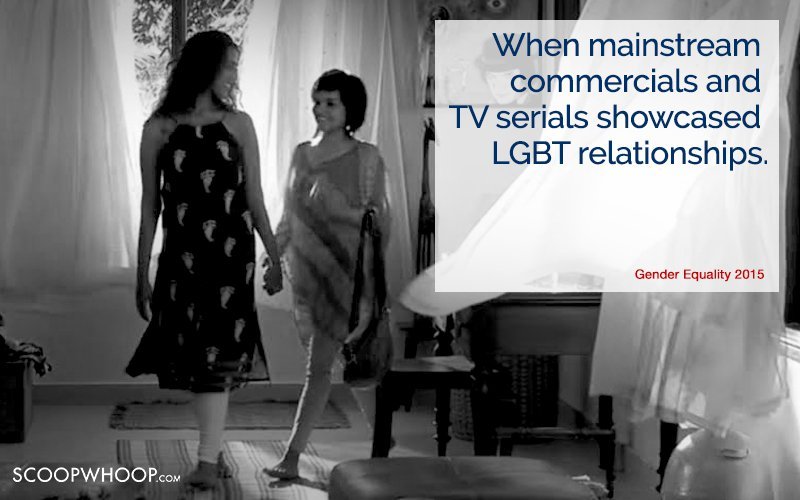 Anouk, a brand for ethnic clothing for women launched a commercial this year that showcased a realistic portrayal of a lesbian relationship in urban India. Even though MTV's Big F primarily deals with 'forbidden desires', the fact that an episode was dedicated to the portrayal of a young girl embracing her sexuality and finding love in another woman was a first on Indian television.
11.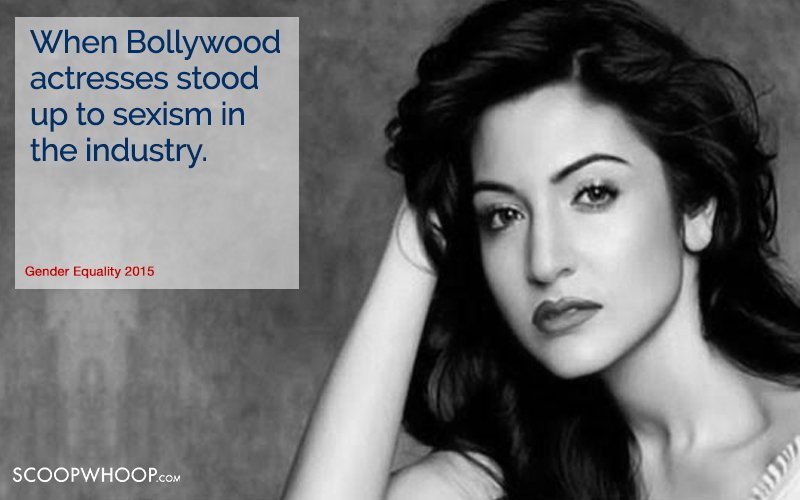 Actresses like Deepika Padukone, Anushka Sharma, Sonakshi Sinha, Priyanka Chopra, and others, talked about the rampant sexism in Bollywood and highlighted issues such as the wage gap and problematic beauty standards.
12.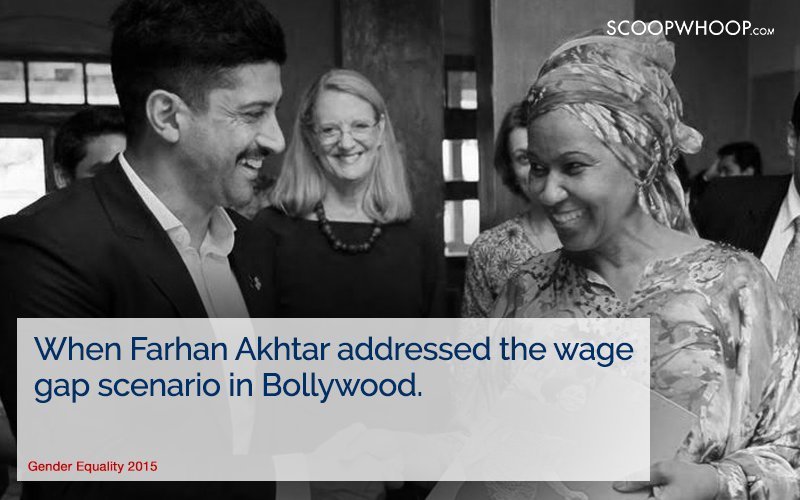 Actor, director Farhan Akhtar, who is also the United Nation Women's Goodwill Ambassador for South Asia, highlighted the wage gap scenario in Bollywood. The actor was also responsible for the formation of the initiative called MARD, encouraging Indian men to step forward in the struggle to achieve gender equality.
13.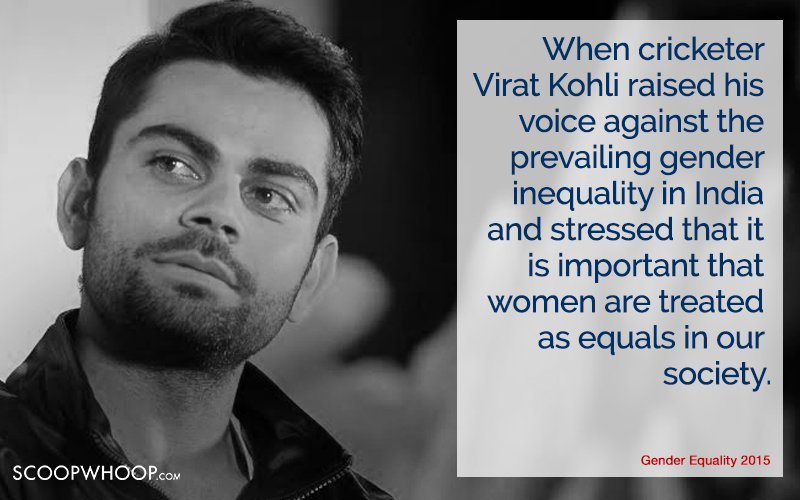 Cricket superstar Virat Kohli recognized and spoke about how the key factor in achieving a reality in gender equality in our nation is to ensure that women are treated as equals and with adequate respect.
14.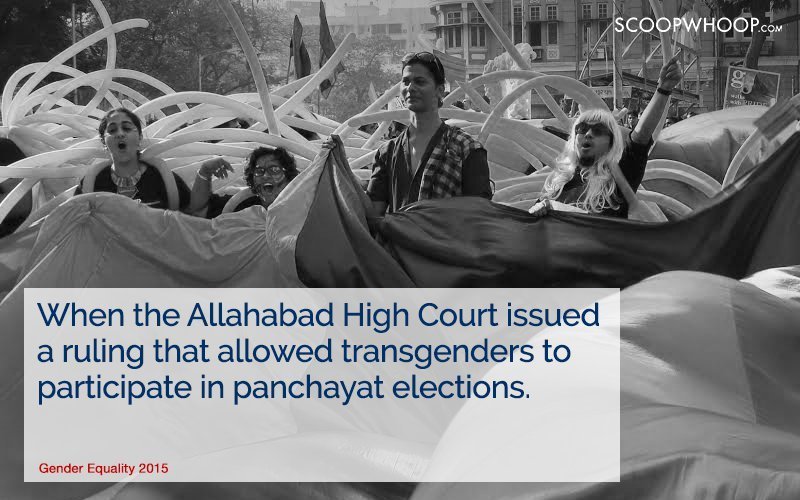 The Allahabad High Court provided for the inclusion of third gender and transgender candidates in the documents of panchayat elections, including nomination papers.
15.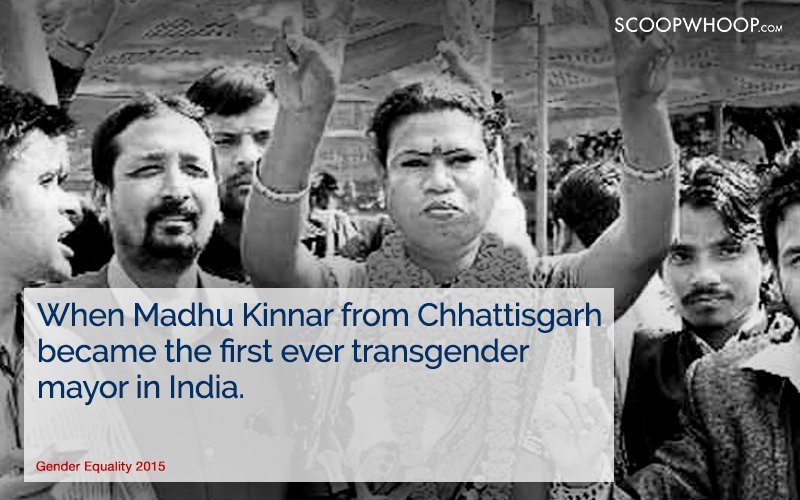 Madhu Kinnar became the first transgender from Raigarh, making Chhattisgarh the first state in India to get a transgender mayor.
Let's hope 2016 takes us further on our road to obliterate the evils of patriarchy.