Anybody who has been to Lands End in Bandra, Mumbai, will know that the place is no less than a picnic spot. With the gorgeous sea on one side and the residence of one of India's most loved actors, Shah Rukh Khan, on the other, Lands End is always brimming with people, mostly standing in queue to get clicked in front if SRK's iconic property, Mannat, which is heavily guarded 24×7.
However, SRK's fortress got painted by a bunch of anonymous 'fans' who made a graffiti on one of the walls of his bungalow while the superstar was away. The graffiti read:
"Luv U SRK. C U on 15th."
Here is a photograph of the wall: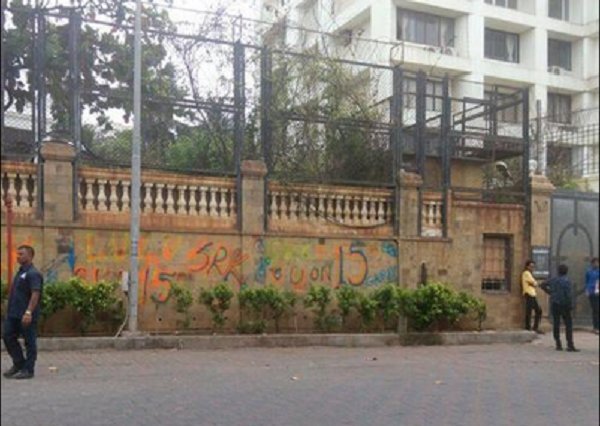 Surprisingly, the security guards at Mannat were clueless about the incident and discovered the graffiti much later. It was undersigned by a certain Gaurav though his intentions still remain unclear.
However, it has gone viral on social media and SRK's fans were quick to react to the situation on Twitter by posting pictures of 'newly painted Mannat'.
And this is what Shah Rukh Khan, who's abroad shooting for Dilwale, had to say about it:
Meanwhile, the guards at Mannat won't be removing the graffiti until SRK returns to India and asks them to.