Hyderabadi cuisine has emerged in its present form after the ingredients of Middle Eastern and Awadhi cuisines simmered together for a long time. Most of the Hyderabadi delicacies require time and constant attention to be cooked. So naturally it's a treat for the seasoned food fan.
Shadab hotel near Charminar , Cafe 555, Karachi bakery and lots of other eating joints beckon an enthusiastic eater to the Golconda bowl. Some of the dishes through which the charm of the Falaknuma cuisine of this city shines are:
1. Kachhi Gosht ki Biryani
Biryani is mutton marinated in traditional Indian spices cooked with basmati rice? No that's not it. After marinating the mutton it is given a healthy dip in lots of yogurt. The mutton is then embraced by long, flavorful, fragrant grains of Basmati and steamed in a dough-sealed handi over coal. Drooling?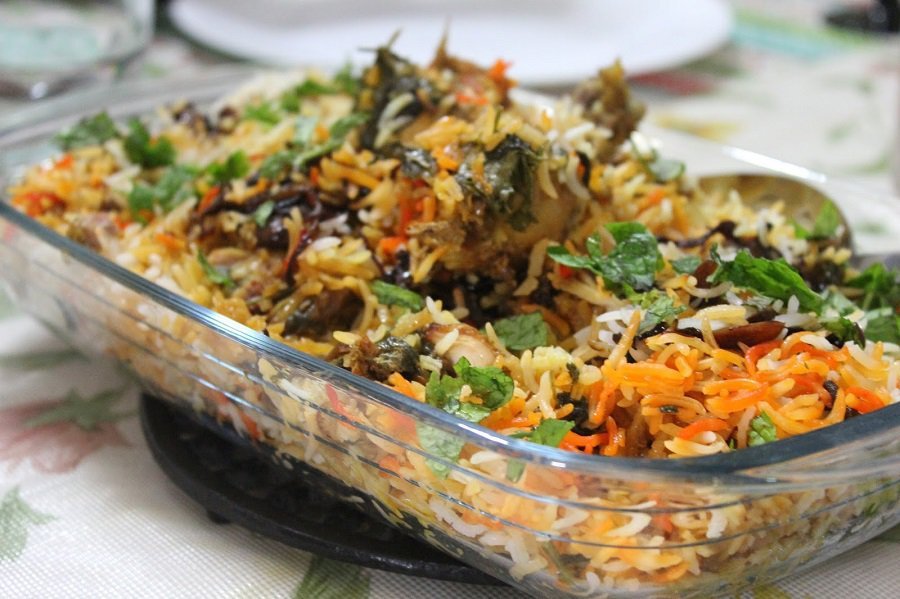 2. Patthar ka Gosht
Patience is the key to cooking this melt-in-your mouth delicacy. Choicest spices are used to coat the meat which is then left overnight to create the best infusion. The meat is then placed on a thick slab of stone and cooked over coal which gives it a silky and tender texture. A feast for your senses!
3. Qubani (or Khubani) ka meetha
Apricots can never taste better than they do in this Hyderabadi dish. Dried apricots are cooked with sugar on a slow fire like a compote. Rose water and kewra water lend a floral temper to the dish. The apricots are then served with blanched almonds and cream. Heavenly sweetness!
4. Haleem
The fact that it is the only non-vegetarian dish to have a Geographical Identification Status says a lot about its popularity in India. Lentils, meat, and pounded wheat are cooked on a low fire-flame for close to twelve hours to create this dish. It is highly nutritious and needs to be tended to continuously by stirring with wooden paddles during the entire cooking time. The end result is definitely worth the effort!
5. Double-ka-Meetha
No, it's not just a bread pudding. Crispy fried double- roti (bread) slices are dipped in hot milk spiced with cardamom and saffron. The slices soak up the milk and it's creaminess as well as the spices which spike the dish up. Served with neat pieces of blanched almonds make it difficult to stop eating these.
6. Mirchi ka Salan
All the defining ingredients of Hyderabadi cuisine like sesame seeds, dry coconut and tamarind go into the making of this curry made of peanuts and mirchi ! The grainy texture of the curry and the shock of chillies sticks to your tongue after you've gulped down some. To get rid of the spicy sting you eat some more and more and more!
7. Baghare Baingan
Deep purple baby brinjals, stuffed with a paste made of sesame, groundnuts, coconut and other spices is fried in hot oil tempered with Indian spices. Mouth watering, eh? The brinjals are then left to simmer in a fragrant spicy gravy made with groundnut oil and Indian spices. Twice as mouth-watering!
8. Gil-e-Firdaus
This dish is a must try, for all those who think lauki is not that exotic. Shredded lauki is cooked with soaked sabudana and milk. As the dish simmers, the lauki becomes creamy and its juice lends a unique flavor to the kheer . A treat for both. you and your stomach.
9. Osmania Biscuits
Some say that the dietitians of Osmania general hospital came up with this biscuit to fulfill the nutrition requirement of patients. Some say they were named after the Mir Osman Ali Khan , the seventh Nizam who loved these so much that he sent a car especially to pick some for him from Abids. With the flour and butter, custard powder and some Indian spices go into making these 'tough' cookies. Aren't you craving for these golden beauties?
10. Irani Tea
The Persian migrants who travelled to Hyderabad from Mumbai in search of trade, brought with them this "90 ml" drink. Irani chai is prepared by pouring hot milk in a cup and then adding water boiled with tea leaves. Traditionally served in 90 ml white cups, several cafes on the outskirts retain this flavorful beverage in their menu. Cheers!
11. Lukhmi
A savory starter of Hyderabadi cuisine, Lukhmi derives its name from Loqma meaning morsel. It is the non-vegetarian version of the samosa . And of course a much richer version. Spiced, minced meat is stuffed in dough balls prepared from flour and yogurt and given a rectangular shape. It's then fried to a golden brown color and served crisp and hot.
12. Chaakna
Goat tripe and liver are the primary ingredients of this rich Hyderabadi stew. The goat tripe is cooked in a pressure cooker with Indian spices until tender then sauteed with chillies and oil in a pan. A mixture of corn flour and sorghum flour is added to thicken the mixture. The dish is garnished with coriander which gives it color and lemon juice.
13. Pasinde
Pounded veal is marinated with Indian spices and yogurt for 6-7 hours then cooked until tender in a pressure cooker. The meat, potatoes and french beans are cooked with onions, roasted khus khus, chironji and other spices. It's a traditional dish in Muslim families.
14. Bheja or Maghaz masala
This deep fried goat's brain is a delicacy that Hyderabad is famous for. The brain is fried in oil tempered with Indian spices like cumin. The simple to make dish is rich and delicious. One Bheja fry we would definitely love!
15. Malida
Deep fried pooris of rava and maida are pounded and cooked with milk and mava and eggs to make this dessert. The eggs make the dish thick and smooth. Garnished with a generous sprinkling of mava and blanched almonds make this dish irresistible.
16. Moz ka Meetha
A simple yet delicious dessert, its made by cooking mashed, ripe bananas in sugar syrup. The thick, sweet dish is garnished with nuts and cream. Burst of banana!
17. Dalcha
A stew of mutton and chana dal. The tamarind paste, an indispensable part of Hyderabadi cuisine lends the dish a tangy and lip-smacking flavor which is hard to resist.
18. Nihari
Lamb/goat trotter, head bones,bone marrow,lamb shanks and tongue are cooked overnight on a low-flame with several spices to make this dish. A gravy is prepared with oil, onions and other spices and the overnight prepared meat is added. The dish is cooked to a broth-like consistency and served with a garnish of fresh green coriander.
19. Badam ki Jali and Ashrafi
Something like a guarded secret, these lesser known sweets of Hyderabad are the product of a certain Nasreen's mother -in-law's brain. Almond meal (only the local mawa variety) and sugar are the primary ingredients of this beautiful and delicious dish. Eggs were initially added but not anymore. The sweets can be found exclusively at Nasreen's in Azizbaug , Near Noor Cafe, Noor Khan Market, Old City, Hyderabad.
20. Hyderabadi Kebabs
Hyderabadi cuisine combines the cuture of middle-eastern cuisine with traditional south Indian spices. The kebabs of Hyderabad show this seamless fusion. Be it the boti and choti kebabs of Paradise or the kebabs of Siddique, the aroma and the taste is inviting for all your senses.
These are but twenty gems from the Nizami kitchen. There is a lot more waiting to be explored in Hyderabad. So head out and dig in! And do write in about your favorite Hyderabadi dish.
Feature Image by Sanjay Borra