Throughout the time we've seen print ads or watched TV commercials, there have been quite a few memorable ones that have captured the viewers' imagination. Among the ads that did catch our eyes, some of them were seen as breaking moral norms and were pushing the envelope a bit too far, by both authorities and the viewers alike.
Here are a few advertisements that had to face a lot of flak for being a little too edgy for the Indian viewer.
1. Amul Macho TV Commercial (2007)
This Amul Macho advertisement was a launching pad for model Sana Khan , where she was seen exhibiting some over the top and sexually suggestive expressions while washing a man's underwear and the words "yeh toh bada toing hai" being repeated in the background. This ad campaign saw the IB Minister of India ban its screening but soon after, the Advertising Standards Council of India cleared it for public viewing.
2. Tuff Shoes Footwear Print Ad (1995)
Perhaps one of the most controversial print ads to date, Tuff shoes footwear displayed then models and allegedly dating couple, Milind Soman and Madhu Sapre caressing one another, posing nude with a python wrapped around them.
Besides having a case of obscenity filed against it, this ad saw animal right protesters filing another under the Wildlife Protection Act for illegal use of the python, in order to get the hoarding off the street. The legal proceedings lasted for 14 years, until the court declared the accused as not guilty in 2009.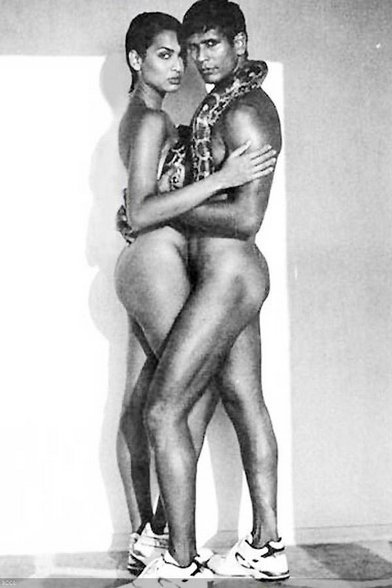 3. Calida Print Ad (1998)
This ad featuring Bipasha Basu and Dino Morea remained etched in people's memory long after it was taken down. Shot in 1998, Dino Morea was seen pulling off Bipasha Basu's underwear with his teeth.
A number of women's rights organizations opposed this ad and eventually it was banned. Bipasha Basu later claimed that those were some private moments that were not meant to be photographed and used.
4. Fastrack TV Commercial (2011)
Cricketer Virat Kohli and actress Genelia D'Souza were hired by Fastrack for a series of commercials. One of these commercials featured Kohli as a pilot and Genelia as an air hostess, where the air hostess tries seducing the pilot and eventually succeeds, with both making love in the cockpit while the plane is still in mid-air.
This ad was condemned by several Aviation companies, however, the cases filed against it were not upheld.
5. Idea TV Commercial (2011)
This ad saw junior Bachchan discussing the issue of overpopulation with a friend. The ad then goes on to show that due to the frequent power cuts in India, the husbands watching TV in their homes are interrupted and they then go ahead and make love to their wives, causing pregnancies and in turn overpopulation.
Idea's 3G services would thus keep the husbands distracted long after the power is cut and impede this crisis.
6. Zatak Deo TV Commercial (2010)
The ad shows a woman on her suhaagraat waiting for her husband to come to the bedroom. She is sitting on the bed, chilling, when suddenly she is hit by a whiff of perfume fragrance and she rushes to the window to see where it is coming from. She sees her neighbour wearing the perfume and then eyeing her sexually. The ad ends with the woman taking her wedding ring off. This commercial faced a lot of flak from feminist organisations.
7. Ford Figo Print Ad (2013)
Depicting scantily clad and gagged women in the back end of a Figo , this ad ironically came less than two days after months of public outcry about the need to protect women from sexual violence which led to the passage of a new anti-rape law by Parliament.
Created by individuals within JWT India , a unit of the world's biggest advertising group WPP , it's been reported that they did not go through the normal review and oversight process. This Ford-Figo campaign, which hit the headlines for the wrong reasons, blew into a controversy where the creators thought it would be taken with a smile.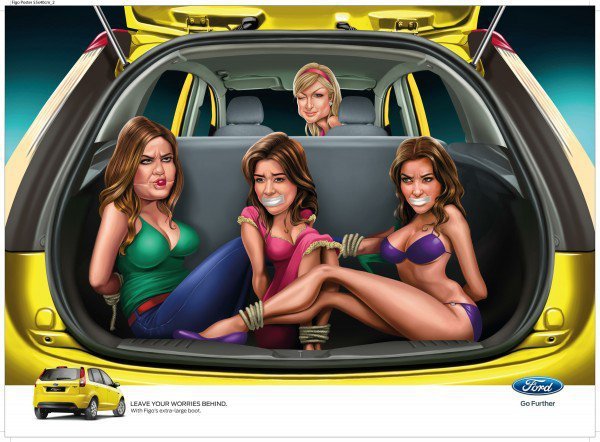 8. Kamasutra Condoms TV Commercial (1991)
This ad which aired in 1991, featured Pooja Bedi and Marc Robinson in a shower scene. This was after they were featured in an ad series for the same company showering under a waterfall earlier which had led the company to advertise their product in this fashion. The TV commercial was banned on Doordarshan since it challenged conservative Indian sensibilities. Other media channels refused to carry this ad as well.
9. Lux Cozy TV Commercial (2007)
A man wearing his Lux Cozy underwear is chasing a dog who pulled away his towel, when suddenly a scantily dressed woman comes up to him and gives him a peck on his cheek, stares at his crotch and thanks him for finding her dog. The ad then ends with the tag line "apna luck pehen ke chalo".
This Ad was given an all clear signal by the ASCI when it was under question but the Ministry of Information and Broadcasting banned transmission or re-transmission of the ad on the grounds of being indecent, vulgar and suggestive.
10. Motorola TV Commercial (2008)
This ad for the phone Motorola C550 was banned from airing in India, and for very obvious reasons. The video was encouraging people to be perverts in public with the help of the phones camera which can take pictures instantly. Check it out.
11. Wild Stone Deo TV Commercial (2007)
A company from West Bengal, that was virtually unknown, made quite an entry into the market thanks to the controversy surrounding this ad. The ad shows a homely Bengali woman bumping into a man during Durga Pooja celebrations, and because of his deo she gets turned on is compelled to have sex with him.
The ad was not banned, but a highly censored version was aired on television. This is the version available on YouTube.
12. AC Black Apple Juice Commercial (2002)
These ads were released with the intent to boost sales as the cricket world cup was nearing and the ad would be aired in between the matches. In the TV ad, a man is seen drinking apple juice at a bar, checking out a woman. With each sip of the juice, the woman's neckline goes deeper. The commercial was instantly banned and the company had to face major financial backlash.
13. Mr. Coffee Instant Coffee Print Ad (Early 90s)
The ad was not well received by Indian authorities. The tagline, "Real pleasure can't come in an instant", and the commercial, due to its sexual overtones generated quite a controversy at a time when Indian viewers were just beginning to deal with international standard in advertisements.
14. Levis Jeans Print Ad (2001)
These ads featured women wearing low rise jeans and the intent of the company was to make Indian women feel more comfortable in their skin and make bold fashion statements. The ad boosted the sales of mens' jeans as well which was completely irrelevant. The ad was not banned but created a stir with the authorities.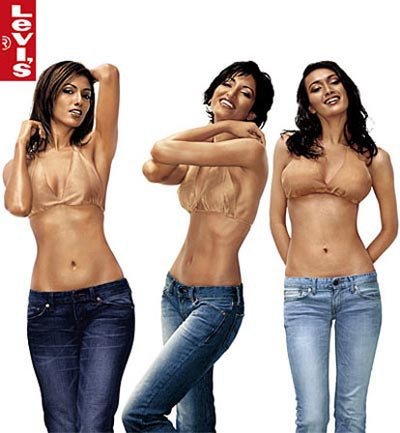 15. Bisleri TV Commercial (Early 2000s)
The tagline of Bisleri transferred from 'Pure and Safe' to 'Play Safe' in 2002 as they had introduced a new cap for protection of the seal of the water bottles. It was hoping to target the youth and convey a social message for safe sex but the same was not well accepted in India the ad was banned.
This TV ad showed a playful couple on the beach, when suddenly the girl start breathing heavily, and started itching for "something". The man then frantically starts searching his pockets, the car, his bag, and finally goes to a chemist and comes back with a bottle of Bisleri, as the woman was actually, surprise, surprise, thirsty for water.
Whatever said, these commercials successfully compelled the Indian viewer into taking a peek!