We Indians love food. So we live a King's life when we get our paycheck or allowance at the end of the month. We treat ourselves (and most generously our friends) to the best that is available and end up spending eight parts out of ten of our money in the first two weeks. Then begins the struggle to find cheap meals twice a day.
Worry not! Indians have the choicest variety of food available at unthinkable prices. Whether you are a cash strapped traveller who will scourge the city to find food at cheap prices or the broke student, you can find one of the following twenty meals in India which won't set you back for more than twenty bucks:
1. Rajma Chawal @ Rs. 20/plate
Perhaps the most filling dish one can find in the narrow alleys and the bustling college canteens of North Indian cities like Delhi. A big ladle of rajma over a plate of steamed rice is enough to fill one up for a while. If the vendor is generous and serves onion rings on the side, your day is made!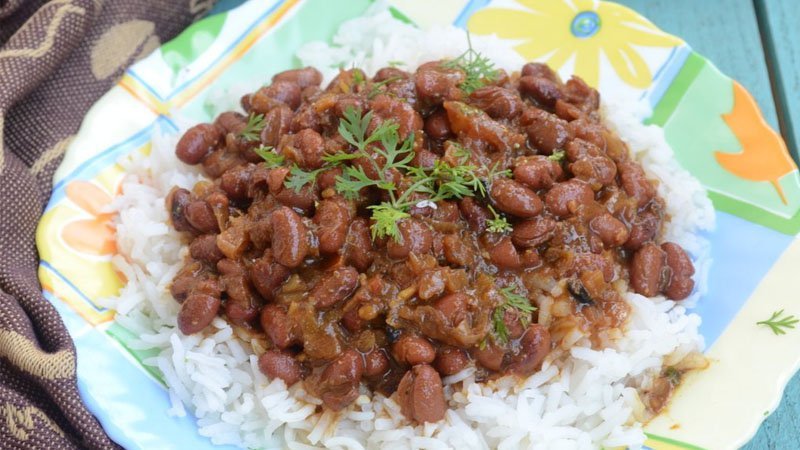 2. Momos @ Rs. 20/plate
These steamed dumplings have stormed the streets of the country. One can find vendors at tiny tables with hand made posters in the front declaring the assortment of momos they carry in the steamers. The deep red concoction of red chillies and spices that they pour on the side makes both the eyes and the mouth water.
3. Egg Curry @ Rs. 20/plate
So you are a hardcore carnivore but don't/can't shell out much at the moment-a plate of steamed rice and egg curry is the answer. A generous sprinkling of chopped coriander and green chilli on the top is recommended. In the narrower streets and lesser known markets you can find a plate for 20 bucks.
4. Litti Chokha @ Rs. 10/plate
Wheat or sattu balls baked with a decent helping of ghee over fire is litti for you. The traditional accompaniment is a spiced up baigan ka bharta cooked with tomato and potato which complements the dry and ghee-laden littis . This dish can be found for less than 20 rupees in Bihar and certain regions of UP.
5. Chhole Kulche @ Rs. 20/plate
A dona of spicy chhole topped with chopped onions accompanied with two kulchas warmed over the tawa is one of the best meals one can rely on to fill oneself up. The occasional mirch ka salan on the side makes it even better. Reach the local market in North India and spot the big copper matka . A good dish will cost 20 bucks.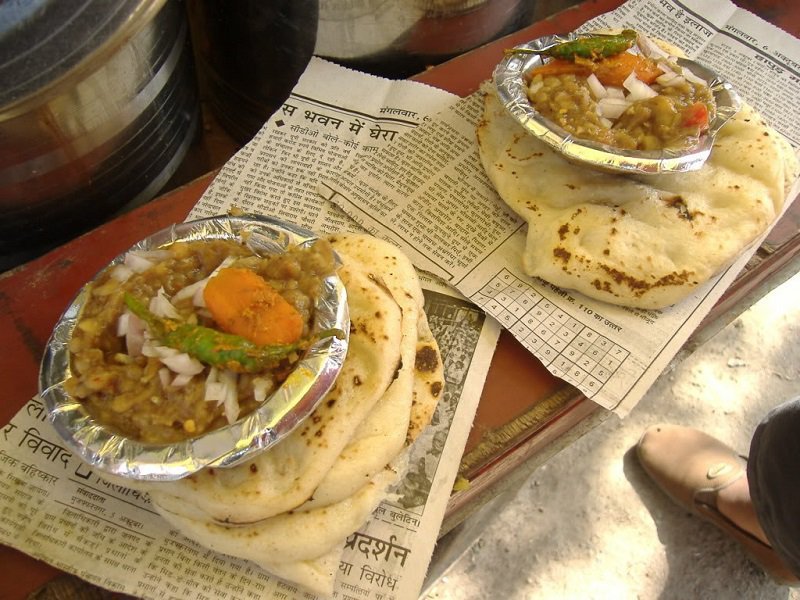 6. Dosa @ Rs. 12/plate
Fermented batter of rice and dal poured over a hot skillet and cooked into a crisp and thin delicacy–this is a reliable and cheap staple of all Indians. The sambhar cooked with a combination of all good vegetables and spices raises the nutritional value as well as the taste of the meal. You can find a plate for as little as 12 rupees in certain villages in Chennai and college canteens in Delhi.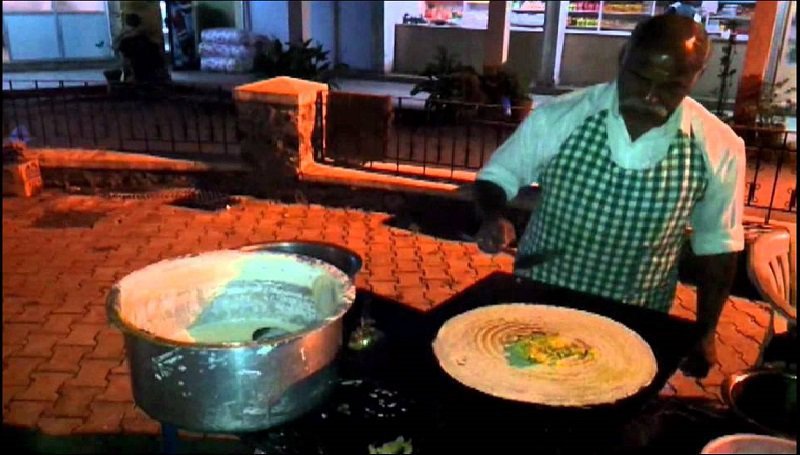 7. Thukpa @ Rs. 20/bowl
A Tibetan soup cooked with noodles, one might find it the most easily available staple in the higher reaches of the Himalayas in the North East and freely available in the lanes of Kolkata's College street for as less as 20 bucks. From veggies to chicken, anything can supplement the noodles in this steaming dish.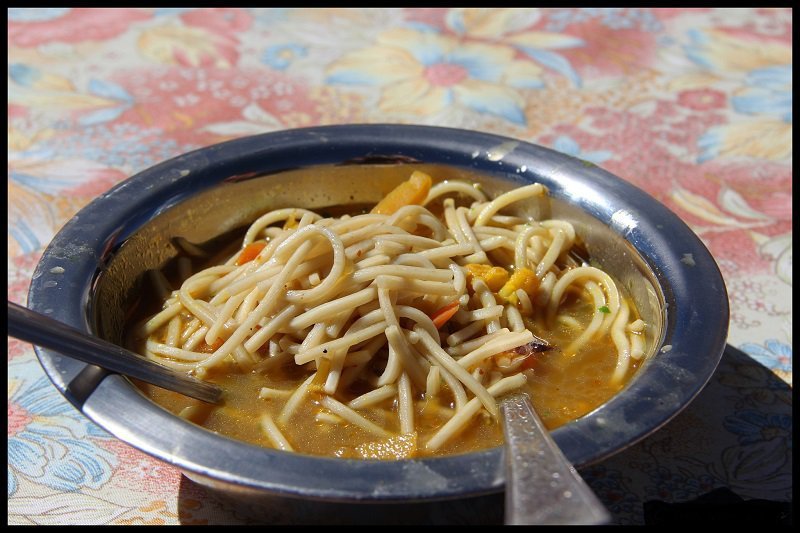 8. Vada Pao @ Rs. 10/plate
The deep fried ball of potato stuffed between a slit bun layered with powdered chilli and topped with a slit green chilli is all one needs on a rainy day walking on the streets of Shirdi . A cutting chai on the side is enough to satisfy a grumbling tummy and together with two Vada Paos won't cost more than 20.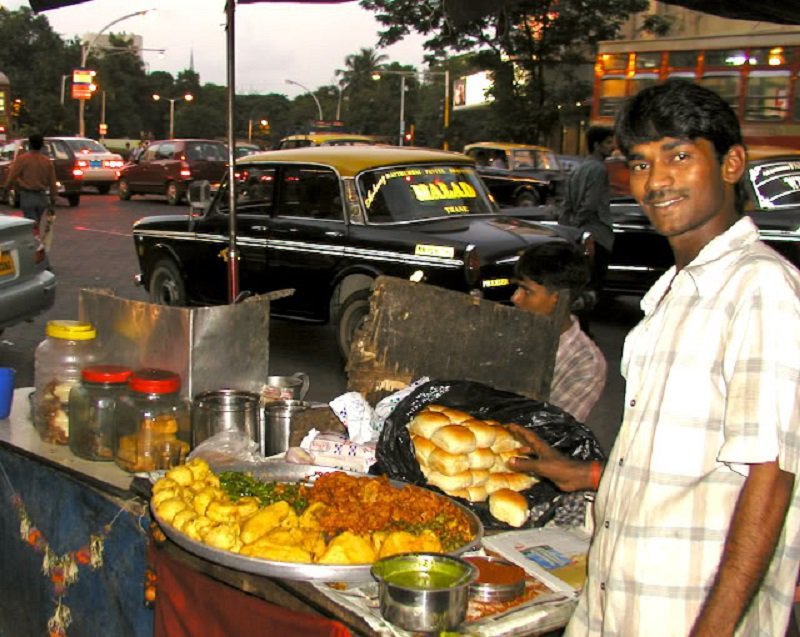 9. Maggi! @ Rs. 15/plate
Chhoti ya Badi -all kinds of hunger is satisfied by this one name in India. There is a lot of scope to explore different flavors and a customer is hardly ever disappointed with what is on the plate. Ranging from the summits of the Himalayas to the college canteens, one can rely on this dish even if one can spend only twenty rupees.
10. Kachori+Subzi+Chutney @ Rs. 15/plate
Deep fried balls of flour flavored with fennel seeds served with a hot and spicy dish of aloo ki subzi is the perfect meal for those winter days when your stomach craves for a delicacy which is high on calories and fills you up instantly. The tangy and savory chutney on the side heightens the experience of eating. In the village fairs across India, one can find a plate for less than twenty rupees.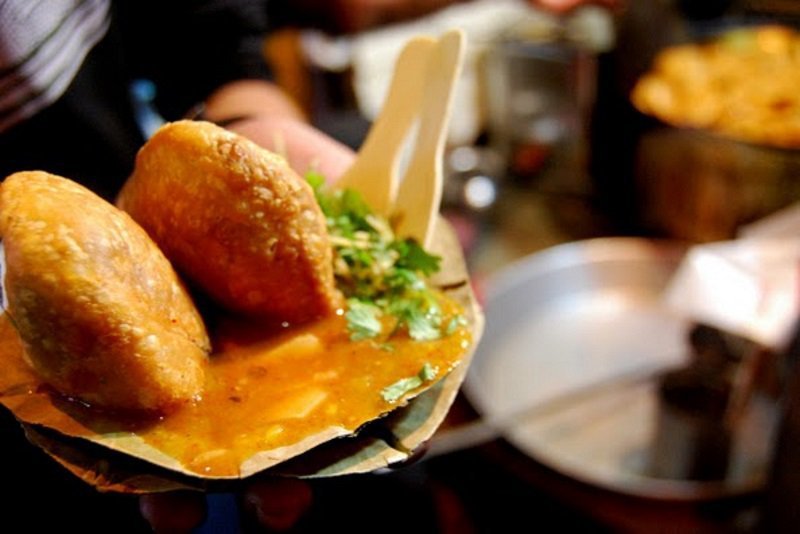 11. Sabudana Khichdi @ Rs. 20/plate
Soaked sabudana cooked with Indian spices and groundnuts, Sabudana khichdi is freely available in the streets of Pune, Mumbai, Indore and other cities for as less as twenty bucks. The meal is high on carbohydrates and will boost your energy levels.
12. Burgers @ Rs. 7/piece
A flat patty of potatoes and spices stuffed between a bun layered with slices of onions and tomatoes and smeared with a hearty helping of tomato ketchup-a desi burger thela selling two for twenty rupees can be spotted by the observant foodie.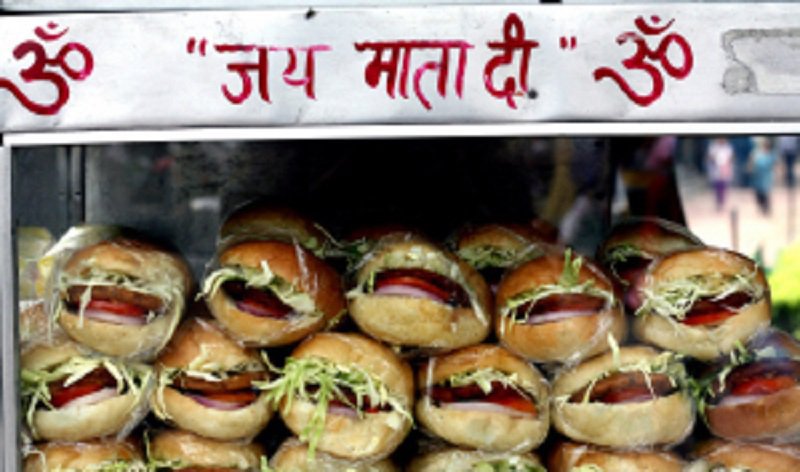 13. Kadhi Chawal @ Rs. 20/plate
Tangy and spicy kadhi with steamed rice-when away from home, this is what most of us miss. The dish does not really need an accompaniment and one can easily find it for less than twenty in the canteens of colleges and small cities.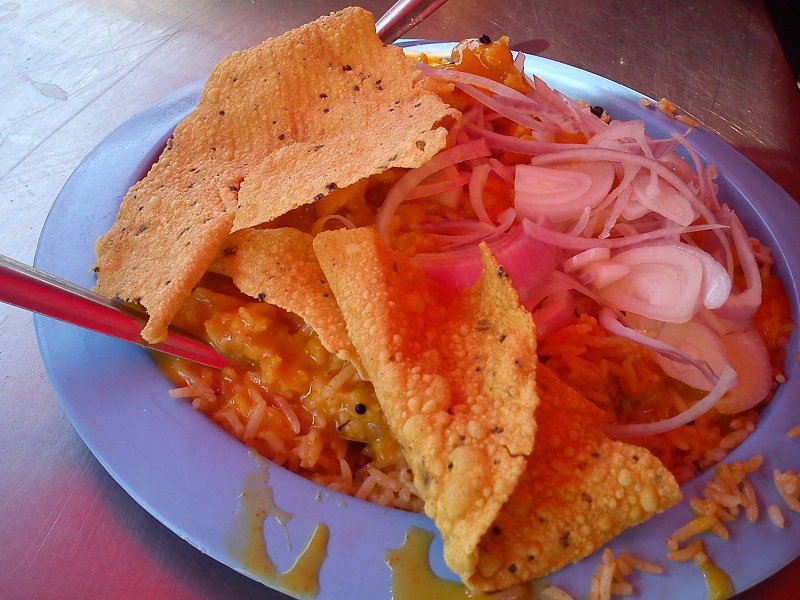 14. Paranthe @ Rs. 20/piece
North Indians are in love with this Indian bread. Versatile and accessible, one can find paranthawallas in all small streets with their own special menu of stuffed paranthas . As a meal with dahi and achar on the side, a stuffed aloo parantha can be found for twenty rupees in most of the North Indian cities.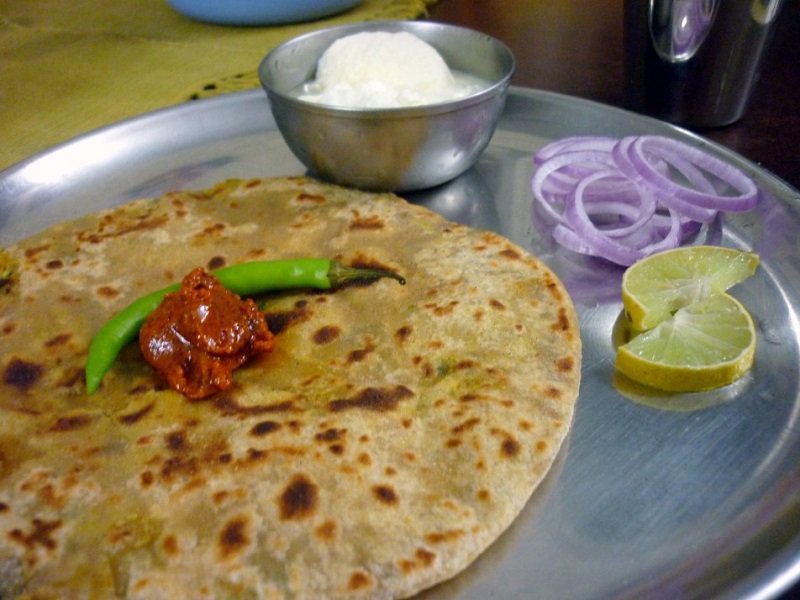 15. Biryani @ Rs. 20/plate
This royal dish has successfully been adapted by the streets. In the bustling lanes of Jama Masjid (Delhi) and College street (Kolkata) one can find the cheapest yet delicious non-veg biryani for as little as twenty rupees. Its advisable to pour at least a ladle of curd on the plateful of biryani to soften the effect of the chillies.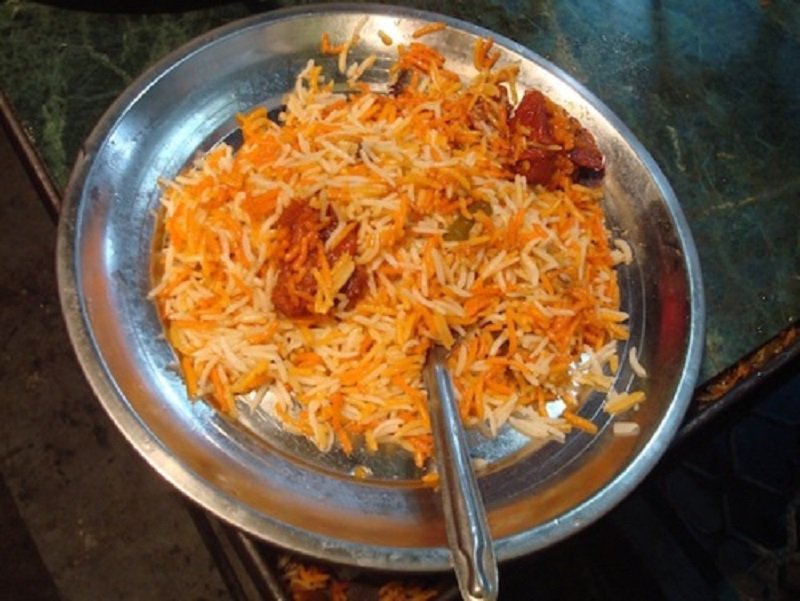 16. Bread Omelette @ Rs. 20/plate
Sunday ho ya Monday-Roz khao Ande! If in a hurry and low on cash (only twenty rupees), one can always find a vendor selling golden omelettes encrusted with chopped onions and green chillies along with two slices of buttered white bread. This can fill you up for a while. On the Go!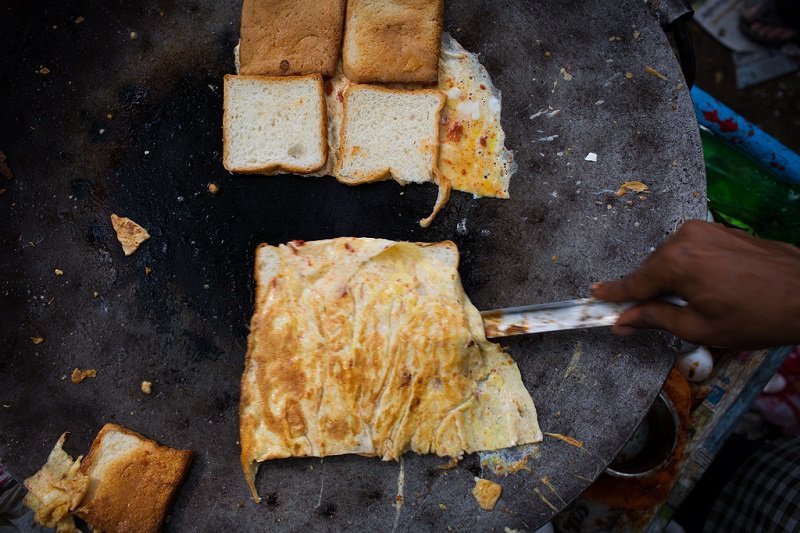 17. Pitha @ Rs. 20/plate
Fermented rice batter and a filling ranging from grated coconut and jaggery to several vegetables make this Oriyan staple. Nutritious and filling, it won't set you back for more than twenty bucks for a plate.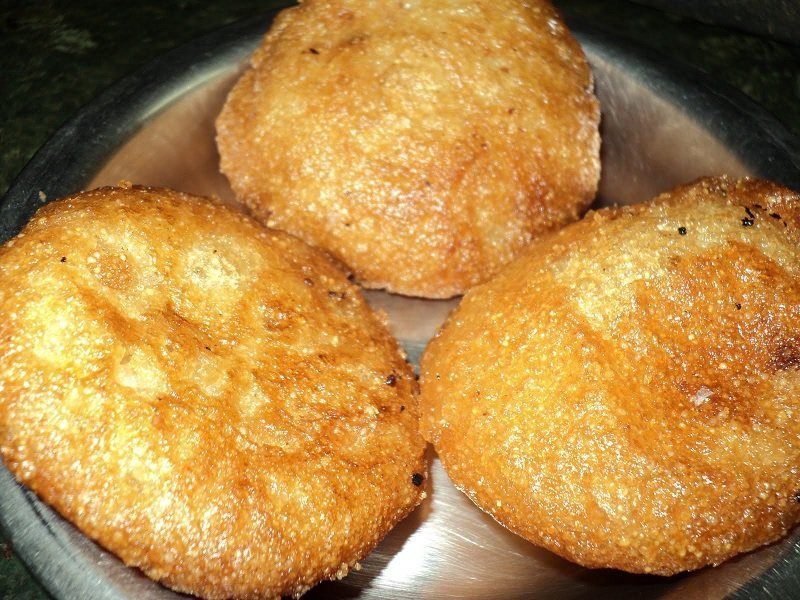 18. Rolls @ Rs. 18/piece
Rolls are very much the rage in this country. Depending on your personal taste you can choose from a wide variety on offer and which won't cost more than twenty either.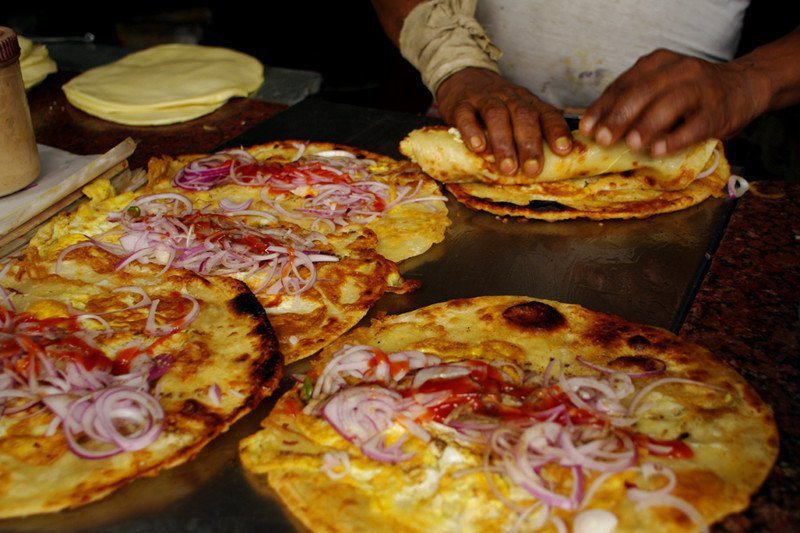 19. Idli @ Rs. 10/plate
Fluffy, steamed idlis made of fermented rice batter accompanied by a bowl of sambhar loaded with vegetables is the perfect solution for one's hunger at an affordable price of twenty rupees, in the streets of South India and college canteens in Delhi.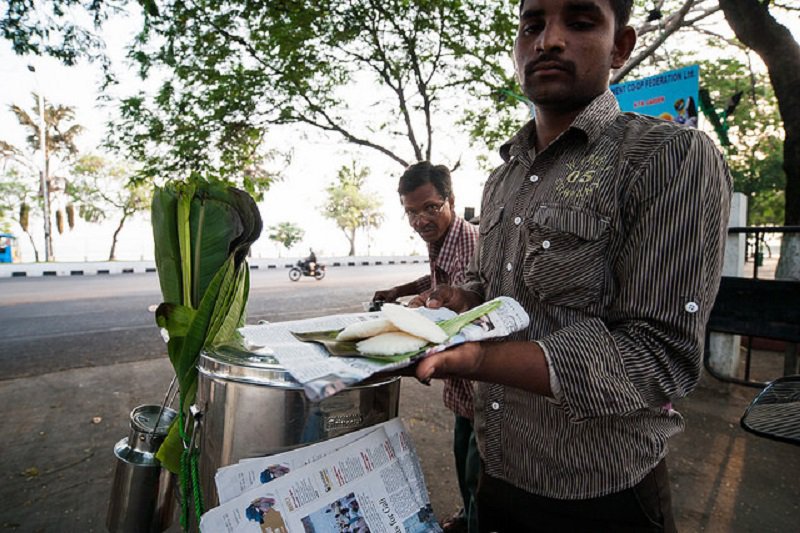 20. Pao Bhaji @ Rs. 20/plate
Yes, the favorite street food to be found on the streets of India. The tempting bhaji tempered with chopped onions and coriander is tempting to say the least and the nukkad wala vendor will sell a plate for twenty bucks.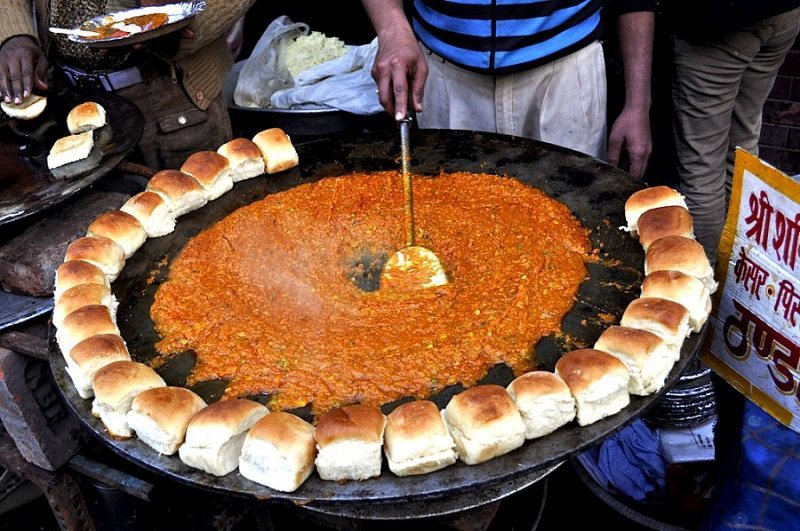 Next time, don't say "bhai, paise kam hain!" Say-Bon appétit!