When the air gets chillier, and the lights brighter, we know that the wonderful festive season is here. And the favourite thing we like to do is get all decked up, eat loads of sweets and gain some holiday weight. And of course, paint our palms with the most beautiful mehendi designs. But gone are the days of the traditional red henna!
Now, you can get beautiful intricate designs of white henna on your hands!
The newest trend amongst women, it comes in a cone as the traditional henna does and is super easy to apply and you just have to peel it to take it off. Super cool, isn't it?
White Henna Tatts…. #whitehenna #summertattoos #henna #festivalstyle #festivalfashion Coming soon girls…
It's super easy and and you can experiment all you want with the designs.
Go the traditional way
Happy Karva Chauth ladies!We hope the moon has been kind! Introducing a twist to the regular Mehendi that's gathering a lot of attention globally – White Henna! What do you think about it? #thebridalaffair #tbai #luxury #vintage #inspiration #henna #whitehenna #white #design #karvachauth #fast #india #bride #bridetobe #wedding #husband #wife #love
Or go all tribal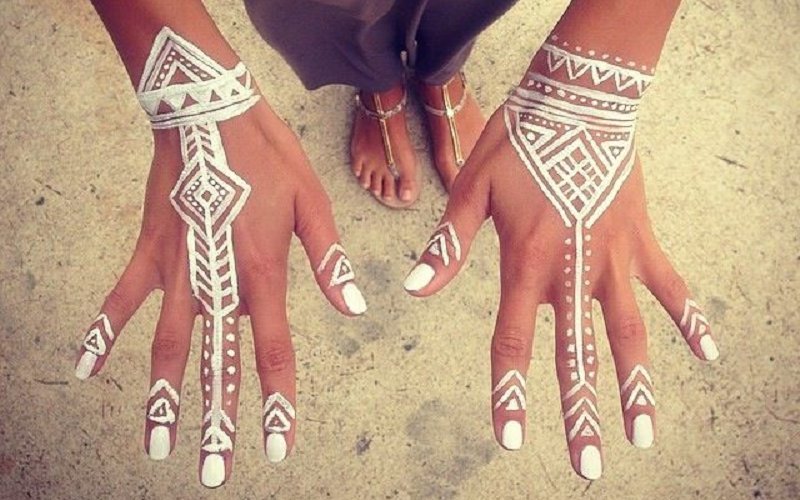 Source: pinterest
Or a bit quirky
I tried to do white "henna" #henna #whitehenna #hand #hands #nail #nails #nailpolish #red
It's perfect for your little kids as well
#whitehenna #happy #mehndi #kurikiyo #henna #design #art #japanese #japan #hennaart #メヘンディー #ヘナ #ホワイトヘナ
And it's not just for your hands. You can use white henna to create temporary tattoos as well.
White Henna is here!! Book your appointments today! (SIM students can opt to do it in SIM) Contact 93879763 for more info! Thanks to @mirchelley White henna from: syraskins #henna #hennasg #sghenna #sghennaartist #sgwhitehenna #whitehennasg #whitehenna #cheaphenna #singapore #sg #cheaphennasg #singaporehenna #singaporehennaartist #whitemehendi #mehendi #mehndi #sgmehendi
So chic!
Hmm @goldnineink #whitehenna #tammanahennajewelery #tamannaroashan
The best part, you can order it online. It's available on websites like alibaba , hennacones and others.
So, go ahead and paint your brightest and quirkiest mehendis on this festive season!