Pakistani cuisine is probably one of the best ways to pamper your taste buds while taking yourself on a cultural extravaganza. Geographical and cultural differences create a wonderful amalgamation of a delicious cuisine which you have to taste to believe. Be it the sea food of the Sindhs or the kebabs of Pashtoon, the food has a distinct taste which every foodie needs to enjoy at least once.
Here is an attempt to introduce some of the stars of Pakistani cuisine which are must-haves for every foodie :
1. S
ajji
The favorite dish of the Balochs , Sajji is popular throughout Pakistan. The Balochs loves meat, be it tender lamb or chicken. No wonder they love this dish made of lamb (or chicken). In fact who would mind whole lamb/chicken in skewers when it is marinated in green papaya paste, stuffed with rice and baked over coals? (Of course vegetarians but pretty much no one else). A must have dish!
2. K
adchgall
A sweet cheese flavored with just the right amount of salt, the Pashtuns are credited with its discovery. Rubbery yellow cheese, it is hard and springy in texture and is made with sheep milk. In the absence of sheep milk, camel milk is often used.
3. S
heer chai/ noon chai
A green tea flavored with salt and pistachios, it is a popular beverage in the Kashmir region. The winters of Pakistan are colored by its pink hue that is imparted by the sodium bicarbonate added to it.
4. Chapli Kebab
Pashtoons cherish this delicacy made of minced meat. It is spicy and can have anyone standing around salivating in no time! Mardan in Pakistan is especially famous for making the choicest chapli kebabs. So remember to head there whenever you can.
5.
Bakarkhani
It features prominently in the muhajir cuisine of Pakistan and is a biscuit like thick flat bread with a crusty surface. The bread was named after a Bangladeshi general Bakar and his love interest Khani begum in the 1800s after Khani died because of the feud between her two suitors. Though variants like the Bakarkhaani naan can be found in Kashmir, the Pakistani bread is a must try.
6. Sardai
A traditional summers drink made with hasheesh, khaskhash, almonds and char maghaz (sunflower, water melon, pumpkin and cantaloupe seeds ), this almond milk is delicious to say the least. It is also famed to boost memory! So drink for your grey matter!
7. A
loo gosht
One of the comfort foods of Pakistan, this gravy based dish is a must try to complete one's experience of Pakistani cuisine. The dish comprises of aloo cooked with chunks of lamb or mutton in a stew-like shorba gravy until tender. Choicest spices and herbs added for the extra flavor.
8. M
ultani/Sohan Halwa
A caramel colored, brittle disk of halwa prepared with milk, sugar, water and cornflour, you need strong teeth to enjoy this dessert. The dish is supposedly Persian in origin and was brought to the continent by Humayun in the 1500s. Hafiz ka multani halwa is the best you one can taste.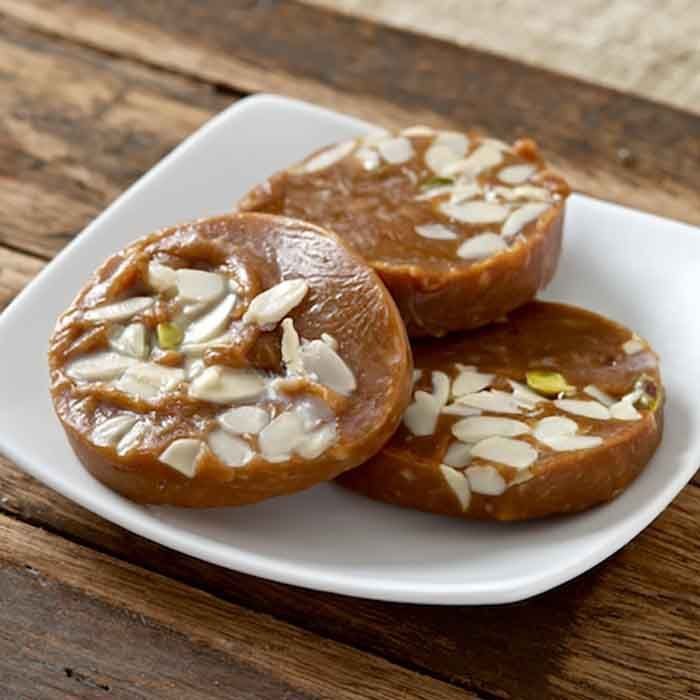 9.
Yakhni pulao
Meat stock is called yakhni in Persian aand that's where the dish derives its name from. Yogurt is aprimary ingredient which is mixed with the stock to make this unique dish. Ginger and fennel seeds up the spice quotient. It is believed to be brought to the Kashmir region during Akbar's rule.
10. Peshawari karahi/ balti
A must-have dish for Eid-ul-azha, karahi gosht is a luxurious dish which derives its name from the wok-like utensil ( karahi ) in which it is prepared. Pukhtun town near the Khyber pass is credited with the discovery of this dish. Spicy, rich and delicious, this dish will make your mouth water!
11. M
utanjan
To the popular south asian zarda , add delicious fruits and murabbas, what you get is mutanjan. Another difference is that the primary ingredient-rice grains, lend a lot more color to the dish, making it a carnival-like feast. This dish is a must at all wedding ceremonies and special occasions in Pakistan.
12.
Taftan
A Persian bread found in Pakistan and certain regions of UP. It is cooked with yogurt, milk and eggs. The flavor added by saffron, poppy seeds and cardamom powder makes the bread delicious. The golden aura of this bread will invite you again and again.
13. Khagina
This is one of the most essential items at a Pakistani breakfast table. Much like the Indian dish of egg bhurji , khagina is made with eggs, chopped onions and tomatoes. It is enjoyed with several of the popular breads or even halwa poori .
14. Gushtaba
Minced meat balls cooked in a thick gravy of yogurt and spices, it is delicious to say the least. Popularly called 'the dish of the kings', every wazwan meal ends appropriately ends with this melt-in-your-mouth dish. It can be enjoyed in the Kashmir region. If you haven't tried this, you are missing out on a lot!
15. Chargha
A famous dish from the Lahore region, it comprises of a whole chicken marinated overnight. The flavorful chicken is then fried in hot oil until crisp outside. Its tender texture is revealed to the eater as they tear chunks.
16. Kata-Kat
The dish's name is an onomatopoeia because of the sound that emanates when the meat is being chopped on the griddle. Made with offal fried in a wok and spiced up, this dish is originally from the Sindh region but has gained popularity across the country.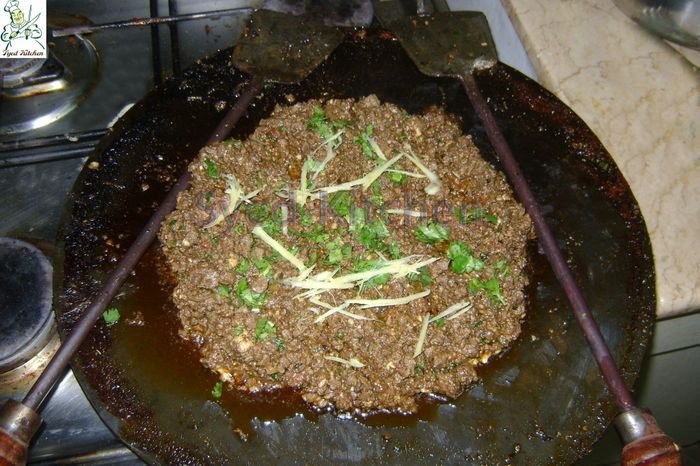 There are several other dishes like Sir-e-Paaya ki Nihari, Haleem and Harees, Beh, Pallo Machhi and others which fill Pakistan's food plate. The only way to know about all of them is to travel across the borders to taste these delicacies.