If there's one human being who can irk even the most passive and sagacious of monks, it is Kamaal R Khan. We have covered several of his antics previously, from his blockbuster movie reviews to his tweets to his usual rants. But just when we think this guy can't get any more KRK-ish (for the lack of a better word), he goes out and proves us wrong.
Apparently, he has been restless ever since Kim Kardashian's controversial butt photoshoot.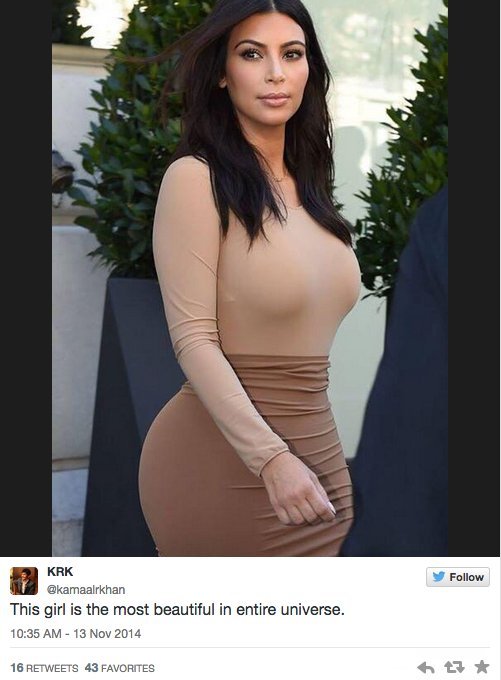 He is currently the self-proclaimed butt master of Bollywood and he's going around tweeting highly inappropriate tweets to all of Bollywood's top actresses.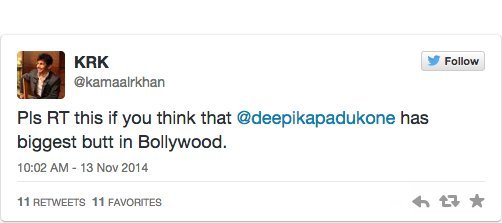 He also tweeted about Sonakshi Sinha's butt. (Apparently, the tweet has since been removed)
But little did he know that one of them would actually lash back at him and that too in a kickass fashion! None other than Sonakshi Sinha!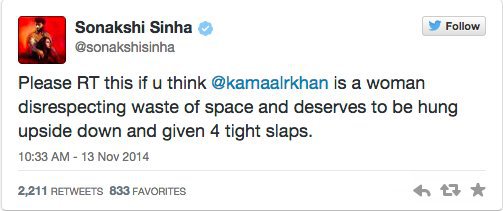 Looks like Shotgun Sinha taught his daughter to never let anyone talk shit to her!
However, KRK was quick to apologize.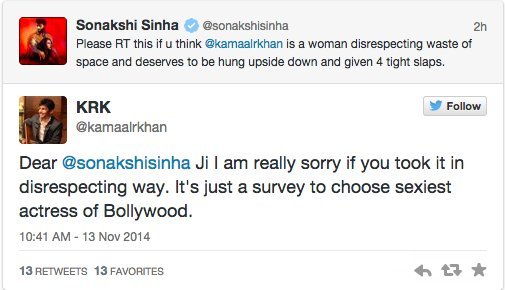 Since her 'khamosh' to KRK, Sonakshi Sinha is no more a part of the 'esteemed' survey.
In case you didn't know, KRK has started a Twitter trend of 'Please RT if you think…' and so we decided to do a bunch of our own 'Pls RT if…' Here we go.
Please RT if you think #KRK should teach the Queen how to speak English.

— ScoopWhoop (@ScoopWhoopNews) November 13, 2014
Please RT if you think Twitter should deactivate #KRK 's account.

— ScoopWhoop (@ScoopWhoopNews) November 13, 2014
Please feel free to add more in the comments section.