With the increasing number of rapes being reported all around the country with each passing day, it looks like India's reputation abroad has been tarnished beyond redemption. Things have gotten so bad now that male students are being denied foreign internships because they come from the country with a "rape problem." Yes, you read that right.
A student was denied an internship at Leipzig University by a professor, believed to be Annette Beck Sickinger, from the Institute of Biochemistry. His fault? Because he is a guy who comes from the land which suffers from a "rape problem".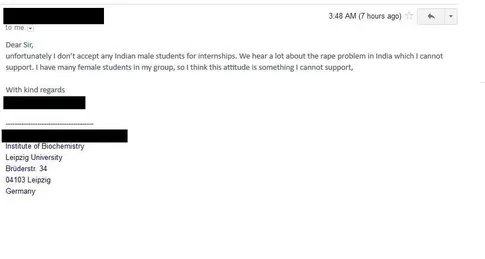 The screenshot of the mail, which was originally posted on Quora, reads:
"Unfortunately I don't accept any Indian male students for internships. We hear a lot about the rape problem in India which I cannot support. I have many female students in my group, so I think this attitude is something I cannot support."
When the student replied saying that the professor was merely generalising, she said it was unbelievable that the Indian society was not able to solve this problem for many years now. These "multi-rape crimes" are threatening but also demonstrate the attitude of a society towards women, she wrote in her mail.
The professor further added: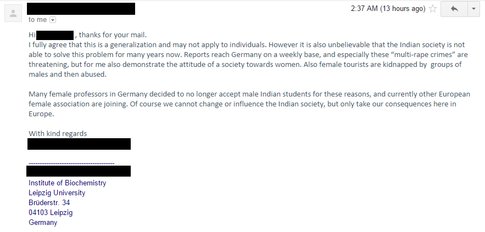 Do Indians, who come up with a new invention every other day, only come across to foreigners as rapists?
Is it fair to blame an entire country, especially all the men, for crimes against women? How can one compare the hooligans who rape women in India to the students who want to pursue further studies in Germany?
Even though the authenticity of the mails hasn't been confirmed yet, if the screenshots are anything to go by, the approach taken by the professor is condemnable.
Update : Professor publicly apologises for her remark
Soon after German ambassador to India, Michael Steiner, reacted to the issue and sent a letter titled, "My answer to an unfair judgement" to the professor, she issued a public apology.
Steiner had tweeted:
Professor Beck-Sickinger said, "I have made a mistake. I sincerely apologise to everyone whose feelings I have hurt," reported Embassy Of India in Germany.
She was also quoted as saying, "Of course I have nothing against male Indians and I have accepted several Indian students in the past. However my lab is full and I currently cannot take any student. This led to an unpleasant discussion with one of the Indian student," Huffington Post reported.