From Jhansi Ki Rani to Irom Sharmila, Indian women have always stood up for their rights and fought their battles despite restrictions and limitations. They are the shining beacons of hope and have displayed exemplary dedication in their respective fields. Here are 15 Indian women who clearly deserve a standing ovation:
1. Irom Chanu Sharmila
Also called the Iron Lady of Manipur, she holds the record for the longest hunger strike. The activist has been sitting on a strike for over a decade, demanding the repeal of the Armed Forces Special Powers Act (AFSPA). All of 28 years when she decided to fast, Sharmila was arrested three days after she began her strike for attempted suicide, and again in 2006 for protesting in Delhi. Even though her condition has been deteriorating, nothing has deterred the 42-year-old.
2. Chhavi Rajawat
Rajawat is the first woman sarpanch in India with an MBA degree. She ditched a well-paying corporate job with one of India's biggest telecom firms to become the sarpanch of Soda, a village 60 kms from Jaipur. She has tirelessly been working for the people of the village and has successfully implemented many projects including rain water harvesting, toilets facilities etc.
3. Amrita Devi
Way back in 1730, when Indian women had little say even in matters at home, this brave woman fought against the felling of tress by the Maharaja of Jodhpur in Marwar, Rajasthan, by sacrificing her life, along with those of her three daughters.
4. Phoolan Devi
Phoolan Devi was a bandit who later went on to become a politician. She was popularly known as the Bandit Queen and became the moll of a gang leader of a group of bandits at a young age. Her paramour was killed in a fight for gang leadership among bandits, who also raped her. A ferocious Devi took banditry in her own hands and became the leader of the group.
Not only this, her gang later went on to shoot those who raped her and the Indian media called it an act of rebellion by an oppressed woman. Although, she was tried for it and many other crimes, she was India's only woman bandit and a badass one at that. She was murdered when she became the MP by rival bandits.
5. Sita Sahu
Sprinter Sita Sahu won 2 bronze medals at the 2011 Special Olympics in Athens at the young age of 15. Unfortunately, due to the ignorance and lack of concern from authorities, the girl now sells gol gappe in Dhobiya Tanke in Rewa, Madhya Pradesh. She truly deserves a standing ovation from us!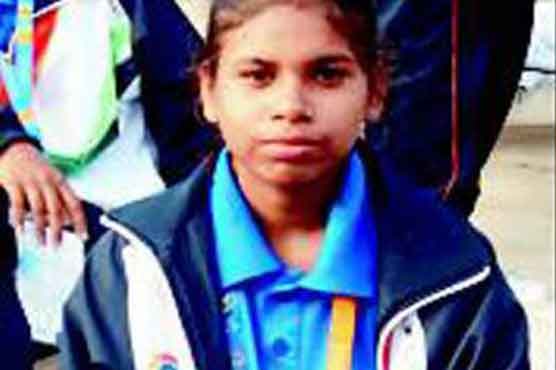 6. Chanda Kochhar
Kochhar, ICICI Bank CEO, recently made it to the Fortune list of 25 most powerful women in the Asia-Pacific region, and stands first among other Indian women. She has been featured in this list consistently since 2005. She has also been honoured with the Padma Bhushan Award in 2010, the third highest civilian honour by the Indian government, for her services to the banking sector.
7. Sapper Shanti Tigga
35-year-old Tigga became the first Indian woman, who is a mother of two, to become a jawan in the Indian Army. Standing at par with her male counterparts, she joined the 969 Railway Engineer Regiment of Territorial Army in 2011. However, her life ended too soon as she was abducted and later found dead.
8. Asha Roy
The daughter of a vegetable seller is currently the fastest Indian on the track, setting a record at the National Open Athletics Championship in Kolkata in 2011.
9. Arundhati Bhattacharya
Bhattacharya, an Indian banker, was the first woman to become the chairperson of the State Bank Of India (SBI). She has also been featured in the Forbes Most Powerful Women list in the 36th slot.
10. Kalpana Chawla
Chawla was the first Indian woman to go to space. She passed away in the infamous Columbia disaster in 2003 when the space shuttle disintegrated over Texas while re-entering the earth's atmosphere hours before it was scheduled to conclude its 28th mission. None of the crew members survived.
11. Reena Kaushal Dharmshaktu
Skiing through the deserted and coldest regions in the world, mountaineer and Delhi-based outdoor instructor Reena, along with seven other women, became the first woman to reach the southern most tip of the word, the South Pole, all in 38 days.
12. Durga Shakti Nagpal
An IAS officer in the UP cadre, Nagpal is posted as the joint magistrate of Kanpur. She came into public view when she launched an aggressive anti-corruption campaign in Gautam Budh Nagar. She was soon suspended by the UP government for allegedly demolishing an illegal mosque's wall in Greater Noida which drew large opposition from public as it was perceived to be based on insubstantial grounds. The public and media came together and protested against her suspension, after which it was revoked.
13. Kunjarani Devi
The bespectacled 46-year-old is perhaps the most celebrated Indian woman in weightlifting. She was also the first woman to win the Arjuna award in 1990. She also shared the Rajiv Gandhi Khel Ratna award with Leander Paes in 1996-1997. Even though she faced difficulties when she decided to pursue the profession, she stood strong and worked tirelessly to achieve success.
14. Indra Nooyi
15. Every Indian mother
While there are several women who go on to perform well in their chosen fields outside their homes, there are many who sit at home and still own the world. The last, but definitely not the least, every Indian mother is an achiever we just cannot leave out.
Take a bow, ladies!
This is clearly not an exhaustive list. As our readers, you guys can suggest more names and stories. Who knows, maybe there's another list we can put up soon.