Unless you've been living under a humongous rock, it would be immensely hard to have missed the excitement the upcoming edition of Sunburn Goa is generating across dance music fanatics, 20-something Goa hoppers, and just about everyone in between.
Pipped as the largest Asian music festival, Sunburn continues to top every must-experience list, mine included. Having visited the festival several years in a row, and being an ardent fan of the festival's pan-Indian franchise, this year, too, promises to be a mind-blowing experience. In fact, I'm even more excited because Sunburn is, officially, bringing the 'Star Wars' theme stage for the first time in India for this festival. Rumour has it, you may even catch some of the DJs wearing Darth Vader and Stormtroopers costumes to perform! If you're still unsure about heading over to the land of sun, sea, happiness, beer, and brilliant electronic music this weekend – here's why you absolutely should. Of course, I've saved my best reason for the end.
1. The massive scale of production and, therefore, the finest stages across any Indian music festival.
If there's one major reason I'm drawn back to Sunburn year after year, it's got to be the phenomenal scale of production and the MASSIVE stages across every genre. Picture the sun setting across the sea's horizon, as you're bombarded by lasers in every direction, a booming sound system, mesmerising visuals, and a HUGE stage featuring the world's finest artistes banging out some of your favourite tunes. Does it get better than this? Hella no!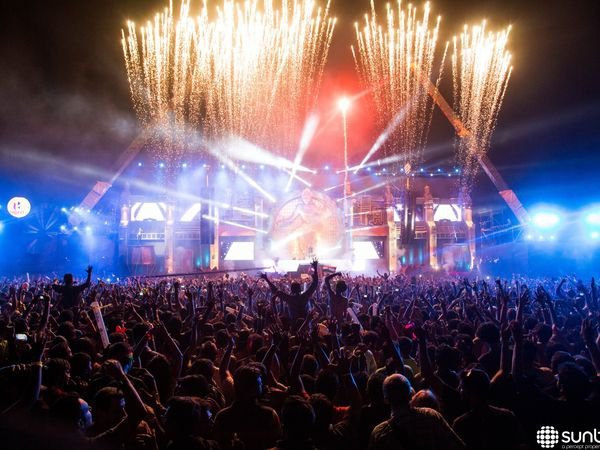 2. The Psy stage and its INSANE view.
While I'm still fawning over the Sunburn stages, you absolutely cannot miss the mad view from the Psy stage, which is set atop a hill that overlooks the entire Vagator beach. That, complemented by the sick Psy line up, and your Sunburn Goa experience is made.
3. The unmatched line-up of some of the world's BEST artistes across multiple genres.
Whatever be your preference—psy trance, EDM, techno, indie/electronica, whathaveyou—Sunburn has a stellar line-up in store for you. Here are my must-not-miss recommendations from across all stages.
Mainstage stage: Martin Garrix, David Guetta, Dimitri Vegas & Like Mike (Of course!), KSHMR (who makes his India debut this year), Felix Jaehn, and, finally, the current crowd favourite – Kygo.
Star Wars stage: Seth Troxler (Cannot miss this guy!), Art Department, Tube & Berger, and many more. And yes, there's actually a Star Wars stage.
Psy stage: Liquid Soul, Desert Dwellers, Gaudium & many more
The international artistes aside, even the crop of domestic artistes are totally worth your attention. Here're the ones I will be sure to catch: Nucleya, Sartek, Shaan, Dualist Inquiry, Grain, Mojojojo, Anish Sood, Tapan Raj, and the upcoming female artiste, Avantika Bakshi.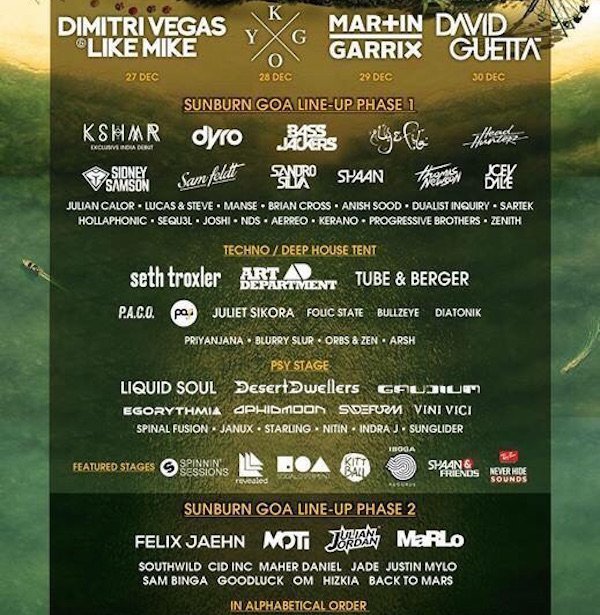 4. Location, location, and location.
Hosted at what is, easily, one of North Goa's best party beaches, Sunburn wins my approval for being housed at the stunning Vagator beach. And, in my opinion, there ain't no better location for such a festival anywhere else in the country.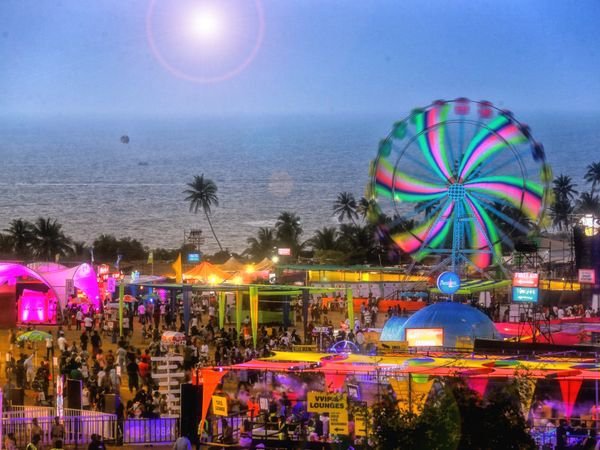 5. The chance to camp out with fellow dance music-lovers under starry Goan skies.
Sunburn will feature a well setup onsite camp, thus, expanding the good vibes beyond just the festival. On par with any international music festival campsite, this, too, is expected to feature a melange of activities, including bonfires, barbeques, a 24/7 marketplace, a travel desk, a dedicated bar, multiple workshops, exciting leisure and activity zones, and much more. Truly, an embodiment of the live, love, dance philosophy of the festival.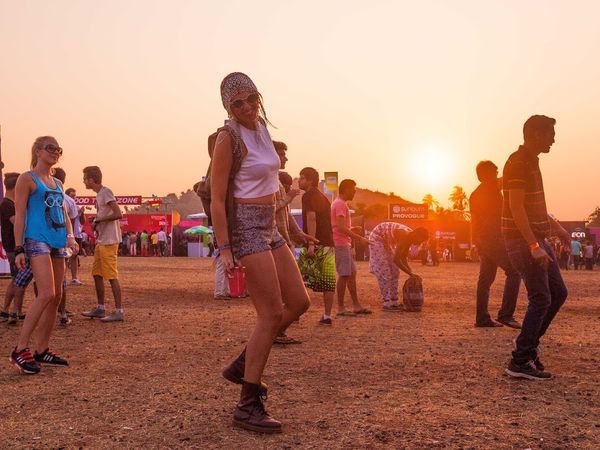 Source: Festival Sherpa
6. The absolutely brilliant mix of recreational activities in and around the festival.
If the chance to hear your favourite artistes, in the flesh, at a slamming gig set against a beautiful beachy backdrop isn't entertainment enough, this year's Sunburn Goa also features a mind-boggling mix of recreational activities to keep everyone, from the adrenaline junkie to the tattoo enthusiast to the peace-loving neo-hippie, happy. Be it bungee jumping, wooden bouldering, a beautiful Ferris wheel, beach volleyball, soapy football, special fire spinning acts, yoga & Zumba workshops, a spa, tattoo stalls, or more – there's something to float everyone's boat.
7. The opportunity to bond with a diverse set of fellow music-lovers from across 49 nationalities.
An association with the Goa Tourism Board will not only ensure a smooth, hassle-free and legit festival experience, but also the chance to create everlasting memories with fellow dance music junkies from across 49 different nationalities in the hedonistic environs of Goa. If this isn't reason enough to pack your bags right away, then make way for the final three reasons, you tough nut.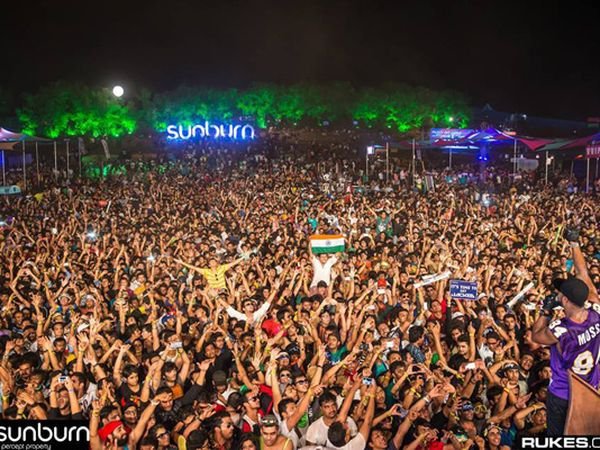 8. The first-ever Spinnin Records stage featuring their best artistes.
Any dance music fan will be well versed with these two names, so it's only expected you'd be hopping mad in excitement at the prospect of witnessing an exclusive stage featuring one of dance music's beloved record labels' artistes in action, for the very first time in India. Also, you must not miss the Revealed recordings stage too which is coming back to India – with a special headlining act by none other than Dyro, as part of his debut India performance.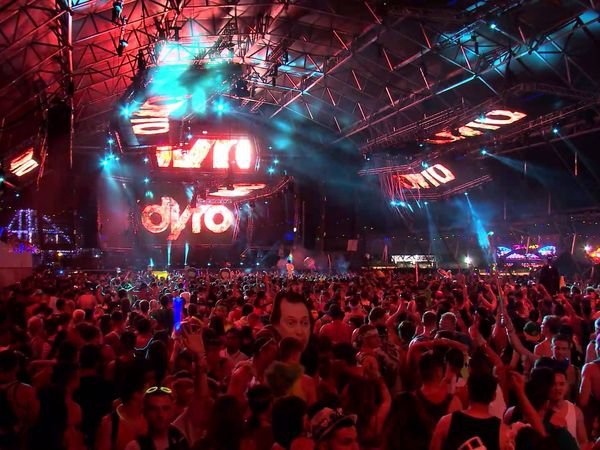 9. The fantastic timing + the ease of buying tickets on EMI.
Seriously, what would you rather be doing between Christmas and New Year's Eve anyway? If you're still unconvinced (yes, we know payday is a short while away), the festival also offers the option of buying tickets on EMI. I don't know about you, but that sure is a huge draw for me. The festival will be hosted between 27-30 December, 2015 and tickets are fast selling out, so hurry!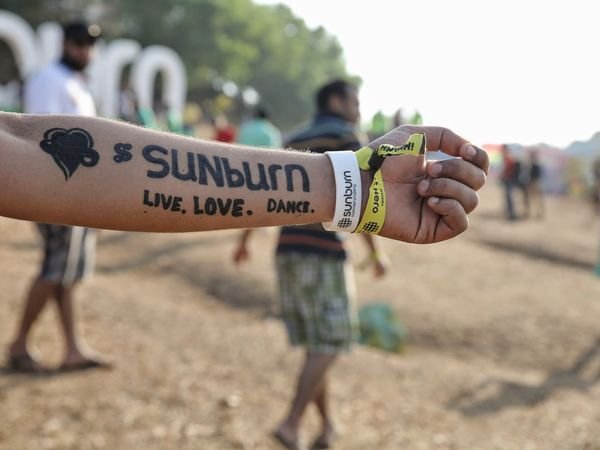 10. And finally, KYGO, KYGO, KYGO.
Even if the aforementioned reasons haven't cut it for you, the headliner of this festival ought to be the main reason for anyone to rush to Sunburn Goa this year. Kyrre Gørvell-Dahll AKA Kygo is a renowned Norwegian tropical house DJ & producer, and garnered international attention a little over a year ago with his massively successful remixes of popular songs, including Ed Sheeran's "I See Fire," Coldplay's runaway hit, "Midnight," and many more. Easily one of my current favourite Djs, Kygo is expected to draw in hordes of tropical house junkies at this edition of Sunburn Goa.
Kygo's groovy tropical beats + the company of thousands of happy festival-goers in the town of sun, sand, beer and good vibes = the best holiday & festival experience ever.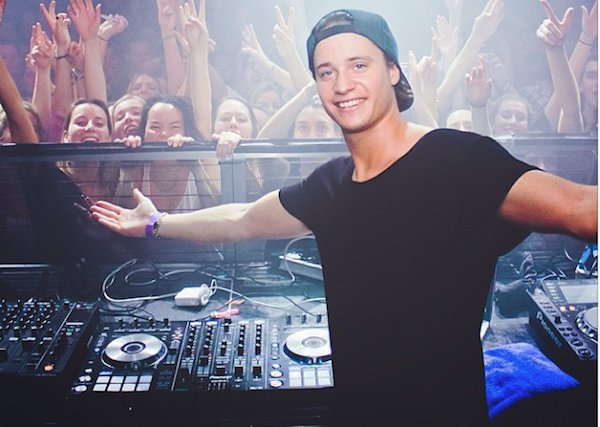 That's not all, there will also be a slew of After Parties post 10 PM at three venues around the festival site, with a wide range of artists performing till 3 in the AM. So yes, it's gonna be killer!
So what're you waiting for, buy your festival tickets here.
All my bags are packed, my festival ticket is in place, and I'm ready to rage. See you at Sunburn!
Featured Image : Asia Bizz