Sequels in general, are a great way to take a story forward and show us the next chapter in the lives of the characters we once adored so much.
However, Bollywood has a tendency to ruin sequels for us. Masti, Kyaa Kool Hain Hum and Bheja Fry are just some of the examples of movies (naming any more will bring back a lot of scarred memories) which should just have been left alone. And just for the sake of our own sanity, let's not even discuss the Housefull series.
However, thanks to Rajkumar Hirani for announcing a sequel to the 2009 hit, 3 Idiots, we still have our hopes up for good second innings of Bollywood movies.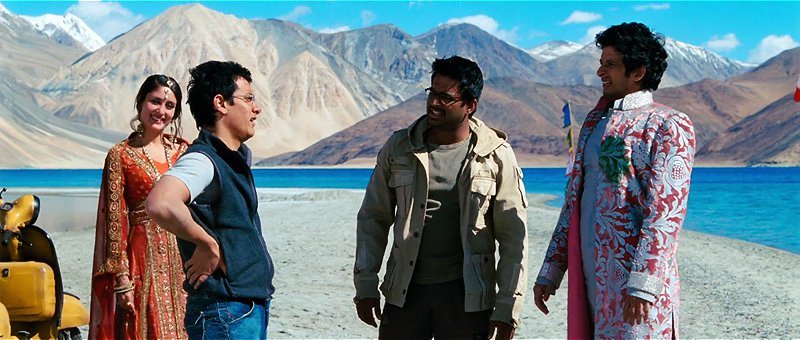 While we can't wait to see what Raju, Farhan and Rancho have been up to all these years, here are a few sequels we would like Bollywood to work on.
1. Munna Bhai Chale Amerika
This one has been there on the tenterhooks for the longest time. With under cooked script and Sanjay Dutt's arrest playing spoilsport, the idea could never really take off. Having said that, the idea of Circuit and Munna hanging out in the streets of New York sounded just fine to us! No wonder, we want this sequel to be made as soon as Sanjay Dutt gets back to work!
2. Udaan
Rohan and Arjun have left their abusive father to pursue a better future in Mumbai. We can't help but wonder if they're able to survive the big city all by themselves. Can the sequel be as gripping as the original? There's only one way to find out!
3. Taxi No. 9211
This gem of a film isn't talked about enough already. And yet, we want a sequel to it because we feel the movie was way ahead of its time. And who wouldn't want to see Nana Patekar become Raghav one more time.
4. Do Dooni Chaar
Apparently, Bollywood thinks Duggal sir's world is not interesting enough for a sequel. But we are not convinced! In fact, if a family could run into so much drama just to get a car in front of their house, imagine what would they do if situations got a little more pressing!  
5. Chachi 420
If Welcome can have a part two, then Chachi 420 deserves more than just one sequel. In all these years, the closest we've come to Chachi 420 is Aunty No. 1. Bollywood, how about getting your act together and doing something with awesome stories and characters laying on your platter?
6. Raajneeti
India has one of the most colorful political scenarios in the world. And we can never run out of political situations in a country as diverse as ours. A sequel to Raajneeti in today's age will be very interesting to watch.
7. Mr. India
Arun Bhaiya (read Anil Kapoor) is all over the place. It's time he goes a little invisible now! This is one movie which should DEFINITELY come back and give us a break from childish Krrishs and Kaals.
Judwaa is a genuine '90s action-comedy that had a massive scope for a sequel. Wonder why Salman Khan and David Dhawan never took it forward. Consider this as your cue if either of you two are reading this!
9. Omkara
Yes, it was based on William Shakespeare's Othello and yes, the ending didn't leave much for a sequel. However, knowing Vishal Bhardwaj, we're sure he can transport us to rural UP once again, if he really wants to.
10. Rocket Singh: Salesman of the Year
Rocket Singh was another movie which was way ahead of its time. This movie came in when the start-up culture had not really caught up in India in a major way. Ranbir Kapoor trying to get funding for his new start-up while still working at his old office is something which just makes so much more sense now. And we sure as hell want to see what is he doing with his start-up these days!
Bollywood, are you listening?
P.S: This is obviously not an exhaustive list. Which movie would you want to see a sequel of?