In our busy lives, we survive because of the support of our domestic staff. When the maid takes chutti for a day, we come to realise how much she does for us. But sadly, many a time, they aren't given the respect they deserve.
BookMyBai, a platform through which home owners can hire a domestic help online, has now put a blanket ban on providing services to celebrities altogether. The decision comes after the CEO, Anupam Sinhal took to the organisation's blog to share horrific stories of how some celebrities have mistreated their domestic help.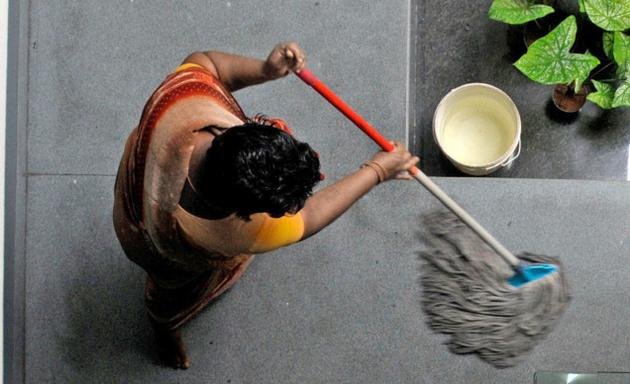 In the blog post, Sinhal wrote that they have never come across a single case of harassment/exploitation, but the figure comes to a rest when it comes to providing a domestic help to a Bollywood celebrity. 
While speaking to ScoopWhoop, Sinhal said,
We have provided services to over 20 celebrities and with a exception of a few, we have observed a pattern of how all domestic helps have had a bad experience. Keeping that in mind, we decided to stop catering to Bollywood celebrities. We would be losing out on revenue here, but we would rather face that, than let the domestic helps suffer.
These are the allegations made by Sinhal in the blog:
The celebrity called us and told us she won't let the maid go until we found a replacement. The maid had to go for her mother's final rites but could not.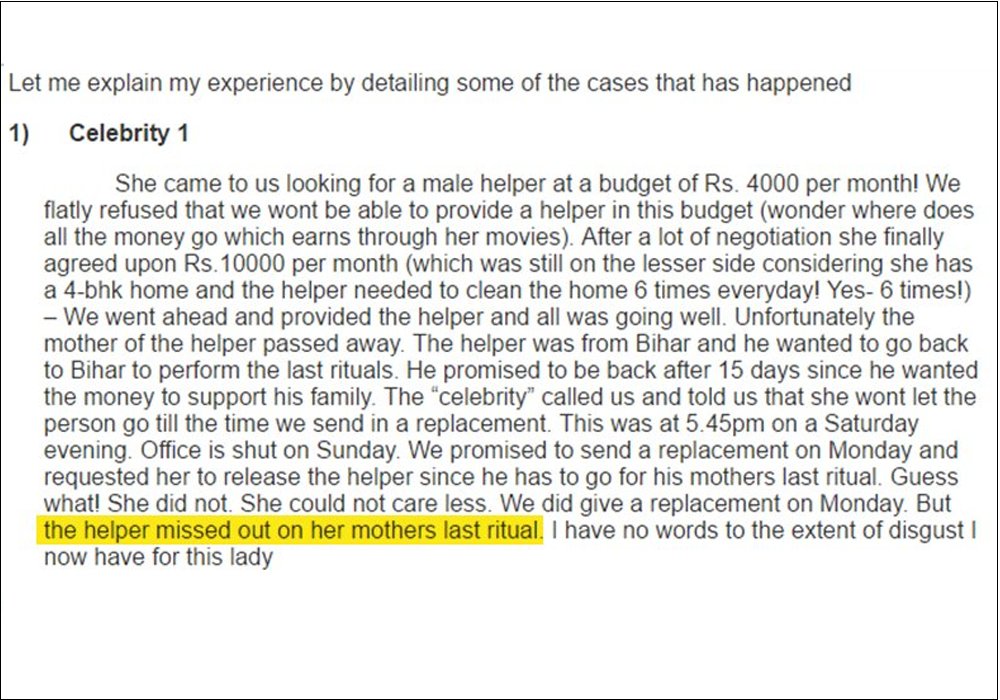 The extent of torture and harassment was so high that we replaced maids 7 times. Each maid worked for 7-10 days before giving up and quitting. She drives a 3 crore car. Doesn't give food to her domestic help. No Food!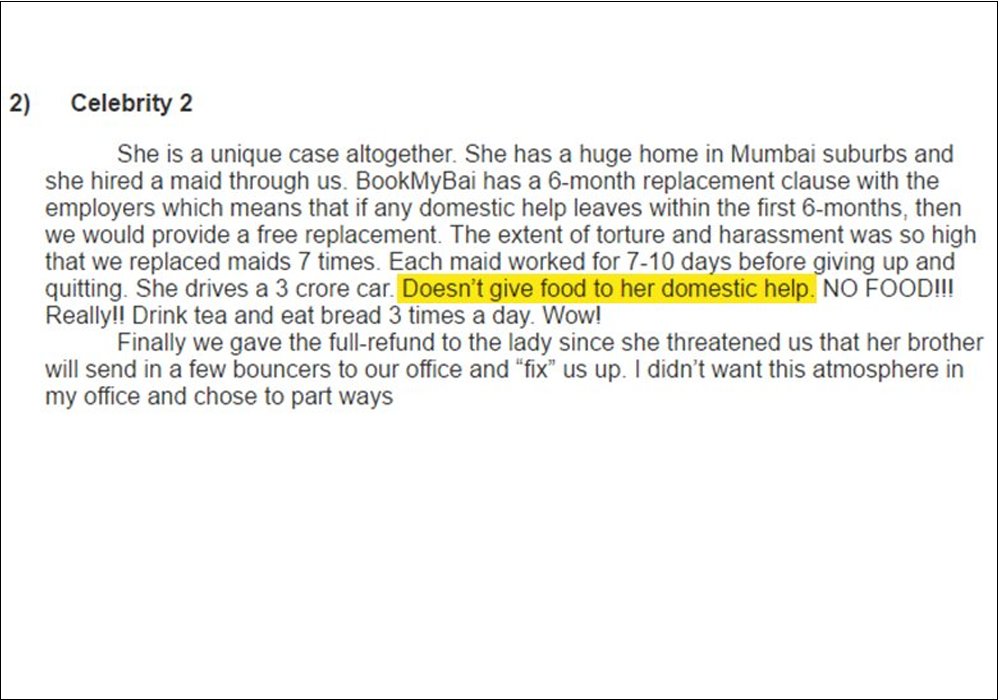 Physical abuse of the maid was almost a daily affair. As soon as we got to know, we asked the maid to leave as soon as possible. When she came to our office, we could see physical marks on her body of abuse.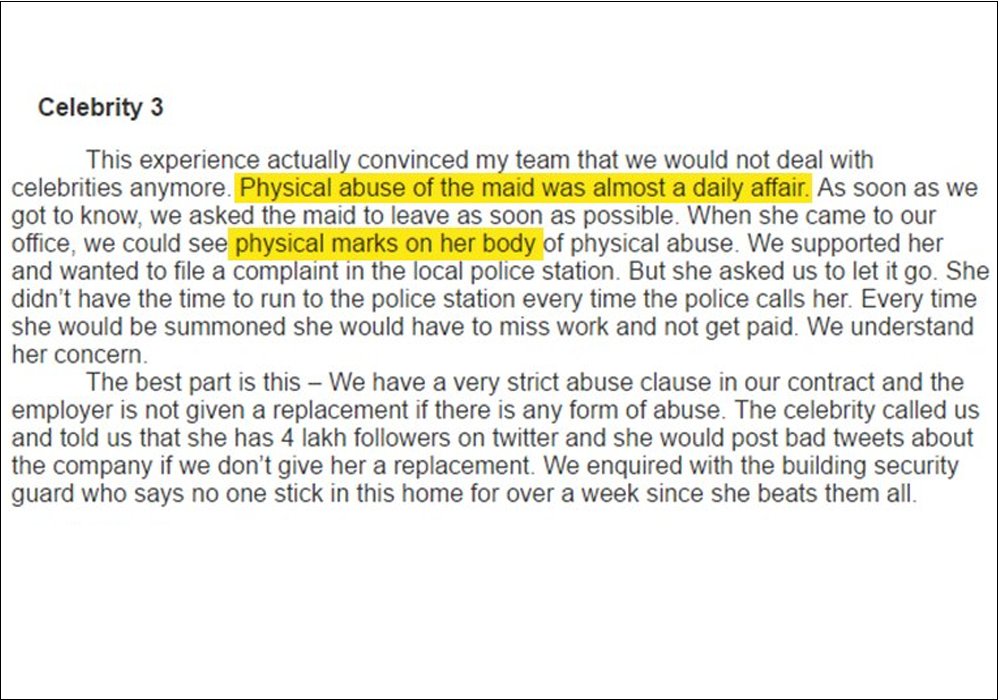 Verbal and physical abuse was a part of her daily routine. The maid got so fed up that she just absconded to her village and never came back.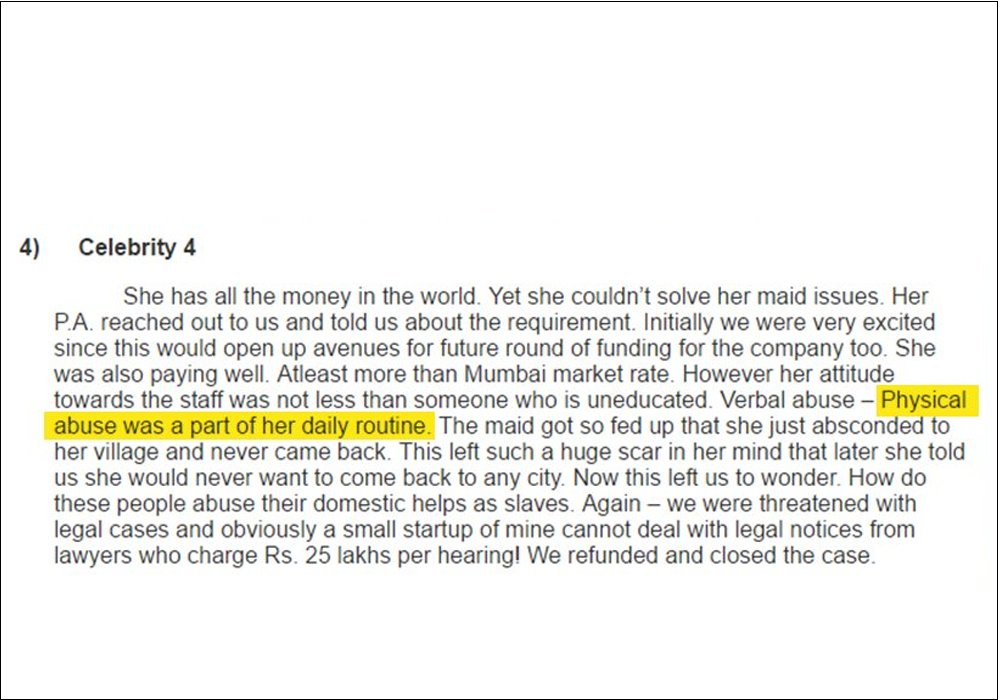 A 40-year-old helper who worked at the house of a known celebrity refused to speak on the issue. However, ScoopWhoop got in touch with her son who told us,
They used to throw parties till 3 am and would give her dinner only after that. My mother is old. The lifestyle didn't suit her, so she left the job after working for 15 days. 
Sinhal told ScoopWhoop,
I am not trying to tarnish individuals here, instead I want to bring out the truth about the industry itself. It's a generalisation, but since the majority of experiences have actually been bad, I think it was safe to stop providing services to them altogether.
Most of the workforce, according to Sinhal comes from remote areas of Maharashtra and North eastern parts of India. These women, albeit exploited, do not move the court against their employers because they are too scared. They fear they would not get work or their families would call them back. The police aren't too helpful in some cases.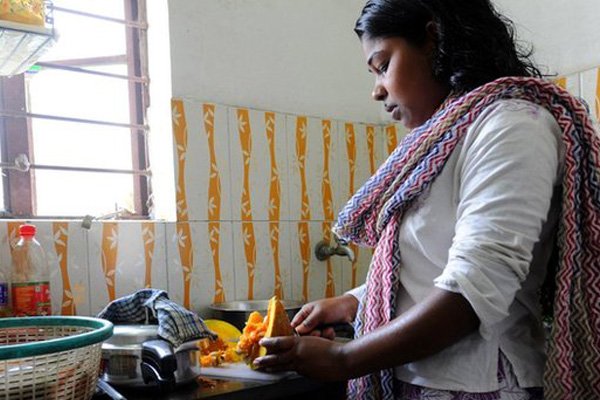 While these are mere allegations and no names have been listed in the post, it does present a grim reality of how we treat our domestic staff. The rising number of cases leaves us with just one question, why is it that difficult for us to treat people with respect?
You can read the full blog post here.