Sometimes, life presents us with situations where we have to break free from our fears. It could be a time when you choose to be courageous or a moment when you have no other option but to face the danger head-on. Can you recall any such incident when you were sweating and trembling with fear but still braved the situation and came out triumphant? 
You'll have an adrenaline rush reading these Quora answers of people who shared their experiences where they stood tall in the face of frightening situations.
1. I work as professor in an engineering institute. Almost 6 months ago, a close friend and colleague started receiving abusive SMSs. The unknown number started asking her for sex using deteriorating words. Like any other woman would, she blocked that number.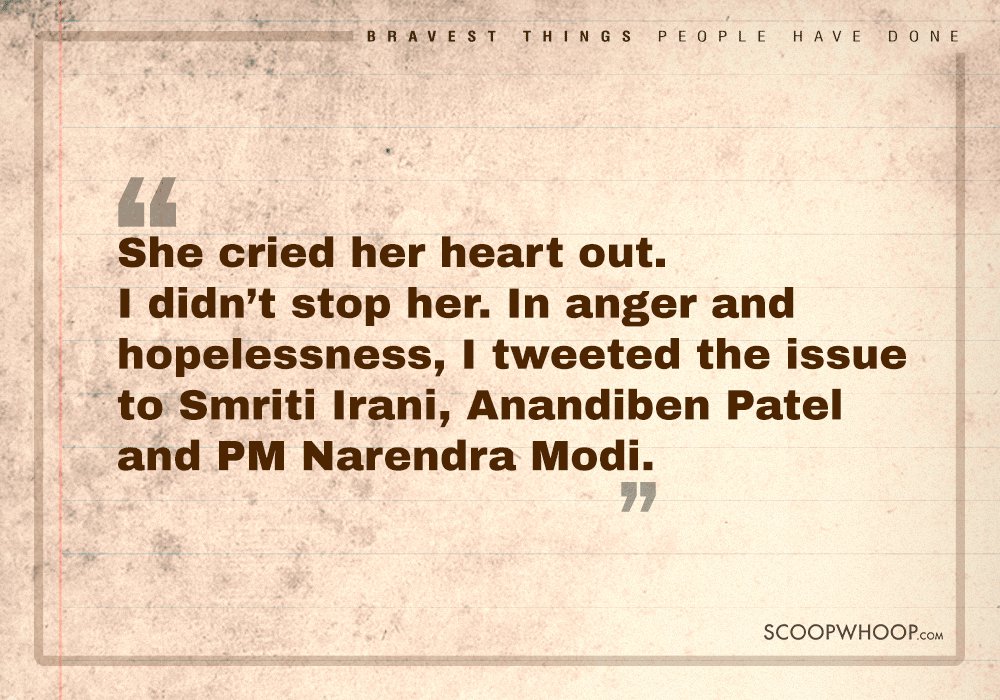 Through police progress and call records we came to know that same person was abusing and harassing more than 50 women across Gujarat. Majority of victims were teachers and professors. I stated this information in my tweet. Surprisingly, Smriti Irani ji and our CM Anandiben Patel replied. I passed on details to them. To my surprise, their PAs also called up and informed about progress of case in few minutes and assured that by end of the day we will get good news.
2. I belong to a small town in India where there were no schools for girls after 10th. For studying further, we had to enroll in a boys school but no girl used to go there because it's a a boys school after all.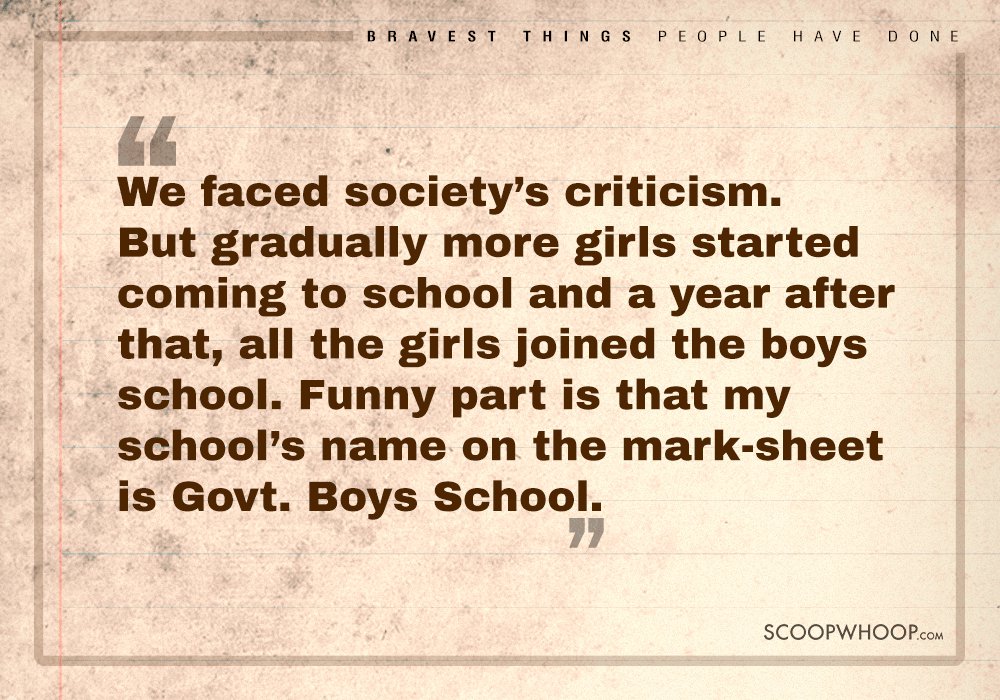 I secured first position in the block. I have learnt that 'start by doing what's necessary, then do what's possible and suddenly you are doing the impossible'.
3. I was going back to my college after the semester break. As the train was late, I was waiting on the platform. While waiting, I saw a foreigner standing. I instantly felt the urge to talk to her. So, I gathered all the courage and asked her where she was going. She responded well and I found myself a partner to pass those minutes.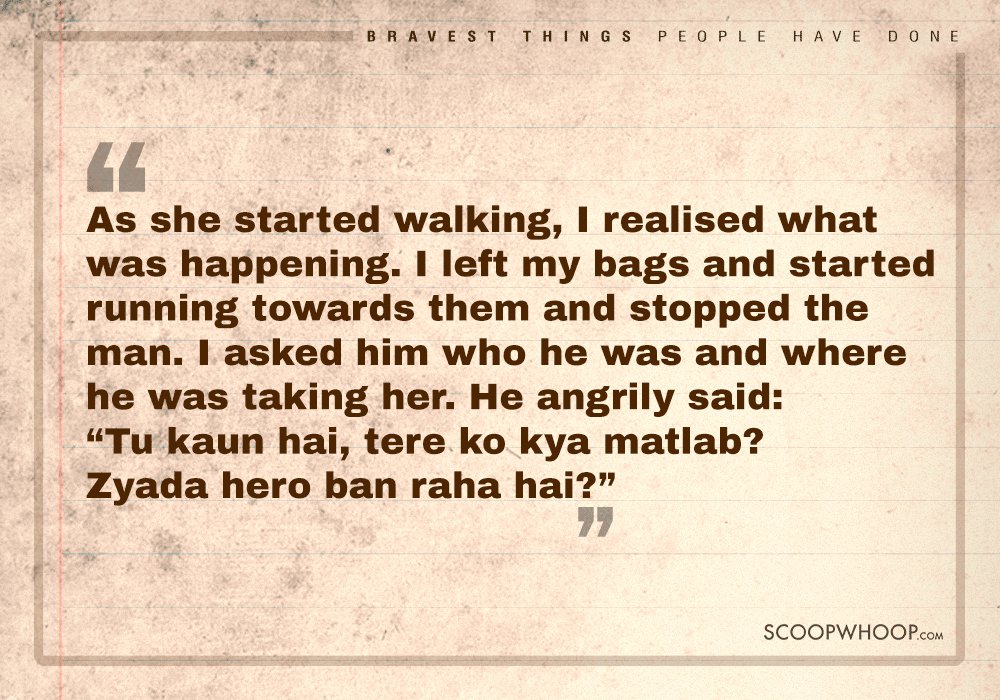 He moved towards me and took out a big knife from under his clothes. I was shocked. I don't know how but sensing danger, I began talking loudly, almost shouting, in order to attract people's attention. To my relief, people noticed his knife and started gathering. Seeing this, he ran away and shouting that he will bring other guys. 
4. I was 14, and walking home from school. A well-dressed man who looked like he was in his early 20s was walking towards me. I was lost in my own thoughts. As our paths crossed, he reached out and groped my chest. The moment this happened, I was confused for a second and stood there, frozen, not knowing how to react. I wheeled back, only to see the guy walking away casually. He didn't even run, because he assumed I wouldn't do anything.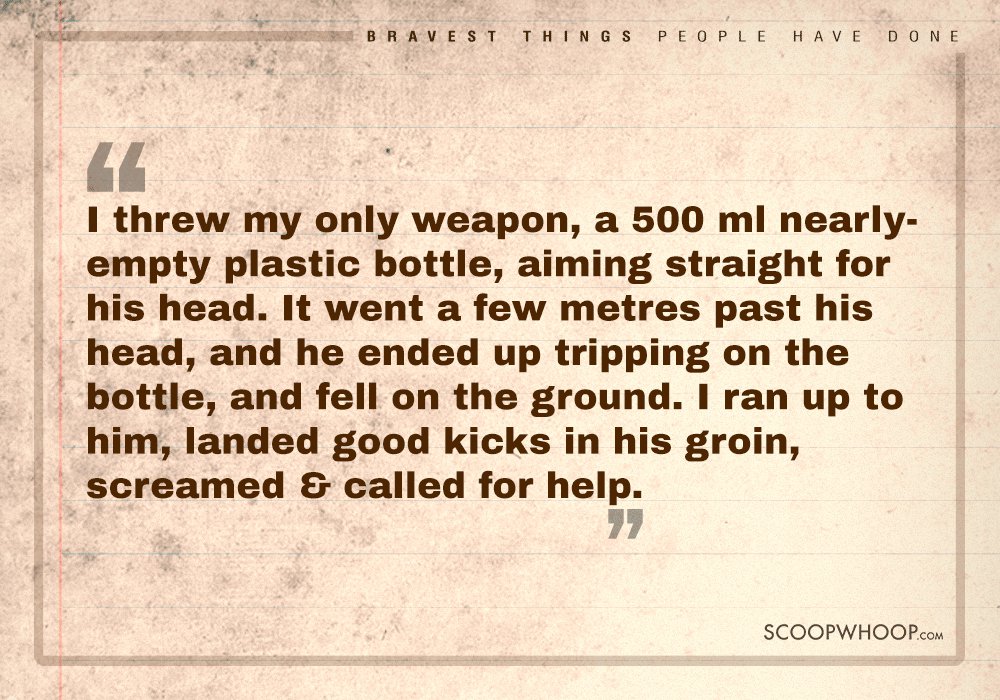 Some people stopped their cars, asked me if I was alright, landed punches on him, verbally abused him, and even offered him advice. He ended up in tears and apologized. People talked me out of filing an FIR because they said it would be a hassling affair. I believed it and moved on. One less pervert in the world.
5. When I was in the Marines, I knew a guy. He called me one day and said, "I just saw some paperwork. You'll be getting sent to Japan for 6 months soon, unless you want to be sent to Camp Lejeune (where I had lots of friends). But if you go there, you will join a unit that's going to depart for Iraq in December, and there's going to be a war (this was almost a full year before the Iraq War started).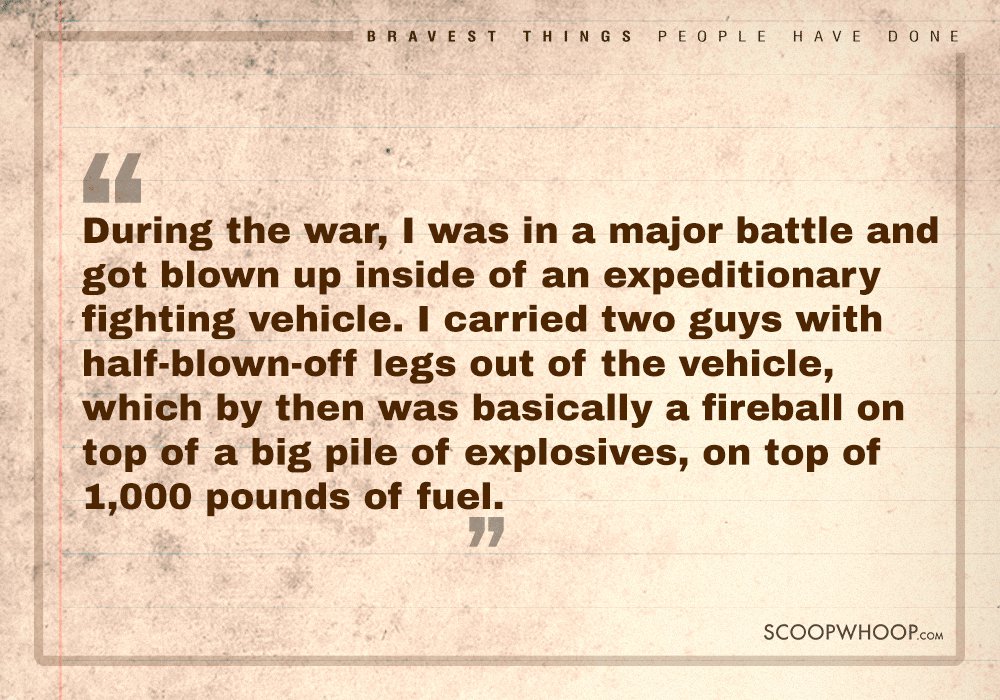 Today those guys have wives and kids, and that's a really incredible thing to me when I think about it from time to time. I chose not to go to Japan a year before the war even started, and now those children exist.
6. This happened when I had just finished my 10th. I was 14 years old and enjoying summer vacations. One day I had to visit one of our family friends. I went there, but after a few hours got really bored, so decided to visit this school friend who lived within walking distance from our family friend's place. It was 2 PM and really hot. After a few mins, I saw a Maruti Omni coming towards me from the opposite side. Suddenly, the car stopped and one of the hands came out to pull me inside.
I started walking really fast and even thought of entering someone's house but didn't.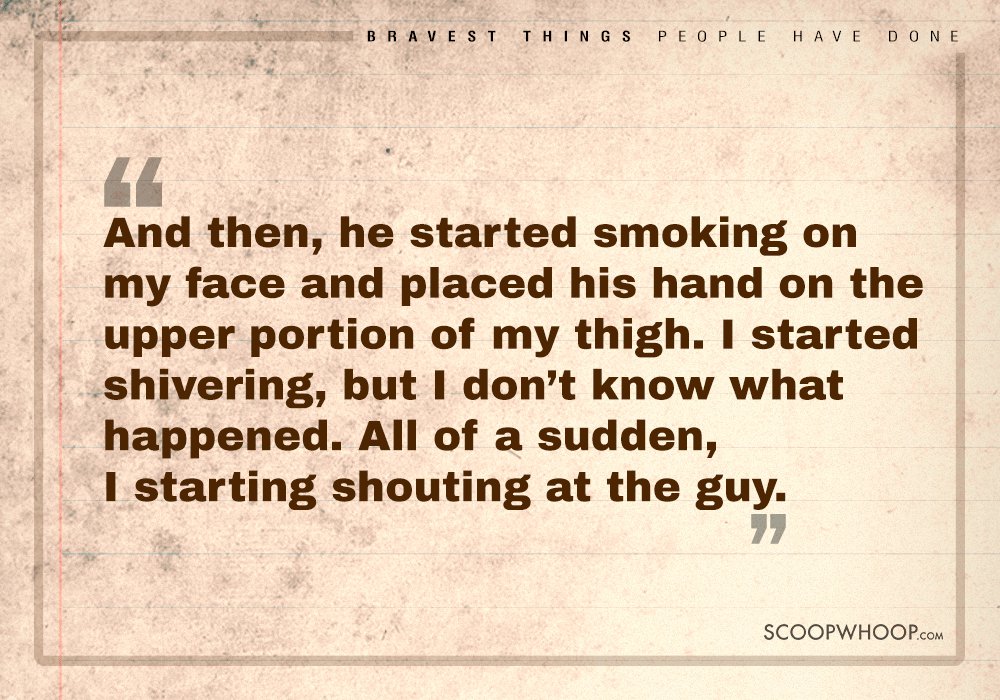 I said "Aapko tameez nai hai, how dare you smoke on my face and put your hands on my thigh". He was such a shameless creature, he said he wasn't doing anything and signalled one of his friends to come there. Now, 2 grown up boys were smoking on my face. But, I did not flinch or showed any sign of weakness. Then, out of nowhere a lot of people started coming out of their homes. As soon as the cheap guys realized this, they started walking towards their vehicle. Suddenly, it came to my mind that I should note down the vehicle number. As soon as I turned, I saw that all the people from the vehicle were standing outside their car in order to cover the number plate. But, at least the situation was under control now and I knew I was safe.
7. This was way back in 2006. It was the beginning of my first semester of engineering. A friend and I had to go for a sleepover at another friend's place, so that we could give final touches to our robotic car for a robotics competition. So, we decided to meet up outside the railway station at about 4.00 pm and take a train to our friend's place. We met as decided and started climbing up the flight of stairs leading to the railway bridge. The staircase was very dirty, littered with rubbish and tainted with tobacco spit stains.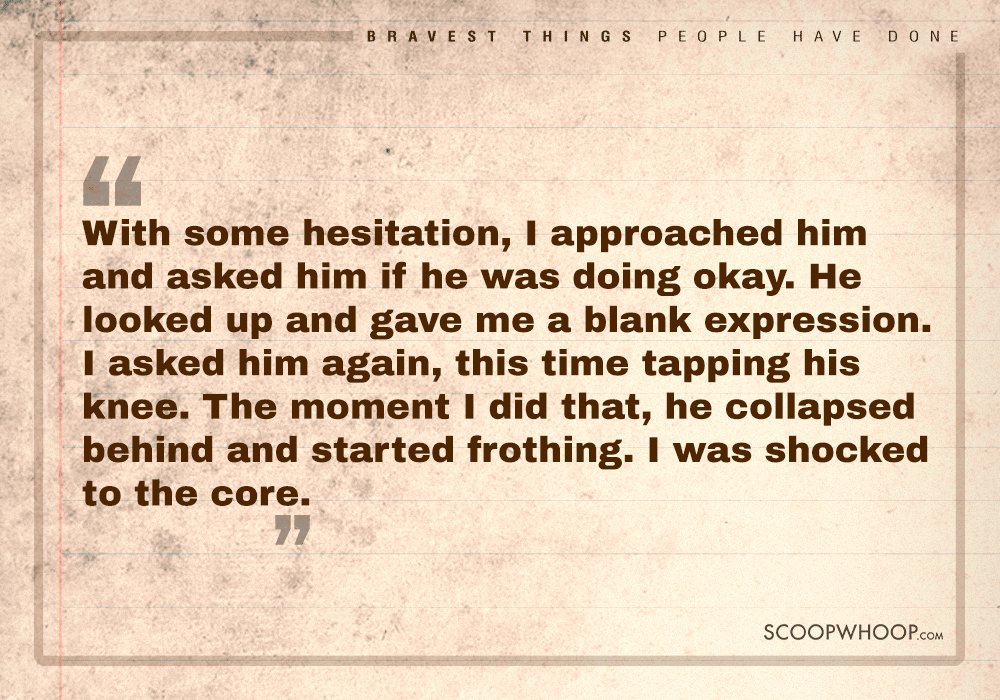 A small crowd had gathered around us by now. Without wasting a single minute, I started requesting some people in the crowd to lift the man . I decided to not wait for an ambulance and took him to a hospital in an auto rickshaw. To my dismay, not a single person budged. I saw a hefty fruit-seller standing near the staircase. I walked up to him and grabbed his wrist, dragged him to the spot and gave him an order to lift the old man. I rushed to an auto-rickshaw, made him stop and told him that we wanted to take this man to a hospital. I didn't wait for the driver's consent and instructed the fruit-seller to place the man carefully into the rickshaw, with his head in my lap.
8.  I guess it was back in 1974. I found out my cancer (lymphatic) had reoccurred and that I was pregnant the same week. The doctors recommended that I abort my son, as in their opinion, I would not make it to term without chemotherapy.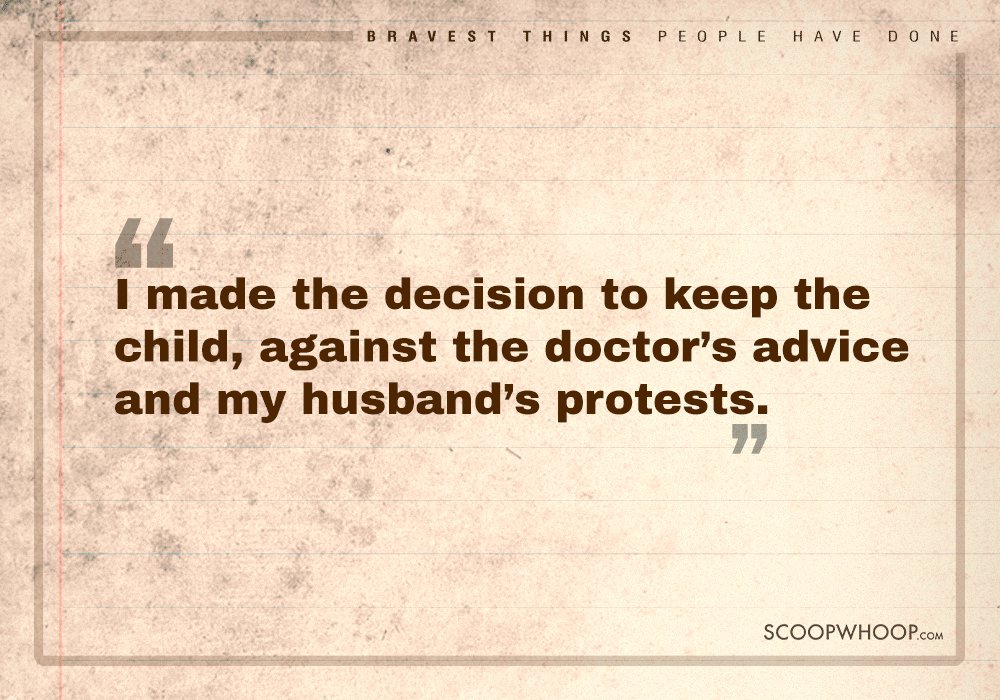 I made it, and my son, Brian, was born. I was only allowed to nurse him for two weeks, and the they started chemo. The first few months were difficult. Because of the chemo, I was not allowed to hold him for more than a few minutes at a time. He grew up to be an Air Force Explosive Ordinance Disposal (bomb) Staff Sargent in the Air Force and died in 2014. He chose to be a bomb specialist, as that profession saves lives, unlike most other military professions. He was a joy, very adventurous, traveled all over the world.
9. When I was 21, I woke up one morning to a girl screaming and banging on my door. I opened the door and saw a girl about 17 years old, she was begging me to help her and as she turned away from me I noticed that her shirt was ripped down the back and there was a huge streak of blood across her back but it wasn't her own. I didn't even really think about it, she was so young I had to help her.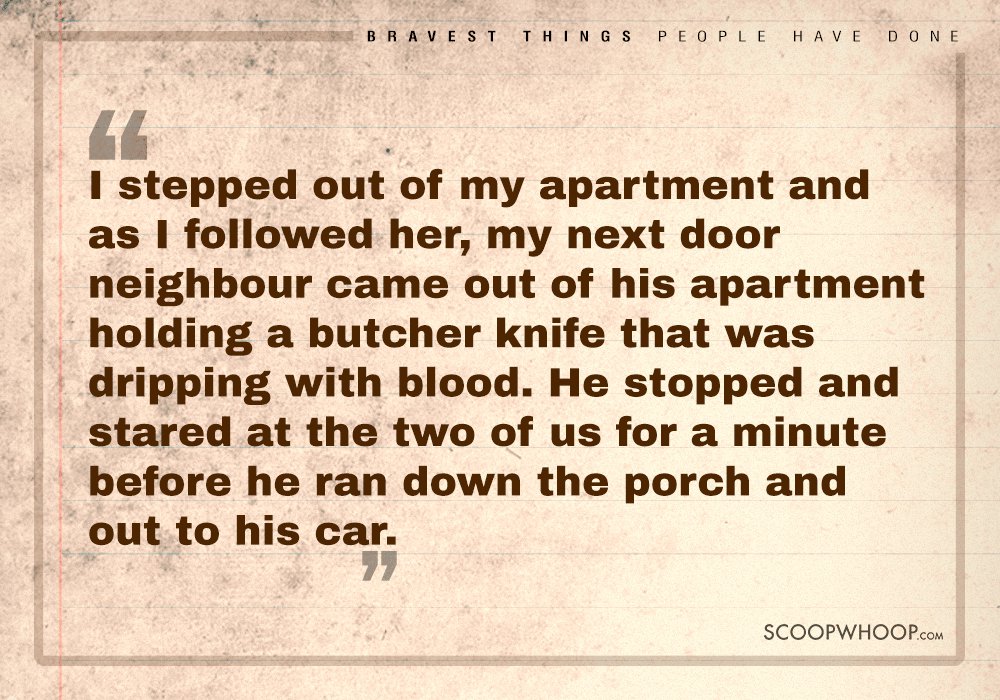 As he drove off, I continued to follow her into the apartment he'd just come out of. Once I got to the door I saw her boyfriend laying on a pullout couch. He wasn't just covered in blood, he'd been stabbed so many times that blood was pouring out of his body. He had just enough energy to sit up, reach towards me and ask for help. Within in seconds he fell back onto the bed and I just knew he was already gone. She kept staring up at me begging me to save him. I grabbed her and tried to explain it wasn't safe to wait in the apartment. 
10.  I am a Journalist by profession. While I was travelling back home from office in a local bus, I was standing near the driver's seat. I noticed an old woman, in her mid 50's, dressed in a old saree. She looked like like a maid or a beggar. She had a small child with her who was in deep sleep. When I saw the kid's face, he looked about 2 years old, fair complexioned, wearing clothes like he belonged to some well-off family, while on the other hand, the woman didn't look like his family.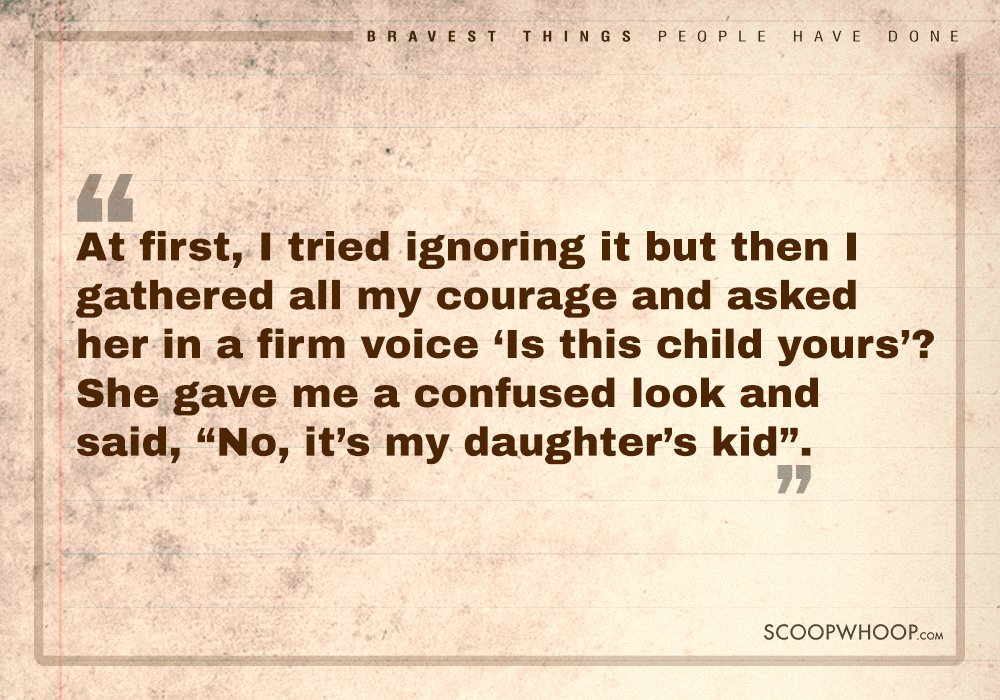 I then asked where is her daughter to which she pointed at some back seat which I couldn't see as the bus was already very crowded. I stayed quiet for few minutes and without her noticing, I pinched the kid to see if he was really sleeping or unconscious. To my wonder, I found that even after pinching several times, the kid neither cried nor woke up. I was sure that she was a child thief. I informed the driver and conductor about it. The driver was smart enough and stopped the bus midway and asked the woman about the child and his mother. She got nervous and tried escaping but couldn't. We then informed the police who arrested her and investigated about the child and finally after some days of struggle and visits to the police station, the officers found the real family of the kid who belonged to Gurgaon. I felt proud that I could help somebody.
11.  I was traveling from Delhi to my hometown, which is 30 kms away from the nearest railway station. I was waiting for the bus. Then, this guy, who was the son of my dad's friend came to the bus stop and told me that he was heading towards my hometown. I talked to my dad about it and left with him.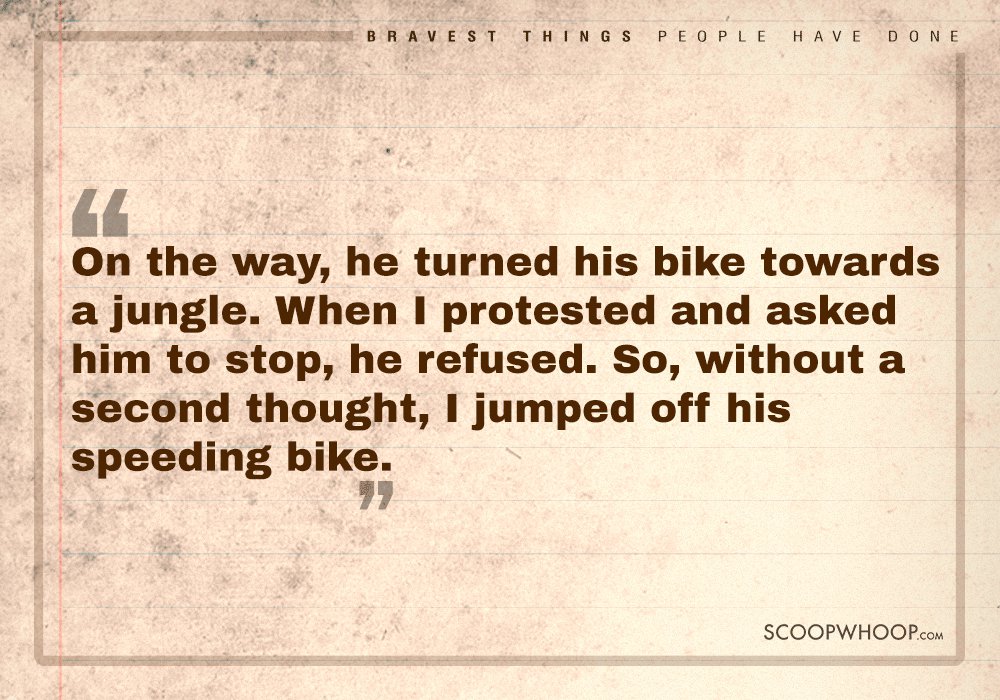 I hit the road hard and got injured. But got up instantly and ran towards the main road. He ran behind to catch me. He pushed me hard and I fell down towards the valley on the road side. I was shouting for help constantly. So he put his hand in my mouth. His fingers were reaching my throat. I was fighting but I had started to choke. At that moment, fortunately somebody on the road heard me and replied. He ran away after that. Then I called my family. I reached home pretty injured but the feeling was of a warrior who had won some war. We took action against him afterwards.
12. It was 16th December 2014. The day started as any other normal day. We were standing in assembly which ended with the national anthem. I was in class 10th and my cousin was in primary section. We were sitting in the big hall when we heard loud noises. As gun culture is very common in Peshawar, we thought it was a gun fire. Someone was constantly firing with an AK-47.As our school is a huge institution that runs under army, we were happy that it would be some sort of training we are going to do, some sort of fun. But things got worse when we heard loud noises of children who were crying. Our teacher locked the door. Adrenaline rush was quicker than ever in my body. I was thinking this could be the last day of my life. And then someone kicked the door, after three to four times, the door broke open. There were two men holding an AK-47 each with huge magazines. At first they opened fire at us. My heart was beating like it would come out of my chest any minute now. At first, I hid myself behind the chair.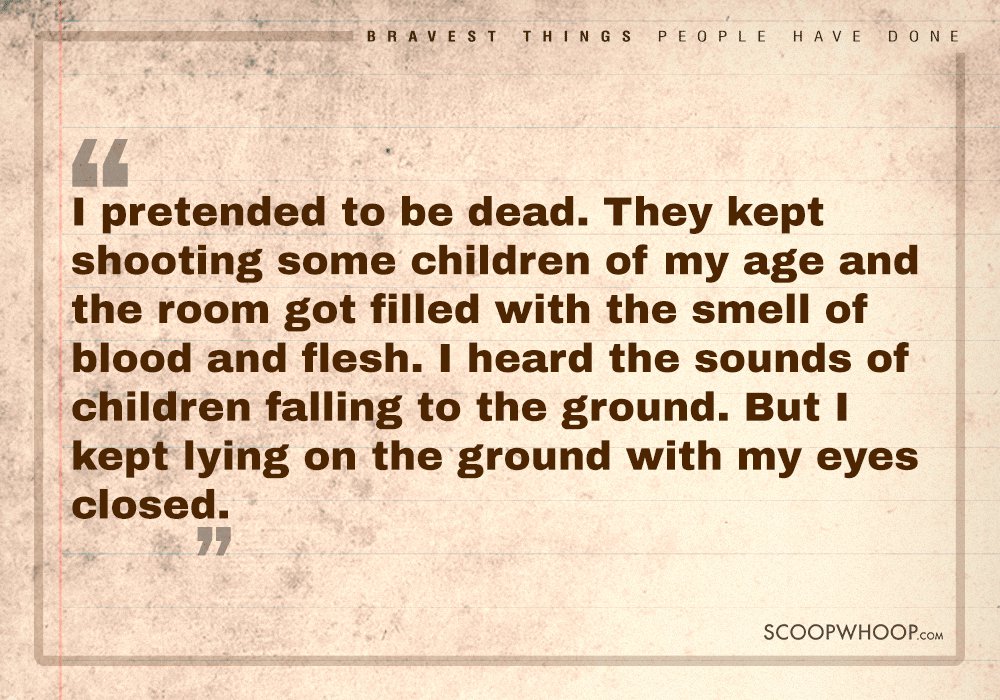 I was praying to Allah to save my younger cousin. We were lucky, they left some of us. They killed the entire batch of 9th graders. I couldn't believe it. The same boy who played with me, the same boy who used to mimic the maths teacher and make us all laugh, was lying on the floor, dead. A terrible boy who also pretended that he had died but received a bullet in leg. He cried and they shot him in the head.
13. I was walking from school late at night when two guys started following me. It was a standard route to my home and it wasn't so long. At first I didn't think anything and tried to stay calm, walking normally. I was scared when I noticed that the city streets are empty.  At this point, one of the guys just laughed and said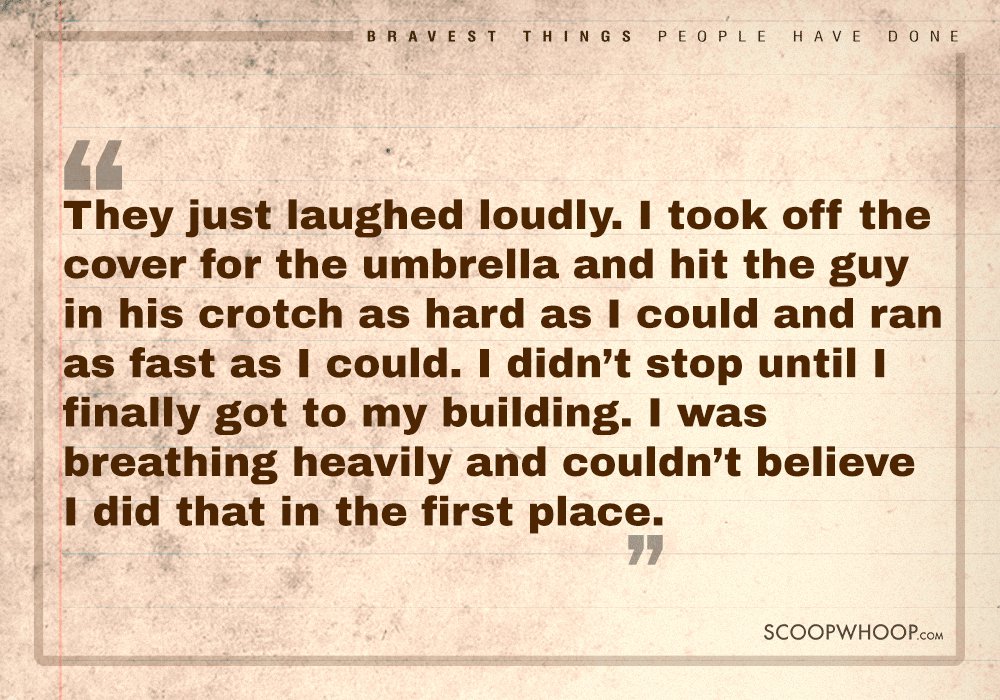 14. I am a 27 year old woman. Once, I was travelling back to my hometown and had booked a ticket in AC compartment. In the middle of the journey, the temperature went slightly low and I was feeling cold. So I moved out of the sitting area and stood near the restroom as it is not air conditioned. I saw an old couple has also come up there, and train was just about to halt at a station. We introduced ourselves to each other and I came to know that they were from France.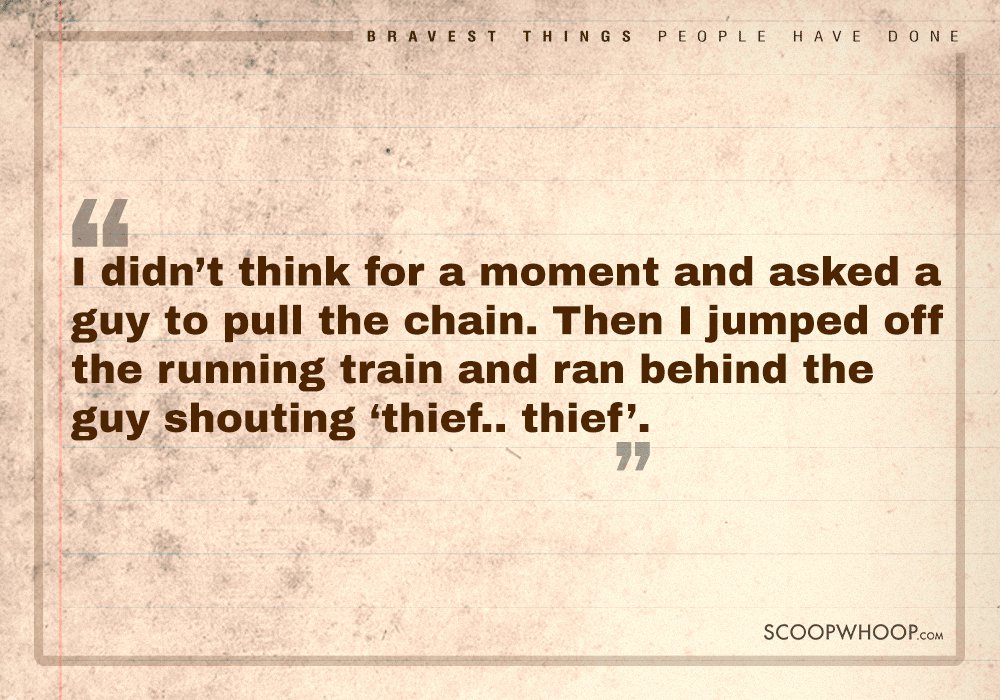 In response to my shouting, people on his way got aware and grabbed him. There was a crowd by the time I reached him. I took away the camera from him, meanwhile the train had also stopped. The police arrived, grabbed that guy from his wrists and took him away. I boarded the train and handed the camera to the couple. They thanked me a ton and told that I had not only saved their camera but also the memories of their vacation.
All images designed by Rohit Jakhu.