Brace yourselves for an emotional attack, grab some tissues along. What you are going to read next will make you go into tears of happiness for sure. No, I am not click-baiting you. The same happened with me, just a friendly advice. 
It was the eve of Jeni Stepien's wedding day. Everyone was there for the happy occasion except for her father who was murdered 10 years ago! Really unfortunate situation, but do you know her father actually came and walked her down the aisle for the big day?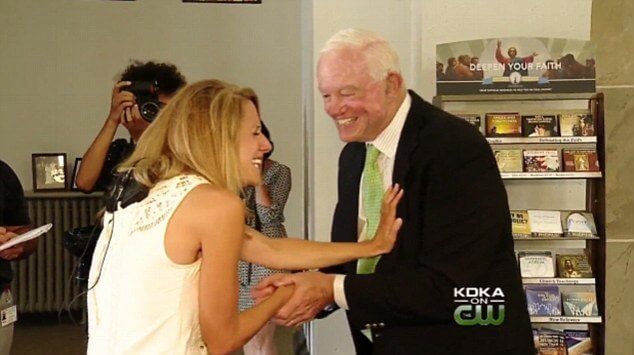 This is no paranormal story. Jeni's father, Michael Stepien was murdered back in 2006. The man donated his organs. He gave his heart to Arthur Thomas who was on his death bed and would have died without the heart transplant. Jeni invited the organ recipient to her wedding.
What Jeni sent Arthur Thomas as an invite, could be the best one in the entire human history, take a look:
"Tom, I'm the daughter of the man whose heart's inside you, and I'm going to get married on August 6th. One further thing, if you're willing – would you walk me down the aisle?"
Thomas was thrilled to do the honour and he flew to Pittsburgh from New Jersey with his wife for the big occasion. Jeni Stepien waited ten years for this day. On the eve of her wedding day, Jeni met for the first time, the man who now lives with her father's heart.
It was emotional for the entire Stepien family. According to a report in Action News, Jeni said:
"I am so excited. It's like the whole family's here now. It's like everybody's here. We've been talking to him and writing letters and calling, and receiving flowers and sending gifts for the past ten years, and now it's finally here."
Jeni's sister, Michelle Stepien added:
"Just hugging him made me feel like I was close to my dad again, which on this day was perfect. It was what I needed."
It was a big moment for Thomas too as Jenie was the first person he ever walked down the aisle. Take a look at the heartwarming video here:
Now you see guys, organs do matter. You are helping others to live and your loved ones will always have a part of you in front of them.