Whenever we hear about someone's pain, what's the maximum effort that we make to help them out? A few words of sympathy and may be some tears and then we get back to our normal lives. It is true that people who commiserate with other's pain are sensitive. But the real inspiration comes from the ones who concern themselves with other people's problems like their own.
Just like Amy Singh. 
When Amy, a poetess and theatre artist from Chandigarh, found out that Anam Narula, a fellow poet, has been diagnosed with Leukemia, a blood cancer, and that his family is struggling financially to get him proper treatment, she did much more than extend her sympathies. 
The compassionate lady decided that she wasn't going to let her friend go without a good fight.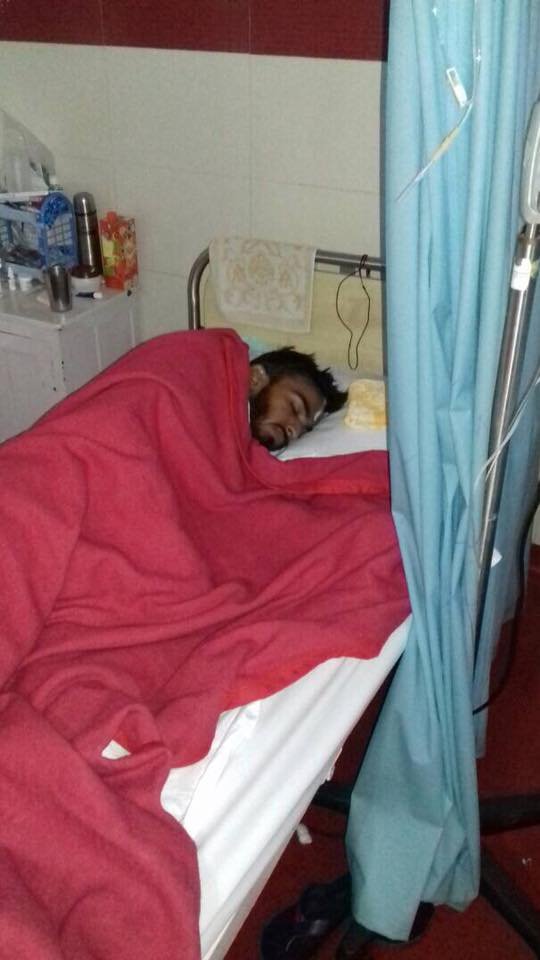 Anam Narula, a 21-year-old BSc student at DAV College, Chandigarh, is receiving treatment at Christian Medical College and Hospital in Ludhiana. While his father works at a private company, his mother is a teacher. With the family not having enough resources, they were receiving some from Anam's grandparents, who were also contemplating to sell their house to fund Anam's surgery.
Seeing Anam's helpless parents, Amy decided to help them in whichever way she could. So she found a noble way to do it –  by writing and selling poems! 
She shared on Facebook that she would write poems on request and charge for them in order to collect money for Anam. While talking to ScoopWhoop, she said: 
"I had been jobless for the last 3-4 months. So I thought maybe I could write poems and generate some money for Anam's treatment. Honestly, I wasn't hoping to raise more than ₹10-15K."
Here's what she wrote:
What Amy hadn't anticipated was the overwhelming response her Facebook post received. She was certainly surprised and happy that other kind souls joined turning this cause into a campaign to save Anam's life.
Gradually, more poets like Shantanu Anand, co-founder of the Airplane Poetry Movement, Bharath Divakar, Daniel Sukumar and Khawaja Musadiq, among others, joined Amy to write poems. 
She also created a fundraising page to raise money.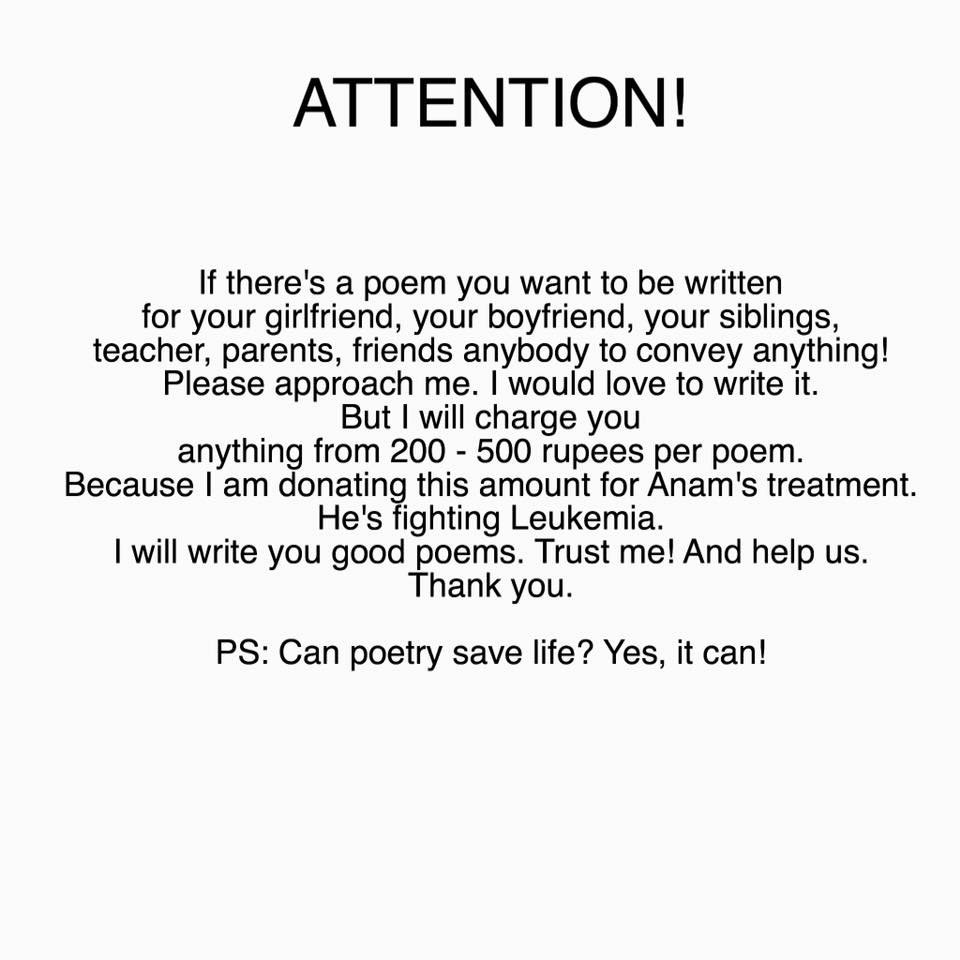 And how's Anam feeling about all the love and support that he's been receiving?
"He keeps telling me to thank each and every person who has made a donation", says Amy.
Anam's father, Raman Narula, is also grateful to Amy for her efforts. He told her, "Even my own child probably wouldn't have done what you're doing for us."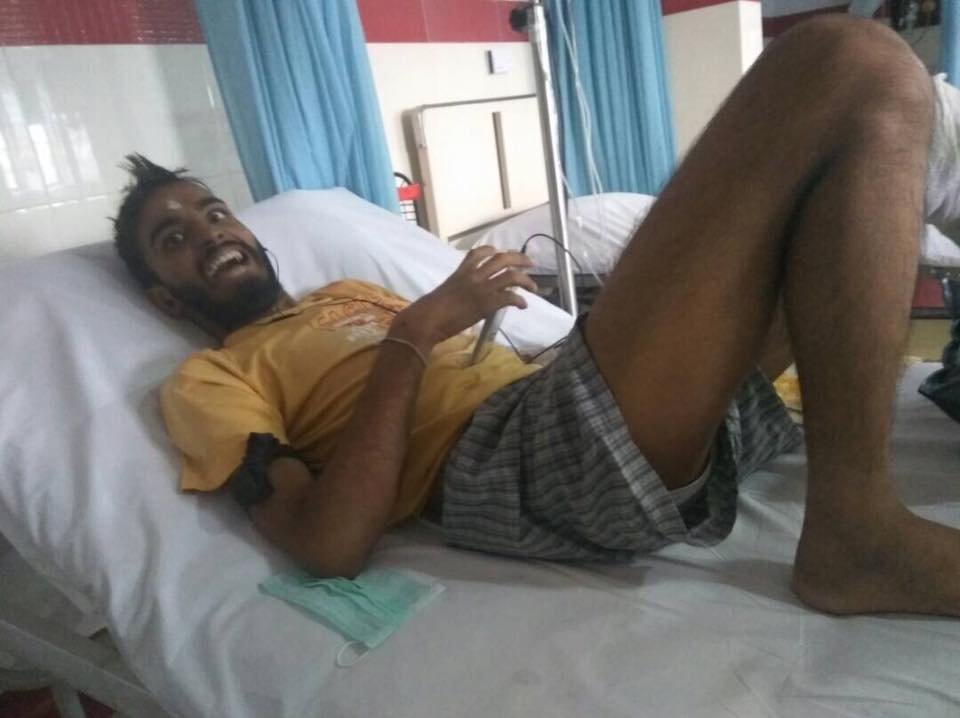 Right now, Amy's looking forward to generating over ₹25 lakh for Anam's surgery. Since he's an only child, it's difficult to find a bone marrow match for him, but they are keeping their fingers crossed. 
Amy, who lost her mother to cancer, is all the more determined to not lose her friend, who's in the first stage of Leukemia. 
When we asked her what makes her so compassionate? She said:
"I think no one should die because they don't have money."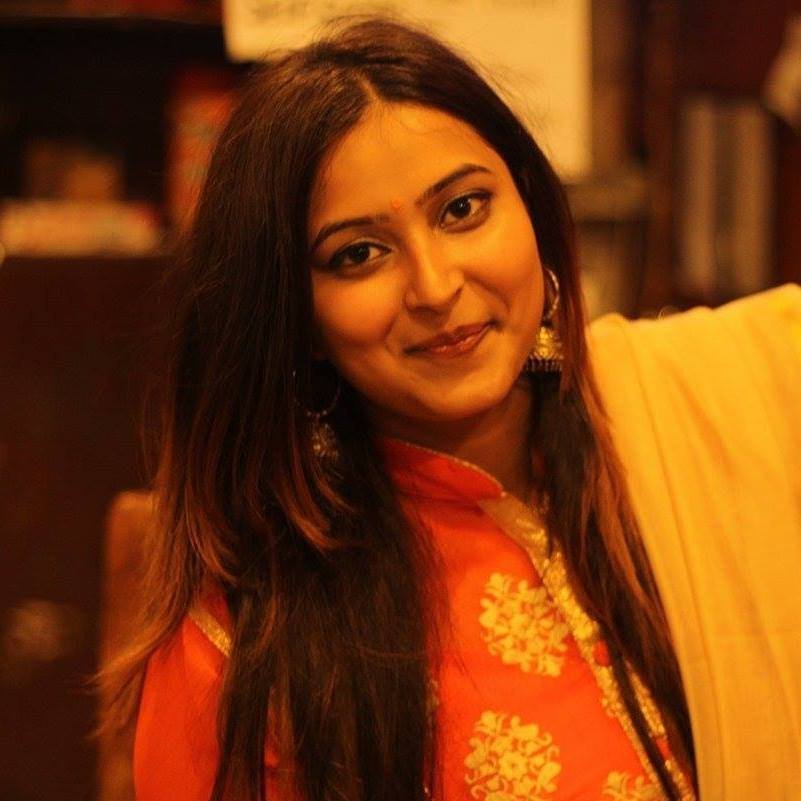 So far, the crowdfunding campaign has generated over ₹14 lakh. But Amy isn't going to rest yet. Now she's planning to organize a "Run for Hope" campaign to generate more money and awareness and let people know that there's a lot of hope left in the world.
There's no act bigger than humanity and Amy Singh is a shining example of that. We hope Anam gets better soon. 
You can go to the fundraising page and make a contribution if you wish to.